ZtereotypernA is a young band from Örebro... Here have all the members answer my questions. Z -" for Zarah, bassist and vocals, "W -" for Wicky, Guitar and vocals, and "I -" for Isak, drums. Their new album has just come out on Grönpeppar Records and now we have come to March 2023.
Tell us a little about you, when you started playing , age and do you have any other bands besides ZtereotypernA?
W - We started in the summer of 2019 when me and Isak finished 9th class and I wanted a punk band!! We got Zarah on the track but she dropped out after a reharsal as we barely knew how to play. After a couple of temporary bassists and two chaotic gigs, the band ended up on hold when covid came. But on Christmas Eve 2021, Zarah expresses that she is interested in joining again and in the spring of 2022, bands begin to rehearse for real again! Me, Wicktoria primarily has two side projects, Mormordax (where I'm a temporary drummer) and Wicktoria's underbara wärld (a solo project, kind of folk punk with a guitar)
Z – We're aged between 19 and 24 in the band, Wicky and Isak are 19 and I'm 24. My other projects are a metal band called "Crushed by Air" and a solo project called "Zarah's vedervärdiga Wärld" a bit in response to Wicky's solo project and it's an Emo/folk-punks project
How come you guys got into the wonderful world of punk? Parents, friends or what?
W – My family has always been musically minded but first got hooked on punk when I was around 13-14. When I stole my dad's old copy of "Svenska Tonårsgrupper vol 3" then I bought the first "Burning ambitions" on LP and I was hooked on punk!
Z - I grew up with my feet in the HC-Stage and listened quite a lot to American and English punk and metalcore, then just like Wicky said, our family was pretty musically minded so music and musicality was just something that was available growing up.
I - My mother is the worst music lover and listens to all kinds of possible music and that's how I got introduced to punk among other things. I've otherwise found some punk bands like Wipers, Black Flag, Siouxsie and the banshees, etc. by searching them out or hearing from Wicktoria about lots of different punk bands that she finds.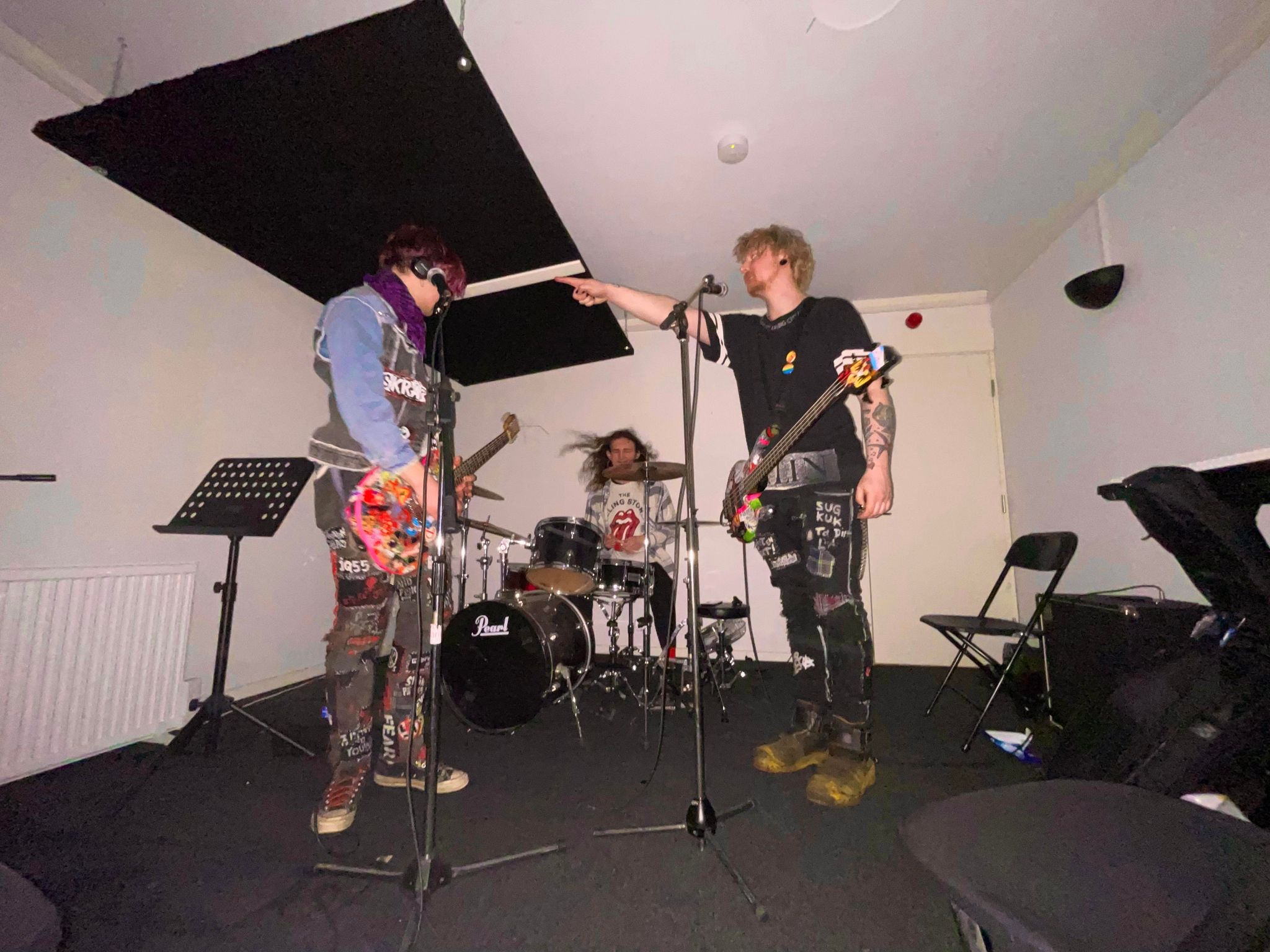 The advantage and disadvantage of being such a young band?
I - The disadvantage is probably mainly that we have not had time to establish ourselves as much as the larger and older bands
Z - One advantage is that we can take the band a little where we feel like as we don't have a stoned sound yet
You've listened a lot to early Swedish punk, it feels like... favorites from the past?
W - YES FOR FUCK'S SAKE!!! I'm a damn big nerd for the old Swedish punk! I can certainly speak holes in the heads of most of the early Swedish punk bands, but because it's a band interview, I'll skip it!
How did you find the song Identitet of IQ55? What did they like your version?
W - I was the one who fell onto the track of IQ55 and they quickly became a favorite band. So when we started rehearsing again in 2022, the rest of the band forced us to cover one of their songs. The fact that it became "Identitet" is mostly because it is easy to cover! Then I think there are far too few who have heard of IQ55 and if we have the chance to open our eyes to more people, it is WONDERFUL!!!
When you do songs, how does it work, is it someone who does everything or is it something you jam out in the rehearsal room?
I - Usually someone in the band comes up with a riff and we jam on it and develop that riff into a song. For example Skogspunk was a riff that Zarah had from a previous band several years back that we jam on a bit and develop into a quick one riff mosh song. It's a pretty collaborative process when we write songs so there's not really one person who writes everything which is very nice because then we become more of a full band instead of a backing band to a solo artist
The lyrics seem quite important to you? Which is your most political song?
Z - Our most political song on the album is "Knarkaren på Väster" and it comments more on how a person living with addiction is almost criminal, if you use and wear, it counts as minor drug crimes. But we also have an unreleased song called something with "Ebba Buskes Tår" haha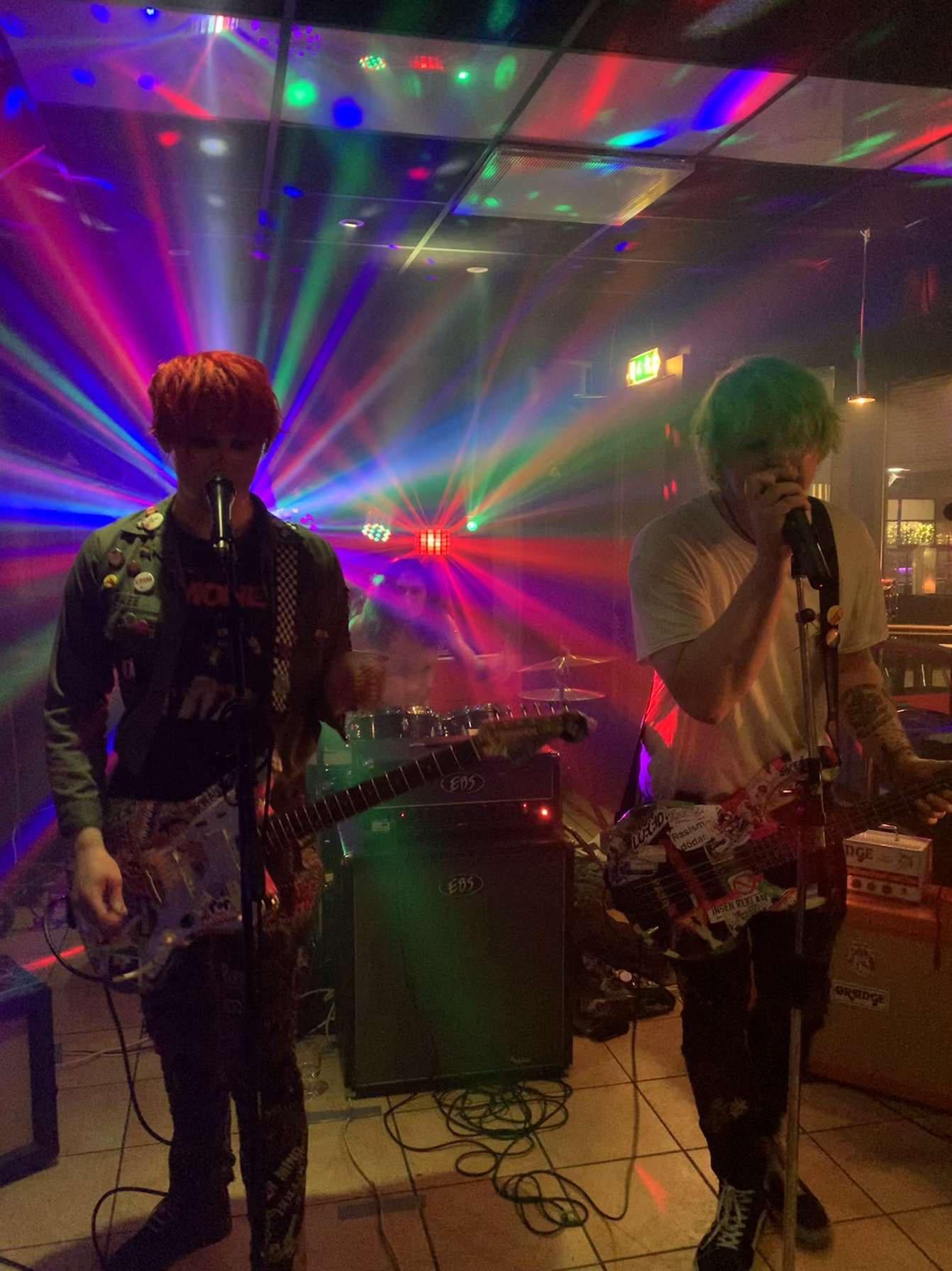 What do you think about living in Sweden today, politically with SD-KD-M etc?
Z - I personally have a problem with the way the system is structured and on nation states in general, representative democracy is a joke which the last election presented. The leader of Sweden's then third largest party gets the prime minister's post and already a week after the ministerial posts are filled, it is scandalous that the person who became minister of education owned shares in the Tellus group even when she was sitting as minister. The same equal to 8 years of gray government ruled by minority parties at the expense of Swedish labor policy.
I've noticed through all the years in punk that when it's right-wing governments, there are more and more punk bands? Is punk a good way to express their contempt for them?
Everyone in the band - Yes. It is
What does the word punk mean to you , is it just a word, style of music or lifestyle?
I – Definitely Lifestyle for Me
W – All in one, but it depends on how who you ask. I personally who live very much into punk and punk culture. So it's more of a lifestyle for me.
How did you get in touch with Grönpeppar records?
Z - Through Albin from the band Skräp, he is also the person who recorded and mixed/mastered SveaRikes Hjärtinfarkt
Is it important to get your record out in physical format do you think?
W - YES! Would love to actually release on vinyl but the wait and cost was a bit much this time
Do you buy records yourself or is it only Spotify that applies to you?
W - YES!!! I'm a record collector and spend the majority of my money on old punk records! Spotify of course makes it easy to listen to music when you are out and about, but clearly prefers physical media such as LP, Cassette tape or CD
If you had the chance to choose five bands (both living and dead) to have a concert with you, what five would the dream bands be then?
W - New York Dolls, IQ55, Smisk, Traste & Superstararna and The Accidents
I - Nirvana, Wipers, Black Flag, The Doors and Veronica Maggio
Z - Yersinia, Totalt Jävla Mörker, Dead Kennedys (with Jello Biafra), The Casualties and Rancid
When you play live, do you just draw young audiences or do old men like me come along?
Z - when we are "out" and playing it is a blissful mix but generally in Örebro we have a fairly young audience.
Örebro has some good bands that have existed and still exist, do you have any favorites of these bands?
W - Sarah Coffmann, The Accidents, Skräp
Z - Alternativa Idioter, Kung Pung and Embrace Death
I - Lucid and Ögonblick
Do you have any young new bands to recommend otherwise?'
Dull heads (they unfortunately haven't released yet) Vetifan Lucid Skräp
Playing music, is it a good way to get frustration out or what do you say?
Z – Well absolutely, but it's so much more, it's community in art and concerts are an exhibition where the audience is part of the art
Tell us a little about the following songs and lyrics
A) Skogspunk Skogspunk is a bit of an injoke we had from before we were anything when we posted a Tiktok that we had broken a drumstick and went and picked up a little branch outside as a replacement stick! It doesn't have much text but it does have a sample from the game GTA: San Andreas and a Sample from said Tiktok video.
B) Örebro Örebro is part of a musical series that will be about Örebro, its youth culture and other crunch from the city we have lived in. This song is a bit of an introduction to the band and the album and said series, it's a "hello song" for us
What is the ambition of the band?
W – I want to play too many many people and dance when the time comes for it!
I - banging drums
Z - I want to make an impression on the Swedish punk scene, when people talk about the 2020s punk scene in Sweden, I want us to be part of the conversation
You do some covers on the record, are there any other songs that you play live that are covers? If so, which ones?
Well we play some covers sometimes, right now Staten och kapitalet have found their way into our setlist, but we have also had as a staple in the past to run "Knugen skuk" by Kriminella Gitarrer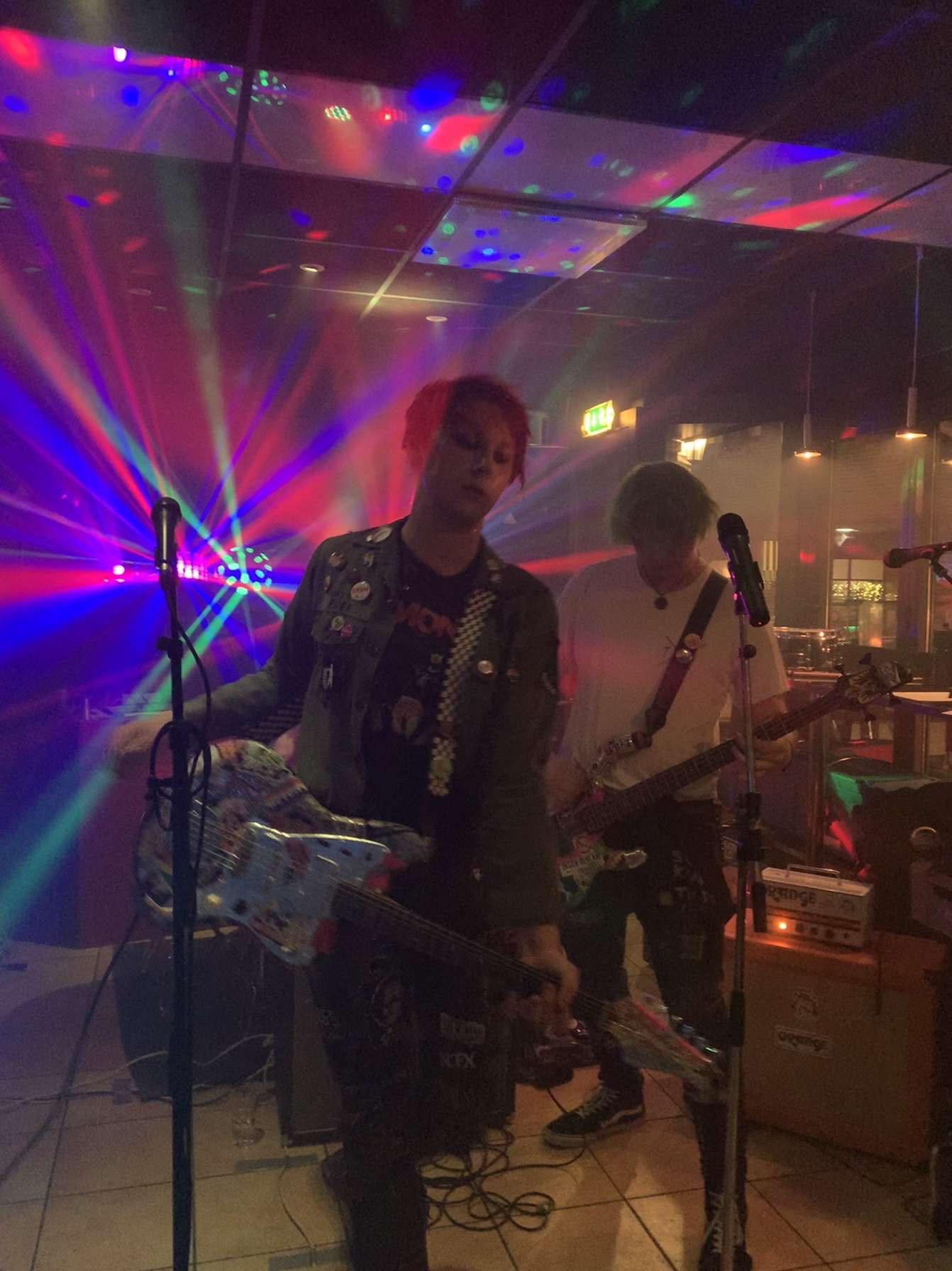 ZtereotypernA with a capital A at the end. Is there any thought behind the big A at the end? I see it's an anarchy-A. Do you think anarchy is a political format that could work?
Z - Our band has no real things to say if it is a functioning political system, we advocate Social Anarchy and the breaking down of social norms. I, personally, believe in Anarchy from the perspective of a smaller society, as I previously answered, I am not a very big fan of Nations States and I believe that a society without currency and hierarchical power structures is preferable.
W - My personal opinion is that no political system we have today will work in the long run! Communism, capitalism, socialism, or anything else. Anarchy is probably what will collapse the fastest but the short time with this would be fun as hell to live in!!!!
Do you have anything to say to other young bands that want to record a record etc, something they should think about?
Z - Join a Study Circle, get actively involved, write what comes naturally to you, get gigs and get to know the other bands. Want this more than anything else. And be nice to staff at places you play, it takes a long way!
W - Just do it for fuck's sake!! Fuck finding the right sound or the right mic position or what the hell if you want to make music just do it!!! And don't get caught up in small details!! (You'll have to do that later)
Five favorite records right now?
Z – Lastkaj 14 "Becksvart", Neck Deep "Life's not out to get you", The Chariot "One Wing", Loke "Vackra Människor" and Architects "Lost forever / Lost Together
W - Velvet Underground and Nico Germs (GI) The damned, damned damned damned! Eterkropp, bara vi inga gäster And all Vägra raggarna benzin + Varning för punk!! I konw that it is 4 skivor + 2 compilationsrecords but I don´t give a damn!!!!
I - In Utero by Nirvana, Handen I fickan fast jag bryr mig by Veronica Maggio, Innervisions by Stevie Wonder, Blood, Sweat & Tears by Blood, Sweat & Tears, Slip It In by Black Flag.
What was the first punk record you acquired?
Z - It probably wasn't the first I acquired but it's one of the only vinyls that I have left and listen to when I get the opportunity. "Sex Positive Hardcore" by IRON, so damn good album! But my first punk albums were mine and Wickan's dad's compilation albums haha
W - My first punk album was the Örebro punk collection "Svenska tonårsgrupper vol 3" which I stole from my dad! But the first thing I acquired myself was "Burning ambitions a history of punk"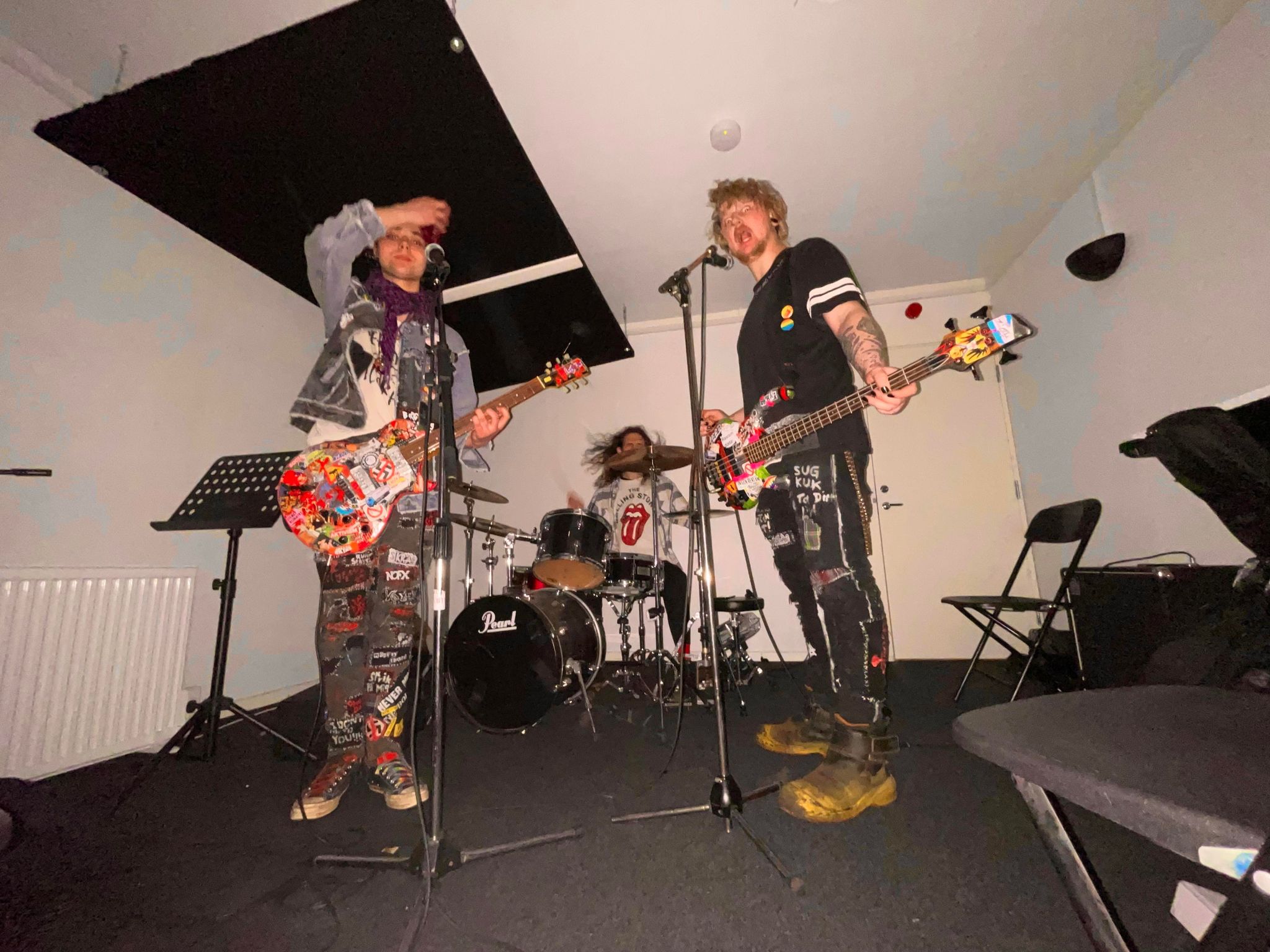 Future plans for the band?
Z - Try to book as many gigs around Sweden, Norway, Finland and Denmark as possible!
For yourself?
Z - Where the band goes, I go
Words of wisdom?
W - Burnt child smells bad
Anything to add? –
W - See you at Donken!!