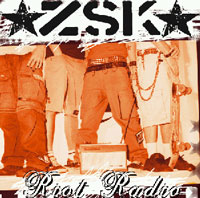 March 2003
History?
-ZSK was founded in 1997 by some young punx, which didn't even know how to play an instrument. We recorded a Demo-Tape, then a SplitCD. We did lots of shows and shared the stage with bands like: Exploited, Distillers, Agnostic Front, Venerea, US Bombs, Down By Law, Anti-Flag and many more. In May 2002 our first album "Riot Radio" came out on Wolverine-Records. Until now we did 4 European-Tours and more than 200 shows and there is more to come….

Please tell me a little about every member , age, family, interests and something bad about every one?
-Joshi (guitar/ lead vocals)
Age: 21
Interests: politics, punk & party
Henny (guitar/vocals)
Age: 22
Interests: music
Eike (bass-guitar)
Age: 23
Interests: none
Flori (drums/vocals)
Age: 23
Interests: Website-Design & Animal-Rights (Flori works for PETA)

Why do you sing in both english and german? That reminds me a little baout one of my favoruite bands , old Upright Citizens?
-Sometimes I feel like making english lyrics sometimes german. That depends. There is no special meaning behind it, we just don't want to say "Ok, we only do german songs" or "We only do english songs cause its cooler".

Which is the best language to sing in?
-Probably english, cause almost everyone can understand it and you can get popular in all european countries or even in the USA. But we don't care about that.

I say in my review that here it is things both for the one who loves skatepunk and hardcore and even Crass I mention as a band you sound a little like? Comment?
-Wow!. You compared us with Crass ? I didn't know that. Why havent I seen this review yet ? Well actually Crass is a great band and you are right: We got influenced by lots of skatepunkbands but also by hardcore music.

What other bands are you being compared with?
-Sometimes people compare us with Anti-Flag or Pennywise.

Do you care about reviews?
-Of course we do. I mean if you record an album and you worked pretty hard on it for month so you really wanna know what people think about it. We would never change the sound of our music because of any reviews, but its good to get an impression of what the fanzine-people like and what they don't like about ZSK.

<![if !supportLineBreakNewLine]>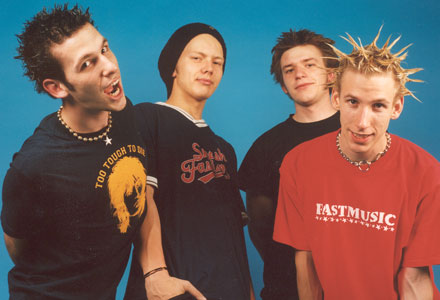 <![endif]>
How is a good gig with ZSK?
-Loud, energetic, fast and full of surprises.

Do you have good contact with your fans? In which way? how does the average fan look like?
-Being in contact with our "Fans" is pretty important to us. Even though we get tons of emails, letters and Demo-CDs we are trying to answer every question, no matter if it is the 100th time. How does the average ZSK-Fan look like? Mmmh. Probably young, hopefully interested in beeing different and definitely punk.

What´s the most peculiar which have happened during a concert with you, on stage or in the audience?
-Oh, that was on the european Tour with Anti-Flag. There was one guy who came up on stage and everyone thought he would stagedive, like all the others, but he turned around, pulled down his pants and showed his ass to the audience. That was weird, but cool.

What drives you to play music?
-I honestly don't know. Never thought about that, but I guess it is cause its a good way to express myself and tell lots of people what I think about this world. And of course it is a lot of fun.

Please describe your music with three words?
-Political Fast Skatepunk

What does the word punk mean to you? Is it only a word or is it a lifestyle?
-Punk means to very much to us. Punk is definitely a way to live. Punk is what you make out of it.

How is it to live in Germany right now?
-Booring. Dumb politicians.

Is there any good bands there right now?
-We know lots of good upcoming ska and punkrock bands in Germany. For example No Respect, Frontkick, Waterdown, Terrorgruppe, Oxymoron. The music-scene in Germany is pretty big at the moment. Good bands in the world are for me groups like F-Minus, Anti-Flag, Propagandhi and Choking Victim

What do you think about Bushs war against Hussein?
-Very difficult question. To put it in a few words. I think fucking Bush sux, but Saddam sux too. And war is not the solution. Fight war, not wars.

What does people in Germany think about it?
-Well, there is a pretty big anti-war-movement at the time. We got demonstrations in almost every big german city and the media cant hide this movement anymore and I think that is good. Its nice to see that there are so many especially young people being on the streets and using their right of expression and free speech. This is how the next generation learns how to protest against war and hopefully against much more shit which is going on at the moment.

Does politics and music goes hand in hand?
-If you talk about punk and hardcore music I would say "Yes" other people would say "No".

Can you imagine to play for any political way to think or soemthing like that?
We do this all the time. We did a lot of benefit shows for the Animal Liberation Front, the Anti-Fascist-Action-Movement, Anti-Racist-Groups and also Environmentalist-Groups who are trying to stop nuclear transports.

Can music change any persons life do you think, please give me an example?
-Yes it can. Punkmusic changed my life so it can change your life too.

Please rank your five best records, five best concerts and five most important things in life?
-Records:
Operation Ivy – Energy
Propagandhi – Less talk, more rock
Ausrotten – The System works for them
Rancid – And out come the Wolves
Against All Authority – Destroy what destroys you
Shows:
UK Subs / Goettingen
Propagandhi / Berlin
Against Me /Berlin
Anti-Flag & ZSK / Vienna
Agnostic Front / Leipzig
Most important things:
My friends
Health
Trying to change the world in a positive direction
Music
Freedom

First last and most expensive recrod ever bought?
The Damned 7" "Smash it up" 20 Euro
First Rancid 7" 25 Euro

What do you know about Sweden?
-Actually we know a lot about Sweden since three of us have already been there. You guys got crazy prices for alcohol and cigarettes but a very very cool landscape. There are many nice little wood-houses you can hang out and sleep in, while you are hiking through the forests. And you got pretty good chocolate. Another thing we know is that Sweden has got policemen who shot at demonstrators in Goteborg and them put em to jail for several years. That is not good !

Have you heard any good swedish bands?
-Venerea. These people rule. We did a three weeks Skaterock-Tour 02 with them in Oktober/November 02.

When you do your songs which is most important, is it the music, the lyrics or is it to have a refrain that people remembers?
-Both. On one hand for me it is very important to have a particular message in the songs I write and on the other hand it is no use to make songs with refrains which nobody can remember. So you always have to combine both of these elements to create good song.

Is it many interviews? Is it boring?
-First question: Yes we get many, many interviews to answer. Second question: No. I got no problem in answering interviews. Its fun, I like it.

Which is the question you never got but you want to have, please ask it and answer it?
-Why the hell do you smell so bad ? Cause I never take a shower when I am on tour.

The most frequent question is what ZSK stands for I can think, what does it stands for?
-Actually ZSK has got no particular meaning. We were just looking for an unusual short name for a punkband and there it was…

Have you done anymore records than Radio Riot , if you have how can I get them?
-We did some Tapes and a SplitCD with a cool skapunk band called Blowing Fuse. You can order this CD at our online-shop: www.moshpit-clothing.com

Future plans for the band?
-We will record our next album in summer, play lots of festivals and then do a headlining european tour in order to promote the next album.

Futureplans for yourself
-Starting the world revolution.

Wisdomword?
-It does not only count what you are doing, but what your are not doing.

Something more to add?
-Thank you very much for the interview. I think that was our very first interview for a swedish magazine. Hooray!