Hello.
Erik and Bumba from Zooparty here.
Sorry for you waiting two days on the answers but when you have worked so hard with your questions we wanted to do the same with the answers.
Sometimes we answer both of us, sometimes one of us. Pictures can you find at zooparty.se download it for free.
Now we go!
So is the answer from two of the guys in Zooparty…….november-2007

History? Bands before?
- We have all played in a lot of bands before like Everlone, Att mörda en överordnad, Kvinnan, Mudslide, Madslide, Benen, Lowriders, Njurmännen, Ewing Oi, Gatans parlament, Mother Ice Dog, Sobsisters, Ztöhr, B-Gum Justice, Komodo, Zeb And The Fast ones, Fluff and Helvetet Är De Andra. Just to mention some.

Please tell me a little about every member, interests, family, work and something bad about every one?
-Bumba: Private!
Erik: 42 years, journalist, wife and two children. There´s nothing bad to tell about Bumba and Hård-Per. They´re both my best friends.
You´re older than the new punkbands….how does it feels to play punk in this age?
-Erik: It´s more fun today than it was then. We´re better, we can more, it´s more focused and do our shit better. And with the new musicworld it´s easier to reach out, get contact and get more gigs than it was before. It feels like there´s a lot more today which are interested and burn for the things they do.
Bumba: Is there a border for age of punks?

What do you think about today´s punk?
-Bumba: Ok.
Erik: Part of it is fantastic. The engagement with many of them are fantastic and the world have a lot of good bands. Not every day but almost I found new favourites.

You have surely get the question before, but how did you get Matlock and Brian James to play on the record?
-Erik: I know them since a lot of year back. Brian James I met through a guy who helped me move in Stockholm. He saw that I had a lot of punkrecords and he asked me if I know who Brian James was.
- Of course I said. He´s one of the world best songwriters and guitarists. – Fun, he said. My sister is married to him. And on that way it is.
And since then we had have contact and we have met each other many times both in England and in Sweden, Glen Matlock I started to know when I was living in London. Glen and I lived in the same block. We met regurarly since then. The last time was when Sex Pistols played at Brixton Academy in London.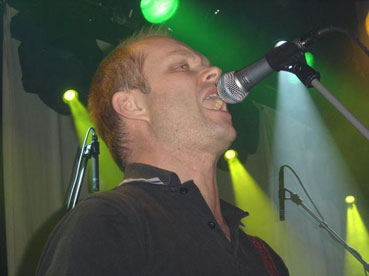 Favouritepunkgroups from back in history?
-Bumba: Damned/Pistols/Depressions/DeadBoys/Iggy
Erik: Varför just från förr? A SUDDEN BURST OF OPTIMISM, SLINKY VAGABOND, DEAD HORSE, DONNAS, FLAKES, WENDY O WILLIAMS, PASCAL, AC/DC, PIPETTES, IQ 55, OSAKA POPSTAR, TANZ DER YOUTH, ROLLING STONES, DR ZEKE, MAN-RAZE, EVERLONE, HELLACOPTERS, AEROSMITH, BLITZEN, WHITE TIGER, SOBSISTERS, FREDDIE WADLING, BAD BRAINS, WATERBOYS, CLASH, SIXTEN REDLÖS, SALT, NINA RAMSBY, MARIT BERGMAN, THIN LIZZY, NEW YORK DOLLS, BAXTER, DAMNED, KISS, TV EYE, FLUFF, FLUFFY, LED ZEPPELIN, BAD CHOPPER, SUEDE, KILLER KANE BAND, PATTI SMITH, GIRLSCHOOL, IGGY &THE STOOGES, GLEN MATLOCK & THE PHILISTINES, BOB MARLEY, SOUNDTRACK OF OUR LIVES, PUBLIC IMAGE LIMITED, POPSICLE, KSMB, CARBON/SILICON, ACE FREHLEY, SEX PISTOLS, STRY, DEEP PURPLE, SPECIALS, RAMONES, SWEET, SUGAR, NEW ORDER, DANKO JONES, JOHNNY THUNDERS, MACKT, RAINBOW, THE EAGLES OF DEATH METAL, BUZZCOCKS, DARKNESS, CORTEX, CULT, BRIAN JAMES GANG, MOTORHEAD, GRAND TONE MUSIC, THERAPY?, BARRACUDAS, INCRANIUM, SPEED FREAKS, DOG TOYS and CIVIL OLYDNAD Is all band which I listens to. Both now and then.

Acme Records....please tell me how it happened?
-Erik: I came in contact with Acme Records as a customer. I bought a vinylsingle of them with Warm Jets. As you maybe know so was it CJ Wards band, the guy which formerly was known as CJ Ramone. Dee Dees stand in. However. It became a little bit of problem with the postage from the label but the label was so nice so I putt hem in my memory. When it was time for Zooparty I contacted JE on the label which liked us and we started to work together.
One funny thing here is that in November Acme Records do a promotion for two of their bands Zooparty and Bad Chopper, CJ wards new band. The circle ends in one.

How do you think that punk goes on in Sweden today?
-Bumba: No idea.
Erik. It lives and becomes better. Probably stronger, more engaged and more angry than ever. There´s so much forces today..

What´s the difference to play today if you compare with in the beginning of your career?
-Bumba: Better fixed/lesser places/Better sound/ It WASN´T better back in time!

What does punk mean to you, is it only a word or is it a lifestyle?You don´t look like punks "should" do….have you ever looked liked that?
-Bumba: Punk = Do as you want/no rules
Erik: Of course it´s not only a word, it´s a way to live. An attitude. A way to see things. A way to handle your weekdays, your rlelations with people around, work, how you do things you want to do – and a way to dop things in the way you want to do them. Everyone have of course their right to their own opinion but I don´t share your opinion how a punk should look like(that´s not my opinion, only a question/Editor).
That´s the opposite way, as Bumba says punk have no rules. Not which shoes you should have, or which clothes you should have or which hairstyle you have. Do anyone think that punk is about having some sort of trousers, t-shirts or colours of hair I think that you have missed the whole point. John Lydon said already 1976. It..s not about the clothes you wear, get that! And I think that he a point there. Look at bands like Bad Brains, Ramones, Stooges, Dub War, Sex Pistols and Black Flag. You don´t see many mohawks there! But no one should call them anything else than punk? And no, we have never looked like the punks you find in the JC-advertisment.

When we was young it was enough to put on a safetypin on the jacket or to cut your hair just to chock people…what shall today´s youth do to chock people around them today?
-Erik: I´m sorry, but I don´t agree with you there either. It wasn´t enough to cut your hair or put a safetypin on your jacket to get people chocked. Not today either. Your acting says who you are. It´s the same thing now and then.
Bumba: Engage yourself, which people do today!

My space...what do you like the way to communicate….is it important to be on My Space? Have you got many contact that way?
-Bumba: Wonderful? Thanks for the technique!
Erik: It´s a fucking good way to reach out and get some contacts. A little bit simple layout and it´s too easy to be hacked. Too much advertisement. But as a wholeness: very good!

You were playing in my old hometown Uddevalla on Kassettfestivalen...how was it?(I couldn´t come there...I was on Dia Psalma)
-Bumba and Erik: The best in a very long time. Nice place, good audience and best of all Lars and sari. Thanks….you´re amazing!

What´s the best with playing live?
-Bumba: Often free beer!
Erik: It´s an enourmous feeling and an egotrip to find that magic and chemsitry between the others in the band, the audience and the art – the songs. Wh have done. It hits many things!

Do you often plays live? Where is best?
-Bumba: Yeah. Uddevalla!

How do you think there is to live in Sweden? I mean politically?
-Erik: I´m divided. There´s a lot of unjustices, bad things and abuse of power which makes me angry. Every day. But there´s an astounding country which have laws which says that everyone is as much worth as any other person even if they´re a woman, have another view on sex or it doesn´t which sex you are. You have the right to say and speak about what you want and you have the right to vote. For a couple of weeks I was on a concert and saw a friend play. And in the same time Ofog (which is a network which is struggling for a nuclearpowerfree world)informed us about their things which is built on civil insubordination. Their presentation was announced with time and place. And then I thought about it, how many other countries can a network which works with civil insubordination announce their presentations – and then have their presentation without anyone disturbing it. That can happens in only a few countries. We have a country there the roof of freedom is really high.
Bumba: It´s Ok!

Do you notice any difference since the change of power some year ago?
-Bumba: Should we care only about ourselves or should we care about each other? ???
Erik: Yes.

Politics and music, how do you see on that?
-Bumba: Ok but not necessary...a good forum!

Best political artist/group?
-Bumba: RaceAgainst The Machine!
Erik: Mahatma Gandhi

Please rank your five favourite records, five favourite concerts and five most important things in life?
-Bumba: Records: Sex Pistols Never mind the bollocks / Damned BlackAlbum/Zooparty You are here/AC/DC LetThereBeRock/Iggy and the Stooges RawPower
Siox-Underjordiska both in Linköping/KSMB-Linköping/Zooparty-Uddevalla/Zeb and the FastOnes-Jönköping/Damned-Birmingham

Erik: Records: Sex Pistols Never Mind the bollocks/Ramones Rocket to Russia/Bad Brains Attitude The Roir Sessions/Kiss Destroyer och Zooparty You are here
Concerts: Sex Pistols Brixton Academy, London/ Iggy Pop, Washington/Waterboys Roskilde/Kiss Stockholm/Brian James London
Five most important things? Other private things.

The first, last and most expensive record in your collection?
-Bumba: Sweet-DesolationBoulevard/GlassHeroes/Damned-Music For Pleasur-NyaZ.
Erik: Sweet Teenage Rampage was the first record. That Bumba also started with Sweet I hadn´t an idea about. But it´s surely so that we was on the same track then too. The last buyings is Donnas "Bitchin", A sudden burst of optimism "Sumo", Nober Hill, Sid Vicious "Sid Lives", New York Dolls "Private world" and Sex Pistols "Daily Star". Most expensive: Kiss The Originals II

The most embarraing record in your collection?
-Bumba: Have no records like that...........
Erik: It´s the same here. There´s nothing to be ashamed of…

Do you buy many records?
-Erik: Rather much, it goes in periods.
Bumba: 1-2 every week

How do you see on downloading? For or against and what is it good for?
-Bumba: Somewhere between…buy downloads cheap good.
Erik: I haven´t anything against downloading of music. I only think it is a new way to distribute music – and a good way because it´s coming out to more people in a simple way. Zooparty put out their second single for downloading last Christmas as a christmassingle. It was a success and it´s not impossible that we do that again.!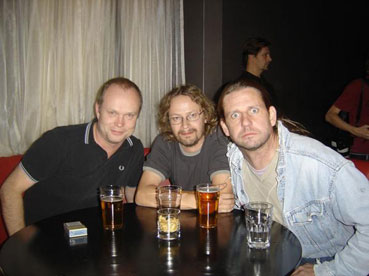 But I think that the artist should have been paid for the music if they want to have it. And today people are not so keen of paying so much as the labels wants them to pay. It´s madness to pay 170-180 swedish krona for a record which you download for yourself and do the job for yourself and you don´t get a cover for the record. Now it´s the same price as in the stores. The labels must understand that they must lower their prices lot to get back the money for all the downloaded music. But it´s difficult. Radiohead put out their latest album for downloading and the ylet people pay whatever they wanted for it. Two of three didn´t pay at all. And the ones who paid paid a prize of 39 swedish krona. Som it´s hard to understand what the customer wants to pay.

Futureplans for Zooparty?
-Bumba: Take over...
Erik: A lot! In november so does Acme Records a promotion for us and Bad CHopper as we mentioned earlier. And then the song "The Fuse" is released on a compilation from The Phillipines and there is also Francine, The Glass Heroes, Monkeeman, Benko and The Punch on the record. There´s some plans on a compilation from Acme Records and also there it would be the song The Fuse. We have written new songs which we will start to rehearse, we have more gigs on the way, and more reviews, interviews and other articles about us on their way out.. We can say like this. You are here is for Zooparty as Jaws was for Steven Spielberg. Only the beginning. Spielberg was really satisfied with Jaws and he have done some more good movie after that movie.. You are here we´re more than satsified with but wait and see waht Zooparty will do in the future.

For yourself?
-Bumba: Take it easy
Erik: To do this world a little bit better, Every day!

Wisdomword?
-Bumba: Doanything you want as long as you don´t hurt anyone.

Something to add?
-Bumba: Where is number 29?