History?
-The history of Zamarro, the Swiss rock-trio from Basel, started in April 2002.
After Markus Gisin`s previous band LUNAZONE split in March 2002, he went on the lookout for musicians for his new musical project. The drummer was found quickly; LUNAZONE sound technician and ex- HELL MUTE- drummer, Michael Hediger.
The set-up was completed by bassplayer Marco Redolfi, who had played in several bands and projects. The three guys knew how Zamarro should sound from the beginning: driving, heavy and direct.
After experimenting hours and hours in search of a big, powerful sound -
something not easily achieved as a trio - they started to concentrate on writing songs. The first proof of what Zamarro are capable of, is their 6-track 10"-vinyl and CD entitled "1st race", which was recorded live in their practice room and released by the German indie-label "Middle Class Pig Records" (The Masons, Cretin 66, The Blondes) in November 2002. This record was distributed in the whole of Europe (Switzerland: RecRec, Germany: Cargo, Netherlands: Sonic Rendezvous, Sweden: Sound Pollution). With their debut release, Zamarro played about 50 live-shows, which led them throughout Switzerland, Germany, Austria, Croatia, Slovenia and the USA.
In september 2003, a new part in the history of Zamarro took its course:
"Zamarro goes USA!". After they got in contact with cult-producer Jack Endino (Nirvana, Soundgarden, Mudhoney, Zeke, Therapy, The Supersucker, Zen Guerrilla, and many others) he decided, after listening to their demo-recordings, to record and produce their first full-length album in Seattle. Before the band entered the studio, they played a "warm-up" West Coast-tour, which took them from Los Angeles, via Santa Cruz, Sacramento, San Francisco and Portland to Seattle.
The album "Lust in Translation" is OUT NOW on the German label SUPERMODERN.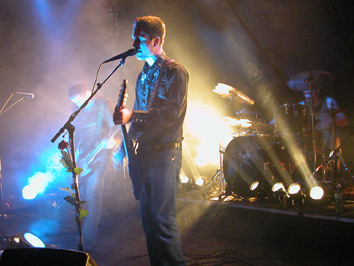 Please tell me a little about every member, age, bands before, family,
interests and something about every one?
-Michael: I'm 37 years old, before ZAMARRO I played drums in several
Swiss-rockbands (HI-GRIP, HELL MUTE, PHASED). I started with the drums when I was 9 years old - two years later I played my first show with my first band. I grew up in the country-side in the middle of Switzerland. Since 7 years I live in Basel (for me - the best town to live in Switzerland). My interests are Rock & Roll, travelling (be on tour), chicks and cool cars.
Marco: 29 years old, I play the bass since I was 14 years old. Started in
several noisecore and hardcore bands, played also in a reggae-band before
ZAMARRO. I grew up and still live on the country-side. Interests are
vinyl-records, especially 7"-records, and going to soccer games (FC Basel).
Markus: 29 years old, I had my first band with friends from school and
punkrocked in French, German, Swiss-German and English (BETTNAESSER). With the next Band LUNAZONE, we did several tours in Europe and released two albums (the second "Rockahula" we recorded with Jack Endino). And now, it is ZAMARRO-time. I love lawn movers, grill parties, rockshows and I'm happy to be born in the Gisin-family.
You changed the name from ZORRO to ZAMARRO, why?
-Two weeks after we came back from our tour and the recordings in the USA, we received a letter from a company called ZORRO Productions Inc. in Berkley (CA). They informed us, that they own all the rights of the name ZORRO and if we wanna use the name also in the future, we had to pay them licenses for everything (also for live-shows). The other solution was to change the name. So, we ended up with ZAMARRO - the spanish word for gangster, taxman or similar.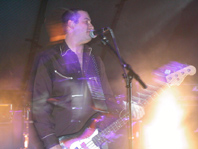 SUPERMODERN is it a good label?
-Lust in Translation is our first release on SUPERMODERN. Until now, we got to know that they really stand behind us and work their asses of for us. They also made a vinyl-version of Lust in Translation (incl. 1 bonus-track on red vinyl).Right now, we can say: YES it is a good label!
How is rocklife in Switzerland?
-There is not really much going on in Switzerland. There are a few good bands around - like FAVEZ, AZIZ, HELL MUTE, MOPED LADS and more. The rock-scene in Switzerland is really small. We have a lot of shitty-mainstream-bands, but 99% of them are not interested in playing shows in other countries.
Probably one of the problems with the rocklife in Switzerland, was also the big boom of Tekkno and similar stuff in the 90ies - Zuerich was one of the
main-cities in Europe for bum-bum!
Have you noticed that many people mix up our countries Switzerland/Sweden?
Why do you think, wich are similarities?
-We recognized that especially in the USA - most of the people in the US dosen't know anything about European-geographics. But, it doesn't matter, we like Sweden and the rock-scene in your country!
What do YOU know about Sweden?
-They build the best cars & trucks in Europe, have real high prices for
cigarettes and alcohol. Since I can remember, the best rock-bands and the most beautiful girls on our continent. Scandinavian-nights can be endlessly long! And hey: A 5 : 0 against Bulgaria in Portugal!
Have you heard any good swedish bands?
-LEATHER NUN (r.i.p.), IN THE COLONNADES, ENTOMBED, MOTHER SUPERIOR,
HELLACOPTERS, BACKYARD BABIES, THE PEEPSHOWS, ABBA (r.i.p.) and a lot more ....
Is there any good bands in Switzerland?
-AZIZ: Something between Motorhead and Zeke - from Bern
HELLMUTE: Kick-ass-rock from Aarau and Zofingen - one album(Martha) was produced by Thomas Skogsberg @Sunlight-Studios in Stockholm.
FAVEZ: Great rock-band from Lausanne (french-part) - check them out live!
LOMBEGO SURFERS: Great garage-surf-rock&roll-band from Basel.
THE BUCKS: Punk-Rock since twenty years - great liveband!
Are you tired of the expression stonerrock? How would you describe your
music in three words?
-We are not really a stoner-rock-band - there is only one member in the band who likes to smoke pot. It's just guitar-rock with influences from garage-,punk-rock- and stoner-bands.
1. Rock
2. and
3. Roll
How is a good concert with you?
-We always give our best and try to get the audience to our side. Mostly, you know it is a good show, as soon as you see the people rocking-out in front of the stage. And that's the way I like it! You are wet while having a big smile on your face.
1How does the average fan look like?
-Men: Big belly and some rock-n-roll-accessories.
Girls: Big boobs in a ZAMARRO-shirt.
How much does a group like ZAMARRO sell?
-Lust in Translation is our first album and just released now. Ask this question again in a year. But we've sold a lot of merchandise until now.
You have a little love in cool cars, why and favourite car?
-Michael: Hotrods, Lowriders and also Dragsters are cool cars, who are similar to rock-n-roll: They are loud, powerful and they go forward .... .
My favoruite car: Ford-T-Hotrod (with V8-engine).
Markus & Marco: Michael is rolling over us. Honestly, we always use the train. On the next album-cover must be a cool train .... Shut up, Michael!
Please rank your five favourite records, five favourite concerts and five
most important things in life?
-Michael:
Records:
1. BAD BRAINS I against I (Caroline Rec.)
2. KILLING JOKE Nighttime (EG/Virgin)
3. DIRTY POWER s/t (Dead Teenager Rec.)
4. TROUBLE Manic Frustration (Def American)
5. DONALD FAGEN Nightfly (Warner)
Concerts:
1. MOTÍRHEAD @ Hot-Point-Festival, CH-Lausanne - 1987
2. SAINT VITUS @ Sedel, CH-Luzern - 1989
3. BULLET LAVOLTA @ KiFF, CH-Aarau - 1993
4. CELLOPHANE SUCKERS @ Hirscheneck, CH-Basel - 1999
5. FOXY @ Hirscheneck, CH-Basel - 2000
Important things in life:
1. Feel OK and be OK.
2. Rock&Roll
3. Having good friends
4. Luan - the little boy in the house were I live.
5. Girls, girls, girls
Marco:
Records:
1. LED ZEPPELIN "Houses Of The Holy"
2. DAVID BOWIE "Diamond Dogs"
3. AC/DC "Dirty Deeds Done Dirt Cheap"
4. ROLLING STONES "Goats Head Soup"
5. NICK CAVE & THE BAD SEEDS "Live Seeds"
Concerts:
1. THERAPY? @ Fri-Son, CH- Fribourg - 1997
2. DUB WAR @ Kaserne, CH-Basel - 1994
3. RAGE AGAINST THE MACHINE @ Zenith, F-Paris - 1996
4. IRON MAIDEN @ Martin-Schleyer-Halle, D-Stuttgart – 2000
5. HELLACOPTERS @ KiFF, CH-Aarau – 2003
Important Thing In life:
1. Vinyl
2. CD
3. Beer
4. good Food
5. FC Basel
Markus:
Records:
1. KYUSS "Sky Valley"
2. LEMONHEADS "Lick"
3. U2 "Achtung Baby"
4. AC/DC "Back in Black"
5. FAITH NO MORE "Angel Dust"
Concerts:
1. BULLET LAVOLTA @ KiFF, CH-Aarau - 1993
2. BABY JAIL @ Steinbruch, CH-Küttigen - 1994
3. SOCIAL DISTORTION @ Volkshaus, CH-Zuerich - 1998
4. THE HANGMEN @ Hirscheneck, CH-Basel - 2003
5. NASHVILLE PUSSY @ Kuglana, HR-Koprivnica - 2003
Important things in life:
1. A good feeling when you get up in the morning
2. Family
3. Be able to enjoy the moment
4. Friends
5. A good lady to be with
First, last and most expensive record you ever bought?
-Michael: - First record: SWEET "Give us a wink" (RCA)/ - Last reocord: PROBOT"s/t" (Southern Lord)/ - most expensive: Brian Setzer Live Nude Guitars(EMI-Japan)
Marco: First record: Elvis Presley: Aloha from Hawaii (RCA), Last Record:
ESKOBAR "A Thousand Last Chances" / most Expenisve: a 7" from Pink Floyd: Point
Me At The Sky (about 100 USD)
Markus: First: AC/DC "Back in Black" (Atlantic) / - Last record: CELLOPHANE
SUCKERS "Can't say no" (Subway) / - Most expensive: I never buy expensive
records
The most embarrassing record in your collection?
-Michael: MONIKA KAELIN "I wanna milking you" (K-tel)
Marco: MODERN TALKING "First Album" (got it as a present when I was a child frommy grand-parents :-)
Markus: OPPRESSOR "Inside"
How have the reviews been on your new album?
W-e have a great feedback. It's great to have this esteem for our work. If you wanna read them check out our website: www.zamarro.com.
Which do you trust the most, the bad or the good ones?
-The most we trust in ourselves and some close friends.
Which is the most peculiar review you ever have got?
-There was one review from a guy in Zagreb (Croatia) - we didn't understand a word. But one word was DOBRO and that means good.
Which bands are you being compared with?
-NEBULA, FU MANCHU, DIRTY POWER, UNIDA and the (old) LEMONHEADS.
When you do music, which is the most important, is it the lyrics, the music
or is it to have a refrain that people remember?
-All we need is this feeling which says YES to a certain hook. And then we go for a song.
Are you doing all music together?
-Yes, mostly we jam on an idea someone in the band brings in. And then we start to work out a structure.
You have been involved in punkmusic before, what does punk mean to you, have it changed your life somehow?
-Michael: I played in several punk-rock-band before ZAMARRO. Punk means rough energy whitout any compromises. (Nazipunks fuck off!)
Marco:Punk means dirty & direct energy… and no compromise in music.
Markus: Let your energy out, don't do things you don't want to. But no, Punk doesn't stand for a change in life.
Is it many interviews? Is it boring?
-Lust in Translation is the ZAMARRO-debut-album - so we are interested in every interview we can do. At the moment we want to promote the band and the album in every possible way.
Which is the question you never get but you want to have, please ask it and
answer it?
-Tell us about your first Grammy?
......
Do you have any favoruite website on the net?
-Michael:
Marco:
http://www.hotstuff.se (my favorite vinyl-mail-order)
Markus:
http://www.freesurf.ch (e-mail log-in on tour)
Futureplans for the band?
-We wanna play live where- and whenever it is possible for us to promote the band and our album. During the Summer we're gonna record a few new songs for a split-7" with ADAM WEST (USA) and a split-7" with HIELO NEGRO (Chile). In Fall 2004 we hope to be on tour as much as possilbe. For spring 2004 we are planning to do the recordings for our second album (hopefully again with Jack Endino).
For yourself?
-Michael: Getting an endorsement-deal with PAISTE-cymbals, VIC FIRTH-sticks and EMO-drumheads, hahaha ... (All this material is so fuckin' expensive!)
Marco: Let's see what tomorrow brings…
Markus: Buying a big lawn mower - one to sit on it!
Wisdomword?
-There are only two kinds of music: Rock and Roll!
Something to add?
-Who wants to book our tour in Scandinavia? Conctact us: