Your time use it comes from Germany and they play really good hardcore. Why don´t an interview them I thought and here´s the result…September-2019
Please tell me a little bit history of the group?
-Hi, I am Markus, singer of Your Time Use It from Aachen, Germany. Thanks in advance for the interview. We really appreciate it!
Our band consist of Rene and Roschan (guitars) David (drums), Rene (bass) and Stefan (merch, sound, etc.).
We started out in 2014. Most of us already knew each other for quite a while and used to play in different bands together.
We released a demo in 2016, an EP in 2018 via Stay Cold Records, and are currently working on an album which we will record in 2020.
Besides that, we try to play as much as our work and family lives allow.
Well, I guess that's our infamous history in a nutshell.

Please tell me a little about every member in the group right now, age, family, work, interests and something bad about everyone? Earlier bands? Other bands on the side?
-We all are in our mid-thirties. Most of us have kids, all have wives or girlfriends and we all have a regular job, which, as for most people, takes up too much time but provides for us and our families.
We spend a lot of time talking and we often argue or piss each other off. But in the the end we always manage to straighten things out and find compromises. This is also what makes this band very special to us. It's not merely a musical project. We are friends, and I am really happy to have these guys in my life.
Bandwise we all had a few bands before Your Time Use It. As I mentioned earlier all of the guys already played together in one or the other bands.
None of us has any side projects...or none that I know of...
I can hear much different influences but mostly hardcore? Favourites from the past?
-A lot! We are kids of the nineties and are mostly influenced by 90's and early millenial skatepunk and hardcore bands. Satanic Surfers, Raised Fist, Snapcase, 59 Times The Pain, Shelter, Endstand... just to name a few.

Your time use it are you satisfied with the name? How did it came up? You weren't afraid that some other band would be named like this? Which is the best bandname you know?
-We are completely satisfied with the name because it has a true meaning to us.
All of us have only a limited amount of time on this planet and for us it is important to strife for and create something positive during that time span. So this is your time, use it.
Coming up with it was a huge pain in the bum though. There are so many cool and meaningful names but most of them are, of course, already taken. We had dozens of promising ideas which, after a short google research, went straight to the bin.
Because we checked carefully we are pretty sure that we are the only band with that name. If some guys want to name their band the same way they will receive a very angry email ;)
The best bandname? I can't tell. I like meaningful bandnames that leave room for interpretation such as Comeback Kid or The Ghost Inside.

What´s the best thing with playing live? Do you play any covers on stage?
-The energy. The raw power and excitement. Putting your heart out and sharing this moment with your friends. That's one of the best things in life.
Nope, no covers ever.

And where is best to play? And the worst place?
-To be quite honest, we only play dirty punk clubs, pubs, youth centres or tiny rehearsal rooms of befriended bands. They are all great because some DIY dude took the effort to organize a show for him and his buddies and we were happy enough to be invited to crush the stage. That's what it's about.

How is to play this sort of music in Germany right now? Which types of bands do you have concerts together with?
-There are a lot of great bands in Germany at the moment...and a lot of bands in general. We mostly play with other hardcore or hardcore punk bands. Most of them are friends or become friends pretty fast. We try to help each other out and support small touring bands so we get the same love back.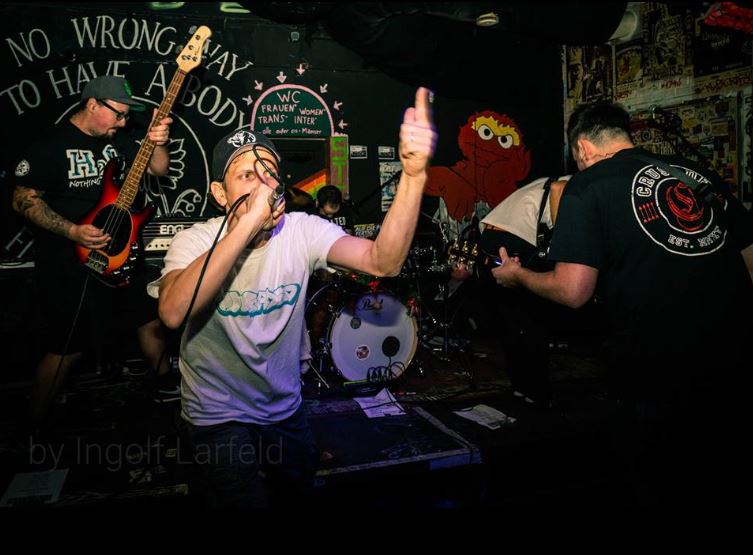 How would you describe your music in three words?
-Energetic, positive, playful.

What does punk mean to you, is it only a word or is it a lifestyle?
-It's definitely more than a word. For us it includes that you try to broaden your horizon and become the best version of yourself that you can be. Its a way of dealing with life by asking uncomfortable questions. To yourself and your surroundings.
Which song/album or group was it who took you into punk?
-I started to listen to punk with Green Day "Dookie", but the band that really brought me into it where the Satanic Surfers with "Hero of our time". That's my most favourite album ever!
What shall a young guy do today to shock their parents as the way we did when we were young? They have already seen everything <![if !vml]>

<![endif]> ?
-Tattoo their face and do crappy autotune trap music...or maybe wear a suite, go to church and study economics.
I don't have any children, but the latter would really freak me out I guess.
How is it to live in Germany right now? Politically? Fascists?
-It's like almost everywhere in Europe, or maybe even the world. Populists provide easy answers to a complicated world and point the finger at lesser fortuned people so that some miserable narrow minded dickheads have somebody to blame for their shitty lives. Up to now it's quite ok but there is too much hate towards foreigners. We also have people who display their fascist attitude openly. Those guys are bad, but it's the deep rooted rightwing "average joe" from the middle of our society that scares us the most.
Is there any good bands from Germany right now? Is the punkscene/metalscene/hardcorescene big? How is it in your hometown?
-I think there are many really good bands. The latest hardcore releases that let my mouth drop open where No Shelter and the latest Vlada Ina Single. Take Your Guilt, a band from our hometown, just released their EP which really kicks ass. Besides those I am really waiting for new stuff from Selfish Hate who just finished recording their new album. World Negation is also a great band that needs to be mentioned. Unfaded, those guys have nice, raw energy...I could go on and on...

What do you know about Sweden? Have you been here sometime?
-You have great lakes and woods! I have been to Sweden when I was fifteen and had a great vacation in a youth camp. I drank self-distilled vodka with some swedish punk kids. I also visited my wife a couple of times when she was working in Stockholm. She introduced me to kardemummabullar - they are awesome! Nothing to complain about Sweden so far!
Have you heard any good bands from Sweden?
-Some of our favourite bands come from Sweden. Satanic Surfers, Raised Fist, Millencolin, 59Times the Pain, No Fun at All. There are really some great bands hailing from your country.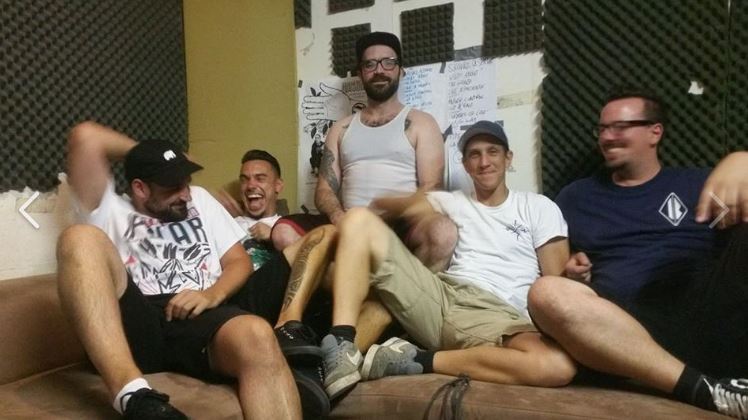 Your lyrics, who does them and what influences you? Never in german or any other language?
-I write the lyrics. Mostly I write about stuff that pisses me of, but I also write about things that motivate or inspire me.
We have no songs in German so far, but I could imagine doing some songs in our mother tongue as well. I somehow prefer writing in English. The language is way smoother than German.
Is there any subject that you never will write anything about?
-I can't think of any. If I feel like it I would write about anything.

Politic and music, does it go hand in hand? Which is your most political song? Is it important to get out your opinions in music?
-To transport a message is very important to us. We have a couple of political songs.
Soulless machine or Beautiful place for example. Of course it is hard to come up with solutions to specific political issues in a song. But to state an opinion or inspire a listener to think about a political topic is a huge part of hardcore and punk music.
Best political band/artist?
-Maybe Rage Against the Machine or Stray from the Path. I don't know. There are a lot of bands that have well written lyrics. Good Riddance or Propaghandi have great political lyrics as well.
Do you think that music(lyrics and so on) can change anyones life, I mean people who listen to music?
-I sure do! Listening to punk and hardcore bands had a huge impact on my life. The way I think and approach things and problems were influenced by the music I listened to. Besides that it gave me a scene and role models I could identify with.
The right music can help you through hard times. I know some people who literally feel saved by music as they discovered hardcore when they where dealing with drug or alcohol issues and found a way out by becoming straight edge.
Your favorite recordcover alltime? Who does your recordcovers? And do you have any good recordstores in your hometown?
-I don't care too much about record covers. I like the covers of Hot Water Music albums though. Our Demo cover was designed by our buddy Stefan that I mentioned earlier. The cover of our EP was done by Mario Turiaux, a talented artist from Aachen.
We don't really know who will do the cover of our album, but we want to keep the cartoonish style we are establishing.

Is it important to get out physical records of your stuff? Why or why not? Vinyl, CD, cassette, what do you prefer if you could choose whatever ?
-I am kind of undecided when it comes to physical records. Of course it is nice to have a copy of your music in your hands and many people are collectors. But the trend is going the other direction with nearly everybody consuming music via streaming platforms. For me it's the same. I buy the record to support the band but I always listen to it digitally.
Our next release will be vinyl. It's the most stylish way of releasing a record and the true collectors prefer it anyway. The rest has to listen to our stuff on the streaming platform of their choice.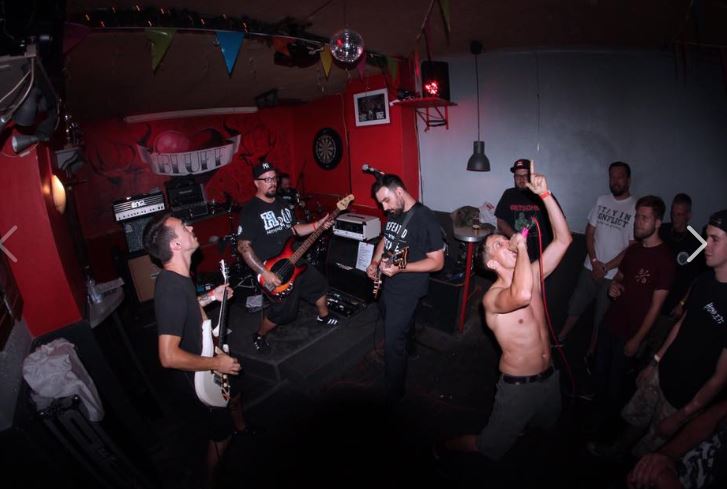 Please tell me a funny thing which have happened during your career and under some gig?
-We were supporting a "bigger" German hardcore band. During the break in our first song our guitarist Roschan executes a stylish dance move. He lifts his guitar high up in the air to slam it down in a mighty blow with the next chord. The strap fails, his guitar drops to the floor with a big clonk and he looks kinda funny.
How does your audience look like? Which people do you miss on your concerts? Which is the biggest band you ever have played together with?
-We don't really have an own audience because we are still a very small band. It's just people that go to small shows supporting the DIY scene. With that being said there is nobody we miss, but everybody is welcome...except fascists and the like. They can stay at home and smash their heads against a wall.
Please rank your five favoriterecords, five favoriteconcerts and five most important things in life?
-Satanic Surfers-Hero of our Time
Raised Fist-Veil of Ignorance
Red Hot Chillipeppers-Californication
Hatebreed-Satisfaction is the death of desire
Rage Against the Machine-Evil Empire
Any Sick of it All show.They always wreck the place.
Questions at Cafe Bluff. A really small venue and a positive oldschool hardcore band from Brazil. I was blown away by their energy and had a great party with basically everyone in the venue.
Die Tote Hosen in a living room in Cologne, that was epic.
Ignite at the Musik Bunker in Aachen. The Bunker is also a small venue which was packed when Ignite played. Everybody went completely bonkers.
H2O at Groezrock in 2016 (at least I think it was 2016...) the stage was full of people singing along and stagediving. Awesome!
My family
My friends
My cats
My health
The rest is nice to have but no necessity.

First, last and most expensive record ever bought?
-Green Day-Dookie
Probation-Fucked by Life
I don't know

Is it boring with interviews? Is it much interviews?
-It's the second interview I do and I am having a great time!

Do you care about reviews? Which is the most peculiar you ever had, with this band or any other band you have been to?
-We don't really care much about reviews although they are mandatory if you want to get your name out. It is always nice to hear if somebody likes your music...and sometimes uncomfortable if they don't. But in the end it doesn't matter. We do what we like and that's it.
One review we got was really funny. The guy basically only said that we are a band and we play music. Well, at least that's the truth.
Which bands do people compare you to, is it boring that people compare you to other bands or is it understandable?
-I thinks it is completely understandable. I think there are always similarities between bands. It is unavoidable. Besides that, there is no shame in having a style that is comparable to a band that you like. We already got compared to Comeback Kid, Biohazard, 59 Time the Pain, Downset, Snapcase, Bane and most recently to old Deez Nuts and Stick to Your Guns stuff. Those are grat bands that all sound very different to me, so I hope we have our own style that's somewhere in the middle of it all.

If you could choose five bands from the past and the history and nowadays and both dead and living bands to have a concert together with your band. Which five have you been chosen?
-I would choose the bands that I like and know personally. Right now it would be World Negation, Selfish Hate, Dead District, Honour Never Dies and Hometown Crew. That would be a Line Up that I would really dig!

Is music a good way to get out frustration and become a nicer person outside the music??
-Hell Yeah! Music helps me to transform negative emotions into something positive. It does so in many ways, by writing lyrics and shouting them at the world, by listening to it loud at home or at shows and, most importantly, at our concerts where we can go crazy on stage and let everything out.

Which is the most odd question you ever have got in an interview?
-As this is only my second interview there haven't been too many strange questions asked. Sorry I can't name a particularly odd one.

Which is the question you want to have but you never get. Please ask it and answer it?
-How do you like your coffee? Black.
Futureplans for the band?
-Record a LP in 2020. Play shows. Have fun.

For yourself?
-Driving and camping with an RV from Seattle to Yellowstone National Park and back.

Wisdomword?
-Don't expect too much from people. It sets them up for failure and can easily cause disappointment in you and others. Let them be as they are and love them that way. Add a good portion of self-acceptance to that and you're on a good way I think.
Thanks for the interview and showing interest in our music. We really appreciate it!