Sorry for the late reply. We have been very busy. We will send you a shirt but we only have a large size.
Thanx for the interview, its been fun... we had some trouble answering some questions coz we're dumb cunts, but we did our best. The questions were answered by Chunga and Luke, hope you enjoy and have a laugh.
This was written in june-2008. And the band is The Worst!

History?
-The Worst started in 2001 playing backyards and parties then moved into the pub scene in 2002. Since then we have played every punk venue in Melbourne and had a couple of tours to Sydney. After a line up change in 2006 our fan base grew which led to supporting a few international bands such as Anti-Nowhere league, D.O.A and the Exploited. We released our long overdue self titled EP in 2007 and now continue playing as many shows as possible to promote our music.
<![if !supportLineBreakNewLine]>
<![endif]>
Please tell me a little about every member, age, interests, work, family and something really bad about every one?
-We're all in our mid 20's except our bassist Tom who is a bit younger and we all work full time to support ourselves. A bad thing about us is that we're all lazy cunts who take too long to do stuff, such as recording our album we've been talking about for years, making merch that we've been talking about for years and getting our arses on tour... which we've been talking about for years.

Punk in Australia, how is it to play it?
-The Punk scene is fucking small in Australia in comparison to other countries, but it does exist. Melbourne seems to have the strongest scene. There's a lot of old school punks who have been around for years and now there seem to be a lot of newer punk kids coming to shows which is fucking rad.

They wore a lot of good bands back in time in Australia, any favourites?
-Bastard Squad were around in the 80's and are still going strong today. Depression were rad! Cold Chisel was the bomb!

Mohawk in Australia, how..s that?
-Mohawks are alright in Australia, but alot of punks cop shit for having mohawks from redneck wankers and homeboy cunts. Fuckers!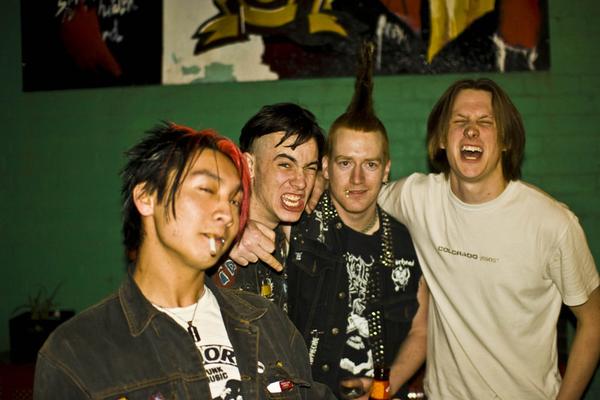 No one cares, what do you mean?
-When we were younger we used to cop alot of shit for looking the way we did and the song is pretty much about no one giving a shit about us... so lets go get pissed.

Have done any more records than the Ep? If you have how can I get it??
-We have a demo we recorded back in the early days which is pretty much non existent, a few songs from the demo were on the Reckless Life 7" split with 3 other Aussie bands which is now out of print, and we also have two tracks on a Snapshot records compilation called "Time to Pay Up #5" Unfortunately all these records are no longer available.

Which type of people comes to your concerts?
-Punks, skins and anyone who wants to have a good time.

What does punk mean to you, is it only a word or is it a lifestyle?
-Punk is like a fart... it sounds awesome and it stinks

How would you describe your music in three words?
-Hard heavy animal

How is the reviews you have got for the new CD?
-We haven't had any bad feedback which is surprising considering we recorded everything ourselves... in a toilet.

Do you care about reviews?
-Its always nice to get a good review, but we couldn't really care less if you don't like our music. We're the Worst... you're not supposed to like us.

How is it to live in Australia, I mean politically?
-We don't really care for politics, it's all a pile of shit! To quote Chaotic Dischord "Fuck religion, Fuck politics, Fuck the lot of you!"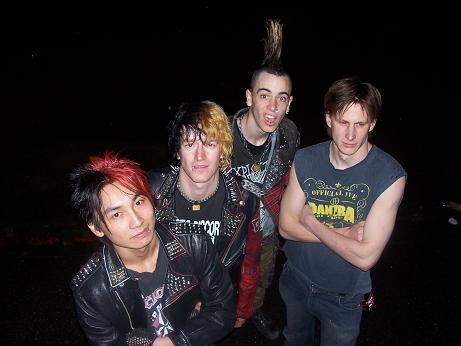 The best and the worst of living in Australia?
-Best thing- Aussie Lifestyle
Worst Thing- A lot of bands that we wanna see dont come here

What is typical Australian? What is typical Swedish?
-Beer and meat pies is typical Australian and hot blonde babes is typical Swedish.

What do you know about Sweden?
-Your flag is blue with a yellow cross and Stefan Edberg

Any good bands from Sweden you like?
-Drunx Incharge

Is there any good bands in Australia right now?
-check out: The Boots, Bastard Squad, Napalm Hearts, No Idea, Slick 46, Marching Orders, Bulldog Spirit, Wot Rot, Donkey Punch, Rankwaste, Glen and the Peanutbutter Men, Pisschrist, Unemployed Super Villains, Run for Cover, Rule 303, the Blurters and heaps more.

Much interviews? Is it boring?
-We done a few interviews over the years, it can be quite fun sitting back with a few drinks answering stupid questions and feeling like rockstars.

The question you want to have but you never get? Please ask it and answer it?
-(Hot Swedish Girl) Q: Will you fuck me?
(the Worst) A: Yes we will!

Please rank your five favourite records, five favouriteconcerts and five most important things in life?
-LUKE's TOP 5
Records: Municipal Waste "Hazardous Mutation", Inepsy "Rock'n'Roll Babylon", Macc Lads"Beer sex chips and gravy", Cocksparrer "Guilty as Charged", Chaotic Dischord "Very Fucking Bad"
Concerts: the Exploited, Motorhead, Iron Maiden, Suicidal Tendencies, Anti-Nowhere League
Most Important things in life: band, party, food, titties and booze
CHUNGA's TOP 5
Records: Blood for Blood "Outlaw Anthems" (blue limited), the Unseen "the Anger and the Truth", Hard Skin "Hard Nuts & Hard Cunts", GGF "Punk Tribe", Poison "Look What the Cat Dragged in"
Concerts: Sebastian Bach, Iron Maiden, Motorhead, Kiss and Peter & the Test Tube Babies
Most Important things in life: Friends, music, beer, party and air

First and last and most expensive record ever bought?
-CHUNGA: the first records I bought was Poison - "Flesh & Blood" for $5 in a sale bin, and the most expensive record I ever bought was Motley Crue - "Helter Skelter" pic disc. I love my 80s hair metal!
LUKE: first record was Alice Cooper - "Welcome to My Nightmare" for $1 in bargain bin and most expensive is Manowar - "Metal Warriors" limited edition

Most embarrassing record in your collection?
-CHUNGA: Gwen Stefani - L.A.M.B hey I dont give a shit! I scored it by chance! And shes hot! And I thought it was on white vinyl but it wasn't.
LUKE: Bon Jovi - Slippery When Wet (pic disc;)

Your record label is it your own or?
-We're not on any label... yet.

New stuff like My space, facebook and so on.... is it good or how do you see on these things?
-They're definitely a good thing for bands to get their music out to the world, and if you hear about a band you can check there songs out on myspace to see if you like them or not before going to buy their cd. It is also a very good networking tool and for getting in touch with other bands.

How do you see on Mp3 and downloading and so on? is it good or bad for smaller bands?
-We let people download our stuff and hate when bands dont let you download their songs off myspace and shit. Any publicity is good publicity and if someone likes your songs, then they can download them and show their mates, which will lead to them checking your band out and so on and so on. It's not about selling your music, it's about people hearing it.

Which is the biggest band you have played with on a concert?
-The Exploited for sure.

And which band do you really like to support if itís possible?
-Probably the Casualties since they were definitely our biggest influences when we started this band.

Is it a dream you have to unite all the world punks, do you see that there is many different styles of punks which don..t go so well together?
-To unite all the punks and take over the world is definitely our intention. Imagine a world of punks it would be fuckin funny shit. Runnin around smashin shit gettin pissed we would die out after a year or 2 but it would be sick while it lasted.

Futureplans for the band?
-We've been wanting to record a full length album for quite some time now, so that's definitely on the cards. After that, we'll release it, try to go on a world tour to dominate the world!!!

For yourself?
-As above

Wisdomword?
-Cunt

Something more to add?
-Maybe someday we can come play in Sweden, fuck your beautiful babes, piss on your blue and yellow flag and kick Stefan Edbergs ass in a game of table tennis. That's PUNK ROCK!!!

Sweden Rules!

<![if !supportLineBreakNewLine]>
<![endif]>