Rikard Wolff took his time to answer my 38 questions I asked him. That shows us that he´s a guy with care about his fans and he stand with both feet on the ground even if he´s wellknown for everyone in Sweden. This took place in the 12 th of October
Right now you´re the time of relasing with a Piaff-record, not so surprising maybe, why did it took so long time before it came out?
-I wouldn´t do any Piaffrecord at all, she´s comeplete as she is. But it was when the idea about do it like "streetmusic" with only voice and accordion(and a little more) I felt that I could do anything with this.
You have done all the translations yourself or?
-All.
Padam Padam wasn´t translated at all, why?
-Padam, padam means knock-knock, or something like that, better in french there actually.
One of my favouritesongs with you is Vackra pojkar, vackra män, have you got many reactions on that, both from hetero and homosexuals?
-It´s together with Pojken på månen and Paris my most loved songs. It was boycotted from the beginning of radio Jönköping. Calle Norlen have it in his "queer so is it" It was in the Swedish program Svensktoppen.
But the song which have touches me most is the one that you wrote about John Hron(Fienden) had an idea which I presented to Stefan Sundström. He thought it was really bad. And then I wrote it again- and it was the one who became FIENDEN. I have met Tony and Marie(Johns Parents) and that touched me deeply. And then came the song and it was clear but Stefans part in it was necessary.
Decemberbarn was a record you did together with Kari Bremnes, how did you came up with an idea to a christmasrecord?
-I got a request from Erik Hillestad on kirkelig kulturverkstad, he had done Carolas jul i Betlehem the year before. I met Erik and Kari , which I didn´t know except that I have heard the name and became really fond of her. An odd bird, beauty, intelligence, humour. And then was the choice not so hard…
What do you think is best of your own production?
-Of the records as a WHOLENESS I think Pojken på Månen, the Barbara-record and this is the best ones. But I´m very fond of some songs on all of my records...
And when we talk about your movies or on the theatre scene?
-Änglagård and Så vit som en snö on movie. On the theatrescene it´s almost everything I did with RIKARD GÜNTHER and SUZANNE OSTEN. Most of all I like Lusthuset there I played a woman, difficult to say otherwise, I have been extreme privileged. Det kalla barnet last year was fantastic, directed by
Staffan Valdemar Holm, but it was seen by few. Not always that which depends how it is. .
Recital, tell me about that record?
-I have stolen the concept from my French idol Barbara. I´m very happy for that record, it´s still today both sensitive and own. It was recorded in three days on Dramatens little scene and it was mixed in Dramatens soundstudio.
The first time I saw you, you were in a program with Jonas Gardell and did some Piaff, what had you done before that?
-I had worked for about ten years, free groups, much childrentheatre, a little TV, some movies(really bad) and I have singed some solocabarets in dark cellarlocals.
In Änglagård you became wellknown for the whole swedish people, how was it to be recognized wherever you where?
-Nice.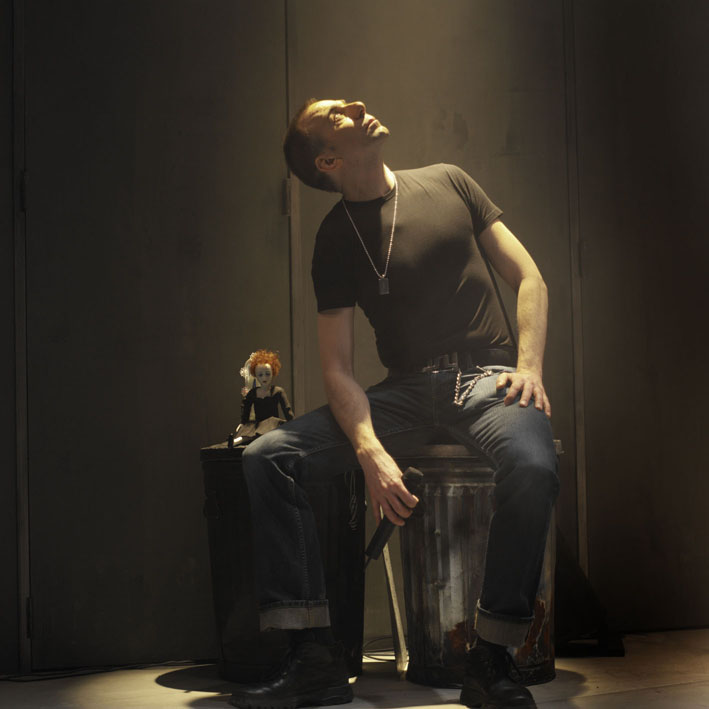 Though that your interest for women isn´t so big you´re attractive for many women, do you think it´s easier for women to admit that they like you when they haven´t got "a chance" to get you?
-No idea, I like my audience, young and old, men and women, straight and gay.
Back to the music, you get help with doing music to your songs, who do you think it have been best to work with?
-I think the result have been very good with many people, you have seen yourself which people who have written the music: Dahlgren, Gessle, Scocco, Lundell and so on but must I say only one I must say Lisa Ekdahl, we have a really good communication and an intution to understand what were looking for, I think we have done about 30 songs until now, even if only half of them is released but some day I will do a record with only Lisa-material.
Who do you want to do a song with but you haven´t got the chance to do it with yet?
-Jocke Berg
I think you should be the right one to do a Nick Cave-cover, shouldn´t that be something for you
-I don´t know, I´m no big Nick Cave-fan, which album should I listen to?
Bellman maybe?
-In would like to, i get the question now and then.
Which music do you like today,except Piaff, any favourites right now?
-Today is Stina Nordenstam, Carla Bruni, Billie Holiday, Bowie and Brel
on and in my CD.
Five favouriterecords, five favoruiteconcerts and five most important things in life?
-Oh my god, this was difficult!
Sgt pepper, my first lp
Abbey road
Swordfishtrombones with Waits
Piaf in Olympia 61
Konserter haven´t I seen so many, I have some recorded which gives me the creeps(positive): Piaf in Olympia 61, Brel in Olympia 64, Judy
Garland in Carnegie hall 61. The biggest concert and best one I have seen was when I saw my idol Barbara live. I heard her about ten times, the biggest sceneartist I ever have seen
Most important in life: Do what you shall do, don´t listen to what other people think. and
Love, love ,love. love is all you need.
First latest and most expensive record ever bought?
-First Sgt Pepper. The most expensive must be the Piaf-box which I paid thousands for.
The most embarrassing record in your collection?
-I don´t know, I have so many...
The best record to have sex to?
-I don´t know, but I really like Chet Baker in the night.
Politics and music, does it goes hand in hand?
-Could do, not necessary.
The best political songwriter?
-Billie Holiday, actually. I like political art which is political without beat the big drum, that´s smart.
It feels like violence in our society is bigger against some groups, what shall we do about it? Do we need more polices, more parents going round in town or what?
-SOLIDARITY is needed, that we´re a country where everybody have the right to live irrespective of, where they are a born, sex, sexuality or income.
Zlatan Ibrahimovic have "refused" to be talking with media because he have been bad treated, is it something you can understand, does real journalists behave like pigs sometimes?
-Hmm, journalist have one work, I have another.
I read somewhere about Uggla which said that you don´t have to be in the gossip press if you don´t want to, is it any truth in that?
-Absolutely.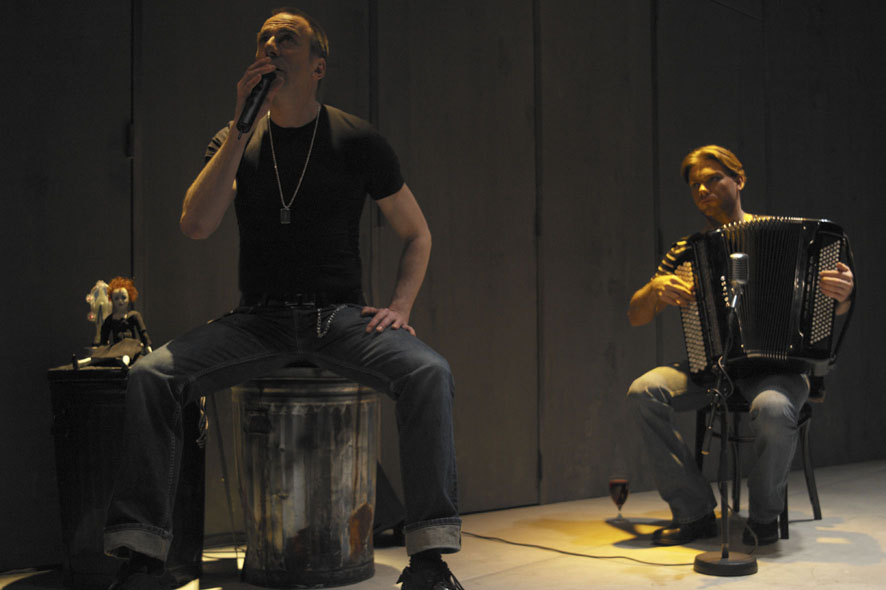 You´re not the one who is in that press every week?
-I don´t think so, I haven´t really big check on that.
What is most fun, is it to play music or to do movies/theatre?
-Wow, i´m really tired on that question. Everything is fun which touches people.
When you have a concert, which type of people is coming, is there any middlestyled people who comes?
-15-95, people who want to be touched of the things I do.
Which plans are you having in the nearest future?
-Play around 50 gigs with Chanson Suicicde this fall, and we´re going to repeat Amadeus where I play Salieri on Stadsteatern, it has it´s opening night in February 2005.
Is there any question you never get but you want to have , please ask it and answer it now?
-No.
You have never thought of singing in a rockband or you have never done it?
-No.
What does music mean to you if you compare with /film/theatre?
-The same thing, if it´s good, love.
When "the fans" is writing to you, to you try to answer them personally or how do you do with your "fans"?
-I´ll try to be personal but not to private.
What´s the most nicest thing someone ever have written to you?
-I love you.
I can imagine that it have happened a lot of things in your career, what is the most peculiar which have happened in your career?
-Now I begin to be tired to be answering, it happens peculiar things all the time but the most of it is very fun.
I shall not torture you more but a last wisdomword you must give us?
-Love if you want to be loved.
Something to add?
-It was very many questions.