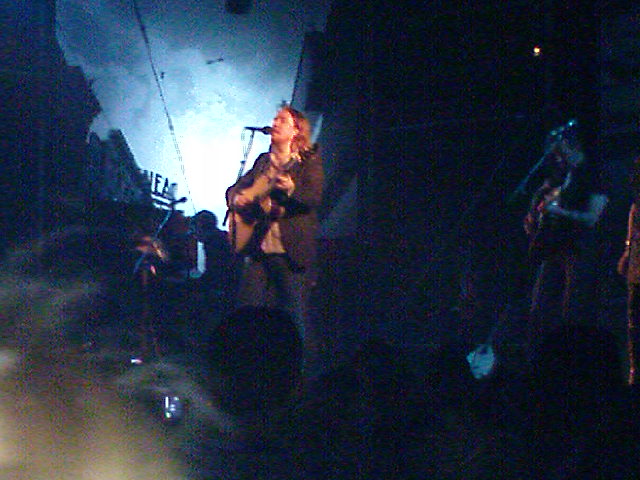 Toy Dolls, Di Leva, Wilmer X, New Model Army har väl inte så mycket gemensamt med Lars Winnerbäck egentligen. Men de är de grupper som jag nog sett mest gånger live genom åren. Att Lasse är bland dem beror mycket på att min sambo/flickvän är väldigt förtjust i denne man. Den här gången var det inte meningen att vi skulle gå egentligen men vår granne hade två biljetter som han hade fått på sitt jobb och därför beslöt vi oss för att ge oss dit denna söndagskväll.
Jag hade läst i GP att hans konsert var som ett väckelsemöte och jag blev ännu mer orolig just denna dag eftersom Blåvitt hade vunnit guld samma dag. Visst snackades det om guld från båda grupperna men jag överlevde detta.
Precis när vi kommit fram till konsertlokalen hade Abalone Dots börjat sin konsert….jag hade väl inte några som helst förväntningar på den gruppen men deras countryliknande musik var faktiskt riktigt bra och de kändes klart säkra på vad de gjorde. De gjorde väl inte så många låtar men det de gjorde var riktigt bra faktiskt.
För en gångs skull behövde man inte vänta så länge på huvudattraktionen, kanske högst tio minuter. De startar med min favoritlåt Farväl Jupiter från nya skivan Daugava och där ligger till och med Pogues i lä tycker jag och hela bandet verkar taggade till den här spelningen. Synd egentligen att inte hela skivan håller samma tempo. Sedan radar de upp en hel del hits som Elegi, Min älskling har ett hjärta av snö, Hugger i sten(som fick mest jubel tror jag), Om du lämnade mig nu(där Anna Stadling gör Miss Lis jobb riktigt bra) , Kom ihåg mig, Okänd soldat för att säga några låtar som spelades. Nästan alla från nya skivan spelades och man förstår honom. Det verkade inte bekymra publiken som verkligen har mottagit det albumet riktigt bra. Visst det är en bra skiva så de gör helt rätt i det. Men ibland skriks det i ren Beatles-hysteri och det kan bli lite mycket och Lasse verkar nästan lite generad över detta faktum ibland. Bandet är riktigt samspelt och det verkar som om de har riktigt kul faktiskt och det känns som äkta glädje och jag tror på Lasse säger att vi är världens bästa publik för det är säkert så det känns varje kväll om har en fanatisk publik som denna. Ni som kommer att se den här turnén kommer inte att bli besvikna för tänk hur samspelta de är då men det är frågan om de får lika kul som just den här kvällen.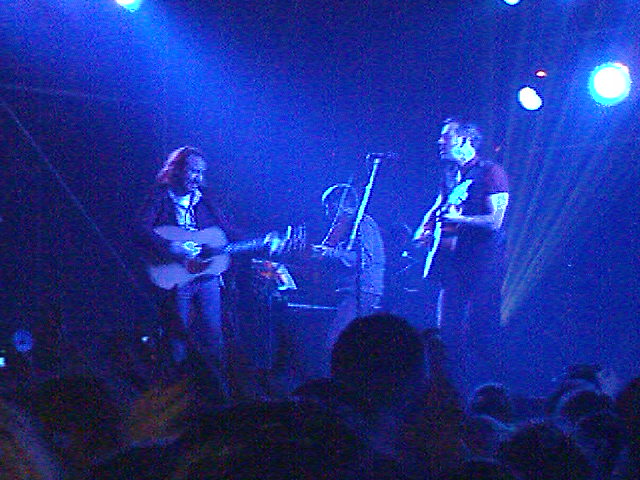 Fotona är inte så bra, de är tagna med min mobiltelefon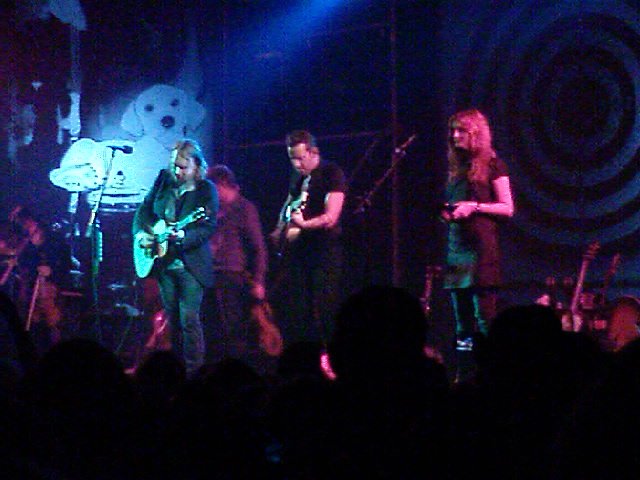 Toy Dolls, Di Leva, Wilmer X, New Model Army haven´t so much in common with Lars Winnerbäck maybe. But these are the groups that I have seen the most live through the years. That Lasse is among them depends much on my girlfriend and that she really like this man. This time it wasn´t the meaning that we would go on this concert but our neighbour have got two tickets on his work and we got them and therefore we decided to go to the concert this Sunday evening.
I had read that his concert was like a religious experience and I became even more worried this day because of the fact that IFK Göteborg have won the gold in football(not my team) and it was said by both of the groups but I survived.
And precisely when we had reached the concertarena had Abalone Dots started to play…I had no expectations on that group but their countrysmelling music was actually really good and it feels like they were sure on what they´re doing. They didn´t so many songs but the ones that they did was actually really good. And once we didn´t have too wait so long on the main attraction and it took maybe only ten minutes before they started to play. They start with my favouritesong from the new record Daugava and it was Farväl Jupiter which is a folkrocksong which makes even Pogues pale and the whole band seems to be on their feet really good.And it´s a shame that the whole record don´t have the same style and tempo. And then they did a whole lot of hits like Elegi, Min älskling har ett hjärta av snö, Hugger i sten(which get the most public response), Om du lämnade mig nu(where Anna Stadling do Miss Lis job really good) , Kom ihåg mig, Okänd soldat jst to say some of the songs which was played. Almost everything from the new record was played and I can undetsand him and that didn´t seem to do the audience anything and they have really taken that album to their hearts and that they do really right to. But sometimes it´s been shouting right out in pure Beatles-hysteria and it can be too much and it feels like if Lasse is a little bit embarrassed to this fact. The band is really good together and it feels like if they have really fun on stage and it feels like if this is pure happiness and when lasse says that we´re the best audience in the world so is it surely so that he feels so just right now. Because if you have a fanatic audience like this so. You who are going to see the band on this tour will get a really good evening and a band which is even better after some more gigs but it´s the question if they´re going to have fun like they had this evening.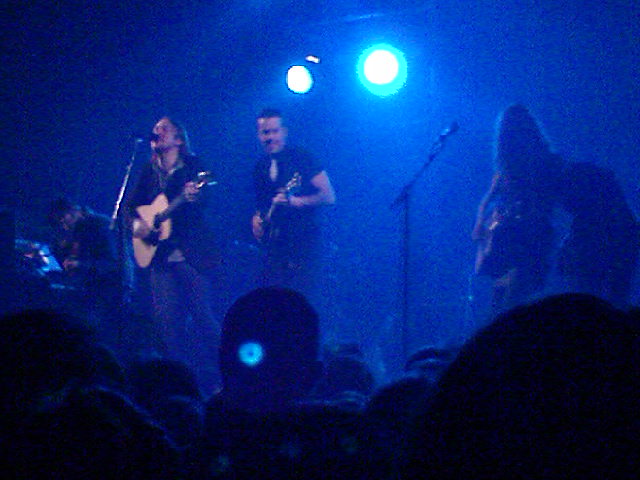 The photos are not so good. Taken with my mobile phone