Windowsill is a Dutch group which surprised me with really melodic punk and I was forced to do an interview with them. September 2015
<![if !supportLineBreakNewLine]>
<![endif]>
Please tell me a little bit history of the group?
-When I quit the Apers in 2007 I never stopped writing those kind of punkrock songs. After a couple of years I had plenty and wanted to record them, so I asked my old bandbuddies Jerry Hormone (quit the Apers in 2005) and Ivo Backbreaker (still in the Apers) to start rehearsing with me, so we could record. Later I askedd Sander from the Accelerators, because I needed someone in the band that could really play guitar, and more importantly, sing higher than me.... That's about it, we are just doing this as a hobby, so we eat dinner every other thursday, rehearse some songs, and eventually record them.
We have 2 full lenths out, and a 3rd on the way, a 10" -split with Deecracks, and 3 split 7"s (Real Danger, Murderburgers, New Rochelles)
Please tell me a little about every member in the group right now, age, family, work, interests and something bad about everyone? Earlier bands?
-We are all well in our thirties, except Sander who is still young and beautiful, we all work, myself at a national newspaper, Ivo at a printing company, Jerry is a selfemployed writer/entertainer, and Sander works for a comedy label. I'm the only one with kids, two boys.
Like I said, Jerry, Ivo and me were all in the Apers (Ivo still is) so we're good friends, and Sander was in the Accelerators. I have another band with Ivo called Giant Eagles, which is very Ramone-esque, at least we try to be, and Jerry has his Ego Trip, which is kind of sixties beat. Ivo is also in the Batbites
I can hear much different influences in your music but it´s it´s a lot of Green Day, Ramones, McRackins, Screeching Weasel, Queers or here in your music? Am I right? Favorites from the past?
-Sure, a bands like Screeching Weasel influenced me as a writer for punkrocksongs, very much so. Parasites also. But I also have always really liked Fountains of Wayne and Weezer, and loads of folky-sixties stuff like Byrds, Beatles, Kinks, and 70's rock like ACDC and Thin Lizzy. Big influence also is Tom Petty or Neil Diamond, like pure simple songwriting..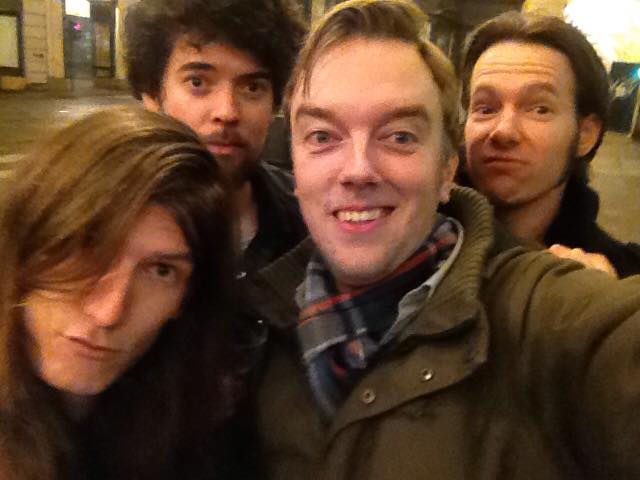 Windowsill are you satisfied with the name? How did it came up? Is there any deeper meaning with it? Which is the best bandname you know?
-I wanted a 'W' in the name, like Weezer has. That's it. You know what a windowsill is? It has nothing to do with punkrock at all. Maybe I wanted that, because when we started the band, we really werent that punkrock anymore, I mean, I drive a ford focus family car...I have a deskjob. That's not punkrock anymore, that's
'officerock' …

What´s the best thing with playing live?
-I actually quit the Apers because of the constant string of live shows. I just didn't enjoy them that much as the rest of the guys back then. I wanted to pull some Brian Wilson 'I'll-just-stay-home-and-write-songs-ok?-thing, but they didn't want that, so…
Now that we only do a few a year I enjoy them. Fun little vacations with my buddies.

And where is best to play? And the worst place?
-Best to play in general is Italy, they like the music and the food is good. The weather helps too. But don't go during wintertime...
Just because I don't enjoy liveshows that much doesn't mean I don't appreciate everywhere I have ever been with all the bands I ever played in. I mean, even the worst nights, like maybe Northern Ireland in 2003, or Slovenia in 2001 still make for really good stories and friends afterwards

How is to play this sort of music in Netherlands right now? Which types of bands do you have concerts together with?
-I don't know, in Rotterdam you got us, Accelerators, Batbites and a couple of other bands, not that much, but there is a scene, but it's different from the times that the Apers and Stardumb Records were still running the place, setting up festivals en putting out records and stuff. I'm just a little too busy at the moment with work and family to really follow the dutch musicscene anymore (yeah getting old), so I wouldn't know what is happening somewhere else in the Netherlands, I heard the Travoltas are writing a new record, that should be cool.

How would you describe your music in three words?
-Fucking Amazing Dude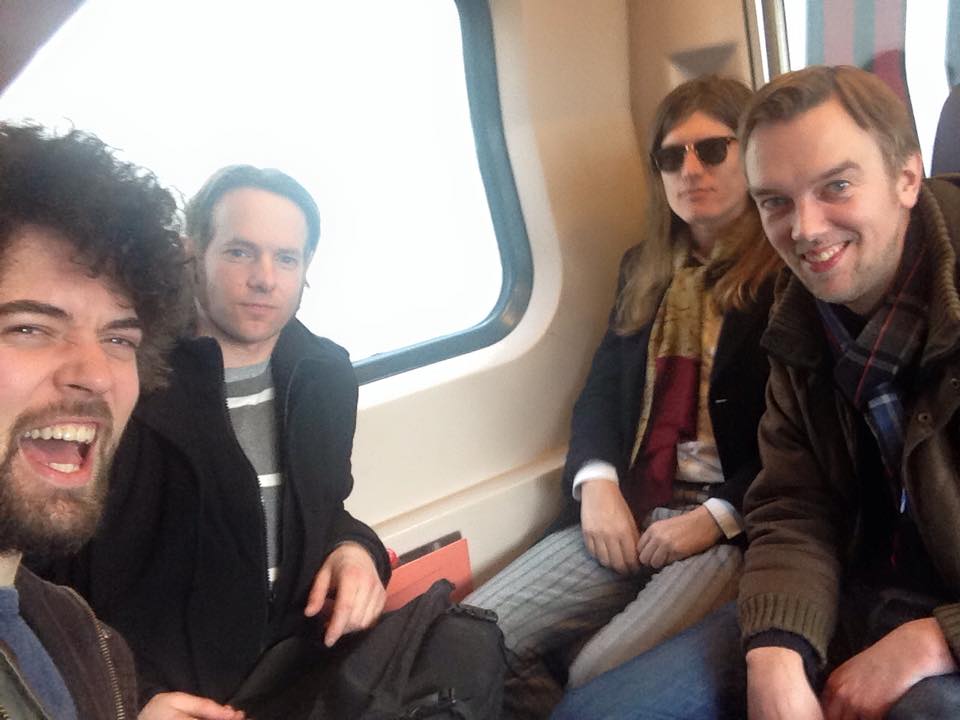 What does punk mean to you, is it only a word or is it a lifestyle?
-Punk to me means independence, doing stuff because you want to do it, not because someone else wants to, being street-smart, and having a lot of selfreflection. I think that being in a band learns you that some lows aren't the lowest of lows, and some highs aren't the highest of highs… That really comes in handy in 'real life'.
How do you see on downloading, mp3 and that stuff?
-I think it's cool. I like good records on vinyl anyway, just like everybody else I guess, so if your music reaches someone by a mp3 download or some other digital form, I think it's good. I am happy we're on Spotify and things like that…

How is it to live in Netherlands now? Politically?
-Very stable, our government sat out it's term during the financial crisis, the prime minister of the biggest party got re-elected (which was a liberal/right party, one of the only ones in Europe to do so during the financial crisis).
I don't agree with a whole lot of what they say, but on the other hand, they are good to working, homeowning, steady-income middleclass people like me, so I would be a hypocrite if I would say they are bad, but I also didn't vote for them either

Is there any good bands from Netherlands now? Is the punkscene big? How is it in your hometown?
-Yeah, you got more mainstream bands that are getting a little bit more famous abroad, maybe John Coffee and Blaudzun, as for punkrock, I wouldn't know, I'm not really in the punkscene anymore since I bought that Ford Focus family car. The punks kicked me out

What do you know about Sweden?
-Everything, I work at a newspaper, therefore I know a lot of shit J

Have you heard any good bands from Sweden?
-Yeah, I really like the High Hats, they are supergood, Soundtrack of our Lives I like, I also really like 'Paper Tigers' by the Ceasars, i play that one a lot still..

Your lyrics, who does them and what influences you? Can you sing about such a "simple" thing as love and come around with that?
-I write all the lyrics. My main influences usually are 'She's Leaving Home' by the Beatles, and the first couple of episodes of Twin Peaks, where James talks about Laura and he's riding on his motorbike all the time.
Also I like the way Phil Lynott (Thin Lizzy) rhymes and the smaller things in life Ray Davies (Kinks) writes about as a songwriter.
Is there any subject that you never will write anything about??
-I usually write simple love songs, with a little sad twist in the end preferably. I would love to write a little more political once in a while, but I find that hard because when English isn't your first language some nuances or details really get lost in translation, and you end up with some Frankenstein's Monster kind of lyric that makes no real sense, or without power.
It's a whole lot easier and safer to just do the love songs, although I recently wrote a song called 'It's Only Water' about the recent refugee crisis. We'll record it for the fourth album i guess.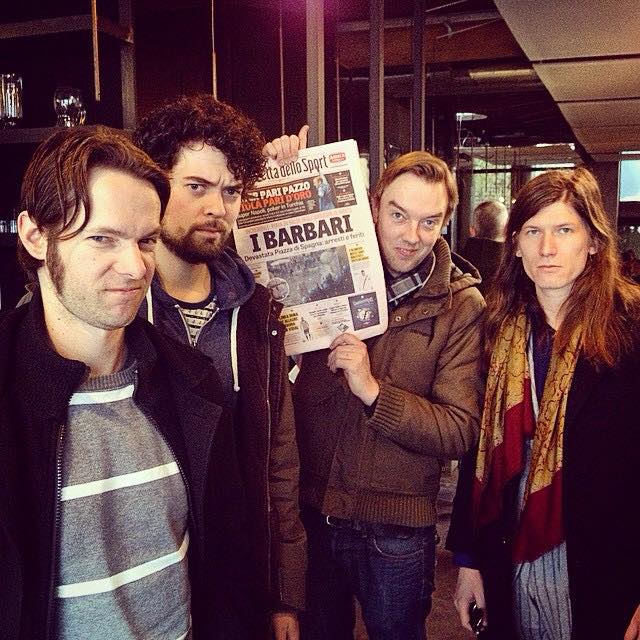 Politic and music, does it goes hand in hand? Which is your most political song?
-Yeah why not, if you do it right, it's bound to be good. I like Bob Dylan

Best political band/artist?
-No favorites

Do you think that music(lyrics and so on) can change anyones life, I mean people who listens to music?
-Yeah, sure, Oliver Sacks said a lot of clever things about music. Basicly it's the most appreciated artform and everyone has a little music in his head at the least. So I guess it can change lives, or make people go crazy

Your cover on your CD looks really nice, is it important to have a record cover which shows people which type of music you play? Your favorite recordcover? Who does your covers?
-Thanks! The first album cover art was by Stefan 'Stardumb' Tijs. The second one by me and Ivo. I think it's important to have a nice looking cover, a good feel, or something clever. Stefan is a well know cover designer, and he does all the covers for his own label, Stardumb Records, on which the first full length came out on. For the second one, in true punkrock fashion, we did it ourselves, and that worked out pretty good too. I have a pretty good idea of how the 3rd album is going to look like.

Is it important to get out physical records of your stuff? Why or why not? Is Monster Zero a good label ?
-For sure, very important. Our labels at the moment are Shield Recordings from the Netherlands and Monster Zero from Austria. They support us very well with stickers and labelcompilations. Everything was also released on vinyl, a big plus for us, because that is something we all think is important. Simply because it's beautiful and cool. One day I hope we can release a gatefold LP-sleeve. That would be cool

Please tell me a funny thing which have happened during your career and under some gig?
-Ha, jeez... Jerry Hormone is writing a book (he really is) maybe some stories will end up in there

How does your audience look like? Which people do you miss on your concerts? Which is the biggest band you ever have played together with?
-They look happy. I don't really miss people at our shows, I'm happy for the ones that came. We did a couple of shows opening up for Therapy with the Apers. They were really nice guys. We did a couple of Stiff Little Fingers songs with them after their set as a closing surprise, that was fun.

Please rank your five favoriterecords, five favoriteconcerts and five most important things in life?
-All no particular order:
1. Jailbreak – Thin Lizzy
2. Road to Ruin – Ramones
3. Blue Album – Weezer
4. Rubber Soul – Beatles
5. Simon & Garfunkel – Sound of Silence
(and a whole lot more)
Concerts:
Ramones – 96 Paradiso Amsterdam
Rooney – 07 Rotown Rotterdam
Screeching Weasel -15 Groezrock
Paul McCartney – 15 Ziggodome Amsterdam
Dictators – 14 Rotown Rotterdam
Life:
Stay happy man

Is it boring with interviews? Is it much interviews??
-We really don't get that much interviews, so I think they are fun to do.
.If you could choose five bands from the past and the history and nowadays and both dead and living bands to have a concert together with your band. Which five have you been chosed?
-Ramones
Thin Lizzy
Beatles
Fountains of Wayne
Buddy Holly

Is music a good way to get out frustration and become a nice person outside the music??
-It's actually a really good way just to relax. When I come home from work I usually just play like 15 minutes on a acoustic guitar, maybe write the beginning of song, or just trying to finish one. When you're trying to write a lyric or a song during the day (because music is really always present all the time somewhere in the brain) you can try and complete that, and the tension and stress of the day also leaves the body… Almost sounds like therapy doesn't it?

Which is the most odd question you ever have got in an interview?
-Is it true you used to act in French indiemovies?

Which is the question you want to have but you never get. Please ask it and answer it?
-Paul or John? Paul

Futureplans for the band?
-We're working on the 3rd album right now. Which is going really slow because I bought a new house in the beginning of this year, which needed painting, floors and decorating first. But now that is almost done, we can concentrate on finishing the record again. After that, we can hopefully do some shows in Italy and after that I don't know...

For yourself?
-I would like to write a moviescript… I want to put Forever by the Beach Boys in the opening scene… I don't know what it's going to be about though

Wisdomword?
-Let it be

Something to add?
-Thanks for the interview, and take care