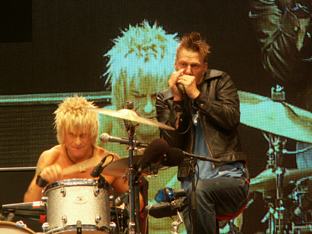 Att de här gubbarna skulle vara gamla och trötta var något som vi verkligen kan märka att det inte stämmer. 13 våningar upp är ju en rockrökare som de har släppt ganska nyss och helt klart en av deras bästa skivor.Rytmsektionen med Thomas Holst och Sticky Bomb vräker över oss riktigt goa rytmer och Nisse och Janne(var det väl) på gitarr slåss om utrymmet tillsammans med en för dagen galen Jalle på munspel. Varför sjunger inte Jalle i en mick kan man undra, sjunger han för dåligt eller vad handlar det om?
De går ut hårt med många goa låtar och låtar som vi för kvällen får höra är För dum för pop, Teknikens Under, Kör dig död, Lyckliga Hundar, Spela under hot, Hon är ihop med en insekt Silver, Blod eller guld osv. De kör på i ett mycket snabbt tempo och de spelar skiten ur oss i 1.20 eller något sådant, kommer in två gånger och de skall komma tillbaks till Göteborg i september och varför inte gå dit och kolla då om ni missade denna konsert för jag tror de blir om möjligt ännu bättre i en mindre lokal.
Det som slår mig ganska fort är att jag har sett de många gånger innan men jag har nog aldrig sett de så tighta som de var just denna kväll och det som också slår mig är att de verkar ha så förbannat kul på scen. Publiken rycks med och många i publiken är mer vilda än tama.
Det som slår mig när jag tittar ut över publiken är att de är väldigt många kvinnor som står och spelar luftgitarr och kan alla texter. Jag som trodde att Wilmer X var grabbarnas band. Nej, detta gav mig mersmak för att se dem igen och det är kul att höra ett band som är så skickliga musiker men som ändå spelar en så rockbaserad och enkel musik.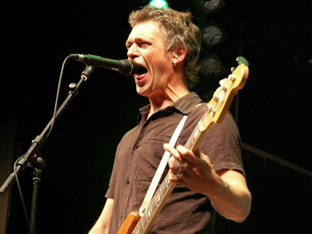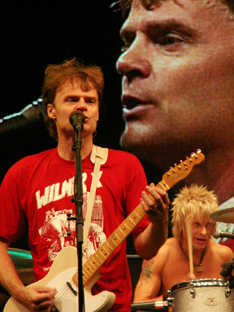 That these old guys should be old and tired was something we can see really fast that it isn´t right. 13 våningar upp is a rocking album they recently released and that is one of their best records. The rhytmsection with Thomas Holst(bass) and Sticky Bomb(drums) makes so many good sounds and Nisse and Janne(???) on guitars fight about the space with the guitars together with a mad and maniac Jalle on ahrmonica. Why doesn´t Jalle sings in a microphoneyou can wonder, does he sings too bad or what it is all about?
They go out fast with many good songs and songs we hear this evening is För dum för pop, Teknikens Under, Kör dig död, Lyckliga Hundar, Spela under hot, Hon är ihop med en insekt Silver, Blod eller guld and so on. They do them in a fast tempo and they play the shit out of us in 1.20 hours or something, they come in twice and they will come back to Gothenburg in September and why don´t go there and check them out if you missed this concert because I think they´re even better in a smaller local.
The things that hit me really fast is that have I seen them many times but they have never looked so tight as just this evening and the thing that hits me too is that they seems to have fun on stage. The audience likes the music and many people in the audience is more wild than tame. One more thing which hits me when I look out in the audience is that is many women who plays airguitar and which can much of the lyrics. I thought that Wilmer X was the guys band. No , this give more cause to see them again and it´s fun to hear a band with so good musicans and that they don´t play nothing other stuff than rockbased and simple music.