Wild Weekend is a really good punkrockband from Italy which did an interview with me or maybe more so that i did one with them in july 2010.
hello, here are the answers.
History.
-Some people think about History to be a principle of reason; some others think it's a product of destiny. We are a product of destiny.
Please tell me a little about every member, age, family, intrestes and something bad about every one?
-I (GP) am a 38 history of law researcher. G, 38 as well, sells products for the childhood and has a beautiful family with a son and a daughter; Rasoio, 31, is a painter.
Nicotine Records...how come?
-A friend of us, Marco from Human Tanga, introduced us to Alberto, boss of Nicotine records. He seemed to like our music very much.
Isnīt it any new material with WW coming soon?The latest one was from 2006?
-A new album on CD is coming out for Tornado Ride Records. Itís a little more 70ies rocknroll, that we love, than straight punkrock. Our last album was 2006, but we made some other 7Ē epís, some songs for compilationsÖ and we are recording material for another album.
If you have new material...how does it sound?
-It sounds good! I mean, we payed a lot of money to release it. By the way, itís more old marshall/Gibson, Ampeg/rickenbacker sound. Itís rough. We love straight rock from the past and we simply try to play the way Stooges, MC5, Dictators, AC/DC and tons of other bands used to do.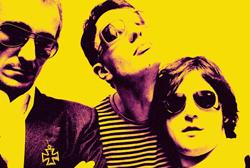 Which groups are you being compared to?
-The Vains, but I donít know why.
Does reviewers way to compare bands to each other suck or do you understand those people?
-I think they do whatever they want, we donít mind. We have other kind of problems. I donít even know the Vains, which we were compared at.
How would you describe your music with three words?
-Give me six: Ďwaste of time, waste of moneyí. Itís also the title of a song from our new album.
What does punk mean to you, is it only a word or is it a lifestyle?
-Itís the easiest way of playing music. The same three guys, the same three chords, as ZZTop use to say about themselves.
Can music and especially punkrock change people life dramatic?
-Not at all! Politics and economy do. I mean, if there is someone such stupid to have his life changed by punk, we are not responsible for that.
How is it to live in Italy right now? Politically I mean.
-Itís not a good period. Our government is unable to front the crisis, for internal dysfunctions which traditionally interest Italy. Our Country has never had a well-working democratic system. After the Second world war, people voted for Democrazia Cristiana to refuse the communist risk. Even to receive the Marshallís Plan, which Country was needing, After Mani Pulite, in 1994, political system has been cancelled in its sort of strange equilibrium. Berlusconi has been the result. Personally, I donít like him for a thousand reasons; but, at present, unfortunately thereís no one who can take his place.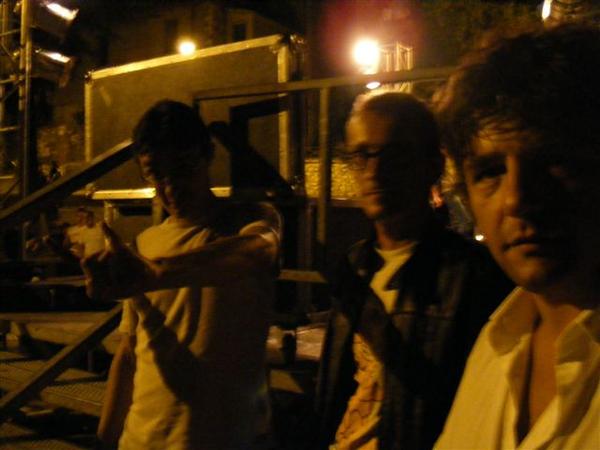 How about good bands in Italy right now?
-Svetlanas, Kelvins, Illuminati, Female Troubles, Andy Fag & The real men.
What do you know about Sweden?
-Not so much, personally. Never been there. You should help us to play your Country.
Have you heard any good swedish music?
-ABBA, Nomads, Hellacopters, Europe, Edge of Sanity.
Many people download thier music for free? Your thought s about that?
-You canít stop progress. But progress can stop you.
What shall we do the phenomenia downloading?
-Nothing personally. In any way, downloading permits a diffusion of our music. It doesnít help sales, but makes people discover the band.
How much does a group like Wild Week-end sell?
-We are a cult-band. As you know, cult-bands have never sold millions of records in their life, but we suppose to sell a lot when we are dead.
Have you been outside Italy and played?
-Yes: Austria, Switzerland, Spain.
You have been on the road for a long while, what drives you to do this for so long time?
-We love the noise we can make together. Its cathartic.
Which are the futureplans for the band right now?
-Surviving.
For yourself?
-Surviving!!
Where is the best to have a concert?
-I donít know yet. we have to play again and again to discover it. But I can tell you that concerts in Spain (with US all-star band Master Plan) have been fantastic.
Please choose five artists/Bands/alive and dead) which you wants to have a really big concert together with?
-velvet Underground, Iggy Pop, Nick Cave, Omega, Slayer.
Please rank your five favourite records, five favourite concerts and five most important things?
-Five Records: Entombed "Clandestine", XTC "Black Sea", Luigi Tenco "Se stasera sono qui", Angel (USA) "White Hot", Link Wray "Guitar Preacher".
Five Concerts: I think Iggy and the stooges in Neaples 2 or 3 years ago have cleaned up my skull. and so Lou Reed, which i see everytime i can. Other great concerts were the Dictators' in rome, about six years ago, and the Zeros, which gave us our name (but they don't know). I loved a live set from the Cramps, maybe one of their last gigs, and also Scott Lou Allen is a great performer;and the Master Plan, of course! legendary musicians and really nice persons to have a drink or two (or three) with. But it's really impossible to remember. I'm getting old.
Five Things: have fun ,.swimming in the sea when the weather is hot,beer, good food/good wine, my xxxcollection (my xxxcollection is absolutely an important thing)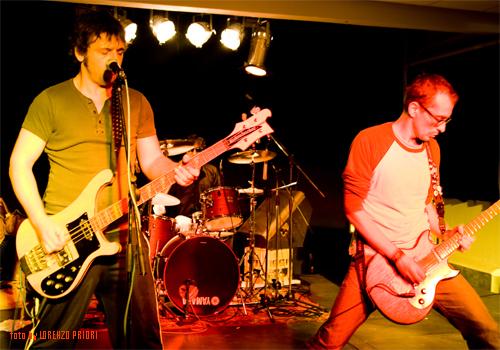 Which are the most embarassing record in your collection?
-I suppose Corrado's 'Carletto' . an italian song about a nasty boy pissing in his bed to annoy his parents.
The record which all people should hear but many people/radiostataions have forgotten?
-Well i don't know there are so many good bands out there .......the Detective, Silverhead ,Blue Vamp,Mick Farren,Rose Tattoo,Missing Persons,Touch,Angels (american),the Angels(australian),Zapp(i love this fukyspace band).....
Widsomword?
-Money.
Something to add?
-Well.....drive safety ? and go and see the Wild week-end on a live set before it's too late.
Ö