Swedish White Limo have taken its name after a Foo Figheters song and they are a band that does not sound like any other, or do they do it. Never mind ... well, they are all the same. Andreas answers here on a bunch of questions about the group anyway and check them out ... at once ... the end of January 2015
Tell us a little history about the group?
-White Limo was created in 2012 out of a hunger and a driving force to play in one of Sweden's best arena rock band. It was the summer of 2012 I (Andreas) was looking for members to a new, fresh and magnificent rock band, music that I could stand and be proud very soul to. I was looking for members that had the same passion and the same drive as me. It started with me and Nisse found each other and started to jam together. Then we found Oliver through a music page, and then fell Jesper into the equation, I had played with him before and he was just the controversial drummer I was looking for. We rehearsed together a couple of times and White Limo was born a late summer August 2012.
Please tell me a little about every member, age, interests, family, previous bands etc?
-Andreas is the energy personified. Jesper is a crazy drummer with hyper come for musical parallels. Nisse pull of thunder beauty licks, screaming his lungs out, and just smiles afterwards. Oliver stumbles a bit of a cable to the next second target mic just like that right so that the sound is 5 times better. It is rumored that we have an age.
I think you have a sound that reminds me of Weezer, Pixies, etc., what have you heard of other comparisons?
-The reference you mention, we have actually never had in mind. But on the other hand, we have heard influences from Foo Fighters, Biffy Clyro, Muse, Queens of the Stoneage, Twin Atlantic and even Katy Perry haha.
How would you describe your music in three words?
-Colorsparkling, Grand, energetic
The name White Limo, how did you get it ... do you think it describes your music or is it just a name without actually deeper meaning?
-White Limo is a song by Foo Fighters, a band that we all like very much, it's a neat band name, and then we want to convey the feeling of luxurious rock.
To play this sort of music in Sweden, how does it work?
-It Is very mixed, I must say, some go running on it like hell and others think we are too wimpy and weak. We have ended up somewhere in between, it feels like. And what I think after quite a lot of research is that we are quite alone play this sort of rock in Sweden. And we fill a void in the rock Sweden, we just have to out and be seen and heard. Then people will understand how good we are.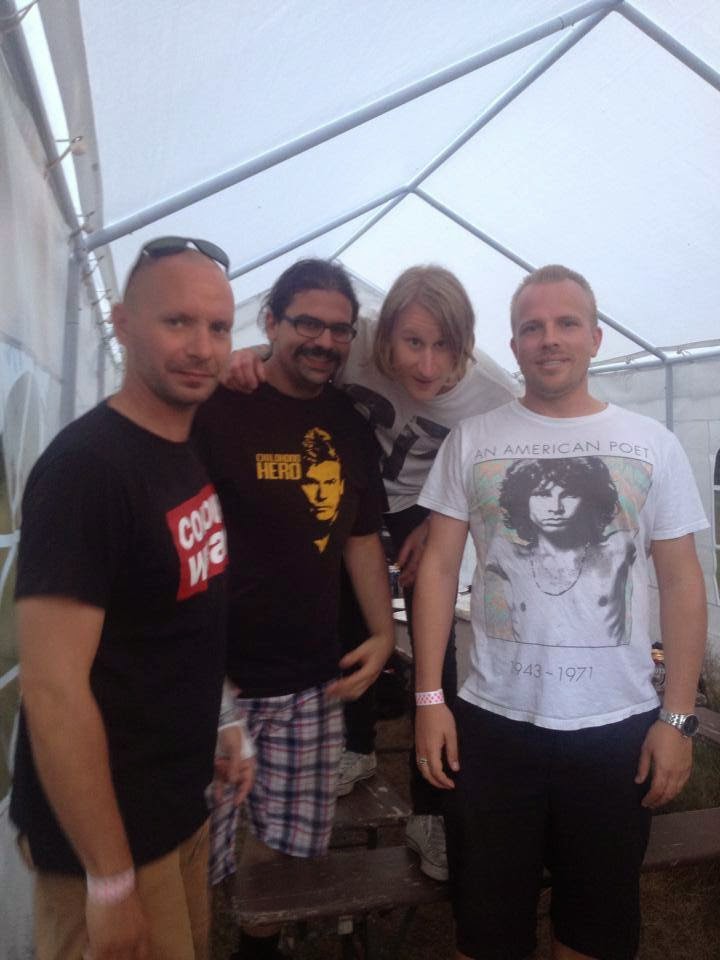 Have you received much interest from other countries?
-We have concentrated on Sweden. But yes, we have both response and contacts abroad that we will begin to invest more and more. It's a give and take all the time. Where should you put gunpowder? If you're driving the whole world at once so it becomes an overwhelming task. But we are exploring new fronts all the time, builds steadily and never stands still.
Have you played much abroad or is it just in Sweden you play?
-Our dream is so clear to tour all over the world but right now we have only played in Sweden. But it will come, I promise.
What do you draw the kind of audience?
-It's actually very mixed audience, which is awesome. When I stand on stage and check out over the audience, I can see everything from the hardest Headbanger to popgirl standing and dig to White Limo and it makes me very happy, because it means that we reach the masses.
Is there any kind of audience that you miss on your concerts?
-Yes! All those who have not seen us yet, we miss them.
What is the biggest band you have played with? You act usually headband or how is it?
-It was actually enough when we played the opening act for Strängen, it was hysterically funny. Now the latest we have actually been headband. But we would be happy to go with a really big band joins.
Is there any good bands else in Sweden today do you think? Other favorite band in the world?
-Yeah, definitely. Right now I'm listening very much toRaised Fist's new album, can not get enough of it. Then I have to strike a blow for the girls in the Sahara Hotnights and girls in Thunder Motherwell because I think they are crazy cool and do their thing very well. Well I dig the Ark very much even though they put down, even In Flames is high on the list. All over the world so it is listened to Muse, Foo Fighters, QOTSA, Biffy Clyro, Twin Atlantic, Coheed and Cambria, Kvelertak, Billy Talent, Imagine Dragons, the list goes huuur endless.
If you could put together five bands (living and dead) to have a big concert together with you, which five would you choose?
-Easy !:Queen
Foo Fighters
The Doors
The Beatles
Biffy Clyro
Imagine Dragons
It will be 6 bands plus us. Unebeatable line-up.
What do you think otherwise about living in Sweden? Politically, etc?
-Sweden Is a great country. There is no utopia. Injustice and misery should always be discouraged. If we turn our magnifying glasses within us a bit more instead of searching fault with others and looking similarities instead of differences so we can move forward at a much faster pace.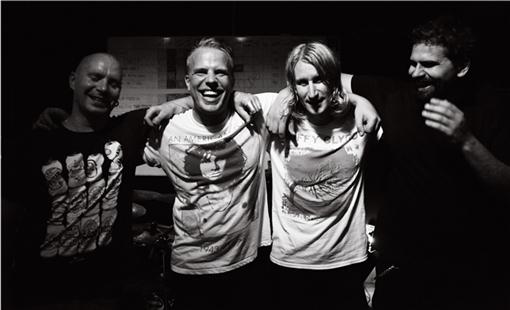 Your lyrics, what are they about? Who writes them?
-Andreas has written virtually all texts in the material that has been released. There is a lot about the importance of not being imprisoned in his own psyche, to live and do exactly what you want to do. Whatever the pressures and norms. Obviously, there is a largely self-examination and inspiration from real life. Failures, victories and everything in between.
Could you write about anything?
-As long as anyone can stand up for what we do. So we put no limits.
Politics and music, does it goes?
-If you as an artist wants to convey a political message. Then hear it together. If you as the viewer interprets politics into art you consume. Then hear it together. Everything is in the eye of the beholder.
Best political artist?
-Easy. Rage Against The Machine. Their songs are magical journeys in beautiful soundscapes.
Do you think it's important to get the music in real album too and not just digital? What do you think about downloading, good or bad, what are the benefits and drawbacks?
-It is very difficult to balance that. As for physical copies so it is simply whether it is worth investing in. Is there a benefit in that? Is there a need? Well then drive on it. Not just financial gain, but even if it's the right thing to do for you. All investments both financial and spiritual must have a goal, a purpose. Then it can become a shambles of everything, but then you learn and move on. Downloading is as cassette tapes and VHS. It is absolutely amazing that one can find an obscure jungle jazz trio from Istanbul that you would never have found without the internet. Then if one chooses to consume legal or not, it must lie with each person to decide. But download and streaming music is magically good.
No record label?
-Not yet. If someone with record labels and muscles want to be on our endless journey so you just have to get in touch. The limousine rolls always forward.
What are the five discs that you must have with you on a tour bus?
-The colour and the shape - Foo Fighters
Good Apollo, I'm Burning Star IV, Volume One: From Fear Through the Eyes of Madness - Coheed & Cambria
Reign in Blood - Slayer
Opposites - Biffy Clyro
Koloss - Meshuggah
What are the future plans for the band?
-We releases the single Horizon February 9, then our EP Magic Formula 23 February. Then it's just to reach out to people and play live for more and more people. Setting goals for the band, overcome goals and set new. Always up always ahead in all aspects.
For yourself?
-We are all 100% focused on the band. Nothing less will do for us.
Words of wisdom?
-How adversity it is, and feels so never give up, do you believe in what you do, it will come off sooner or later. Continue to fight, continue to write music, get better, learn new things and have fun.
Something to add?
-Keep an eye out. Are you able to see us live, do it! On stage, we live out completely. We are a live band. Come and join the ride!