In 2002 they released their first album called "Selfmade" with 15 songs. But at that time, they called themselves "Crack Speed Toys", it was a parody of "Backstreet Boys". They played a kind of funpunk or melodic-punk with some influences of skapunk, partymusic indeed. Then in 2004 they released an EP called "Tringle" with 3 songs and a videoclip. At the beginning of 2007 they decided to change theirr name. That was before their release of "Comparing scars", they thought: Now or never. And now Andi have answered a lot of questions about the swiss punkgroup When Came April(31/10-07)

History?
-The band was formed in 1996, as I have already said under the name "Crack Speed Toys". During our first years we played a lot of shows in our region. But soon we realized that our area (it's a part in the south of Switzerland) is in fact too small for us and our music style. So we decided to play all over in Switzerland. Now we have finally found a label that supports us as we need it. At the beginning of 2007 we decided to change our name. We wanted to leave behind our past, because we changed ourselves and our music style.

Please tell me a little about every member, age, interests, work, family and something really bad about every one?
-

Michael Bass, 31 years, machine engineer, interested in motorbikes, good food, is the calm pole, he is very musical
- Andi: Guitars/Backing vocals, 28 years, jurist, interested in football, design, books, surfing, snowboarding
- Mathias : Vocals, 30 years, jurist, interested in design, computerprogramming, football, is never on time, he is the wright
- Viktor Drums, 26 years, laboratory worker in chemistry, he is our youngest, but very motivated

This sort of punk in Switzerland, how is it to play it?
-There are a lot of people who listen to that style of music, mainly in towns this scene is very present. There are a lot of young people who want harder music. They are sick of popstars, chartbreakers and all that images. They want music without gadgets.
Where did your name came up from?
-Actually, I hope there is a different interpretation for anyone. Let me explain my interpretation with a short text passage:
"The end of all my sorrow
that shame and endless pain
my dreaming for tomorrow
that was when april came."
Or in other words: "Has anyone noticed that winter has gone?" The name has a lot to do with interpretation and connotation.

You like football?, which team(Me myself love the team GAIS from Gothenburg, and it..s really sad day today because the other team from Gothenburg IFK won the title yesterday)?
-Yes, I like football. My team is "FC Sion".

Do you have hooligan problems in Switzerland?
-Yes, there are such problems. But it's interesting that just some teams have hooligan problems, there are some people of different towns that can't bear each other. But all in all football is more connecting people within Switzerland than dividing them. Switzerland is a very small country.
Back to music, you write both in english and in german or?
-No, our lyrics are only in English. In fact, our first language is German, or a special dialect of German (Swiss-German).

My review sounds like this WHEN CAME APRIL-COMPARING SCARS(CD-808 RECORDS 808-041) Another Swiss band and it have come a lot of band from Switzerland lately and I don..t know why. When Came April doesn..t plays emo as I thought but sure there..s influences from emorock also but it..s a lot faster music than that and I become really happy when I hear them. What I also like is the backgroundvocals which is on the record and mostly when it..s mixed with the ordinary singers voice. It..s influences both from NOFX, Bad Religion and a lot of tougher things too. A really interesting band I must say.(SEVEN) 29/10-07 What about it?
-I hope that's your true opinionJ. That's ok!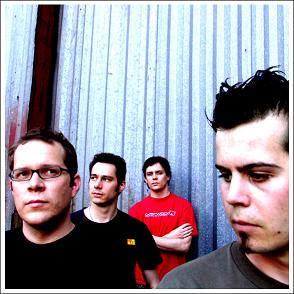 What does punk mean to you, is it only a word or is it a lifestyle?
-For me it's more than a word, even more than music (Yes I know, anyone says that). I've grown up with that style. Maybe not with that "real-punk-style". I had a normal childhood, a family, went to school, studied at university… and although I would say that I lived punk. I think there are some intellectual aspects in "punk", not just that chaotic one, that comes to ordinary people's mind when they think about "punk". To question critically our system, our society is a part of being punk. For that I don't have to live on the street and to charge other people as betrayer, because they live in that system. Tolerance is a very important part of "punk", but many people forget that.

How would you describe your music in three words?
-Angry, emotional, liberating

How is the reviews you have got for the new CD?
-There are some in progress, but at the moment, we have no (written) review yet, our label normally arranges that for us. But the reviews of people who listened to our album are very positive, we are very surprised and flattered. They were surprised how we have grown and they didn't expect how we changed our style.

Do you care about reviews?
-Sure! But we know that it is just ONE opinion. But everyone loves to be liked. But we can handle a bad review, you have to be above these individual opinions.

How is it to live in Switzerland, I mean politically?
-In our country there are a lot of different opinions about politics. There are radicals on both sides. And it depends a lot on the region. In towns, people are more liberal. In the country, people are very conservative and hidebound. At the parliament are about 5 to 7 parties, from the very right to the left. But I'm not a big fan of "party-thinking". Politics are something you can discuss about, and there is not always one solution or one point of view.

Many people mix Sweden and Switzerland? Which are the similarities do you think between the countries except the name?
-Unfortunately I don't know Sweden. If I would answer that question, my answers would be just what I have heard about Sweden. If I make free associations, the weather in Sweden is cold, the people are friendly, but I guess a little bit sceptical, some kind of mystical. And a lot of good musicians come from Sweden!

What is typical swiss?
-Typical Swiss is the exact organization and precision. But Swiss people are more chummy and convivial than a lot of people might think. They are not as cold as they seem to be.

Any good bands from Sweden you like?
-Sure, there are a lot: ABBA, The Hives, No fun at all, Refused, Venerea, Sophie Zelmani, Millencolin and a lot of good metal bands…

Is there any good bands in Switzerland right now?
-For me one of the best Swiss bands is the band "Cataract", they are on a big label and play a kind of hardcore like "Hatebreed". When you see them live, you have to cry! A Swiss band I like too is Favez. A band coming from the "French Part" of Switzerland and a very successful group.
And I think there are a lot of very good punk- and skabands in Switzerland. Most of them are on the label "Leech*Redda" or its underlabels "808 Records" or "Colibri Records": A.F, Grannysmith, Punkrott, Erinmore, Snitch, Nguru, Peacocks…
There are some other bands that have international success, bands like Samael, Gotthard, Lovebugs, Stephan Eicher,…

Much interviews? Is it boring?
-No, that's not boring, but I prefer to talk (not to write). I think interviews force you to think about yourself and about what you do, that's an aspect that is often forgotten.

Please rank your five favourite records, five favouriteconcerts and five most important things in life?
-Records:
Rage Against the Machine, Rage Against the Machine

Foo Fighters, one by one

Nirvana, nevermind

Rise Against, Siren Song of the Counter Culture

Sepultura, Chaos AD
Concerts:
Cataract at Greenfield-Festival Interlaken

Rise Against at Abart/ZH

Beatsteaks at Volkshaus/ZH

Boysetsfire at Deconstruction Tour

Foo Fighters at Winterthur
Things:
True friends

Music

Reliability

Honesty

Experiences

First and last and most expensive record ever bought?
-First: David Hasselhoff, Looking for freedom
Last: Atreyu, Lead Sails And A Paper Anchor
Most embarrassing record in your collection?
-J Looking for freedom, David Hasselhoff. Funny that it was the first one.
808 records , is it a good label, what have they released more?
-For us it's a very good label. It is a underlabel of the most important punk- and skalabel in Switzerland (Leech*Redda). And we know the people who are working there and we like to work together with them. If you want to see what amazing bands they have visit: www.myspace.com/leechredda
New stuff like My space, facebook and so on.... is it good or how do you see ont hese things?
-
Myspace is very important for bands. You can make your band public and spread your music. With that "Inviting-thing" you can "force" some people to view at your profile and to hear something about the band. Those who are interested in your music, they can and will contact you. It's a softer kind of "spamming", indeed.
Facebook is good to keep in touch with some people you met, like in holiday or so. It's an easy way to communicate. But not necessary.
But I also see some problems with that stuff. There are some people who lose themselves in that virtual world of friends. I see the problems of anonymity and of being someone you want to be (and you're not).
How do you see on Mp3 and downloading and so on? is it good or bad for smaller bands?
-It's difficult to say if it's good or bad for smaller bands. Fact is that people buy less CD's! But it's possible that you download an album of a band you don't know exactly, and you would never buy a CD of that Band. Good (but very idealistic) would be, when you download an unknown band and then you go to the store to buy that album because you like them.
And which band do you really like to support if it..s possible?
-There are a lot. My dream would be Rise Against. But also Billy Talent, My Chemical Romance, Atreyu, Saosin...
Futureplans for the band?
-Playing concerts, some big gigs, working on new songs and record the next album as fast as possible.
For yourself?
-To combine my profession (Jurist) with my hobby "music".

Wisdomword?
-
Don't let you kill by hope. Let go, and go on.

Something more to add?
-Thanks a lot for your interests. Stay rebel, and shout that out!
Check out our websites:
Our label:


<![if !supportLineBreakNewLine]>
<![endif]>
.