Denna gång hade vår favoritfestival ändrat datum och plats och fått ett mer anpassat format tycker jag även om jag kanske tycker området var lite för litet men de som anordnar festivalen har känsla både för banden och hur det skall utformas.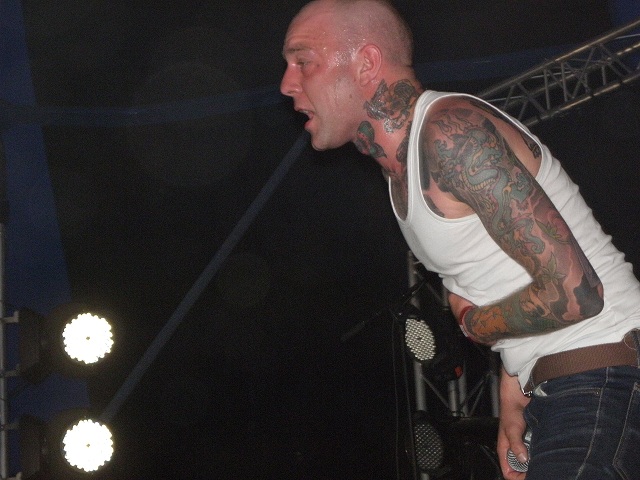 Först ut för min del var Gatans Lag och deras oi på svenska är riktigt bra och jag gillar sångarens stil på scen för det händer verkligen något när man ser på dem och framförallt så älskar jag ju saxofon i punkband och det har Gatans Lag och det skall de ha cred för. De verkar ha kul på scen och det är mycket allsång både på publik och på band. Efter detta träffade jag mina gamla kompisar från Orust...alltid lika trevligt.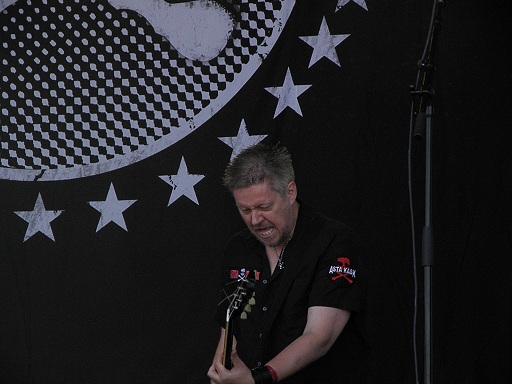 Andra bandet för dagen är ett band som jag verkligen gillar och har sett många gånger...Asta Kask. Jag står en bit ifrån först och då känns det som om ljudet försvinner men efter ett tag så går jag fram och då blir ljudet bättre och som vanligt levererar Asta med sina bra låtar Ringhals Brinner som sista låt och före det har de avverkat Dom får aldrig mig, Välkommen hem, Inget ljus och Psyskisk Instabil för att säga några låtar.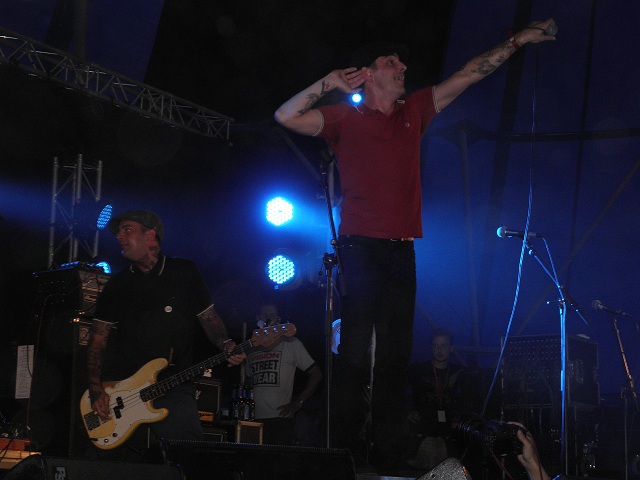 Street Dogs med medlemmar från bland annat Dropkick Murphys har jag bara en skiva med innan och det ändrar jag vid merchendise ståndet efteråt för den här konserten var den bästa på hela festivalen och jag tycker att de låter som en hårdare variant av Cocksparrer. Bra ljud, bra låtar, bra band, glad gitarrist och det är sköna gubbar allihop .....Up the Union och Punk rock and roll...vilka underbara låtar.... Kom hit igen...jag måste se er under andra omständigheter.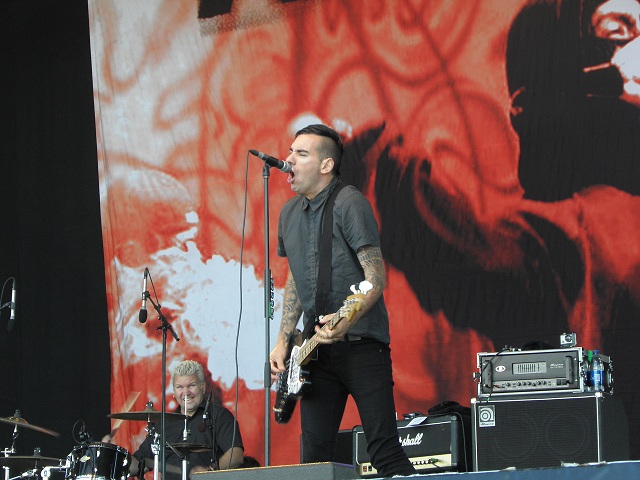 Efter detta så går vi och köper lite tröjor, mat och dryck och under tiden hinner Anti-Flag börja sin konsert. Man märker ganska snabbt att detta är ett säkert band och jag gillar deras radikala stil. De är förbannade på ett städat sätt men de har många bra låtar och Die for your government är en arg sådan. De kör en udda version av Should I stay or should I go...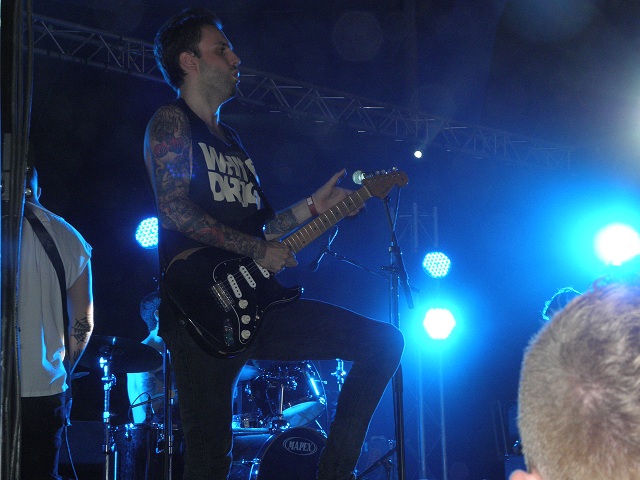 Vi skyndar sedan in i mellantältet för att se Gallows....det är det tuffaste denna kväll och deras blandning av metal, hardcore och punk kör över oss och det gör sångaren också som verkar smått farlig. Jag gillar det ganska mycket men de andra tycker det är för tungt så vi går ut på gräset och vilar ut lite och från det minsta tältet hör vi Out of Vogue som bland annat kör en Misfits-cover.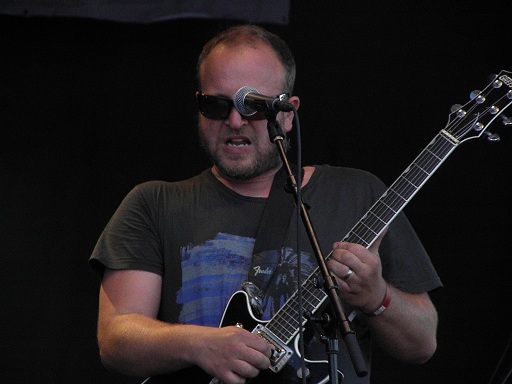 Randy har ju inte spelat ihop på tre år och det märks att de är lite nervösa...i alla fall sångaren som stakar sig lite när han pratar men han tycker i alla fall att det är mer än godkänt efter några låtar. Randy har en hel del bra låtar på sitt samvete men det är något som inte riktigt tänder till i publiken och några av låtarna är nästan läbbigt nära 50-talsmusik. Det var kanske en lite för stor scen för bandet.....
Det är inte många kvinnliga musiker som jag ser denna kväll och det närmaste är väl sångaren i Against me som tydligen håller på att göra om sig till kvinna. Hoppas inte att rösten förändrar för mycket för det är mycket den som är en framgångsfaktor för Against Me. Precis när jag står där och tar kort så ser jag i min ögonvrå ett känt ansikte. Little Steven och Bruce Springsteen står och tittar på vid sidan av scen. Trummisen i Against me har tydligen en pappa som trummar i Bruces grupp. Bra melodier är det i alla fall och sångaren är väldigt glad och nöjd känns det som. Tyvärr missade vi Alonzo och Fas 3 och det var tydligen riktigt bra men det kommer kanske mer chanser för det bandet.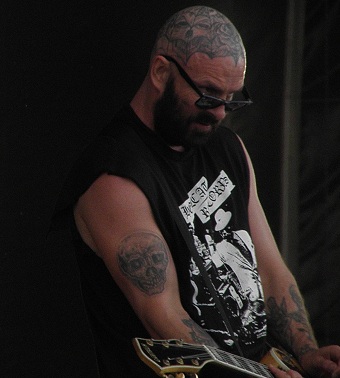 Näst sista bandet och dagens huvudband är ju Rancid. En och en halvtimme spelar de och det är långt när man sett så många band men vad som slår mig är att de har så otroligt många bra låtar och mest jubel drar väl låtar som Hooligans, Time Bomb ,Ruby Soho och Olympia Wa ner och jag gillar deras skaaktiga stil riktigt mycket och då är det ös på publiken. Utomhusspelningar ger ju aldrig samma tryck som inomhus men det är bra...riktigt bra...näst bäst efter Street Dogs idag.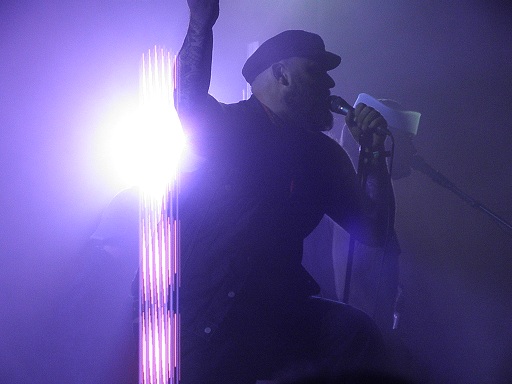 Sista band är de omtalade Turbonegro och nu har de ju en ny sångare och jag tycker han sköter sig riktigt bra ...inte för att jag har sett dem förut men det är en bra spelning förutom att ljudet är lite för högt och det blir just därför lite distat. Annars en mycket bra eftermiddag/kväll och hoppas verkligen detta återupprepar sig
This time have out favouritefestival changed date and place and got a little mor format that suits this festival and even if the area maybe could have some more space so do I feel that the people who does this concert have a feeling for which bands which should be on the festival and how it´s shaped.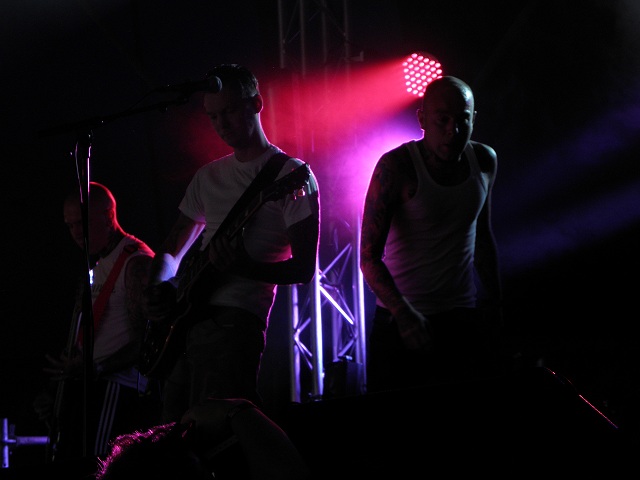 First out for me this day was Gatans Lag and their oi in swedish is really good and I like the singers style on stage because it happens something when they plays and that shall they have all cred for and then they have a saxophone in the band..wow that i really like. They seems to have fun on stage and it´s alot of singing both on stage and in the audience. After that I met my mates from Orust...always nice.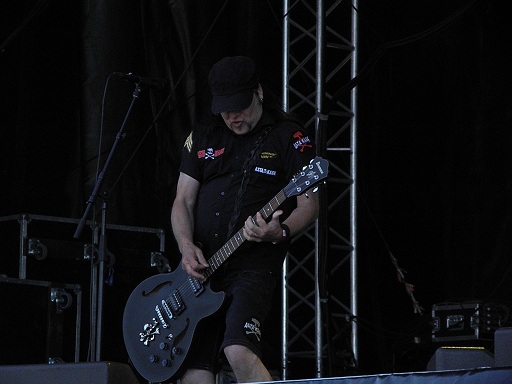 The second band this day was a band which I really like and which have seen a lot of times..:Asta Kask. I´m a little bit away from the stage first and then the sound is blowing way but after a while i go foreward and the becomes the sound better and as usual Asta Kask is doing fine with their good songs and as the last one they do Ringhals Brinnewr and before that they have done songs like Dom får aldrig mig, Välkommen hem, Inget ljus and Psyskisk Instabil just to say some.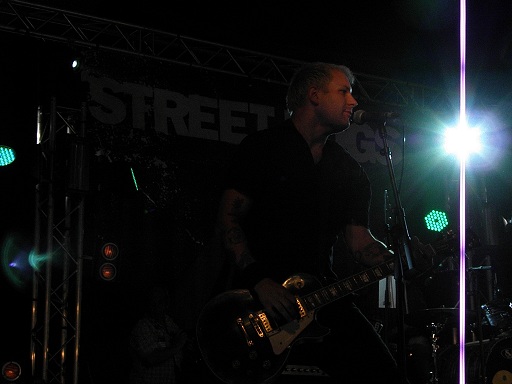 Street Dogs with members from Dropkick Murphys I onle had one record with before but that I change in the merchandise after the concert because this concert was the best on the whole festival and I think that they sounds like a harder variant of Cocksparrer. Good sound, good songs, happy guitarist and it´s really cool guys everyone of them.. Up the Union and Punk rock n roll...what wonderful songs. Come here again and I want to see you again...in a smaller place ..inside.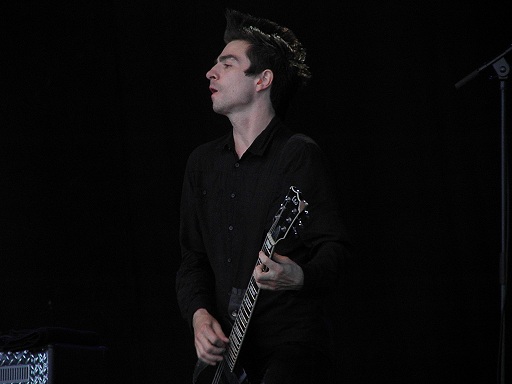 After that we go and buy some t-shirts, food and drinks and during this time Anti-Flag go on stage. You notice really fast that this is a band with rouitine and I like their radical style. They are angry in a nice way but they have many good songs and Die for your government is an angry song. They do an odd version of Should I stay or should I go too.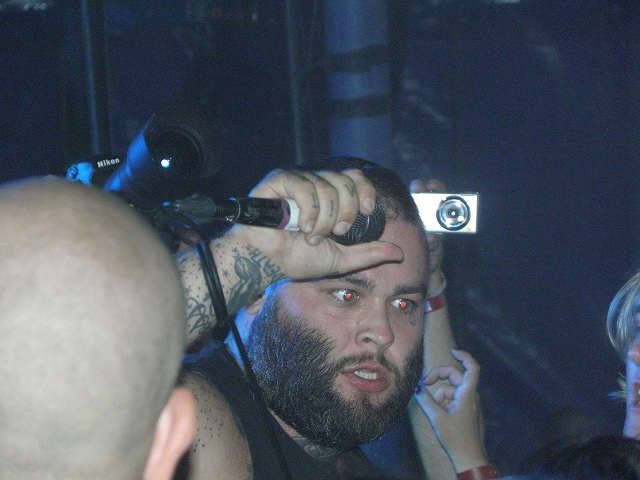 We hurry into the second tent to see Gallows ...that is the toughest band this evening and drive us over with their mix of hardcore, metal and punk and that do the singer also who looks really dangerous. I like it really much but the other thinks it´s too tough and we sit fown on the grass to get some rest instead and from the smallest tent we hear Out of Vogue do a Misfits-cover.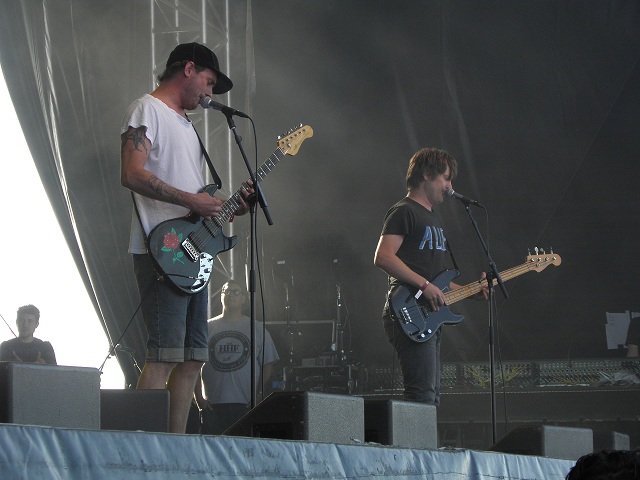 Randy haven´t played together in three years and we notice that they´re a little bit nervous, anyway the singer which have some difficulties to talk but he thinks anyway after a while that the gig is really good. Randy have a lot of good songs on their consciousness but it´s something which don´t really is tiptop in the audience and it feels a little boring and some of the songs is really near 50´s music....maybe it was a too big stage for the boys.....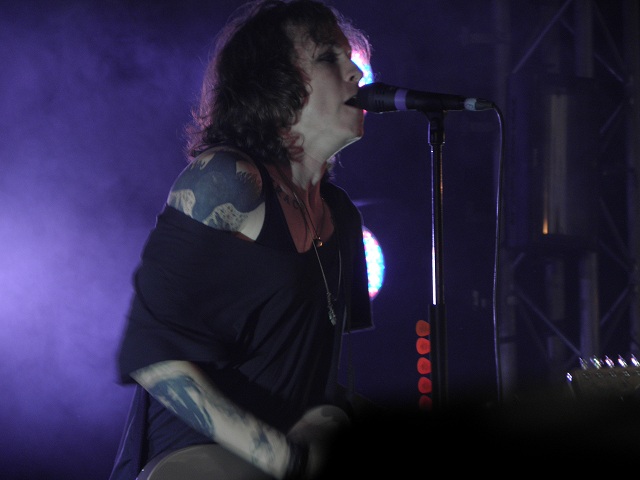 It´s not so many girls on stage this day and the nearest we come is the singer in Agaisnt Me which is in it´s way to change sex to woman. I don´t hope that the voice is chaging too much becaue the voice is much of the success in this groups music. And when I stand there and take some phtos so do I see a face which I recognize on the side of the stage...Little Steven and Bruce Springsteen. The drummer in Against Me have a father which drums in Bruces group. Good melodies is it anyway and the singer seems to be vary happy with the gig. We missed Alonzo and Fas 3 and they were really said some we met but I hope we get some more chances with that band.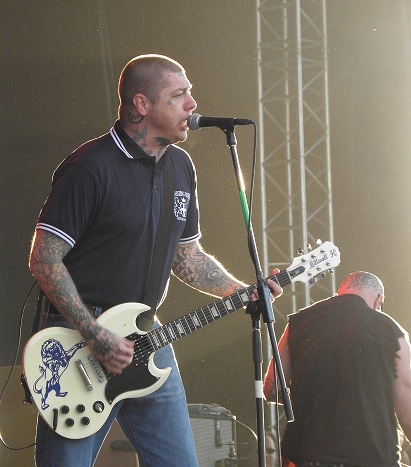 The next band is the main attraction and the second best concert this evening....Rancid and they plays for 1½ hour and that is much when you have seen so many bands before but one thing which hits me is that they have a fucking lot of good songs and most speed on the audience is it on songs like Hooligans, Time Bomb ,Ruby Soho and Olympia Wa and I liek their skastyle most actually. But there is one thing with gigs outside...something isn´t good with them I don´t know what.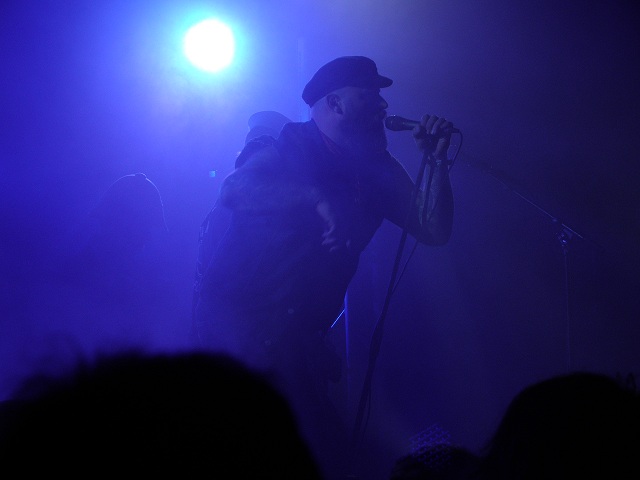 The last band today was the band many people talk about Turbonegro and they have changed their singer and he´s doing really fine. I haven´t seen them before so I don´t have anything to compare with but the sound was a little bit too high and it became a little bit too much distortion. But this was a really good day/evening and I hope it will come back next year again.