För tredje gången anordnas West Coast Riot på Frihamnspiren och detta är min andra gång. Alltid imponerande startfält och denna gång var det inget undantag. Vädret var perfekt egentligen...inte för varmt och inte för kallt. Kunde det bli bättre? Som vanligt tycker jag att allting fungerar bra...banden börjar i tid, det finns många toaletter och det är inte för mycket fylla. Det enda man har att klaga på är kanske priserna på vissa saker, en korv med bröd och en dricka ...65 kronor? En officiell T-shirt 250 kronor oavsett band...nja...det är inte punk tycker jag i alla fall. Nu till dagens som var. Först träffar jag några kompisar och först ut är Bruket på Black Stage och det är en stor scen och jag tycker att Bruket ser väldigt små ut på scen men det kan bli ett stort band. Jag har lyssnat en hel del på deras skiva och helt klart är den bra och här får vi något så ovanligt på en punkkonsert...ett trumsolo..udda...bra? nja jag vet inte. Men låtar som Stockholm Kallar, Ner på knä är riktigt bra punklåtar och bandet gör en helt okej spelning.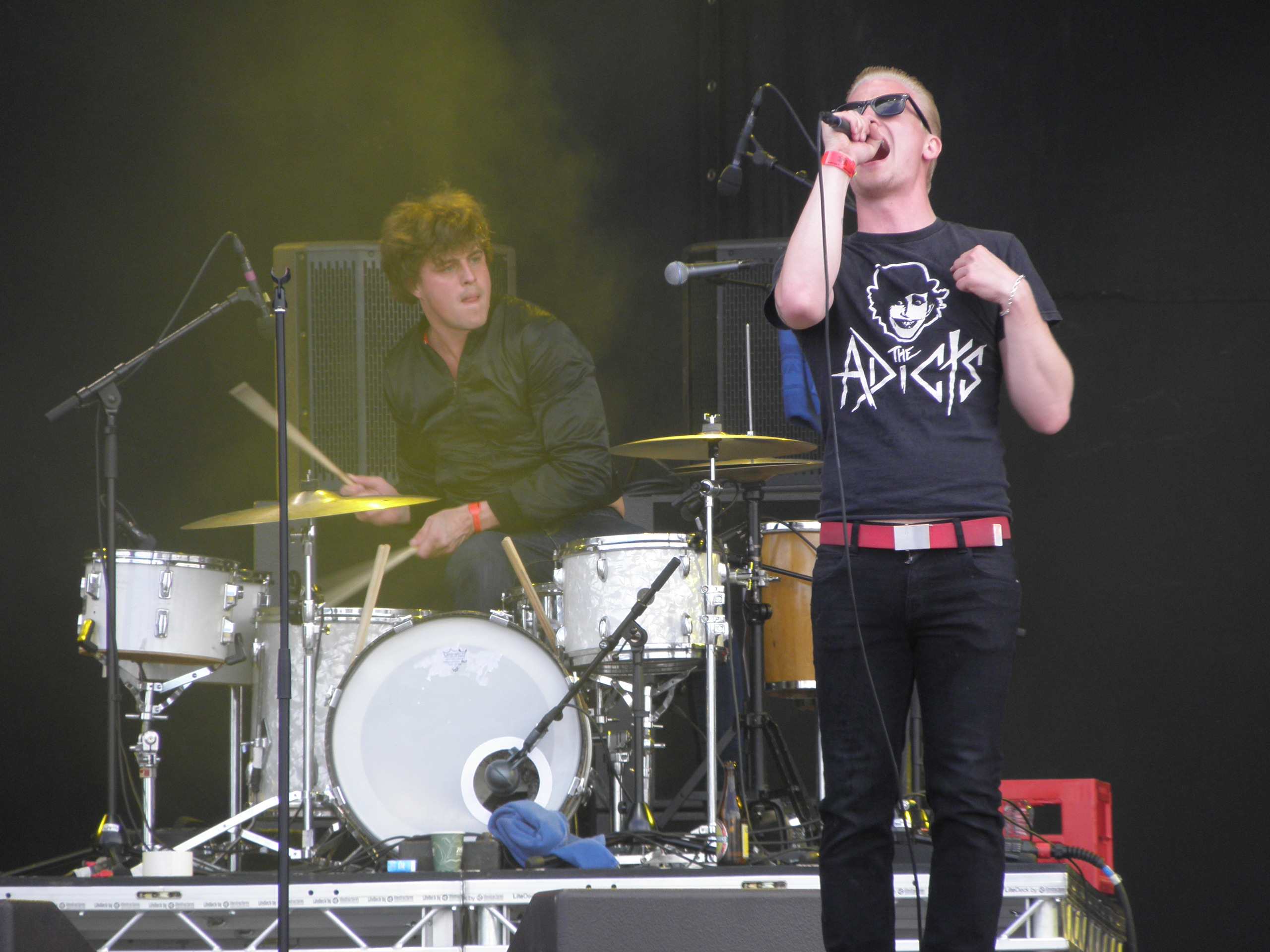 Tillbaks till öltältet, kolla lite tröjor och skivor och sedan beslöt jag , Olle och Niklas att gå och kolla in Sista Sekunden. De har precis släppt en ny skiva Åldras med stil och den är riktigt bra. Jag tycker nog att deras musik blir lite väl tuff på scen ibland om man jämför med på skivan men visst har den charm och sångare och gitarrist är värda att se på. Sångaren med sina avklippta jeansbyxor är alltid kul att kolla in och många av låtarna är riktigt bra.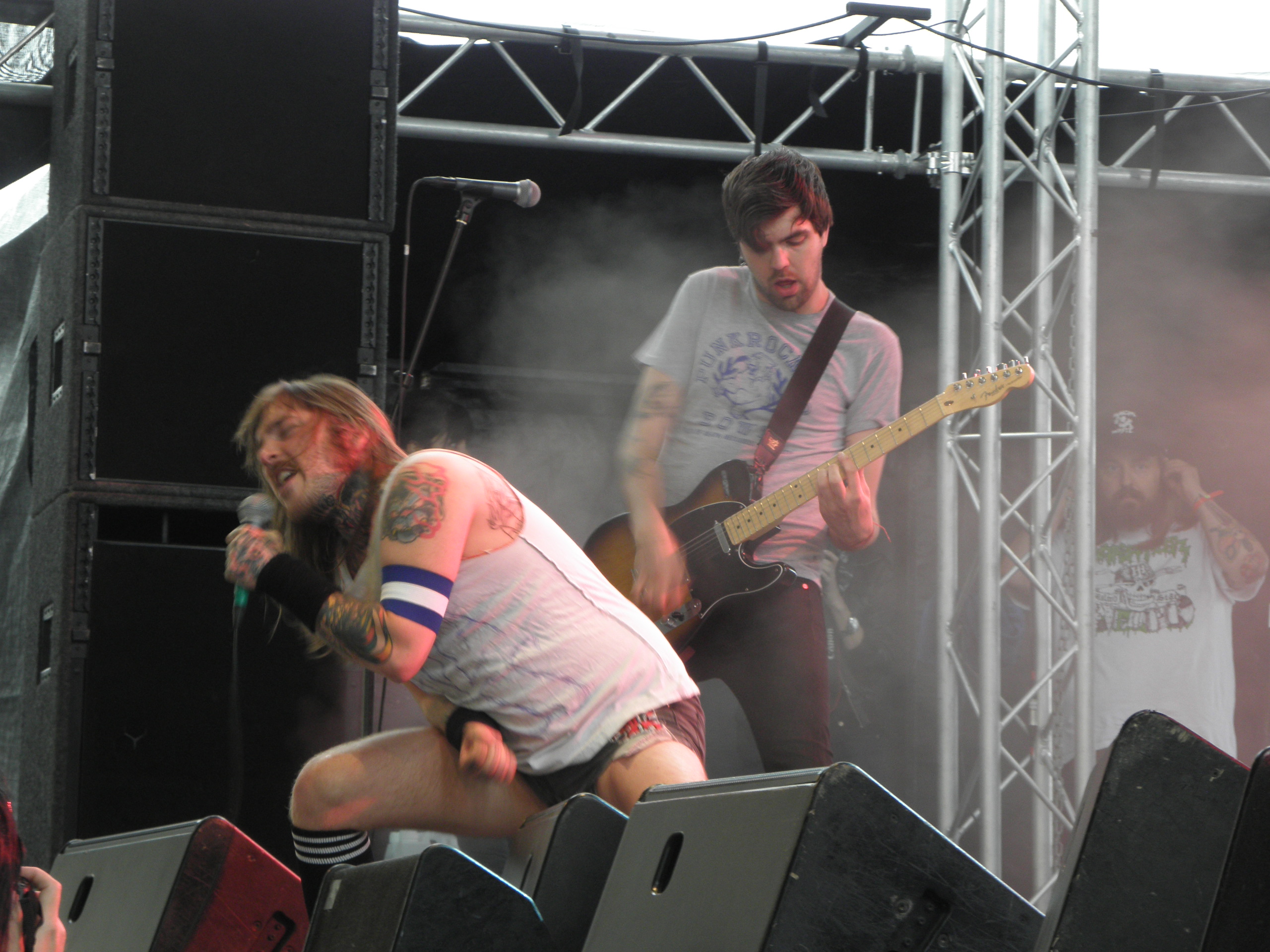 På väg från Sista Sekunden möter vi Brollan och hans gäng och de har precis varit och kollat på Dillinger Escape Plan och de tycker att det var en fruktansvärd stund. Bara oväsen säger Brollan. Jag Olle och Niklas går dit och vi möts av en lugn låt som nästan går över till jazz och oväsen finns inte tillstymmelse till. Låten efter så får vi lite av det som Brollan nämnde men jag kan ju vara lite svag för sådant här riffande och som musiker är de säkert skitbra och hade det bara varit DEP idag så kanske men nu vill man spara öronen till nästa akt.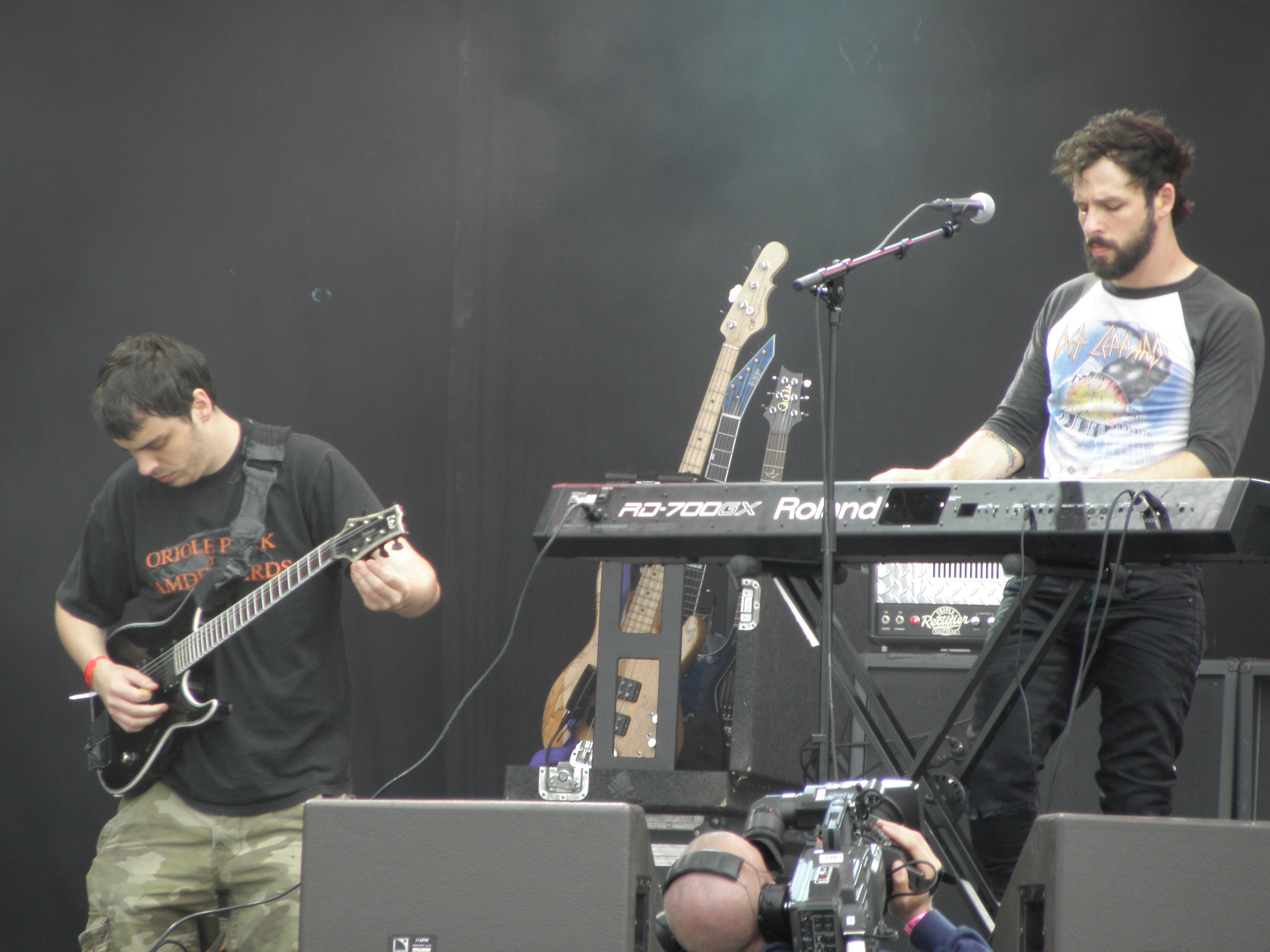 Jag blev i alla fall riktigt glad när jag såg att Specials hade bokats till den här festivalen. Grabbarna har uppnått en aktningsvärd ålder men skall enligt vad jag läst vara riktigt bra live ännu. De startar med Do the Dog och den svarte sångaren i bandet börjar springa/hoppa omkring från första låt tll sista låt...vilken kondis. Jerry Dammers däremot ser mer ut som om han undrar vad han gör på denna scen och han ser många gånger riktigt lidande ut. De kör på ett koppel med hitlåtar eller vad sägs om Dawning of a new era, It´s up to you, Rat Race, Doesn´t make it alright, Concrete Jungle(med gitarristen på sång), A message to you Rudy och Do Nothing. Min favorit på denna festival tror jag tillsammans med en annan gammal man.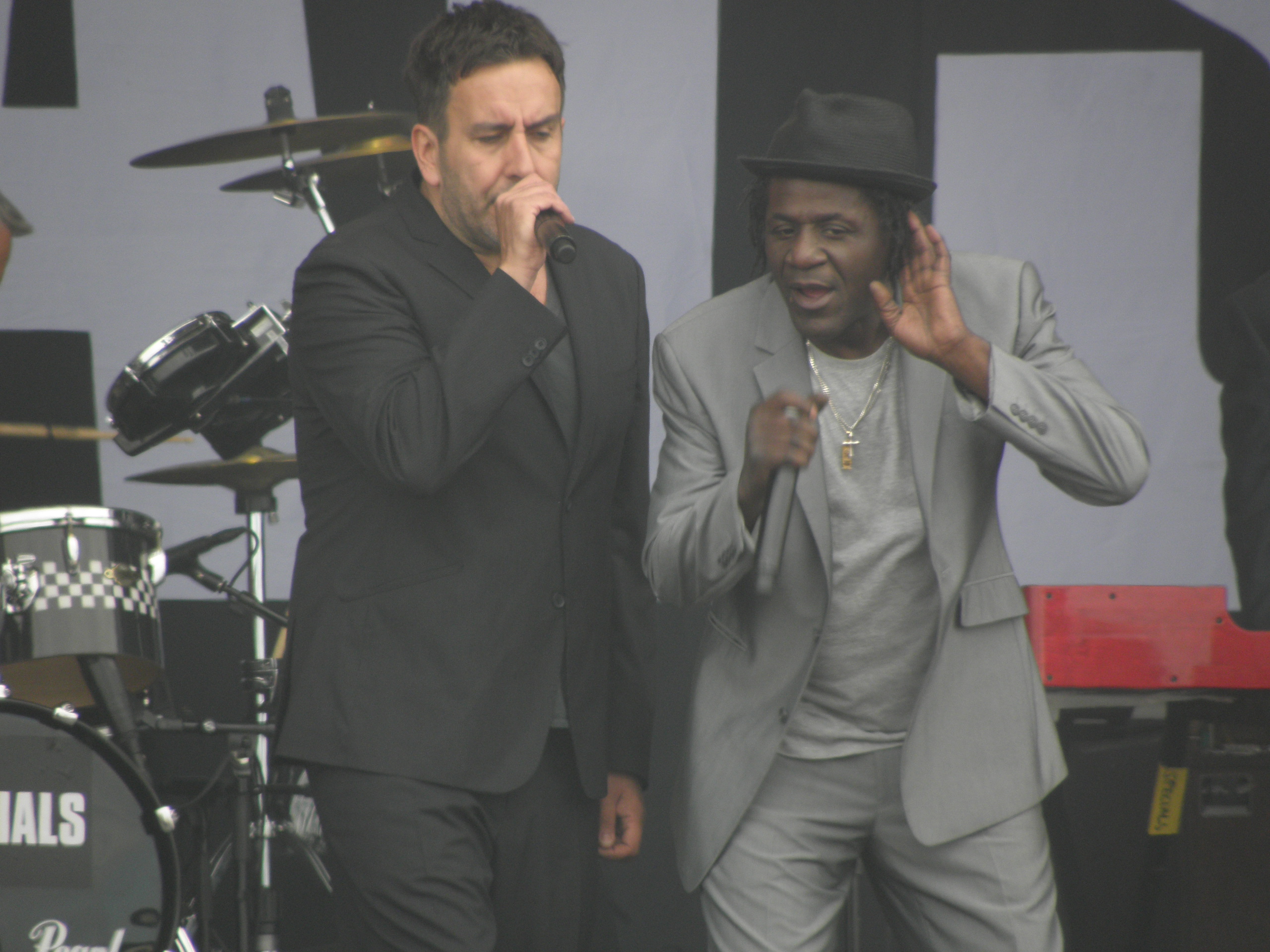 Flogging Molly var ju med för två år sedan och det var ju en kul upplevelse då och det är kul nu också. Jag tycker helt klart att de är bättre live än på skiva för där har jag aldrig riktigt fastnat för deras folkpunk. Men live är sångaren underhållande och publiken verkligen älskar detta. Helvilt i publiken emellanåt och det är en svettig upplevelse och man undrar ibland om man skall komma därifrån utan skador. Jag har deras skivor men är lite dålig på deras låttitlar men jag tycker mig höra Drunken Lullabies där det blir ett jävla ös, Requiem for a dying song och den gamla The worst day since yesterday och Flogging är ett riktigt bra liveband och vad jag slås av när jag tittar mig omkring är att så många unga kan deras texter...framtiden är räddad.
Efter Flogging Molly var vi tvungna att rusa till Bad Religion, de har man ju sett några gånger så man vet ju att det inte är ett band som är den roligaste upplevelsen på scen men musikaliskt är de alltid bra. Det känns som om de inte var riktigt på hugget från början, ljudet var ganska dåligt, de verkade lite trötta och låtvalet i början var inte det ultimata. Men efter hand så växte de in i konserten och det blir riktigt bra till slut och med låtar som 21st Century digital boy, American Jesus, Punk rock song, Generator, I want to conquer the world och min favoritlåt Sorrow så är det svårt att inte uppskatta konserten. De kommer tydligen med en ny skiva i september och att de har hållit på 30 år och ändå så vitala är kul. Gå in på deras hemsida för att ladda ner ett gratis livealbum också.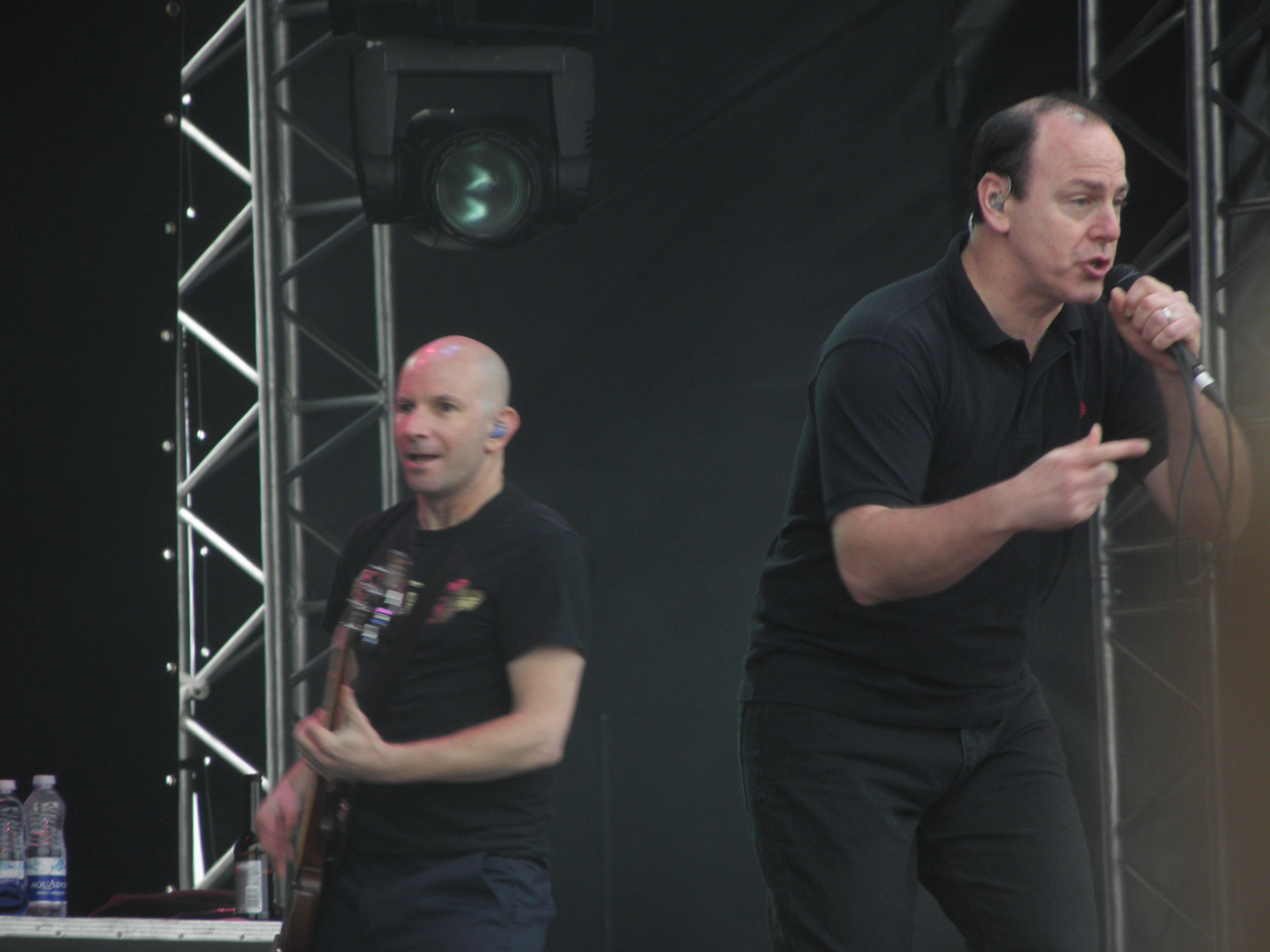 Utan Bad Religion så hade inte heller Rise Against funnits för deras musik är som Olle sa en tyngre variant av Bad Religions. Jag är lite dålig på deras låtar också men några uppfattar jag och det är en hel del från deras senaste skiva. Sångaren verkar så jävla glad för att stå på scen och gitarristen spelar sönder ett gång gitarrer och deras utspel på scen är riktigt bra. Mitt i konserten så blir det akustiskt. Först en sommarlåt som sångaren säger och sedan deras Tracks-hit Hero of war som får lite trumhjälp i slutet av låten.De kör Minor Threat som cover och då kommer gamle Minor Threat medlemmen, numera Bad Religion Brian Baker upp å scen och spelar gitarr tillsammans med Dennis Lyxzen på sång. Han hyllar en hockeyspelare som jag inte kommer ihåg namnet på från Philadelphia Flyers och det händer en hel del skoj på scenen och de ä rkanske något av festivalens utropstecken.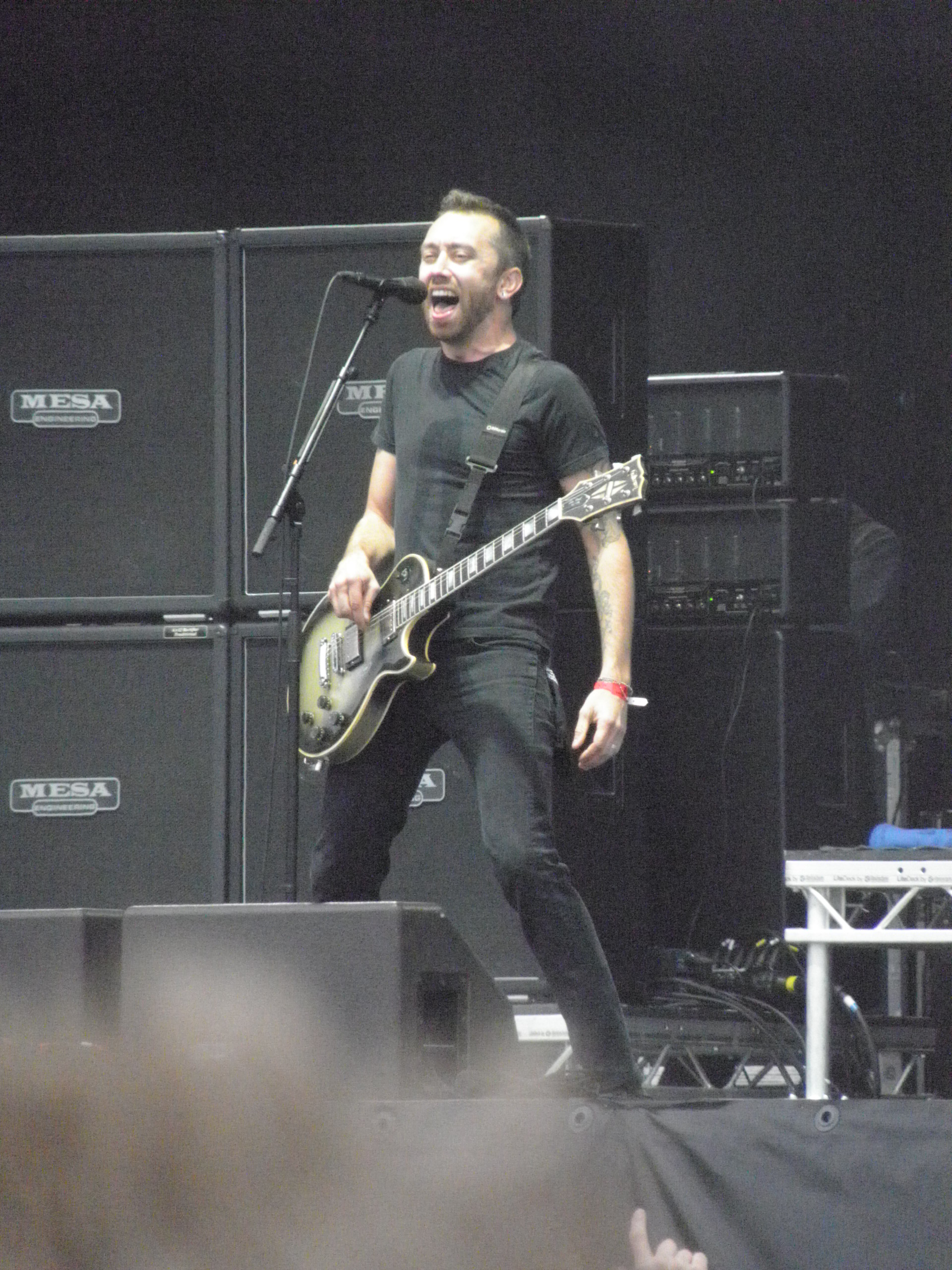 Jag hade stora förväntningar på nästa konsert med Dropkick Murphys eftersom jag aldrig sett dem men intervjuat sångaren via telefon en gång. Visst var det en bra konsert men jag trodde det skulle vara mer magiskt men det kanske berodde på trötthet efter 8 timmars musik från min sida. Men visst svänger deras musik och ibland blir det nästan hardcore som i Citizen C.I.A och då glömmer man nästan att de spelar folkpunk. The fighting 69th är ju en gammal låt som körs och det gillar jag och Sunshine Highway är en annan av favoritlåtarna ikväll. Jag skulle gärna se dem igen nä'r jag inte är fullt så trött som jag var denna gång.
Sista konserten för min del blev Jello Biafra för han höll på såpass länge så att jag missade Hives(men det får bli en annan gång, de är ju i alla fall svenska och man har säkert chansen en annan gång). Efter en liten väntan och en orgie i gitarrer kommer den gamle hjälten in på scen iklädd en blodig vit rock och blodiga händer. Hans sätt att röra sig på scen är så typiskt Jello efter vad jag sett på videos osv. Jag vet att resten av medlemmarna har fortsatt med Dead Kennedys utan Jello men det kan bara inte bli bra eftersom det är hans röst som gör allt. Hans teatraliska stil på scen tillsammans med det politiska snacket är helt enkelt suveränt. När han då kryddar detta med Holiday in Cambodia, Let´s lynch the landlord och California uber alles tillsammans med sina egna nya låtar kan man inte annat än jubla. Jag skulle vilja se honom en gång till för de nya låtarna håller samma klass nästan som gamla Dead Kennedys -låtar och kvällens största behållning kom sist och detta visar att gammal är äldst(läs bäst) för det tycker jag att han var tillsammans med Specials.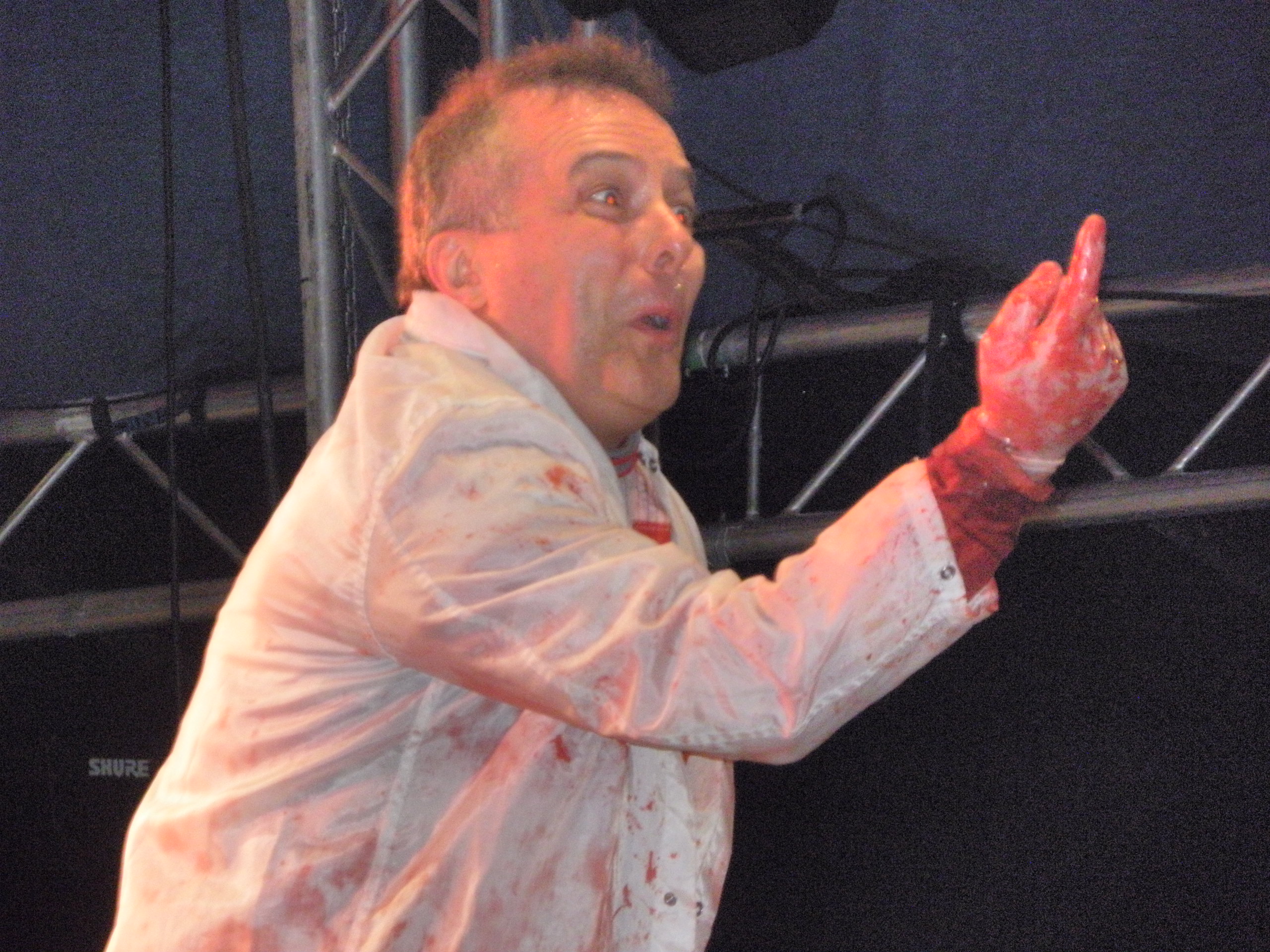 For the third time so is West Coast Riot in Gothenburg and this is my second time. Always impressing with all these bands and this time wasn´t bad either. The weather is perfect because it wasn´t too hot and it wasn´t too cold. Could it be better? As usual so is everything around perfect...the band is starting in time. there is many toilets and it´s not to much drunkness. The only thing you can complain about is some things, A sausage and cold drink 65 swedish krona and an official t-shirt is prized 250 swedish krona and that doesn´t matter which band it is. Now to the day and how it was. First I meet some mates and first out is Bruket on Black Stage and it´s a very big scene and I think that Bruket looks small on it but it can be a big band. I have listened a whole lot to their record and it´s good and here we get something so unusal as a drumsolo...odd...good? No, I don´t know. But songs like Stockholm kallar and Ner på knä is really good punksongs and the band is doing an OK gig.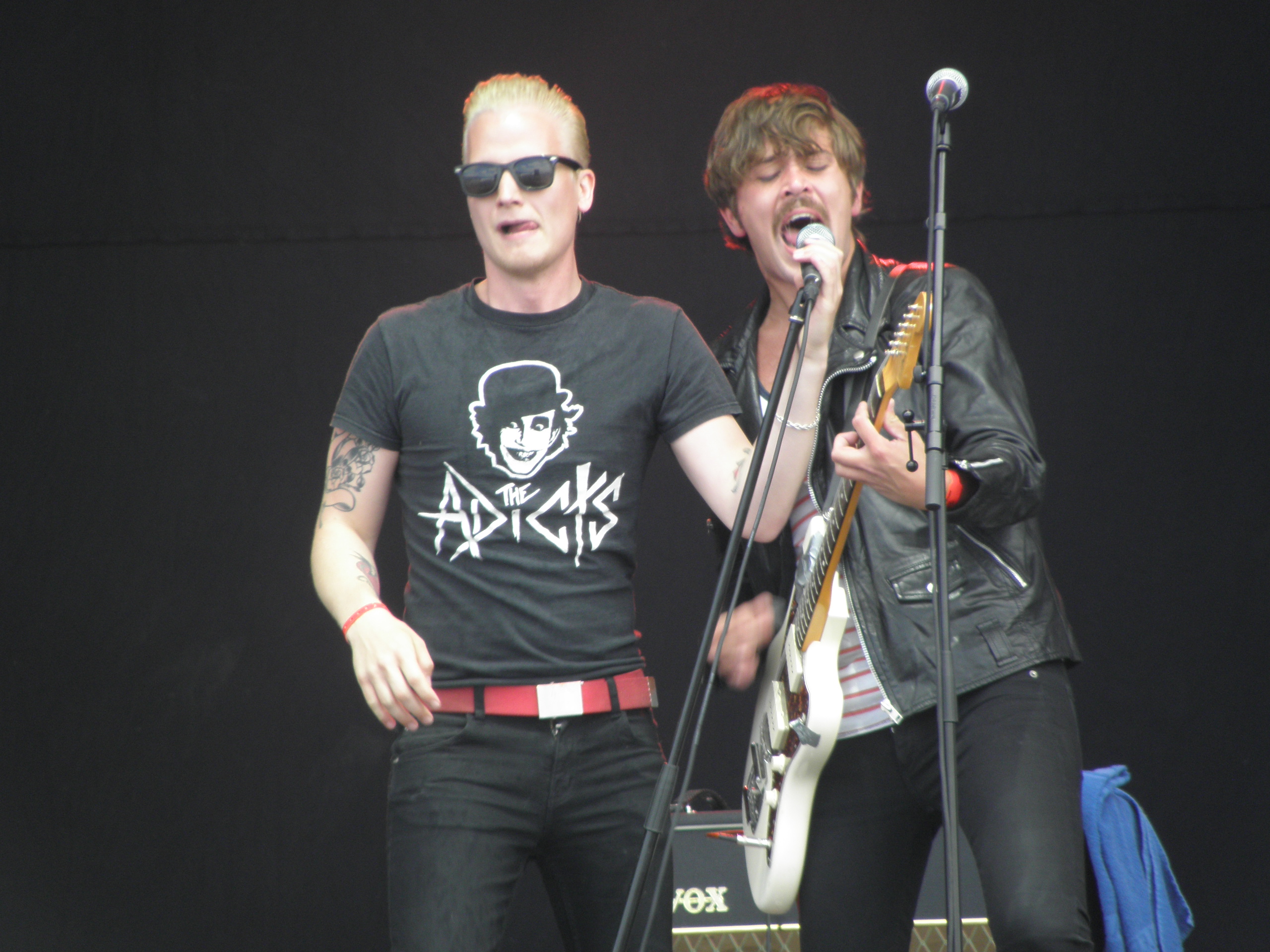 Back to the tent of beer, check out some t-shirts and records and after that I, Olle and Niklas went over to see Sista Sekunden. They have precisely released a new record called Åldras med stil and it´s really good. I think that their music is too tough on stage sometimes if you compare with the record but sure it´s have charm and their singer and guitarist is worth to look at. The singer with his short jeanstrousers is always fun to look at and many of the songs is really good.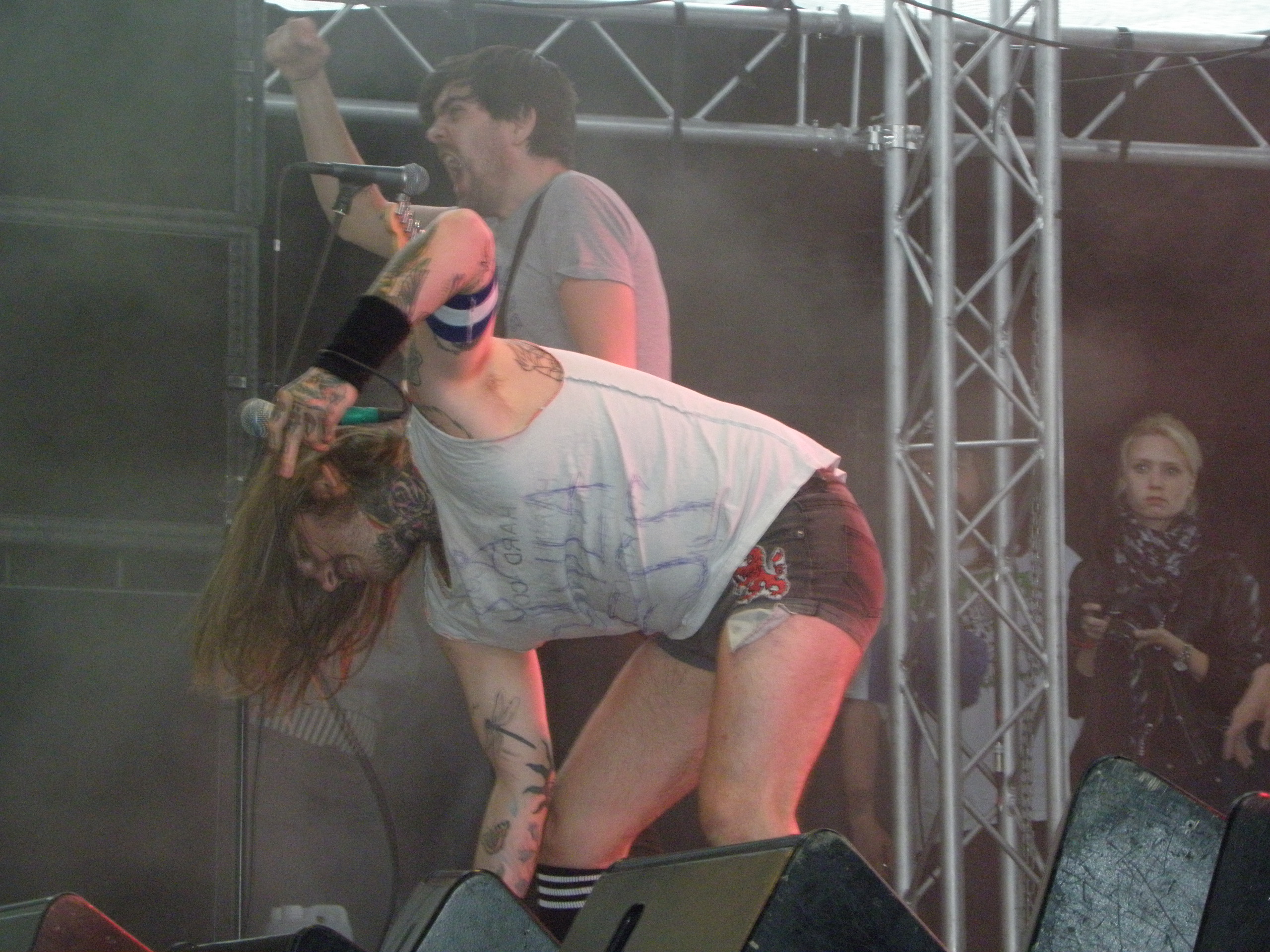 On the way away from Sista Sekunden we met Brollan and his gang and they have precisely looked at Dillinger Escape Plan and they thought it was a terrible time. Only noise says Brollan. I , Olle and Niklas wnt over there and we were met by a calm song which alomst goes over to jazz and some noise it wasn´t to be heard at all. Th song after so will we see and hear some of the things Brollan talked about but I can be a little bit weak for these things and riffing and as a musicans so are they surely really good and had it only was DEP which have played I have surely liked it more but now I want to have my ears left until the other bands.
I become really happy when I saw that Specials should play at this festival. The guys have come up to a really good age but as what I have read so should they be really good live nowadays too. They starts with Do the Dog and the black singer starts to jump/run around and that he do from the first song til the last one...he is in really good condition. Jery Dammers looks more than he wonders what he does on this stage and he looks many times really suffering. They do a lot of good hitsongs or what to be said about Dawning of a new era, It´s up to you, Rat Race, Doesn´t make it alright, Concrete Jungle(with the guitarist on vocals, A message to you Rudy and Do Nothing.My favourite on this festival together with another old man.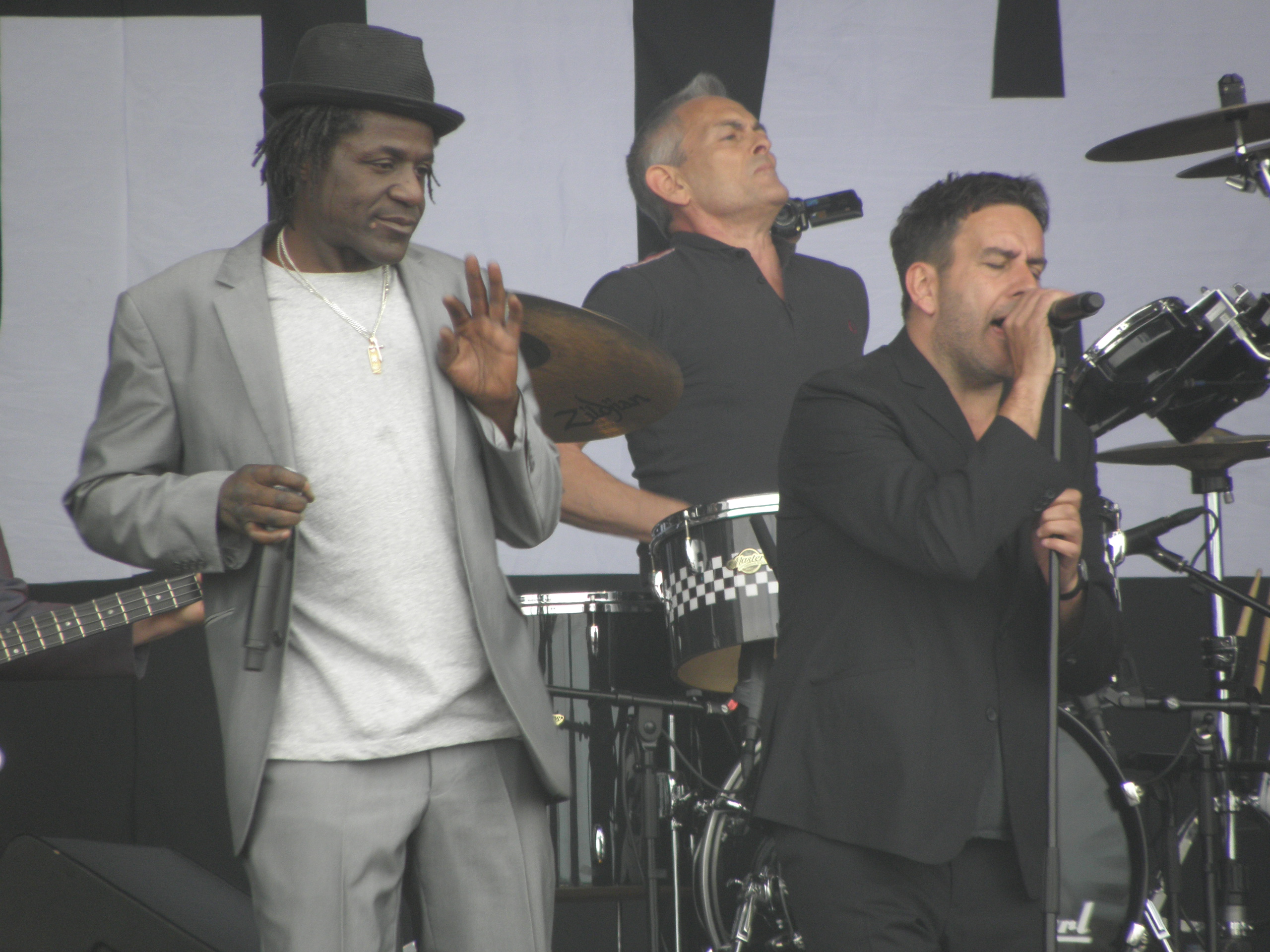 Flogging Molly was here two years ago and that was an good experience then and it´s fun this time too. I think that they´re better live than on a record because then I have never been stucked in their folkpunk. But live is the singer really entertaining and the audience seems to love this. It´s really wild in the audience sometimes and it´s a sweaty experience and sometiems I wonder if there any chance to come from this place without being hurt. I have their record but I am a little bad on their titles but I think I hear songs like Drunken Lullabies there it´s so wild in the audience, Requiem for a dying song and the old The worst day since yesterday and Flogging is a really good liveband and the thing that hits me when I look around is that so many young people can their lyrics...the future is saved.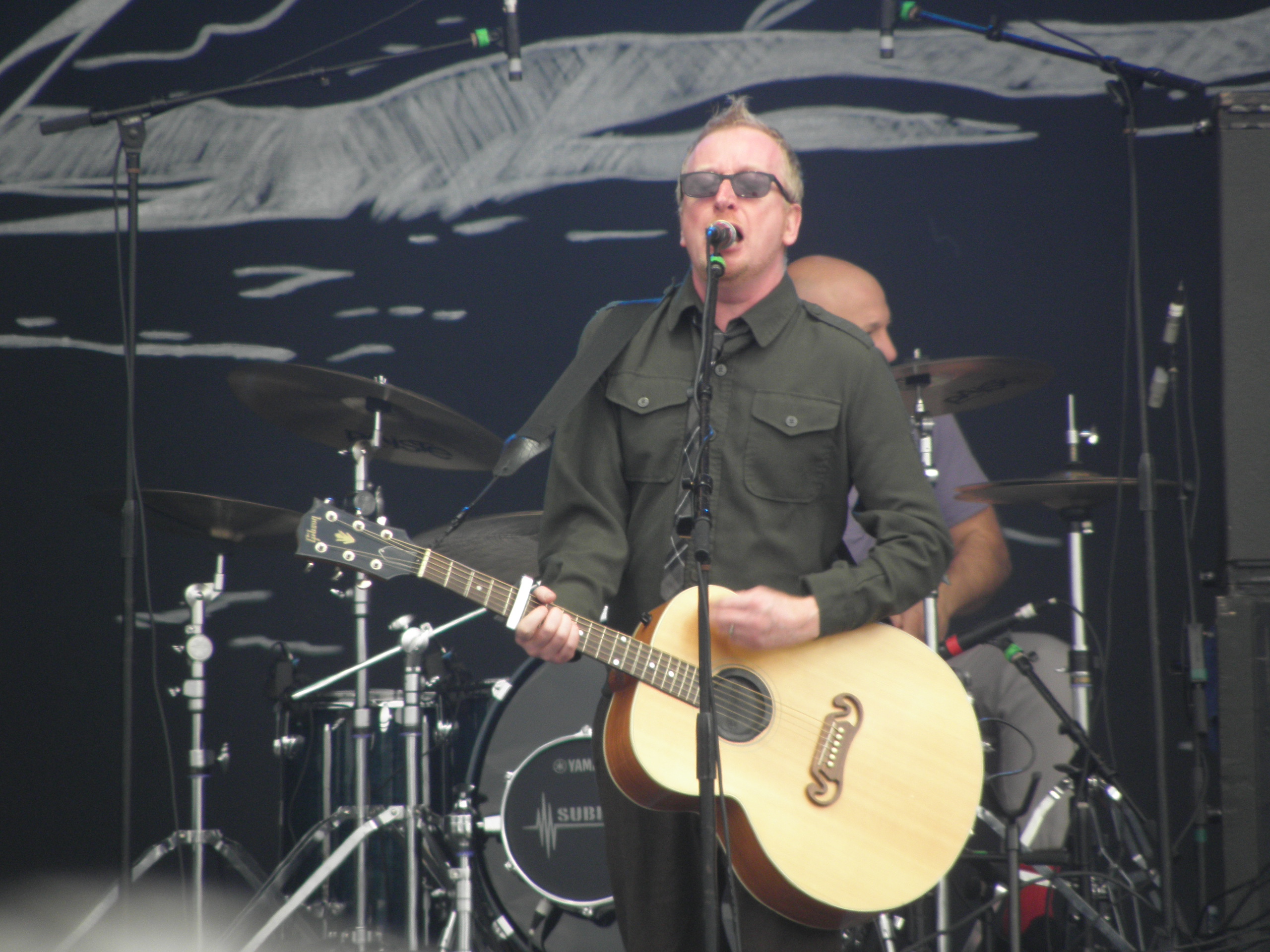 After Flogging Molly we were forced to run away to see Bad Religion and that band I have seen some times so I know that the band isn´t the most funny band to look on but musically it´s always good. It feels like if they not really was in form in the beginning of the concert and the sound was a little bit bad, they looked a little bit tired and the songchoice wasn´t the ultimate in the beginning. But after a while they grows in into the concert and it became really good in the end and with songs like 21st Century digital boy, American Jesus, Punk rock song, Generator, I want to conquer the world and my favouritesong Sorrow so is it hard to not appreciate the concert. They will release a new album in september and they have been going on for 30 years now and they´re so vital. Go into their webiste and download their new free livealbum too.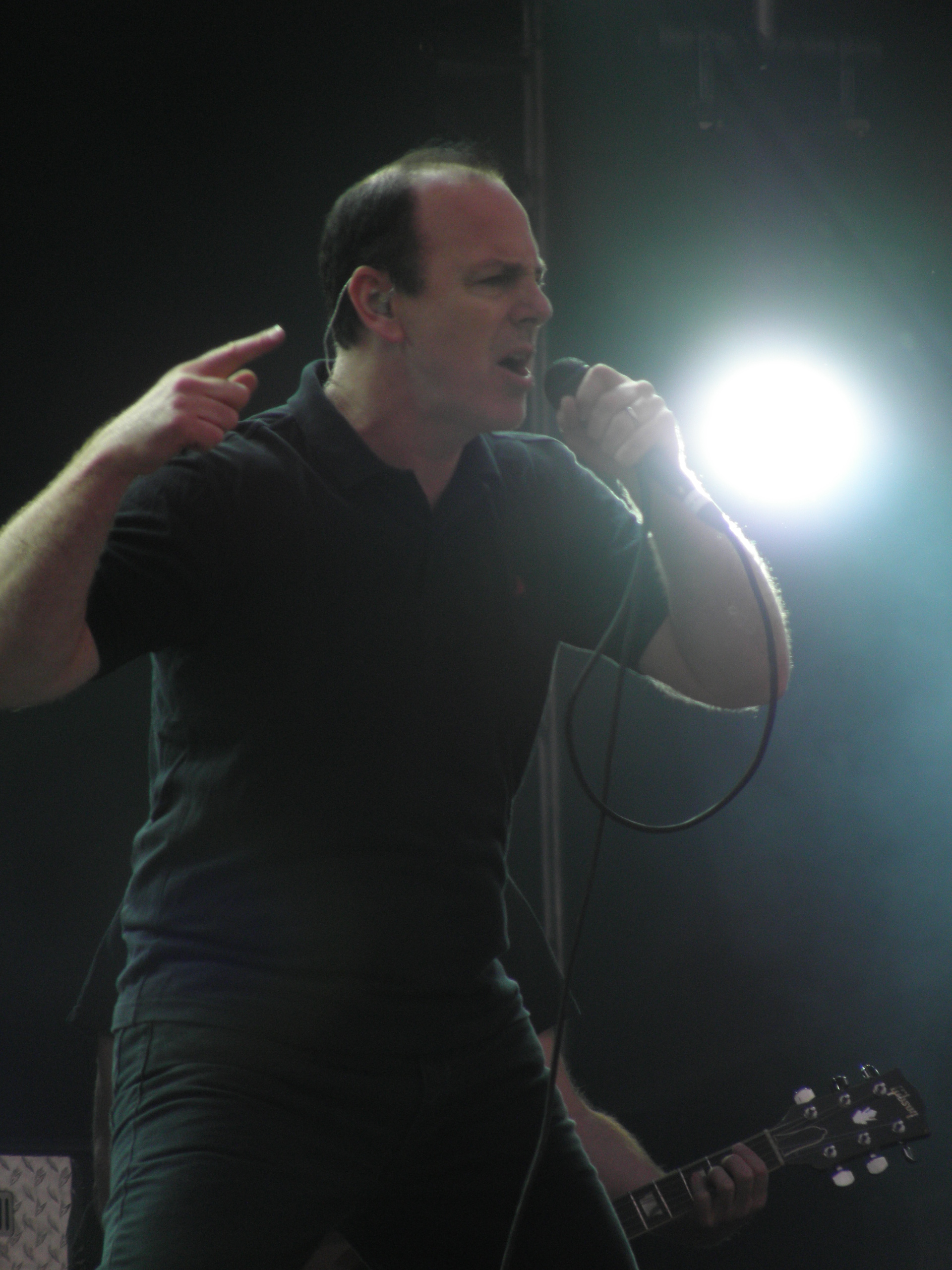 Without Bad Religion so haven´t Rise Against sounded like they do and it´s a little bit like Olle Said that they´re an heavier style of Bad religion. I´m a little bit bad on their songtitles but some I hear and it´s somefrom their latest record. The singer seems to really enjoy being on stage and the guitarist guitar is going to be changed all the time because he destroys it. In the middle of the concert it becomes acoustic. First it it a summerosng as the singer says and after that their Tracks-hit Hero of war which gets some drumhelp in the end of that song. They do Minor Threat a s acover and on stage ten is Brian Baker from Minor Threat(Bad Religion nowadays) and Dennis Lyxzen on vocals. He takes up a hockeyplayer from Philadelphia Flyers too which I have forgot the name on and I think that Rise Agaisnt is among the most positive things on the festival.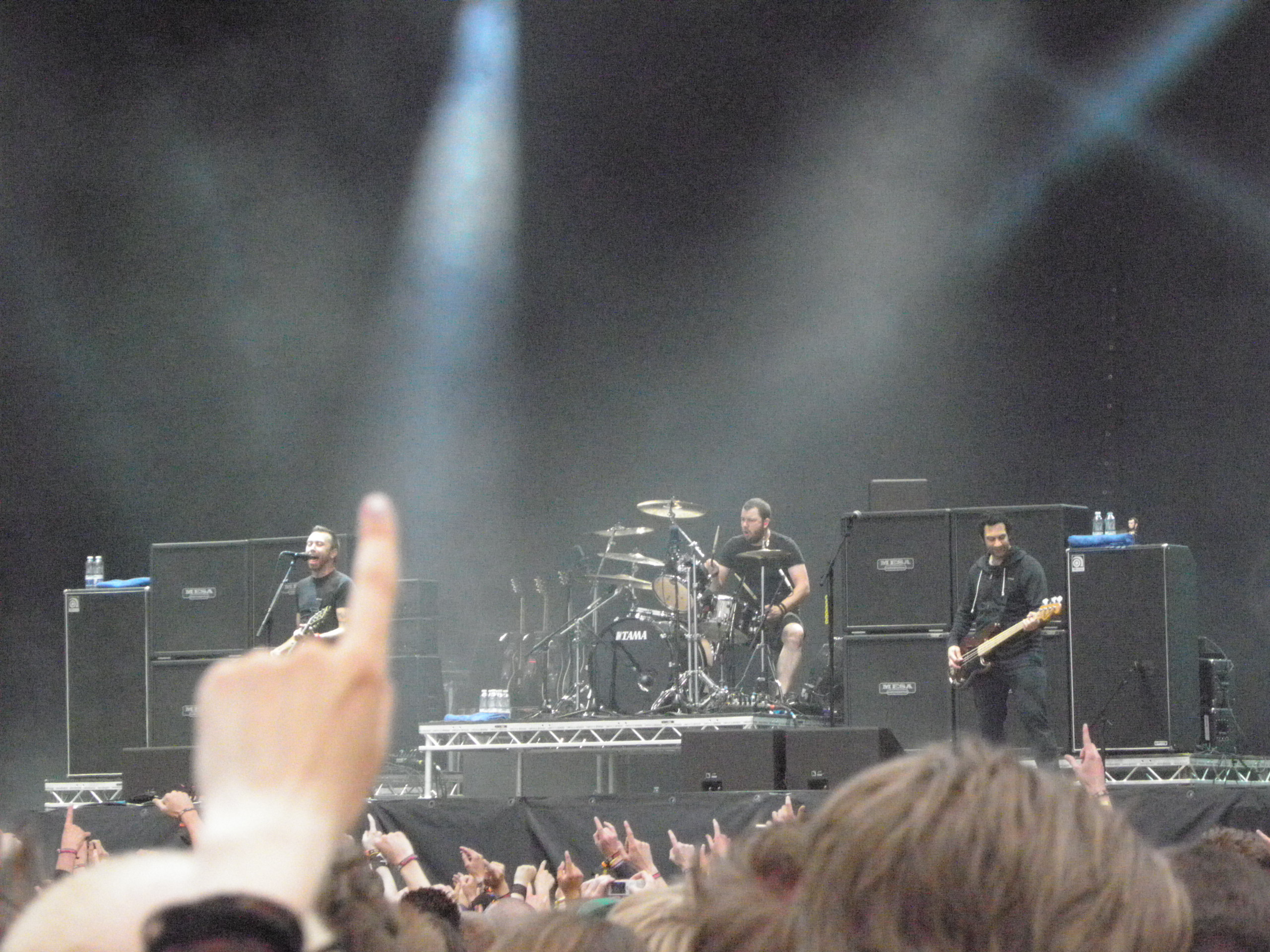 I had great expectations on the next concert and it was Dropkick Murphys because I have never seen them before but I have interviewed the singer on telephone. Sure it was a good concert but I thought it should be more magical but it maybe was depending on my tireness after 8 hours of music. Sure it swings and sometimes it becomes hardcore as in Citizen C.I.A. and then you almost forget that they plays folkpunk otherwise. The fighting 69th is an old which is done and that I really like and Sunshine Highway is among my favouritesongs tonight, I would really like to see them again when I´m not so tired as I was this time.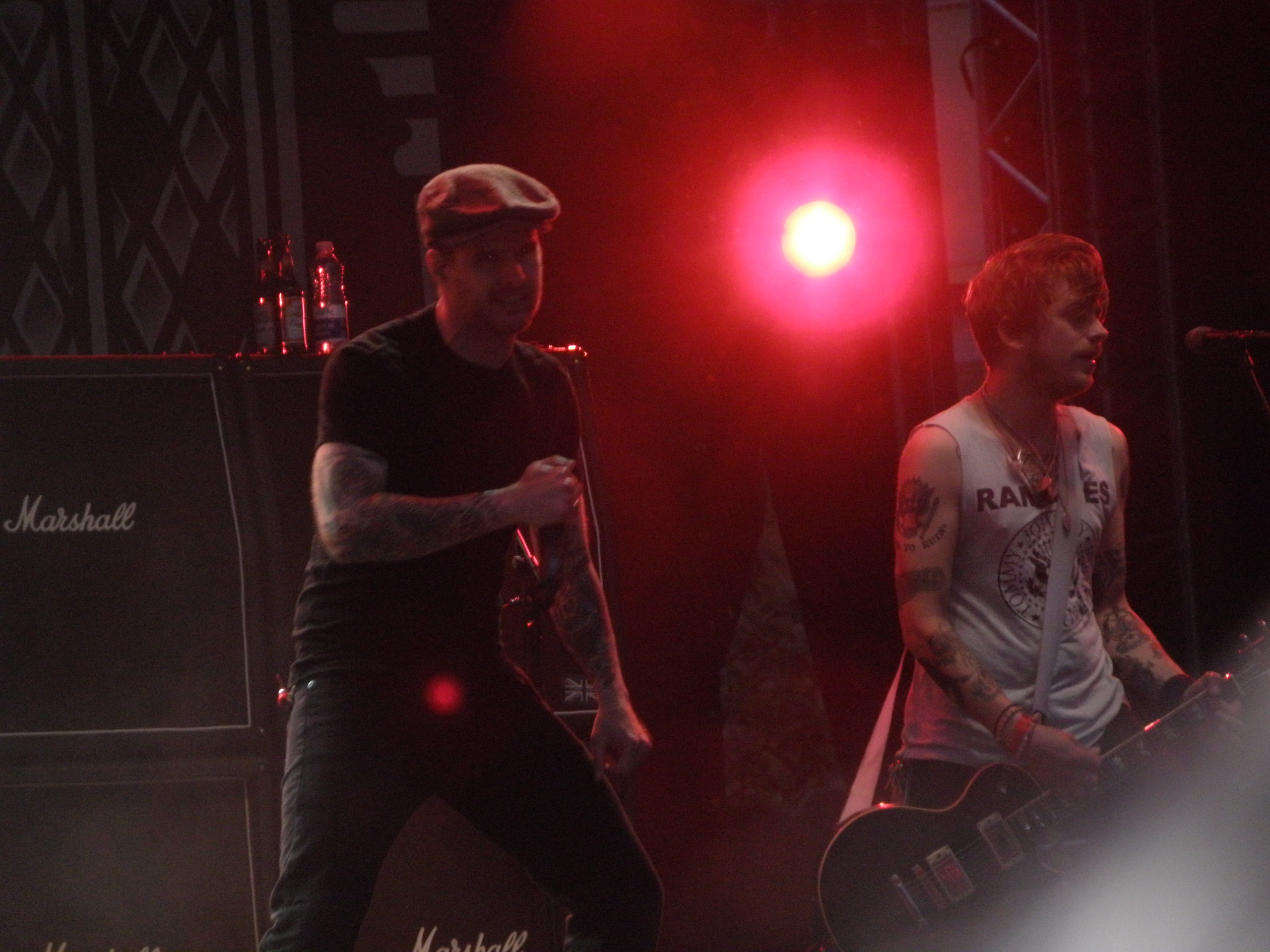 The last concert for me was Jello Biafra because he did a very long concert and therfor I missed Hives(but it must be another time, but they´re swedish and I get surely the chance some other time) After some waiting and an orgie in guitars som comes the old hero out on stage and he´s dressed in a white bloody coat an bloody hands. His way to move on stage is very characteristic for Jello after what I have seen on videos and so on. I know that the rest of the members in Dead Kennedys goes on without Jello but it´s Jellos voice which is DK. His theatrical style on stage together with the political talking is really good. When he mixes this with old DK-songs like Holiday in Cambodia, Let´s lynch the landlord and California uber alles together with new own songs so cannot I do anything else than enjoy this. I would like to see him once more because the new songs have almost the same class as the old Dead Kennedys songs and this days best artist came at last and that shows us that old is old(read best) because I think he was that together with Specials.