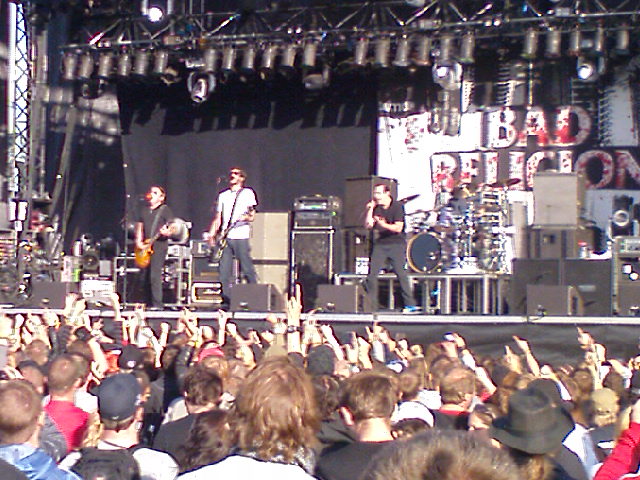 Med facit i hand så var det kanske inte jättesmart att lägga NOFX sist på konserten men vi återkommer till det. När jag gick in genom grindarna lite över tolv så såg det inte lovande ut för regnet bara öste ner på området. Då tänkte jag att det var skönt att det inte var gräs eller liknande på området utan att området är asfalterat , det skulle göra det hela mycket trevligare. Efter det sedvanliga inköpet av tröja(det blev en Bad Religion denna gång) så väntade jag in kompisar från förr som skulle mötas upp. De hann inte komma innan första konserten så jag gick dit själv, det var DLK som startade upp det hela med en ganska stimmig spelning men helt klart godkänd. Lite jobbigt för Mart ibland när han glömde texten på nyare låtar osv men de tog det med en klackspark. Publiken fick höra många av sina favoriter i alla fall, Hockeyfrilla, CP framför sin TV, Dit Kuken pekar och De Lyckliga kompisarna. Aldrig bra kanske att starta en festival men de gjorde det OK. Vi gick och tog en öl/cider för att invänta nästa band som var No Fun At All och de gjorde som vanligt en habil spelning men det kankse inte är det roligaste bandet att se på scen. De körde i alla fall Master Celebrator som är lite av en favoritlåt för min del. Roligare att se på var i alla fall Comeback Kid med fem aggressiva män som hoppade omkring som besatta på scen men musiken blev lite väl mycket enehanda hardcore. Visst är det gott att höra ibland men detta smetade ihop sig till en gröt tycker jag. Niklas och Tomas ville ha kaffe och hur mycket rock n roll är det ...de hittade inget kaffe och fick "nöja" sig med öl och väl därborta vid Close-Up scenen fick vi se en glimt av Sista Sekunden med en sångare i strumplästen och kalsonger. Lät väl okej.
Tillbaks på de stora scenerna blev det några låtar med Tiger Army som måste vara det bästa psychobillybandet för de låter helt klart mycket mer punk än alla dessa andra band. Lite jobbigt ljud från basen tyckte jag och Olle och vi bestämde oss för att ge Tysta Mari en chans. Detta gjorde vi helt klart rätt i eftersom deras Ebba-liknande punk verkligen är bra...har ni inte sett dem eller hört kolla snart in dem för detta är riktigt bra. Väl tillbaks på stora scenen så var det Lag Wagons tur att inta scenen och GP tyckte att det var oengagerat men detta förstår jag inte ett dyft av vad de menar. Jag tycker nog att de gjorde en riktigt bra spelning och framförallt hade de kul på scenen, nog så viktigt. Violins fick jag höra och då är i alla fall jag nöjd. Flogging Molly har jag inte fattat så mycket tycke för på skiva men nu förstår jag deras storhet för deras irländska folkpunk smittar verkligen av sig och folk är som galna när de lyssnar på detta. Mycket allsång och dansande och ett band som verkligen var på topp. Detta vill jag se mer gånger men kanske på ett mindre ställe. Sedan var det äntligen dags för Bad Religion....sista dag på deras Europaturné och det märktes lite för de kändes lite trötta men deras låtskatt går inte att komma ifrån. När man börjar med en låt som 21st Century digital boy så förstår man att man har många bra låtar.Punkrock song, A Walk, Sorrow är några av låtarna som kom och jag känner mig riktigt lycklig efter detta. Vi väljer att avstå Millencollin en stund för att ta en cider eller öl och får då höra några låtar med Moderat Likvidation, de andra grabbarna gillar det inte men jag är nöjd med det lilla jag hör. Svensk käng och det är kul att de är tillbaka.
Väl framme vid stora scenen så hör vi de sista 7-8 låtarna med Millencollin och det känns ändå som de tagit stora steg framåt live sedan jag såg dem 1993 eller när det var och en radioplåga som Detox låter mycket bättre live......huvudakten torde väl då vara NOFX eftersom de spelar sist men det var kanske inte det smartaste eftersom det verkade som om de festat lite för mycket för att spela sist. De snackade väldigt mycket på scen och det går väl an om man har obegränsat med tid men här hade de bara 1 timme och 5 minuter på sig. Men det var i och för sig mycket roliga saker som sades och Fat Mike kan verkligen konsten att reta upp de flesta. Roligast var väl deras "låt" Fuck the bridge och meföljande Fuck You-fingrar till alla de som stod på Göta Älv bron och tittade på konserten gratis. Han gillade mer "Rich Swedish people" som han sade. Don´t call me white fick jag i alla fall höra och då är jag nöjd och deras version av Rancids Radio Radio Radio är riktigt go den också. Summa sumarum en riktigt bra festival som jag hoppas att den återupprepas även om man är jävligt trött efteråt och det kanske är svårt att toppa de namnen som var här just denna dag.
Korten som är tagna är tagna med mobiltelefon, därav kvalitén.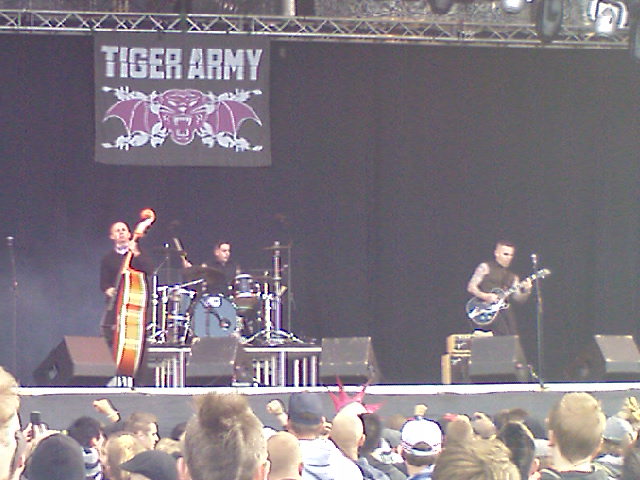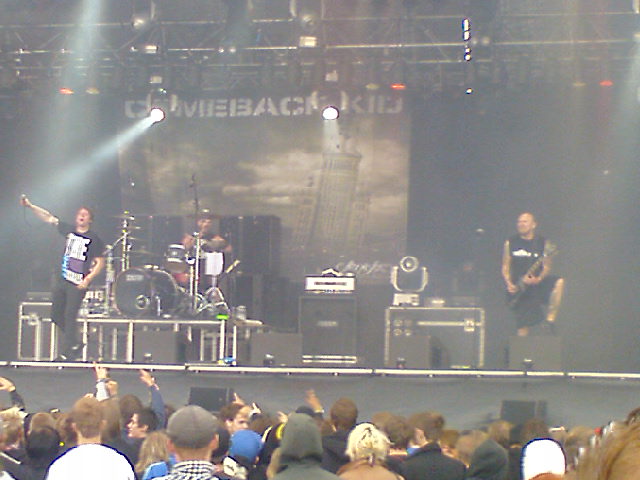 When we see it afterwards so wans´t it too smart to have NOFX last of all bands but we come to that. When I passed the gates a little bit after twelve it doesn´t looked to good and the rain was falling down on the area. Then I thought that it was good that this concert wasn´t on grass or similar and that the area was on asphalt, that made the whole thing a little bit better and nicer. After the usual buying of a tours-hirt(this time it became Bad Religion) so did I wait for mates from the past which I should meet. They didn´t came in time to DLK which started this day and they did a really messy gig but it was OK. A little bit hard for Mart who forgot the lyrics sometimes on the newer songs but they did take it the right way. The audince could hear songs like Hockeyfrilla, CP framför sin TV, Dit Kuken pekar and De Lyckliga kompisarna. Never good to start a festival maybe but they did it OK. We went to the beerhouse and took some beer/cider and waited for the next band which was No Fun at All and they did a habile gig as usual but theyr isn´t the most funny band to see on stage. They did Master Celebrator anyway and that´s on of my favouritesongs. It´s fun to see Comeback Kid anyway with five aggrressive men from Canada and they jumped around but the music becomes a little bit one-handed after a while and it melted together to one whole thing. of course it´s good to hear this type of music sometimes but this was too much. Niklas and Tomas wanted some coffee and how much rock n roll is that...they didn´t find any coffee and they were "forced" to take a beer instead and when we were at the Close-Up stage we saw a glimpse of Sista Sekunden with a singer in his socks and underpants. They did sound OK.
Back on the big stages it became some song with the pyshcobillyband Tiger Army and they must be the best psyhcobillyband because they sound much more punk than many other bands in this style.A little bit odd sound from the bass I and Olle thought and we decided ourselves to go to give Tysta mari a chance. Then we did the righ right thing because their Ebba-similar punk is really really good....and haven´t you seen or heard them take a chance to do that becaus ethat´s a really good choice. Back on the big stage it was Lag Wagon and our newspaper said that they did a bad gig but I don´t understand what they mean. I think they have fun onstage and they did a really good gig. I heard the song Violins and that´s enough for me, then I´m satsisfied. Flogging Molly have I never liked so much on records but now I must give them more chances because their liveperfrmance was really really ood and their irish folkpunk made people mad with singing along and dancing as mad and this was a band on top. This I want to see more times and then on a smaller place. And then it finally was time for Bad Religion ....their last day on their Europetour and that you can notice because they seemed to be a little bit tired but they have so many good songs so they can´t do a bad gig. When you start with a song like 21st century digital boy so can you understand that they have many good songs. Punkrock song, A Walk, Sorrow is some of the song which came I feel really happy after this. We choose to not see Millencolling and we take a break with a cider and beer and we come along to hear and see some songs with Moderat Likvidation , the other guys don´t like this sort of music but I feel satsified with the things I hear. Swedish crust and it´s good to have them back.
And when we were at the big stage again can we see the 7-8 last songs with Millencollin and it feels like they have taken big steps foreward live since the last time I saw them(1993) and their radio hit Detox is so much better live.....the main band must be NOFX because they plays first but it doens´t was the smartest thing to do because it seems like they have haveing too much drinks to play as the last band. They talked a lot on stage and that´s maybe Ok when you have unlimited time but they had only 1.05 to play on. But they sad a lot of funny things and Fat Mike can really to makes many people upset. The most fun was their "song" Fuck the Bridge with a Fuck-off finger to all the poeple standing on Göta Älv bron and saw the concert for free. He like more the "Rich Swedish peopel" as he said. But they played Don´t Call me white and then am I satisfied and their version of Rancids Radio Radio Radio was really good also. This was a really good festival and I really hope that they´re doing it again even if you´re fucking tired after allt his and it´s maybe hard to have so many better bands than this the next time.
The photos are taken with a mobile phone and not so good quality