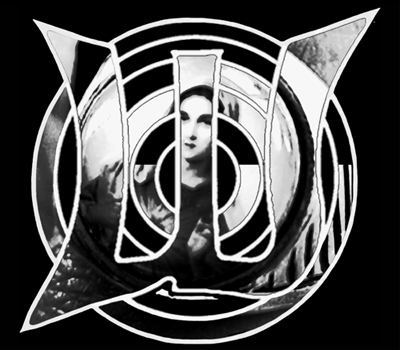 Welfareintervjun gjordes den 12/8-2000
History?

-Welfare recorded 3 demos under 1997 and 1998.
The first "Yesterdays News" did that we became this issue favourite demoband in your zine "Skrutt".
Some of the songs from "Demo # 2" is on a comp.cd and the demo was played in P3 Demo.
Some songs from the demo "Wet-eye blues" is on some compilations.
Otherwise itīs not so much to say about the democassettes.
In the begining of 1999 we recruited Tompa as a new guitarist and we recorded 6 new songs.
Mark Murrman (Rock'n'Roll Blitzkrieg/Maximum Rock'n'Roll) heard the recording and he decided to release On a Mission on vinyl "12" on his label Rock'n'Roll Blitzkrieg.
The record came out in Juni 2000.
When weīre waiting to that On a mission would be released we recorded some new songs.
2 of them recorded in february 2000 was released as a splitsingle with Upkirts on Diapazam records.

I know that you have been a member in Radioaktiva Räker, the others do they have any bands beside too?

-Tompa is in a band called Audio Porn, fucking good.


Please tell me a little about every member, family, age ,work and so on?

-Emil-plays drums, he is 25 years, he works in the steelfactory here in Hofors, is single and owner to the cat Ozzy.
Per -plays bass, 29 years, works in a cinema, plays TV-games and he has a girlfriend.
Tompa-plays guitar, he is 21 years and he donīt do anything which havenīt music in it. He has a girlfriend.
Jon-plays guitar and sings, he is also mostly plays music, but he works in a factory now and then, he has a girlfriend.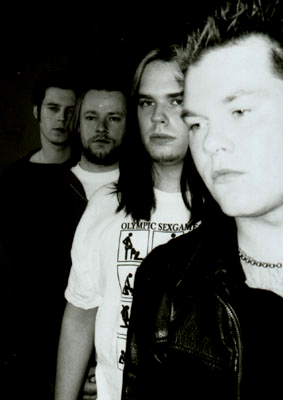 Why did Räkerna quit playing,what do the other guys do nowadays?

-The last years we only played because it was fun to go to other cities and getting drunk and play. When it was time to do another record we felt that it didnīt work, we didnīt want to sound like we did. And then it was a little difficult because all have something else to do also. Antilla have his band and plays his acoustic music. Jimmy plays drums in Upskirts. Dåglas has no band but he do thinsg with his computers and he says that he is going to strat a new good band. And then he has his studio, which is standing empty the most of the time. Weelfare has recorded all their things there but no one uses it otherwise.


One more question to Räkerna, have you heard Rasta Knast versions of your songs, what do like them?

-Their versions is better than ours. When we were in Germany we did Taggar live with Martin and Höhnie from rasta Knast singed it. It was fucking fun..


Welfare, are you doing much work to get a contract with the group?

-I believe that we have too many right now.
We released On a mission as vinyl 12" on Rock'n'Roll Blitzkrieg, and the split 7" on Diapazam.
Now Diapazam will release On a mission on CD and a mini CD with new songs in january.
I got a mail from Safety Pin Records yesterday and there they want us on the next Riot on the rocks comp.CD and weīre going to release a vinyl there too..
We thinking of releasing as much as possible all the time and do we have a couple of good songs and a company which seems good and want to relase it then we do it. Itīs omly good if it many labels so we can get a better distribution over the world in the beginning.



Not any other labels?

-This thing with Safety Pin then and I donīt know the result of it. It seems to be really good. Weīre going to do an mini CD on Diapazam and then the vinyl on safety Pin. After that I hope itīs time for us to do a fullength CD on which label I donīt know, but I hope itīs gonna be one with good distibution.

Except all things we have talked about, have you done anything more?

-Demo cd'n is On a mission,which became the 12" and CD at last.
You havenīt missed anything. yeha of course 2 compilations too. Holy Shit 2 and one one Detroit Noise Records which came out long time ago. We didnīt knew that they have came out because we didnīt think it became something because we havenīt got any record from them. And then we got a mail from a guy which have bought the record and thought our song was best. We mailed back and asked which song it was..It was On a Mission which was lucky because we thought it could and old bad song because it took so long time. Iīm going to mail them today and get a record.


How would you describe your music?

-Punk rock.


Why this music?

-Itīs because that itīs me whoīs doing the songs and I have always liked music which is aggressive and intense, and not metal, a lotīs of stopping, chewing on E , guitarmasturbation and endless riffs. Itīs in the same time the whole concept with lyrics, lifestyle and everything. Love the death, complain on people who drink booze, heila and make vioelnce, drink homebrew and compeat who is most punk is nothing for me. So, itīs not much left. And then itīs all about which songs you do.
You must do songs you can play because I hear too often bands who write songs they donīt can play and not even can sing.


What does punk mean to you?

-Itīs first of all a musicstyle. Some people think that you must do everything for everybody in the world whn youīre a punk. I think punk itīs the other thing , not to suits in all models people have about people. Give the shit about all same things and do what you want. And then people are complaining all the time. Itīs a festival here in our neighbourhood, Rajtan-Tajtan festival in Torsåker. The day after we got a mail that it was fucking bad that is was a wagon from Shell on the festival. Nothing about that we did a good festival and only complain that we have a wagon from Shell. Itīs tragic, I wasnīt wioth it and did anything I was only there and played. I play for free, but they give me the shit anyway and complain on me that the people who did arrange the festival didnīt took the stuff by their bare hands instead of hiring a wagon from Shell.




What do you think about Sweden today?

-Sweden is one of the best countries in the world, the people who thinks anything else havenīt been in any other countries or they havenīt thought it over so much. People donīt see the whole thing, little problems and then they talk more about it.

Politically?

-I and Per votes on the left side and Emil and Tompa didnīt vote in the last election.


is there any good bands in Sweden right now?

-The Hives played on Rajtan-Tajtan, it was fucking good and the best thing in a long time.
It not so many good band in Sweden right now. The other guis in the band likes Entombed much and then itīs many band which is good. I havenīt have any money to spend on records in a long time and then itīs many good bands I havenīt checked out yet.


Any good bands in the world?

-Rocket from the crypt, Space age playboys/Warrior soul, New bomb turks, The Donnas,
Super Suckers, Monster Magnet.
I listen much to bands which is no more.
Lord of the new church, the Dead boys, the Stooges, Velvet Underground, Sisters of mercy,
Johnny Thunders, Demolition 23.

How is a good gig with Welfare? Do you play often?

-We donīt do, unfortunealyt we have a booking management, Rock'n'Roll managment and Productions. Unfortunely have the release of On A mission take so long time and itīs impossible to push band which havenīt released any record. So we hope itīs getting better when we have released some records. Weīre really good live now so when weīre coming out more itīs going to be good.


Is it many interviews, is it boring?

-we have done about 10, so itīs not boring yet , the only way itīs boring itīs because itīs too few. It came three in three days when yousent us this so weīre after a little. I have worked very much the last days so I havenīt had so much time to do any interviews.


Which is the question you never get.Please ask it and answer it

- How can you do so good songs ????

Aaa, thanks.

Do you read much fanzines, any favourites on the net or on paper?

-In the last time only the one that we have been mailed.
Terror Pop is the latest one so itīs my favourite right now. On the net I check out Backlash sometimes and your site too. And then itīs some more I check out but I donīt rememeber them right now.


What do you think about that this interview is only on the net, what do you think about tthat Skrutt is on the net only now?

-I think itīs fucking good because then can everybody read it.


What do you think about the new way to communicate with email and internet and all that stuff?

-Itīs among the best things which have happened, for a cost of some crowns you can send up to 100 letters. And then everybody can put on their own sites on the net. Thansk to MP3 and internet we released the record on Rock'n'Roll Blitzkrieg without contacting them ,the only thing we did was too put on some songs on listen.com.


are you using the net much,a ny favouritesite on the net?

-Surely, I mail people every day, check out our homsite and check around a little every day.

You have an own homesite,who does it?

-I and Per do it and weīre going to built it out someday, we really will.,


First and the last record you bought?

-I think the first record was a Judas Priest record and the latest was Rocket from the crypt-All systems go 2.


Idols when you were small?

-Iron Maiden was my idols to 13 years age and then I heard GBH.

What is most important, a refrain, the lyrics or the music?

-The music is a lot more important than the lyrics. But if you must do lyrics I try to do them as good as possible. Itīs the most difficult to do a good lyric without write the same thing again. A really bad lyric can spoil a good song. A song without refrain isnīt good either and I want it to be heard when the refrain is coming.



Is it only you who do the songs?

-I do all songs, I record them on a 4-canal porta. And do I think Iīm gonna use a solo come Tompa to me with his sologuitar. Do I think the songs is good I take it to the rehersal studio and play it for the other guys. And donīt they say anything and want to change we begin to play it., And does anyone want to change anything we do that. And do they feel that the song is shit we donīt do it or maybe we play it sometimes and see that is an useless song.If I do 10 songs at home I maybe play 8 for them and we use 5 of the 10. We īre all in on the same track so it never happens that we discuss which songs to be released and so on.


Which is your advice to agroup in your situation to not give up to get a contract?

-Does not anybody that your songs is good they arenīt so good. You must be hard to your own songs and compare them to your own favouritesongs and think, would I pay 150 crowns for this record, Will I donīt pay it it can be rpoblem. Then itīs better to do new songs. But do you think that the songs are worth some money and that they can be people who buy it, then itīs only to go on and hope that people later on buy it and that they understand that youīre in a good band.


Whatīs the best and whatīs the worst of being in a band?

-To play in a band itīs the only thing I really sure that I want to do. The only negative thing itīs that it takes all my time and I must choose away from other things and a full time job isnīt anything for me then.

What does following things mean to you? Rock n roll, Love, Sport, Politic?

.4 important things
What rock means I have already told you

Love is good and bad depending on the day, but I have been able to have the same girlfriend for 6 years now. Itīs not to easy to have it all the time, you must work hard to have it.

Iīm really interest in sport, My favorite icehockey team is Färjestad.
I played in Hofors HC, but I quit when I was 13-14 and began to smoke, drink and make som chicks instead.

Politics is also important and will you change anything in the world you must be a politican and not play in a rockband. Yeah a band can change some people worldpicture but itīs not often that rightwing people buys punkrecords or coming to punkconcerts. I think that people who likes the same things go to the same people. Of Course Dennis Lyxzen have made some people not to take drugs but how many bands isnīt it which is asying the same things as he do, surely about 1000. How many people in the government is like Dennis, not so many. I donīt track him down now or anybody else but are you going to make something out of politic you must be an.


Futureplans?
-Do many new sons, release a lot of records and do many gigs.

Something else to tell us?

-It looks like weīre going on a german tour in november/december.

Wisdomword?

-Look over your life before you say to anybody else waht to do or complain on any other person.