Walk Proud is a really good punkgroup which have been on the road for 30 years now and they´re still kicking ass. Here they have answered a lot of questions from me…..august 2015

Please tell me a little bit history of the group?
-WP started in 1985 in Norwalk, CA. The original members were Carlos Ortega on bass, Lalo on vocals, Lance Groepler on guitar and Tony Adame on drums. This was the line-up for the first 2 shows. Then Jim Moore took over on drums and Matt Rowan took over on guitar. This new line-up remained the same until 1991 in which WP added an additional guitar player, Karl Izumi. In 2012, Matt Rowan left the band and was replaced with Steve Westerkamp on rhythm guitar.

Please tell me a little about the current members of the group, age, family, work, interests and something bad about everyone? Have you been in any other bands before?
-We are all in our 40's. We all have kids except for Karl. Some of us are Grandfathers. Carlos and Jim are single fathers and ready to meet a Swedish lady. Karl has a girlfriend. Lalo and Steve are fathers and have been both married for over 10 years but not to each other. Work, fuck work, we are WP 24/4!!! We all like the outdoors, the ocean, music, cool cars and hanging out with each other and our friends. Something bad, well some of us can be assholes, some of us are weird and some of us have been to jail. Lalo has only been in WP. Carlos has played bass for Mind Driver and Everything Red. Jim has played drums for JFA, Spider, Unorthodox, Imperial We and played guitar for Everything Red. Karl played guitar for Death Roster, Mind Driver, Everything Red and Spider. Steve played guitar for Fifth Column, Pyric Victory, and Natural Disaster and played bass for Bent, Deathkamp and Spider.

I can hear both Poison Idea and 77-punk and some hardcore? Am I right? Favorites from the past?
-We grew up and still mostly like old school punk rock. Some of the bands we listened to and went to see where Bad Religion, Dead Kennedy's, FEAR, Black Flag, Descendents, Adolescents, Wasted Youth, Poison Idea, Social Distortion, Channel 3, Circle Jerks, Minor Threat, DRI, Secret Hate, RKL, Ill Repute, 7 Seconds, TSOL and Aggression and more.

Walk Proud, are you satisfied with the name? How did it come up? Which is the best band name you know?
-Yes, we like the name Walk Proud. We found this name from an American Movie with the same name, Walk Proud. For best band name, we all really like the Adolescents.

What´s the best thing about playing live? You have some years on your necks if you say so, what´s the biggest difference with playing nowadays and when you first began to play?
-Energy from the crowd is the best thing about playing live. Nowadays punk rock can be more commercial and organized. They have these big festivals and events that cost a lot of money. Once you get in you need at least $100 us dollars if you want to be able to eat and drink. When we were young punks there were low cost shows and we snuck in our food and drinks!!!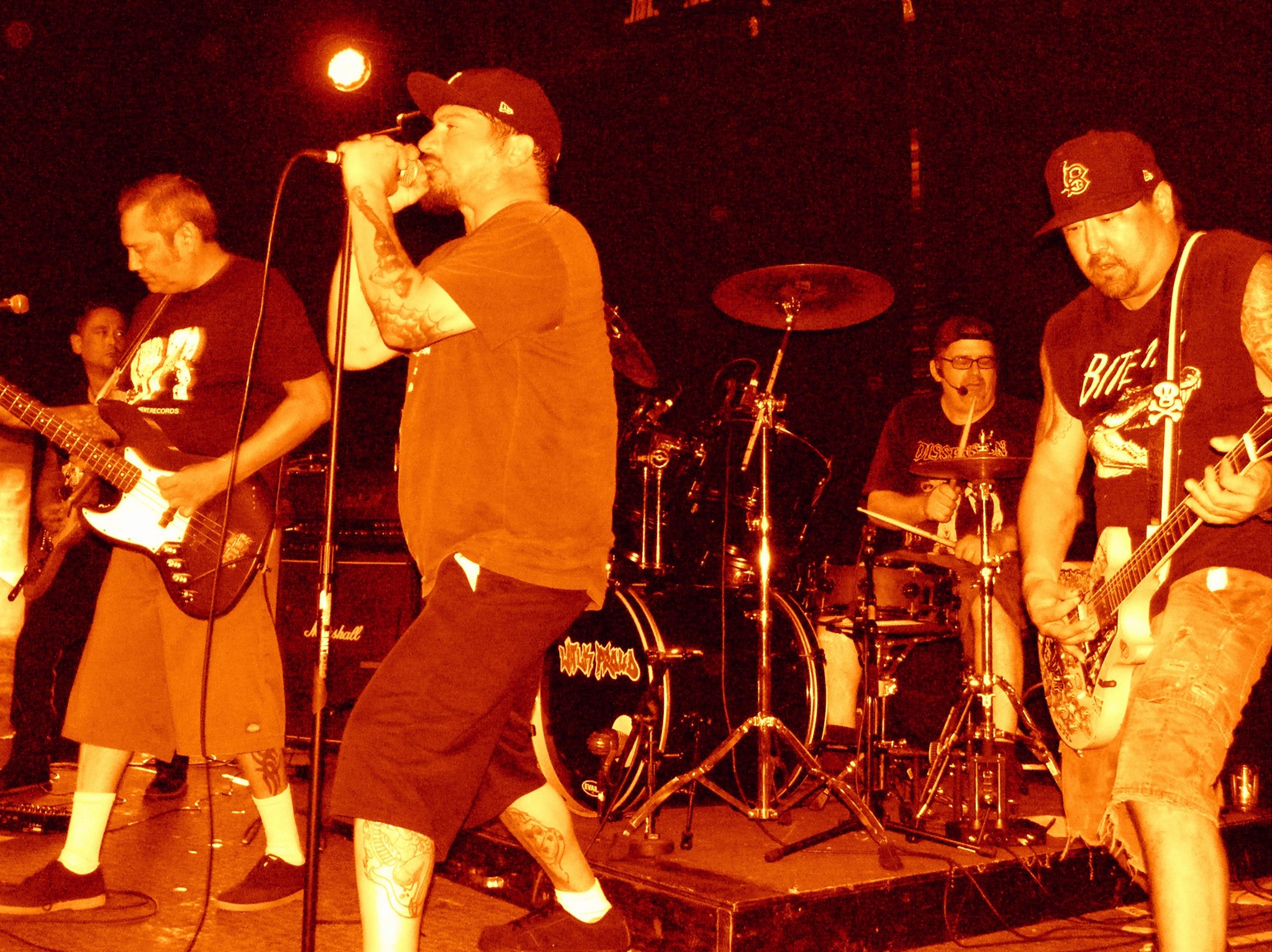 And where is best to play? And the worst place?
-In the past, some of our best shows were at The Country Club in Reseda and Fender's Ballroom in Long Beach. Recently our best shows have been at Alex's Bar in Long Beach and TJ Art n Rock Café in Tijuana, Mexico. The worst show was at a Tattoo Shop in East LA. There was too many people there. Right before we were going to play, the guy with the PA System said "I'm about to bounce". We never ever even played.

How is it to play this sort of music in USA right now?
-Punk Rock is now more popular and accepted in the USA. When we were young, not everyone liked Punkers. It was hard to find a club that would allow Punk Rock.

How would you describe your music in three words?
-Aggressive, Fast, Power!!!

What does punk mean to you, is it only a word or is it a lifestyle?
-Punk Rock means living how you want to, saying fuck it to "the rules", having fun, getting crazy, listening to and playing loud fast music and slam dancing. Punk Rock is definitely a lifestyle. WP since 1985, Punk Rock for Life!!

What do you think about downloading, mp3 and that stuff?
-We are cool with that stuff because it is the modern way to get our music out to WP fans but vinyl is the best.

How is it to live in USA now? Politically?
-We live in Southern California so life for us in the USA is good. We really don't really get in to Politics. All we know is all governments are corrupt and war is bad.

Are there any good bands from USA now? Is the Punk Scene big? How is it in your hometown?
-Well, we have always been Bad Religion fans since the beginning. Brett from Bad Religion produced our "Rip"LP and "One more time" EP for us. There are so many good bands in the US that we can't just choose few. Long Beach, CA is where most of us reside and the Punk/Hardcore scene is popular here. There are many clubs in the city that have punk/hardcore shows every week.

What do you know about Sweden?
-What we know about Sweden is that WP wants to play there.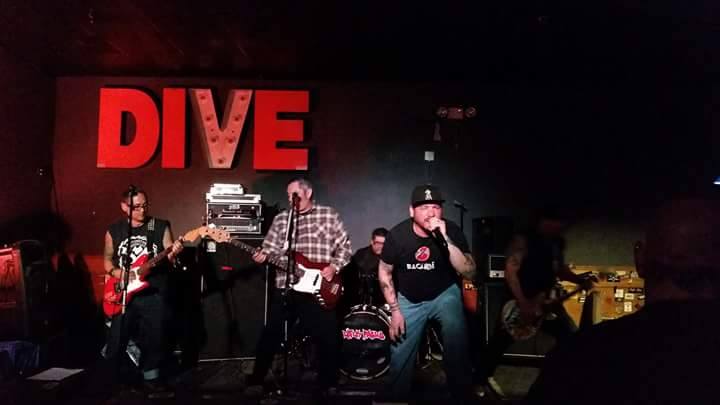 Have you heard any good bands from Sweden?
-The Hives, Refused, Driller Killer, there is so much good music from Sweden; again we can't just pick a few.
Your lyrics, who writes them and what influences you?
-Jim, Lalo and Steve have written lyrics for WP. We also have some contributing songwriters. WP songs are influenced by our everyday life experiences.

Is there any subject that you never will write about?
-We won't be writing any songs about religion. That is a subject that we won't touch. It's so controversial. Everybody is entitled to believe what they want. Please don't preach to us and we won't preach to you.
Life and politics, we will yell and scream about that all day long.

Politics and music, does it go hand in hand?
-Politics has had a large influence in music for sure.

Best political band/artist?
-Final Conflict.

Do you think that music (lyrics and so on) can change anyone's life, I mean people who listens to music? -Yes, music can be life changing.<![if !supportLineBreakNewLine]>
<![endif]>
Has your age been something good to you when you want gigs and so on (I am 52 myself)?
-Yes, seems like now we are around the same age (or older) as the club owners and clubs are more respectful to us.

Is it important to get out physical records of your stuff? Why or why not?
-Yes, getting records out to our fans is very important to WP.

Please tell me a funny thing which has happened during your career and at some gig?
-When Walk Proud went on their first cross country tour, somebody completely punched out the entire front windshield of our truck. We didn't have any money to fix it so we drove almost 2 days in hot desert back home like that. Worst road trip ever.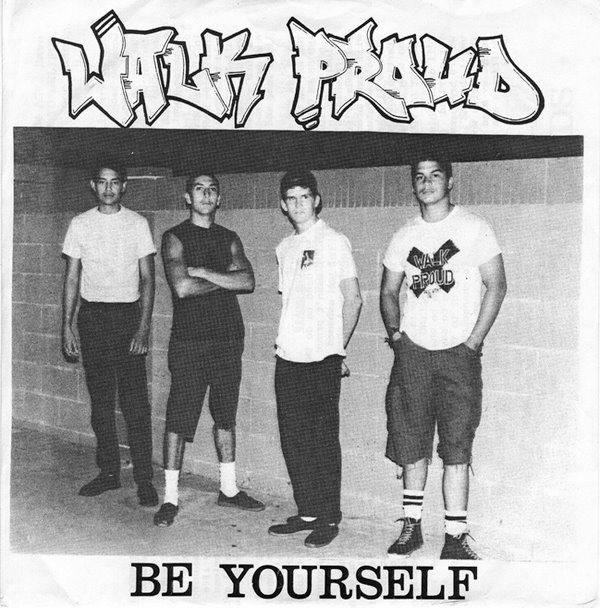 How does your audience look like? Which people do you miss on your concerts?
-Lately it's been mostly older adults at our shows with a few mosh pits. We really miss the kids & teenagers at our shows. Back in the day, they used to go crazy for us. So hopefully with this new LP, we can gain more young fans again.

Please rank your five favorite records, five favorite concerts and five most important things in life?
-*Minor Threat 1st 7", Black Flag-Damaged, Bad Religion-Generator
**Black Flag at the Cuckoo's Nest in 1981-Henry Rollins 1st show.
**DEVO and The Damned at the Punk Rock Bowling Festival in Las Vegas a few years ago.
*** Family, friends, love, a place to call "Home" and really good Chili-cheese burger.(Sorry vegans…)

Is it boring to interview? Is there many interviews??
-No, it is never boring to interview. WP likes to get our words and music out in the World. Yes, WP has interviews with journalist all over the World.
If you could choose five bands from the past and the history and nowadays and both dead and living bands to have a concert together with our band. Which five do you choose?
-The Clash, The Ramones, Minor Threat, Black Flag with Ron Reyes and Circle Jerks.

Is music a good way to get out frustration and become a nice person outside the music??
-Yes, definitely, Punk Rock music is great release from the reality of life. Escape from Reality!!!

What is the oddest question you ever had in an interview?
-What to do you guys think about the evolving Straight Edge-hardcore scene now days? Great but WE ARE NOT STRAIGHT EDGE! We were labeled that when we first started. We are definitely not that now.

What question do you want to have but you never get. Please ask it and answer it?
-WALK PROUD, what to do you think about the popular radio station's music they are playing on the airwaves now days? We want to visit every radio station in the world and slap the program director like a bitch then kick them in the balls!!!! RADIO SUCKS!
Future plans for the band?
-WP plans to continue to release more Vinyl, continue to play gigs and tour. WP's goal is to make it over to Europe.

For yourself?
-Make music; make the best out of my life regardless of what I am doing.

Words of wisdom?
-Be yourself and no one else! Always….WALK PROUD!!!!<![if !supportLineBreakNewLine]>
<![endif]>
Something to add?
-Skrutt Magazine, thank you for the interview. We really hope that everybody enjoys are new LP and we hope to play Sweden someday!
<![if !supportLineBreakNewLine]>
<![endif]>