Freddie Wadling
- I hate Evert Taube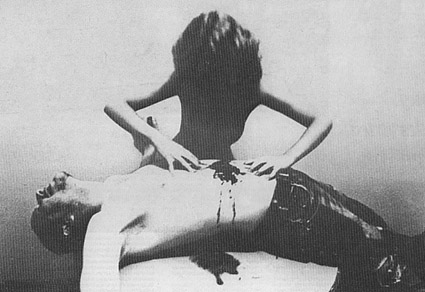 Horroruncle Freddie Wadling is wellknown among people today. The success with Salvation Armyrecords "En salig samling" and later a "En shiva till kaffet" gave him a grammis(a Swedish prize for best record that year) and that made the big audience aware of what a big singer he is. But Freddie donīt give much for the "nicer" world. – I hate Evert Taube. I was forced to record those records to survive.
"Folkmelodi", "Levande begravd" and the solo on "Ronka". Freddie Wadling is the man who have given us more than one punkclassics through the years. Now heīs looking foreward to the gig on Vågen the 4th of October when Swedish punk celebrates 25 years.
- I ahd no doubt when Jönsson called. It sounded fun and I wanted to be on. And then itīs positive when itīs so big interest for the festival. But it canīt be any nostalgything because it was no nostalgia with punk. We said " No Future". "No Pass No Future".
- I donīt hope it will be the same thing as when Nationalteatern had their comeback. I think it will be a younger audience now, the middle age will be somewhere between 25-30 years. I don't the old people in my age will be standing and headbanging.
- But of course, Jönsson in Attentat havenīt so much shrinkles even if heīs not so much younger than me, says Freddie and laughs and he says that is nice to be old because then you donīt have all the hormonthings..
The progressive people was some that Freddie didnīt like. In the beginning of Freddie career it was Captain Beefheart who was the big influence and made him began to sing.
- Beefheart was singing with an unbelieveble power. On the first or the second record he breaks a microphone because of his low basstunes. I thought it was really good and wanted to hear more. And then it came other groups Edgar Broughton Band and then some other odd types like Dr John, Chuck Wise and Tom Waits so it was an easier side of the odd also because Beefheart didnīt any commercial stuff. But you must come in somewhere and be stucked in his things and then build on that.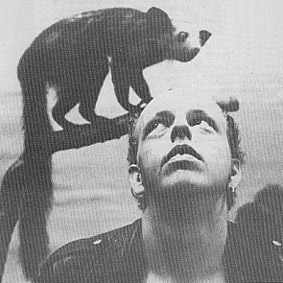 - In the beginning of the punk it didnīt came bands which had the tough sound like Sex Pistols and Ramones later showed us. But it was pubbands like Eddie and the Hot Rods which got me interested of punkrock.
The first punkbands Freddie played in was Straitjacket ,Gustaf E Död( e girlband where he played drums) but first out was Frog 2000 and that was before punkrock. They played music which was inspired of Alex Harvey.
- The punk was positive because then you could play without be able to play so good. If you werenīt so fucking good at it you could be bad on it and that was the things which was so fucking good, laughs Freddie.
And then it was Liket Lever and then name come foreward because it should be a name in Swedish. Adter that Freddie was in Perverts for a while and then he started up Leathernun together with Jonas Almquist.
- I had a lot of undergroundpapers which I read and there I found the name. "Tales from the Leathernun" and then it was a song called "Slow Death" which one of our earliest songs was called..
"Slow Death" was about soundpollution.
- To play Sprängkullen was a little bit of emergency thing and we did so we could put some shit on the progressive people. We and them lived in different worlds. They got more accepted when they started to sing about love and some travelstories.
- In todayīs punk itīs so that you must play good again and thatīs wrong I think. I think it should sound bad. The band I have been in havenīt rehearsed so much, only when they must. Itīs always the thing for the moment which is the best. every time you do a song itīs done for the first time. Itīs how I think about it.
When punk arrived Freddie was older than the other punks but he thinks that hje always have been a little naive and he feel in common with younger people. Freddie laughs and says:-I was a little late in my development. You never know how lifeīs going and which way it takes.Iīm 52 years but I have stopped at 26 years.
The band that Freddie have been the most important band for the punk in Sweden is Ebba Grön. He says that as it is the most clear thing in the world.
-They became icons. The rounder creativity came from bands which became Bob Hund later. Essing(guitarist in Bob Hund) was there at that time too. Together with Peter Ivars and Micke Westergren we had a variation of Cortex. We was afterband to William S Burroughs. It was a fucking good and funny conert. First we met Burroughs and it was unreal depending on that and then we was afterband. I think it was quite magical.
About the differnces in stockholms/göteborgs/norrlands and the skånepunk says Freddie:
- The norrland(northern Sweden)punk was left in the same style as the political progressive music, much unfairfeelings there. The Stockholmspunk was more the lonely rebels attitude. In Gothenburg we have better solidarity to other bands and we were never afraid to work together. The most worked together instead of against each other as in Stockholm. In tthat way the Rukorna record came foreward
- The Skånepunks(southern Sweden)have never been impressed than something other than themselves, not even that, they wasnīt impressed by nothing. It was difficult to say what they did. The punk from Skåne came mostly from Venant and the sofistpunks. You can say that they were the beginning to the gothic which came after that.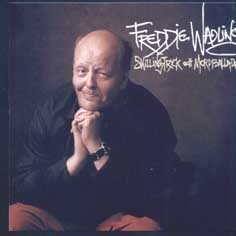 The best swedish punksong which have been done doesnīt exist because Freddie donīt like any swedish punksong.
- Itīs two songs which can suit in there and one of them is a song with Brända Barn or if it was Mörbyligan , donīt know. But I think it sound a little like Komeda sound today. "Tågbanegården" is the other song I like.
Freddies best punksong then:
- It isnīt written yet.
To play in front of 1000 people isnīt anything new for Freddie because he have been playing both on Hultsfred and Roskildefestival many times. But what is he most curious about when were talking about the festival?
- The drinks I think, what you get to drink. It canīt be beer because then you must go and piss so often. I donīt know what it should be otherwise except fullfill a promise. Paddan in Attentat is really wild about this and it would be shame to take his feelings down.
Freddie donīt know where the other members in Liket Lever is. Tehrefore is Punk City Rockers going to be the band who will be playing behind him on the festival. PCR is a band which contains Paddan and Kruse from Attentat, the bassist Tompa from Slobobans Undergång and the drummer Paul Schöning from the metalband Pahtos
- Itīs difficult to get in touch with all the members in Liket Lever and I donīt know if theyīre still alive. But Mats Drougge is going to play guitar with us, he was in the first line up with Liket Lever.
"Levande begravd", "Skuggorna kommer" and "Jesus i betong" is some of the songs which Freddie think he is going to play on the festival."Jesus i betong" was released on record with Cortex but it was Liket Lever who wrote it. Freddie read a tale in a horrorbook which inspired him to the lyrics.
- There it was a story which was named "Jesus in Concrete" and it was about some italian guestworkers in New York who worked on high buildings. A guy fell down and he was sharpen on a reinforcement in a big concretetub and then he feels how the concrete slowly stiffen and crush his skull. Itīs very stron written. Itīs a short novel but itīs very effective.
The punk is still alive in their own way and itīs a really big undergroundmovement. But Freddie donīt agree. He thinks that itīs not so punky and that itīs divided in many different fractions.
- All have the same religion but no one can work together. But that the punk is still alive thinks Freddie depends on the fact that it have attitude. Nowadays the kids have more difficulties to chock their parents but Freddie thinks it goes.
- You donīt have to go so far away, but you must find a new expression. It goes surely, they can do as the people in Jackass. I hope they got enough paid to suffering like that…..
Itīs much good political music around today too thinks Freddie:
- Rage Against the Machine, Nine Inch Nails... I listen to the must stuff right now.Right now itīs much Nine Inch Nails, Caspar Brötzmann
and the latest Marilyn Manson. I like Manson, I have the most of his records. Heīs not so different that many people thinks. Itīs almost the same style on him as Frank Sinatra and he reminds me about Alice Cooper and Screamin Jay Hawkins
- The first guy who was doing horrorrock was a guy called Vip van Vinkel(I donīt know how itīs spelled) and that was about 58-59 and he had animalblood on stage and they played a more surfbased music. "Here comes the Mash here comes the monstermash" (Freddie sings). That record "Boris and the Cryptkickers" you surely could get your hands on. There is "Monster Mash" and some other good songs like "The blood band blues" and
"Pennsylvania twist". "Monster Mash" sounds like Boris Karloff.
Swedish music isnīt anything that freddie have liked and he donīt thinks itīs any good bands here.
- Everything is Evert Taubes fault and thatīs a fucking shame. Itīs to much too close. I want to see the mystical in the music and then the swedish music isnīt the same thing.
Punk in the modern form isnīt anything that Freddie listens to today but itīs a lot of similar music as Freddie likes and Slipknot is an example.
- I like them and I like Systems of a down and Tool. I like to nerdier things like Prefab Sprout, Philip Glass and sometimes I listens to old Dutch schlagers. It have been fun to record a record with old Dutch schlagers. It have been a sort of M.A.Numminen thing….
Many think that hiphop is todayīs punk but that isnīt anything that Freddie agree with. He thinks that it is a restricted expression and itīs only black people who lives in the ghetto who can be trustworthy.
Itīs not punk , itīs more ,come on listen to me now. It feels pathetique. But I like hiphop, among other I like Dr Dre and Eminem, 50 Cent havenīt I listened so much to. Itīs some other maniacs which I canīt remember the name on.
After the punk Freddie came into what he calls a sort of circus only to survive. He have done a lot of things against his own will. To sing folksongs in Swedish for an example.
- I hate Evert Taube,says Freddie with emphasis. I have hated him since I been little and that was the worst thing I knew. That and "Vildandens sang" with Thory Bernhards. But I was forced to record these records only to survive. They wanted the records and it was do or die. That was it actually.
I think that some songs on Freddies swedishsinged records is really good. But Freddie donīt agree.
- When we recorded the records I pretend that I was doing a David Lynch movie. Because they have a bizarre touch. And in that way it felt better.
- I got an Oscar, or what do I say, a grammis for the first record,
"En shiva till kaffet". With that I mean the goddess Shiva. Somehow I have figured out already that it would come now or then and it would come in a time you have been suitable for people. Almost national. And they theyīre rid of me and they donīt have to give me it after my dead.But it donīt give any money. I would like to have a big scholarship instead.
- Itīs useless to give bakerchildren bread. When Wiehe got that Cornlelisprize he put it in a fund because he havenīt any use for the money. And in the same time itīs billions of musicans which really have no money….
Freddie thinks that the only thing he can is to to music and he have tried to do some paintings too. He paint and draw a little and he have had some exhibitions but itīs nothing he want to do for ever.
-I have only went to an art school for two years. They want you to have been in three-four artschools and academys and you should have done some journeys to France and Italy too.
I think that Freddies music through the years is good but he donīt agree with me. He thinks that Blue for Two is good together with a Beefheartcoverproject he did with two guys, Mats and Morgan, ten years ago.
-We did the more difficult Beefheartsongs, we played in Umeå and on Fasching in Stockholm and there they took the songs good. It became a liverecord which is "Music of Captain Beefheart". Itīs actually the only record with myself I can listen to . I can stand "Like a egyptian" and "Travel song" with Blue for Two but otherwise I cannot listen to my own songs.
- It feels like Blue for Two was a little before itīs time, it was a mix of rock, veil and polish circus in the whole thing. Henryk and I is a little bit dark both. It doesnīt give me so much to listen to my own records.
Freddieīs dream is to do a record with his own material. He have always done what people said to him and it have been some sort of "crawldemocracy". He have always been the one who have been doing as other have told him to do and therefore he never gives out his own material.
- I have no money to release it myself and have I any money I must pay my debths. Itīs a little bit hard because Iīm not that kind of person who drives things foreward. And Iīm not so very keen with numberals. 1 and 1 is eleven for me. I understand much more difficult mathematics than that because itīs more abstract. I have tried to get the record label to help me out with my own songs but they say everytime that I must do another record first…
- But in the end they say that they donīt have any money. But so do they say every time, and that doesnīt depend if itīs good or bad times. Will it be any CD-box sometime I have so much material that I want on it and itīs much which isnīt released at all before.
Bad rumours have been written in the papers that the record labels goes worser and worser because of the fact that people download mp3. Freddie thinks that the record labels own fault.
- I think itīs really fun when they develop those technique things because then itīs a chance to stand up against them so it can be some soul and respect. I donīt think anybody loses on it. Music is spreading and one thing gives another thing and I think that can lead to positive things.
- Iīm not a millionaire thanks to the music and will never be because then you definitively must priority one and live in Stockholm. Itīs inside Stockholm inner-city where Sweden is. But I can make it without them. I only try to destroy them.
It have been many songs through the years for Freddie. 200-250 songs have been released. But when he worked with FleshQuartet he didnīt get the appreciation he thinks he earned.
-I was forced to do songs to their songs but I didnīt get any cred for that. It always was written that the music was done by Fleshquartet.
The Cortexsongs is my personalfavourites and I saw them many times when they were out and played and Freddie liked the songs then but not now. Afterwards he sees the machine behind it and then he canīt like it.
He thinks it is shitsongs and he thinks he does better songs nowadays.
- But some swing it was maybe sometimes and we had fun. I thought it was really fun working in studio, We borrowed a whole lot from Hawkwind and mixed it up with punk and some gothfeeling.
All people cares about reviews thinks Freddie and he always thinks itīs interesting to hear what people have to say:
- When itīs about a review so can you check up what people thinks without being dead. I have been in that situation that I have changed something after we have heard what people said. It was in the beginning with Horrible Tango, we was a more playful style of Liket Lever, and that was the Attentatboys who said how we would do instead and we listened to them. We had makeup and those sort of things, a little New York Dolls.
Freddie have in some occasions said that he think that people comes to his concerts only to see how he look and not because of his music. But that must be something which have changed?
-Noooooom, it gets worser and worser, laughs Freddie. The worst thing was when I didnīt drink for six years. No, fuck that's not worth it, I have a scenefear. Look like me and go up on stage, oh shit. Then you must be som sort of freak to do it. I think they look as much as they listens. I havenīt that looky apperance that many of the other boys have.
Freddie prefer to sing in english instead of in swedish because he thinks itīs more words to use and thereīs a lot of magic in some words and that is always better in other languages ,w we donīt have that in Swedish. I say that is Taubes wrong and Freddie agree with me, I wonder if not have met his son Sven-Bertil and told him about his hate to Evert.
- He donīt want to meet a bastard like me, itīs under his dignity. But we have been on the same record. We was on the same releaseparty but he didnīt came near me. I think heīs really good sometimes as an actor,. He is better than me anyway. You know that private is people really od sometimes, and Iīm really odd me too. But I have paper on my sickness, Iīm paranoidschizophrenic.
Freddie donīt know how many gigs he have done and he always try to forget them.
- I collect other things and if youīre going to collect gigs you get really mad. Rolf Wikström remember every gig he have done. Every fucking gig and that I think is a little bit sick. Doesnīt that man drink anytime. He must have some sort of lapse sometimes
Some years it was a documentary about Freddie but that wasnīt anything he like to watch hjimself.
-It was good that I got some music in it and that my dear friend Tom was in the documentary before he died. We sit and sing something from an opera in the end of the program. A short time after this he died in cancer.
- But I wasnīt happy of seeing that movie. What would it be good for. Itīs not stimulating or entertaining , itīs more depressing to see it. If I would be interesting of seeing me I could look at myself in a mirror and mime to Frank Sinatra.
When we talk about movies so have Freddie been in some theatre and movieproductions. To take the role as Frankenstein was something that Henrik Wallgren asked him to do.
- It started with that Wallgren said that he wanted to write a rockopera about Frankenstein and he wanted me to be the monster. Sure, I said but I thought that it will never be so. I was sure that this wouldnīt be anything. Then I have been "forced" to do it. I thought it was funny but terrifying. It was really good in one way because you release a part of yourself in a good way.
- I was in Talismanen too. They got Dogge from Latin Kings to be in it too but he was good. To see me as a carseller doesnīt go and to sit behind the computer and buy forrestoptions, I didnīt understand what I did. But I came through it but I think that Dogge was really good. It was mostly to meet Ravaeus again. I began to knew him on Stadsteatern and heīs a real maniac. Itīs fun with those people who lights up the way in a way you canīt see yourself.
As some last words Freddie tells us that ha have difficulties to read(dyslexi) but he tries to read a littlöe and heīs going to read The Black Story Books and he likes Tomas Harris and HP Lovecraft.
My wife Bella is religious and me myself is a Satanist, laughs Freddie but changes his mind fast: Not Christian precisely but I could maybe call myself a Buddhist.