Att se på rockmusik på Scandinavium tillhör väl inte mina favoritsysselsättningar men om man bortser från att det är en hockeyarena vi besöker idag så är det rätt okej ändå. Tre band skall spela och det är med stor tillförsikt jag ser framemot kvällens konsert för Volbeat är en av de bästa grupperna jag hört de senaste åren. Efter den sedvanliga tröjköpningen så gick jag och Göran in på konsertgolvet och inväntade första gruppen som skulle vara danska gruppen Kandidate. Sångaren har tydligen sjungit i Hatesphere innan och jag var ganska laddad inför detta möte. Ett tuggande hardcoreaktigt sound är vad gruppen åstadkommer och jag är mest imponerad av alla break och tunga inslag som kommer slag efter slag. Sångaren är en upplevelse att se och det känns mer som om de andra i bandet är bakgrundsfigurer bakom sångaren och det är ju sångaren som är den stora behållningen. De spelar ju inte så många låtar, 8-9 stycken kanske men jag känner mig som sagt nöjd efter dessa på ett positivt sätt.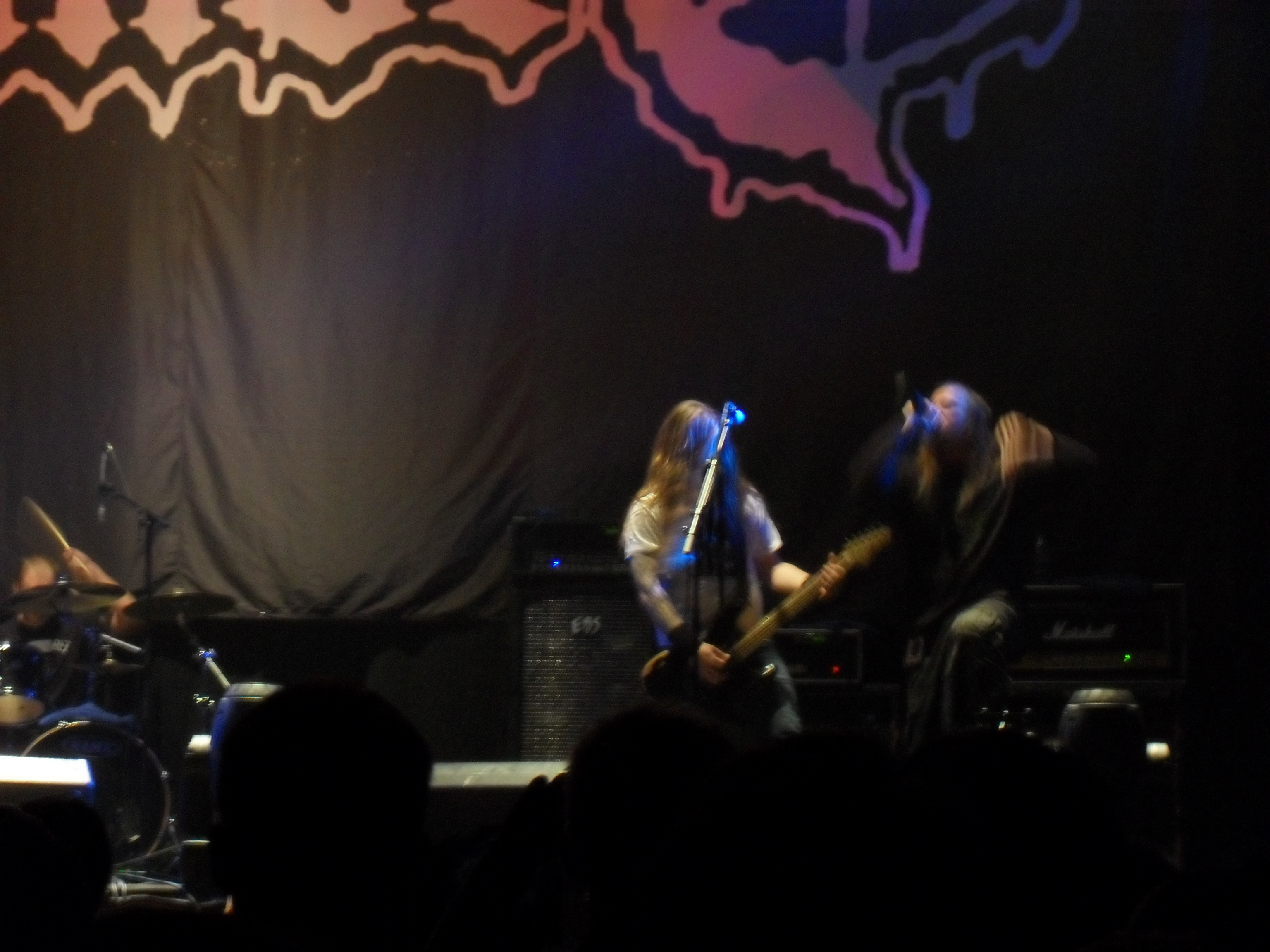 Entombed är andra band och jag har aldrig sett dem live och jag är ju många gånger lite allergisk mot hårdrockskonserter med alla dessa attribut, helst då djävulstecknet som jag tycker är ganska barnsligt, helst när vuxna män står och gör detta men men. Det blev en hel del av det på Entombeds konsert men som band är de jävligt skickliga och låtar som Wolverine Blues och Demon fladdrar förbi och det är ett jävligt tungt sound de åstadkommer och det imponerar på mig. Här är det tvärtom emot vad Kandidate gjorde, här känns det mer som om sångaren vill stå i bakgrunden och han ställer sig gärna utanför rampljuset och låter de andra kliva fram och det är den korthårige gitarristen och den svarthårige basisten som är behållningen i denna grupp även om sångaren ibland blixtrar till.... kul att ha hört dem live men som sagt vissa attribut kan kvitta.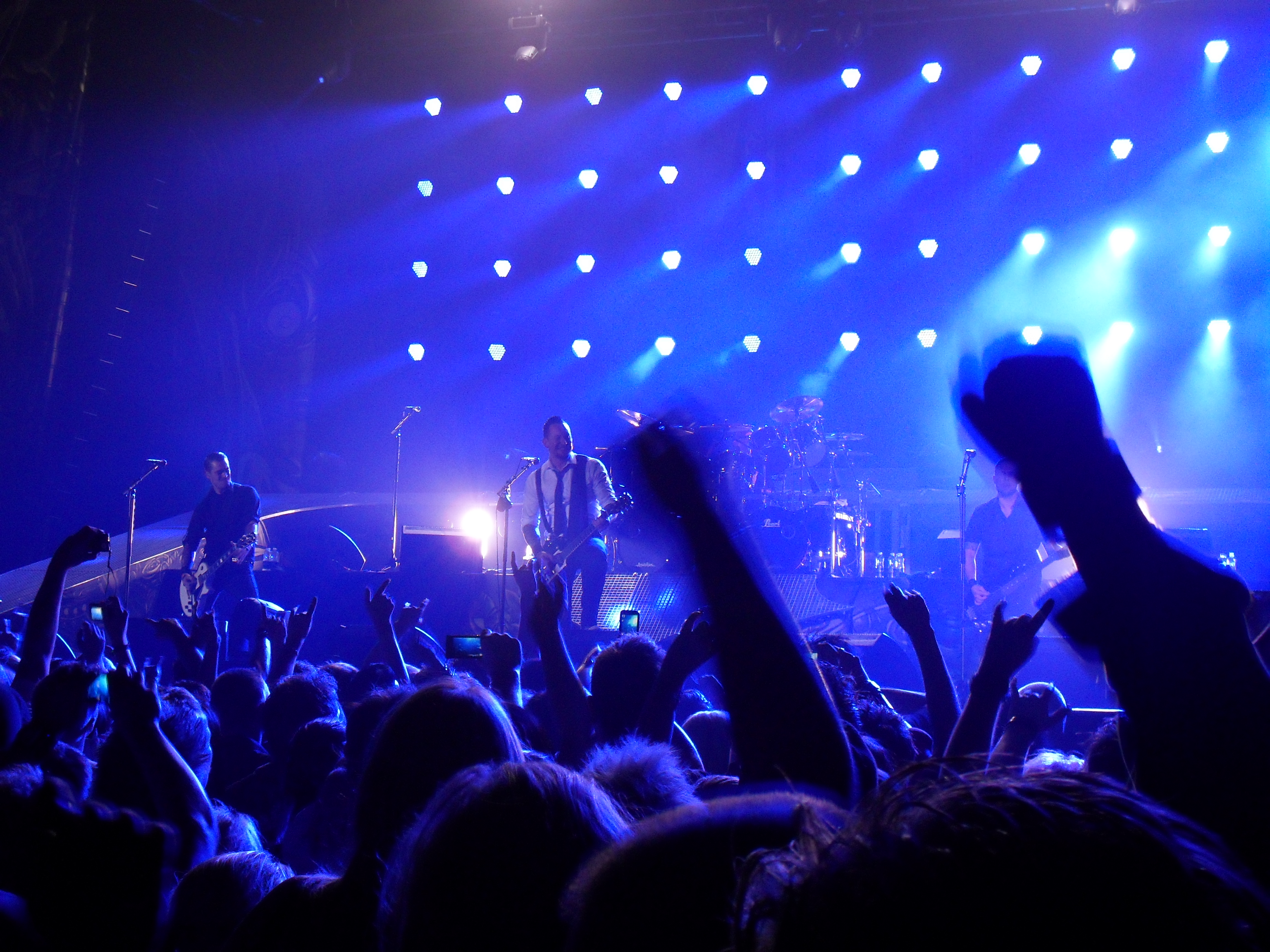 Efter lite mer väntan så är äntligen densamma över och när Volbeat börjar spela så är det ett öronbedövande jubel som stiger över arenan. Till en början tycker jag att ljudet är lite dåligt och jag vet inte om det beror på att det är högt eller vad det är men det rättar i alla fall till sig rejält under tiden. Jag kommer på mig själv en massa gånger att jag bara står där och blundar och njuter och jag känner hur jag får ståpäls på armarna ibland och det är en underbar känsla. De är lite kaxiga och kör Maybelline i höfteholder som andra låt och sedan kommer "hitsen" på rad och jag tror inte at jag saknar en enda låt och de nya låtarna The mirror and the Ripper, Fallen, Heaven nor hell och Thanks(där de tar upp 10-15 personer från publiken) håller lika hög klass som deras gamla material. Det som slår mig är att de verkar ha jävligt kul på scenen och det smittar av sig på publiken för många hoppade, stod stilla eller vad som helst men med ett leende på läpparna. Kul också att sångaren i Entombed tar Barneys plats i Evelyn och gör det så bra. Här behövs inga djävulstecken, rök, bomber eller liknande utan det räcker med ramper som de kan springa runt på och jävla bra humör. Jag tror och hoppas att Volbeat kommer att bli ett av världens största rock n roll band.Det förtjänar de....och detta var en av de bästa konserter jag varit på trots att det var på Scandinavium...
To see rockmusic on Scandinavium isn´t any of my favouritesports but if you don´t think about that this is a hockeyarena we visit today so is it okay anyway. Three bands will play and I´m really longing for this because Volbeat is among of the best groups I have heard the latest years. After the usual t-shirtbuying so went Göran and I to the floor and waited for the first band and that would be the danish group Kandiate. The singer have obvisiously been in Hatesphere before and I was really loaded fr this meeting. A chweing hardcorestyle sound is what the group is doing and I´m most impressed of all the breaks and heavy things which comes hit after hit. The singer is an experience to see and it feels like if the other one in the band is backgroundfigures behind te singer and it´s the singer which is good thing to see on this concert. They don´t play so many songs, 8-9 or something like that but I´m really satisfied after that in a positive way.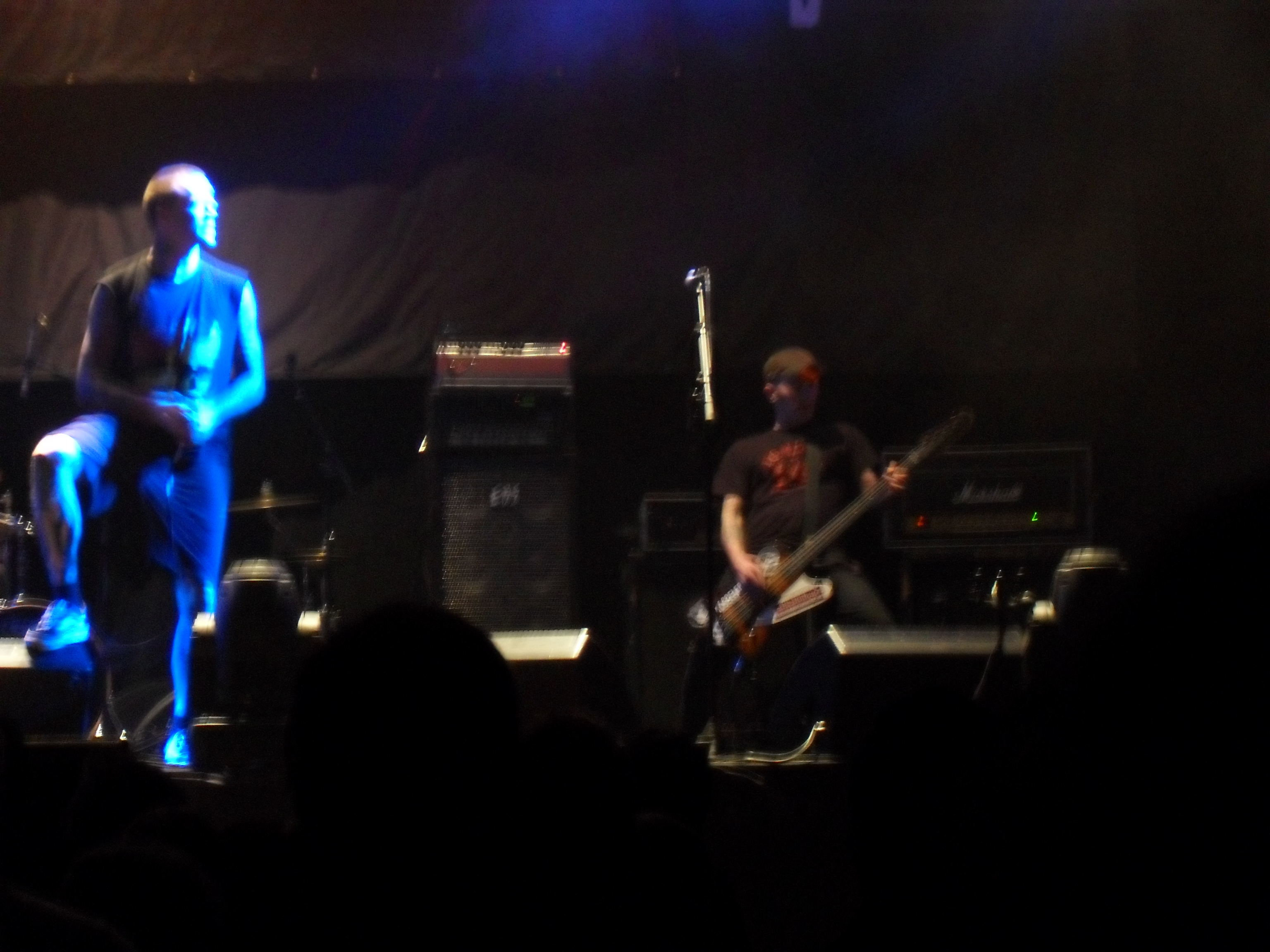 Entombed is the second band and I have seen them live and I have many time was a little bit allergic against metalconcerts with all their attributes, and most of all the devilsign which I think is really naive, and most when gronup men do this but but... It became a lot of that on Entombeds concert but it´s a band which are really skill and songs like Wolverine Blues and Demon comes over us and it´s a really heavy sound they have and that impress on me. Here it is the opposite way from what Kandidate was because here it feels like the singer wants to not stand in the light and he let the other ones goes foreward and most of all the shorthaired guitarist and the blackhaired basist and it´s these two which is the most fun to look on on this ocnert even if the singer gives us good hings sometimes...it´s fun to have heard them live but some attributes can I be without.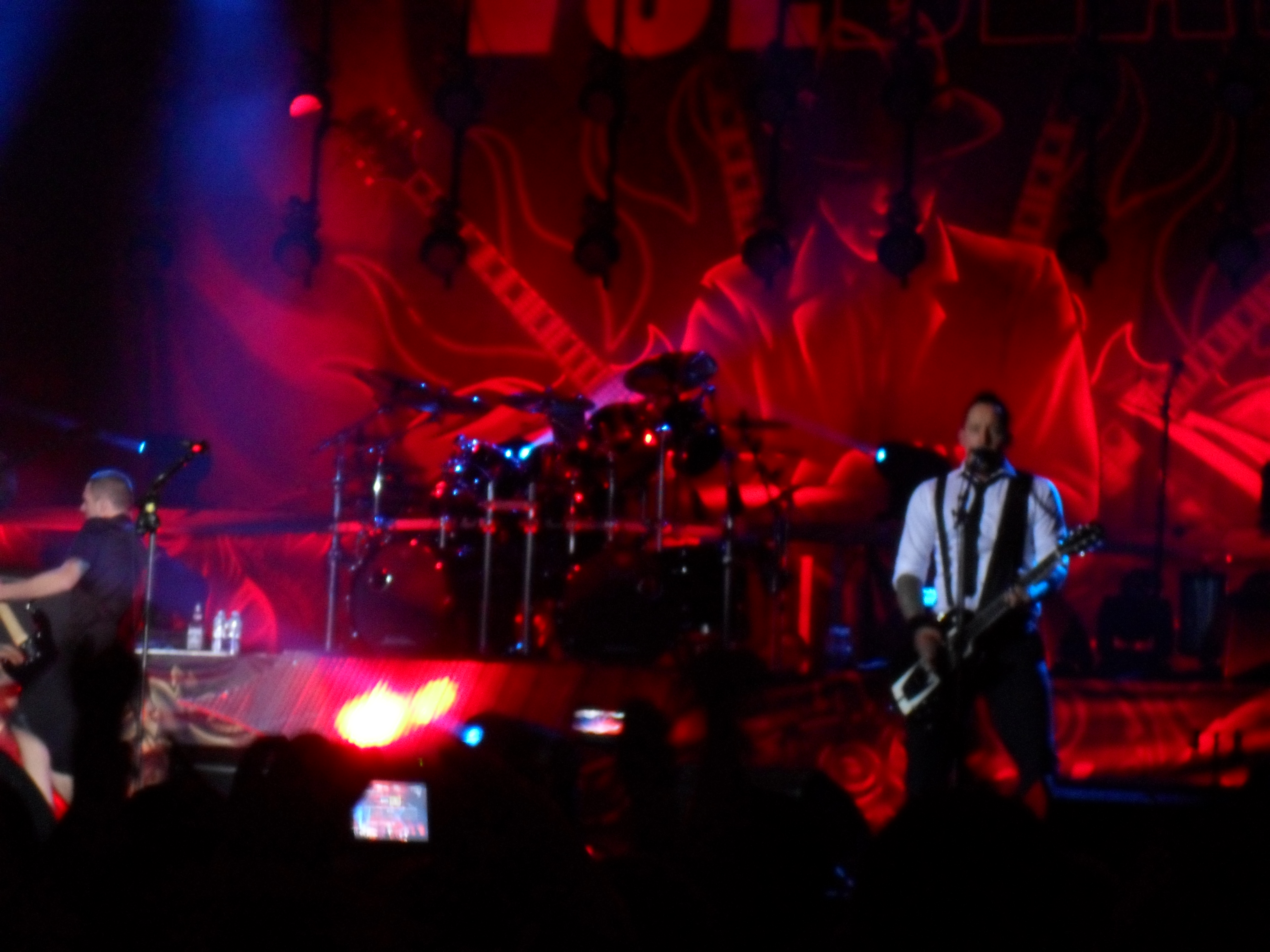 Afte some more waiting so it so that they come and when Volbeat comes out people shout so fucking high over all of the arena. In the beginning I think that the sound quaity isa little bit bad and if it depends on that it´s high or what it is so becomes it better through the concert. I notice that I many times have closed my eyes and only enjoy the music and I feel how i got the shakes almost in many of the songs and it´s a wonderful feeling. They´re really cocky and do their biggest hit Maybelline i Höfteholder as the second song and then the "hits comes in a row and I don´t think I miss one song and the new songs The mirror and the Ripper, Fallen, Heaven nor hell and Thanks(There they take up 10-15 from the audience on stage) have the same class as the old material. The thing that hits me is that they seems to have so fun on stage and that is somethin that the audience have to because many jumped, stood still or whatever but everyone have a smile on their lips.It´s fun also that the singer in Entombed take Barneys place so good in the song Evelyn. Here we don´t need any devilsigns, smoke or bombs and it´s enough with ramps as they can run around on and a fucking good humour. I think and I hope that Volbeat will be one of the biggest rock n roll bands in the world. They deserve it...and this was one of the best concerts I have been to even if it was on Scandinavium.