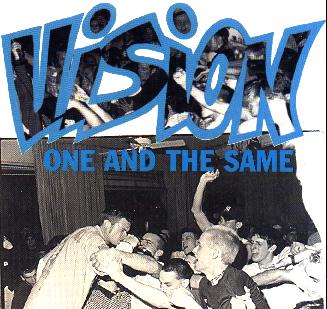 This group is one of the most interesting groups on Epitaph right now. The singer Dave phoned me up a fridaynight in april 2000 and this is how it turned out, the interview I mean
---
The time is a little after two o clock when Dave phoned me up. Dave starts to tell me a little history of the group. The group started to play 1987. It was three other guys in the group and dave of course. They recorded their first 7-inch at that time. -Iīm ended up and split with those three guys because they wanted to play Smithstype of music, more laidback, says Dave. I wanted to continue play hardcore and punk, I kept the name of the band and reformed the band with Matt and Pete and we did a another 4songs 7-inch in 1988. We got a record contract with Nemesis Records in California and we did our first full length in 91 In the Blink of an eye and then in 1992 we would sign to the New York-based label In Affect who have done the first recordings with Sick of it All and when we had sign to them and the record was recorded their label have folded. We ended up searching around for small labels and they did get the record out but they really did a poor job. So we were stocked in the record business for four years. So between 92 and 96 we didnīt put any records out. So in 96 when we at last get a contract we released another Ep on Corrupted Image called The one and the Same and that came out on a CD-version with some older EP-songs, livesongs and so. We got a deal with a Cargo, they reissued In the blink of an eye and they put out The kids still have a lot to say and that came out in the beginning of 98. After that we did as much touring we could, especielly after 1996. After the One and the same came out we toured and we toured with a lot of bands. Then we got our foot in the door of Epitaph and here we are right now.
Dave,Pete and Matt have been in the same band in 13 years. They have been really good friends all the time and they share problems and they like each other musictaste and they have a great time together even if theyīre out on tour or if they are home and write on new material. They have been on many different labels but it seems like every time they got a new contract the labels disappear. Sometimes nobody knows where the records are and when they played in Europe nobody found the records. So itīs difficult to find their records.They couldnīt sell the records on their tour. But now theyīhave found a home so now they will be promoted in the right way, thinks Dave.Striving for Togetherness took over the record from Corrupted Image( One and the Same) so it got much cheaper in Europe to buy. I wonder what the difference between Epitaph and a smaller label is. -Itīs to set up interviews like this. Now is Punk-o-rama tour so they help us to come a bigger tour. Theyīre going to be a lot of advertising. They get the record out because we have seen the record at all record stores, itīs the first time ever our record is available.
Dave is very satisfied with their new CD Watching the world burn and they even recorded it before they have a label to put out on. Dave think it camed out excellent. Many people have asked them if it was beacuse of the Epitaph-contract that they wrote those certain songs but it wasnīt the way because they recorded them before the contract. - We write the music like the way we want to hear our music so it havenīt anything to do with the contract. We had many bandfriends on Epitaph like Bouncing Souls, Agnostic Front, H2O and even a belgian guy called Laurence Kuster on I scream records, he wanted to reissue The kids still have a lot to say and he phoned Epitaph in Europe and they were interesting in hearing our new stuff and we gave it to Brett Gurewitz and it was so it was happen.
Dave havenīt heard any reviews on the new record yet. But they have been on tour in a month now. When they get reviewed they have being compared like a mix of Pennywise and Dag Nasty , Sick of it All, a little Southern California-vibe. But both me and Dave think theyīre a little bit harder and aggressive than that. Dave write the majority of the lyrics and some of the music. But the rest theyīre helping each other to do. Dave donīt think it was more easier to write lyrics nowadays and itīs beacuse itīs many creative people in the band, he says. -When you get the ball rollling, you start rocking and things starts getting together youīre just calm. Thatīs the fun thing with writing even if itīs sometimes gets frustrating, itīs a very memorable experience.
Dave thinks it really fun to play nowadays. He enjoys it in the same way that he did back ten years. He thinks the scene have changed a lot and even the tours have been changed a bit. They love to play. When I talk to him theyīre on a tour with Swedish Millencollin. He think theyīre cool guys and he thinks their new record Pennybridge Pioneers is a very good record. The average Visionfan look like every other guy Dave thinks, a HC/Punk/Skater-kid. Itīs a very mixed crowd they have. -The ages varies a lot beacuse when we play closer at home the crowd is much older, after the new record we have got a much younger crowd coming to our shows. We have played with so many other bands so then we have got a much younger crowd.
Dave donīt thinks itīs so much difference between the kids in Europe and the kids in USA. He thinks itīs the pretty same thing with the HC-scene both in Europe and USA. In Europe people are a little more anxious to see them because theyīre not there so often. The kids in America are a little more spoiled because the bands always are over there Dave thinks. Thereīs no barrier between Vision and the audience when the a concert is going on. They want the audience to go crazy. They have no violence on their concerts and they havenīt had any fight since the mid 90īs on their gigs.- Itīs seems to be divided since then, so itīs havent been hardly violence since then. In the mid 90īs ,no matter who was playing, it could be a punk, HC band or something else, everybody went to the shows to have some violence. But now goes to those type of shows to fight, they donīt waste their time to came to a Vision/Millencollin concert to fight. And a lot of the other bands donīt play with the toughr bands because of the violence.
The life in USA itīs not bad Dave thinks. The economy doing pretty well and for Vision is the life good because theyīve finnally got a record contract and now theyīre on tour. Their drummer isgoing to have his first baby so everybody is happy. Dave is thirty and he donīt have any child but his girlfriend have a daughter and Dave says it feels like his own daughter. If they getting married she would be his daughter. She is four years. He cannot wait to go home to see her. After this month-long tour he will go home for three days and then over to us in Europe to do two weeks. -Weīre only going over to Europe for two weeks beacuse the drummer is going to have his baby in May so we msut be back on the 1st of may. Weīre going to play a show in London, one show in Belgium, one in Holland, one in Poland and the rest of them is in Germany. And in the fall weīre coming back to a full tour in Europe.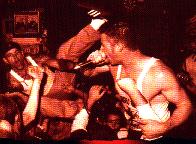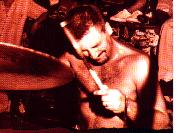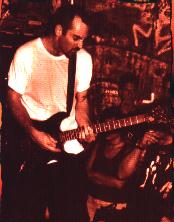 Vision has never been to Sweden but they hope to do some shows with Millencollin when they come back to Europe in the fall. Dave donīt know so much about Sweden even if Millencollin does jokes every night about Sweden and that say that is polar bears and penguins to find in the cold Sweden. Dave like Refused, 59 Times The Pain, Millencollin and they listened to Kent the other day(he thinks they sounded like Radiohead) and the Millencollin guys is playing stuff all time. -Yeah it was one more thing I liked, The Peepshows, says Dave.
Dave have been doing a lot of interviews on the tour and he did a lot of european interviews before he left home for the tour. Dave is donīt think itīs boring because itīs the way he wants it to be. Itīs mainly fanzine which is doing the interview and even if people only read a part of the interview they got an idea of how the members are and what theyīre thinking. Maybe they pick the record up when theyīre in town and play and get the word. Dave likes the new way to communicate because itīs so fast. -Kids send us e-mail and it takes us two seconds to write them back. They donīt have to put on an envolope and mail it. Itīs a good tool for advertising and communication. The kids can click on a band and see who is on tour right now without having to hear about it.
Their first homesite was made by an old friend to the band but when Epitaph came in thbey wanted to do a little different so they hired a guy who does the things.They donīt do anything with the homsite by themself, they only write the text to it. It has been hit for 20.000 times and he thinks itīs going to grow now when theyīre on Epitaph. Dave donīt know how much they sell but he knows one thing .-It was out for two weeks and the records completely sold out. We needed more for the tour and they were completely out of it. They did go to the distributor and pull some records back so they could send them to us so we could sell them on our tour.
The punk/HC-scene in USA is very good right now. Every show have been sold out on their tour, everything from 400-2000 in the crowd all the time. Dave donīt know anything about any new bands in USA right now because he donīt have the time to listen but he like old english punkrock and he like the new records with Sick of it All, Pennywise. The old english bands he like is Exploited, Business, GBH, Clash and all that stuff and he grew up with it. Daves idols when he was little was Clash but he donīt see them idols more like favourites. He donīt buy so many records but he got many new ones because people send him them.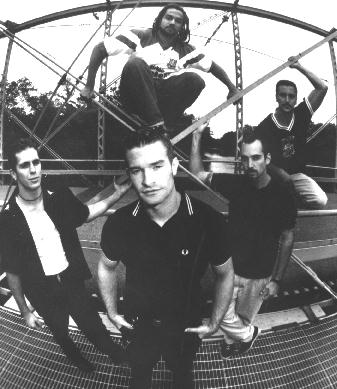 VISION HOMEPAGE
Their futureplans is to play much, take a break in the summer because of the drummers baby, they hope to come back to Europe in the fall and also come back on the road in USA. Theyīr going to begin to write new songs to their new record. -Please tell the kids to buy our new record, and hopefully we come to Europe in the fall.