Vindicate This plays streetpunk, oipunk, good punk or whatever…shit the same. Papa Franz and Turbo have anyway answered my questions in the beginning of may 2010.
History?
-Franz: We began to play in the summer/autumn 2008 and all of was a little bit restless and wanted to play because our earlier band wasn´t no more at the moment or we lived in other cities. We did a recording with some songs which got some attention and people liked it, and among these we were explored by Gabbe and Simon At The Poor House, which released our album after that. The summer 2009 we was on the compilation "Chaos in Sweden" and in December last year we released the fullength CD"Stronger than yesterday". We haven´t played out so much but we have anyway done a lot of gigs in the bigger cities and a lot of them in Malmoe and in Skåne(southern Sweden).

Please tell me a little about every member, age, family, interests and something bad about every one?
-Franz: Papa Franz, sings and study to be a social worker. Arramge gigs sometimes(Klubb Pogo). Have a woman. Turbo-guitar. Plays also in A good deed. He´s out unemployed at the moment. Have a woman. Tobbe, bass, drives the train, have a woman. . Gus, drums, at the moment he´s a starcook without work Have a woman….We´re not so bad….

Have it been many changes in the lineup?
-Franz: Only one. Erik played the bass in the beginning.

Is this your first release or do you have been doing more things? If you have, how can I get it?
-Franz: The it´s our first album and our only release this far. And then we have been on the compilation. We will be on some more compilation soon and we will go into the studio soon again. I don´t know where that material is going to be on.

Your music is inspired by oi/streetpunk I can image…any other influences?
-Franz: Yes, it is….but a lot of punk and rock overall. And when we talk about streetpunk so does it depend what you mean...., the Rancid/Dropkick/Bombshell rocks-style isn´t anything we´re inspired by or want to be mixed together with.

Whate are you often being compared to?
-Franz: Often with classic Oi! But also other bands like Templars. A compliment of course because we like them but I don´t think we sounds so much like them actually, some songs maybe. I think it´s really much difference between us and the original oi-bands also, our sound is filtrated through everything which have happened since then and everything we have listened to.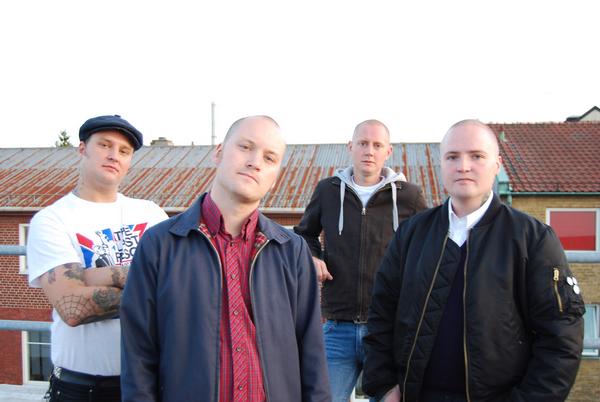 How is it to play this sort of music in Sweden and in Skåne?
-Franz: It´s nice, Malmö have a really living punkscene and they have an open mind for the different substyles.

What does punk mean to you, is it a lifestyle or is it only a word?
-Franz: Yeah, it´s both a word and lifestyle for me I assume. I don´t know if I can call this a lifestyle, the life I live, or maybe, it depends what you mean with that. Personally I can think that things "are punk" and are "not punk" and then I often mean that it is some sort of attitude and it´s done in a grassrootstyle. And then you´re not a punk only for the fact that you´re a little punk more because of the fact that you listen to that music, have the style and live that life together with other punks. It becomes to much sandpit over this. For me it always have been the really good music , diy-style and always fun to know more people and that´s the interesting part.

Or are you only skinheads?
-Franz: No it´s me and Gustaf which is skinheads in the group. Turbo and Tobbe is mostly funny guys.

Skinheads have often become mixed together with fascists…how do you see on that fact?
-Franz: How should we look at it? Media likes to focus on and makes things bigger than they are and focus on "dangerous" things and people likes to divide people in black/white categories. And a whole lot of skinheads around the world have actually been nazis. But not everyone and not a majority. It´s hard to care about this actually, that shit haven´t anything with us to do. Nazis are fucking muppets.

The things that happens in Landskrona now…how do you look at that?
-Does it happens anything in Landskrona!? Have almost never been in that small town….Only joking, it´s a town which haven´t recovered from the 90´s financial crisis, much unemployment and criminality…if you should believe the media anyway. SD have been stronger there and that´s often a result that there isn´t a broad workermovement which can explain another way of things and be a good political alternative.SD is muppets.

Your lyrics is taken from the real life, is it important with lyrics about something real and not only about beer or love(Not so that not love is important) but you understand what I mean?
-Franz: The most important is that you write lyrics which you cans stand for and that they´re good mixed with the music. In our music I think it feels like lyrics which is about ususal days, the community and the reality if you so want. But we have some lyrics about heart and pain to..hehe.

What are you being influenced lurically?
-Franz: yeah, it´s mostly all punk and oi I have listened to and surely some other things too. Have no specific favourites and which have influenced me to my lyrics in VT but I like the one who really can do something out of their lyrics and let it sound good to the music more than special issues.

Politics and music, does it goes hand i hand?
-Franz: It can surely do. Do you feel that you have a message you want to get out so isn´t it wrong to use music to do that. But it could be really pissed off too ,especially if you don´t knows what you talk about. I like a whole lot of political bands but also a lot of unpolitical bands, It´s can be really good to hear bands without something to say. I think that there is many people who shrinkles their head when skinheadbands should be unpolitical.Who cares about Entombed or Backyard Babies political views. There its´no issue at all. We are a band and we do music and then can one of us have their views and do political things..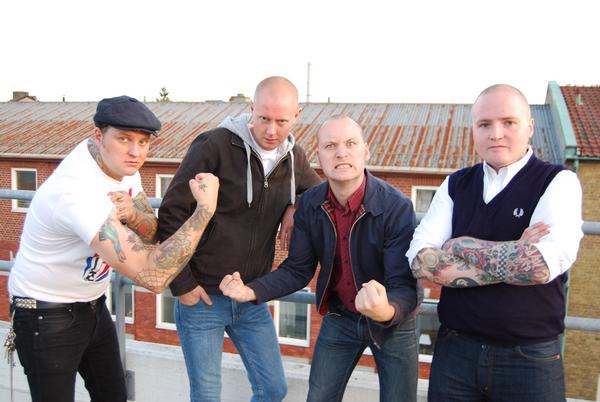 Best political band?
-Franz: Blaggers ITA I think personally and then there´s a lot of punk and hardcoreband which both do good music and good opinions(and a whole lot of bands which haven´t that).

Can you change anything with music?
-Franz: No, not so much actually. But you can give different questions attention, and that can make other people really. But you can give different questions attention and that makes you engaged and then maybe together with many other can do a change. I don´t think we should give the music a big role in this but it could be a really good soundtrack anyway!

Are you going to vote this autumn? How do you think it´s gonna end?
-Franz: I can only say what I will do and I will vote. I think the redgreen take it home but veru little before the blue one and I don´t think it´s going to be so much change.

Is it important to take opinion for what you think of?
-Franz: Yes, generally I think so,as a person. But it depends on what you do with your opinion. Much more important than to say that I think so/against that or that is how you act. …that you act to change or defend what it is you wants to change or not. It´s very easy to sit there and talk about things and the you mostly sit at home playing videogames anyway. And if we talk about bands so is it in the way I said above, do you want to take opinion for something political through your band so is it OK, do you only want to rock so must that could be OK.

Can you imagine to be on a record, gig or similar do gig or something you really believe in? You maybe have done that already?
-Franz: No we haven´t done that but will it come something that all four of us can think the same about so wouldn´t that be any problem. But generally I´m really restrictive with those things, so maybe be kidnapped as posterbvoys to different political views and then we get fans or enemies just because of that.

Skinheads use to like football and beer...which team, do you support(I support GAIS)? Or do you don´t care about football?
-Turbo: Me and Franz supports Mjällby, Tobbe Bajen, and Gustaf follows Arsenal really much.

How do you think it is to love in Sweden today?
-Turbo: It´s Ok but it have become so much harder the latest years with a lot of people going away from the industry and that you kick the one which already is lying down but I hope it will go the other way soon.

Is there any good bands in Sweden today?
-Turbo:A lot of Antipati, Lowlifes, Saturdays heroes, Clichés, CDCP and Nobelkommittén to mention a few.

Please tell me a bout five favourite records right now?
-Franz: As ususal it´s hard to do a list with only five but records with the bands in the text over this plus Masshysteri, Bäddat för trubbel (CD-r), SuperYob and our own fantastic record. New Antipati will be exciting too. And then it´s all the usual stuff which is going in my CD-player too. ..

The record you think is really forgotten and must up into the light again?
-Franz: Agent Bulldogg – Ett tusen glas. Isn´t maybe forgotten among swedish skins maybe but it wold be appreciated by many punks and among other too if they only gave it a chance, top notch fucking punk-record!

Where do you stand when we talk about mp3?
-Turbo: I don´t care if people download Rihanna or Lady Gaga´s latest record.
But I want that punkbands still can release their records and sell so much so they can go round and continue to release records, and it makes the scene alive.

Which type of people comes to your gigs?
-A lot of skins, some punks and a whole lot of old men
Futureplans for the band?
-Turbo: Do more gigs, record some new songs…the usual actually.,
Franz: Release the record on vinyl. A 7 have been fun to get out sometime before I die too…...

For yourself?
-Franz: For us all, get a job again. Finish studying, get a family.

Wisdomword?
-Franz: Our record is full of wisdomwords. Buy it.!

Something to add?
-NOPE!