Vicious Circle was a band which I heard many years ago(around 30) when I nought some early LP with them. Now I have came in contact with them again and thatīs really marvellous and theyīre still fighting on. October 2014
Over 30 years as a punkband...have you been playing all the time?
-At times during the bands history we have had time off to recharge and while itís a massive part of our lives you need to keep the passion for what you do alive and the best way to do that is to have some kind of balance. Itís like many things in life when you do something for a long time it becomes part of you so when you have a time away you come back with more energy and ideas to me thatís part of the creative process. In some ways I would say itís essential for your sanity.
Which are the members nowadays and which were the originalmembers?
-I am the only original member left from the inception of the band Les [ guitar] Gary [guitar/bass] both moved on after about 20 years they have families and are getting on with life . Itís Adam guitar Ash drums Mano bass and Paul vocals thatís our current line up and we are in the process of writing a new lp which will be recorded in a few months.[Over the period of 30 years you get a lot of people coming and going]
Please tell me a little about every member today, age, family, bands before etc?
-Band members ages range from 20ís to late 40ís so itís a range of ages within the band which is fine , Adam was in a band called Abrasion [death metal hardcore] and Dread [ grind core band who play more stoner rock style now. Ash played in a ska band The Resignators and also a death metal band.. Mano played in Cane/ Desecrator thrash metal and also some punk stuff [ Surfing Poo Baís] .We are all pretty private about our families ,we are all easy going fellas . As well as doing VC Paul has also done vocals for Rue Morgue and Loco Diabloes [both have done 2 lpís each]
Can you live on your music or are you forced to work?
-All the VC crew work we have jobs thatís just the way it is ,pretty hard to make a living out of playing hardcore in Australia . We work so we can do what we do, be creative , write ,record and tour if you dig your craft you find a way to make ends meet , I think sometimes people have a lot of misconceptions about individuals playing in bands .A lot of people I know who are in bandís work you canít feed your family on good intentions. If you are committed to what you do itís more a way of life more than anything else.
How much does a record of yours sell?
-Well we press up a couple hundred of anything we do these days[to sell at shows with merchandise on tour at home and overseas] and people just download material of the web /internetÖ in the past you would press up thousands of Lpís Our next lp will be on vinyl and also download. A kid gets a copy of an LP then burns it for his friends
Thatís just the way it isÖ
How do you see on downloading and mp3 and that stuff?
-Downloads ,bootlegs,mp3 e.t.c what are you going to do itís the way things are a lot of people access music that way . I still buy a lot of vinyl always have so keen to do our next record on vinyl..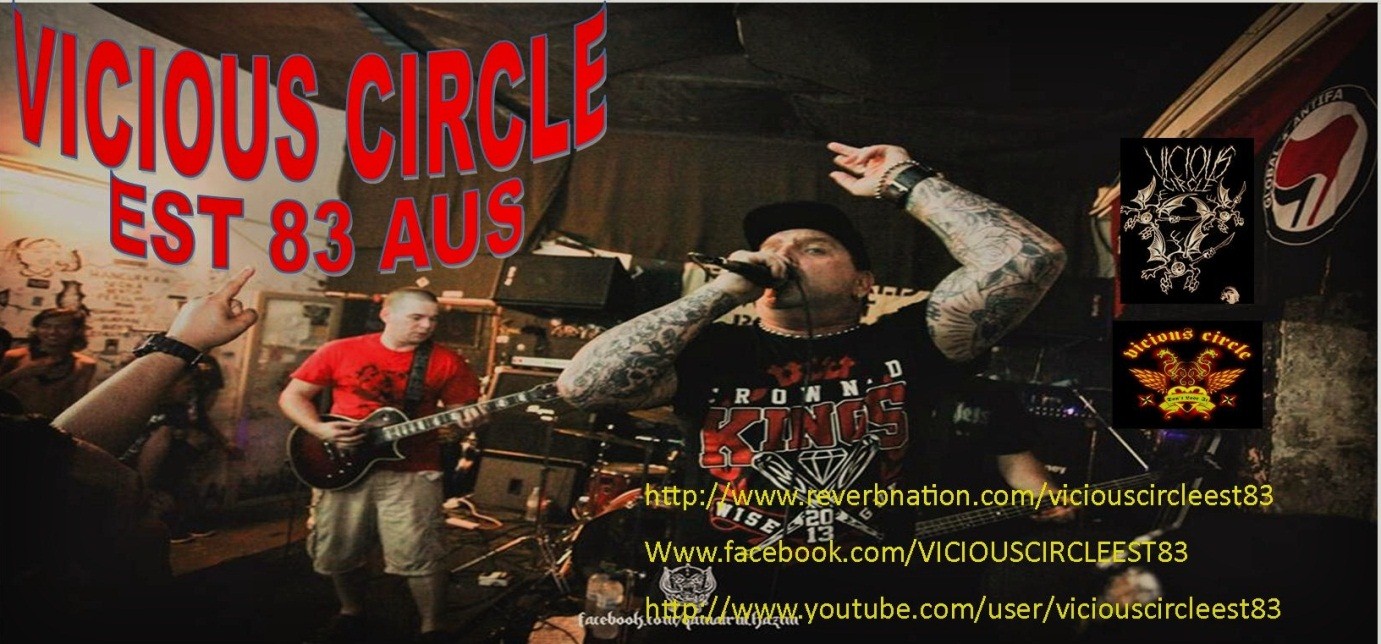 Is it good or bad for a band like yours?
-When you play a show itís not hard to sell some cdís, t shirts ,caps ,vinyls so you can raise money for future projects just put on a killer gig for the punters , why worry about stuff you canít control . People have bootlegged our t shirts and even made surfboards with our logoís .When people rip off bands when they play live /tour thatís messed up lucky to say in many ways we have been well looked after.
You have been playing for so long now, whatīs the difference of playing today and if you compare how it was 30 years back?
-I guess back in the day some pretty crazy things would happen at shows [violence, and idiots causing trouble] from my perspective Iíve had bottles ,abuse, cans , cactus thrown at me . Even one show some fights broke out before we played [ a bunch of violent yobs assaulting members of the audience ] back in the 80ís at times rednecks would show up to gigs hell bent on causing strife ,mindless violence should never be tolerated ,no place for it or racism .That is one thing I donít miss at all. With the advent of the internet and social media thatís changed the communication situation a whole lot itís cool to know I can talk to people all over the world almost instantly, compare that to snail mail [writing letters]and phone calls back in the 80ís to book tours or shows. However I think every decade has its good and bad the best thing to do is surround yourself with likeminded creative people and interesting things happen .If you told me 30 years later I would still be playing in VC I would of said no way .The experiences I have had being in a band I would not swap for anything you meet a lot of great people and I have also seen many other countries, cultures, bandsÖ.Still looking forward to the future and what comes next for VC
Is it easier to get some gigs nowadays?
-For VC it is not hard to find or book shows so in that respect we are lucky ,once we record our new album we will tour home and then most likely head overseas for some touring adventures thatís just a given with the VC CREWÖ
Does people see different on punk and hardcore nowadays?
-I guess the main difference with punk hardcore is itís more acceptable now and not seen as a threat[ well in Australia] the area I grew up in out in the west of Melbourne was a hard area to be a punker people would want to fight you just for being you, it took commitment and at times with school, getting work I had to put up with a lot of bullshit , I once had a bunch of guys go at me with baseball bats they waited in a car and had come simply to mess me up based on my appearance[and being in a hardcore band] so from an early age I felt like an outsider one who was rejected by the norm and thatís fine with me for the world and friends I made are crucial to who I became . For me I found that not being like those who mistreated others or found solace in violence was my way out, the biggest drag would have been to turn out like that, Itís no way to live when I think of the level of violence and animosity I saw in my youth Iím glad those days have passed.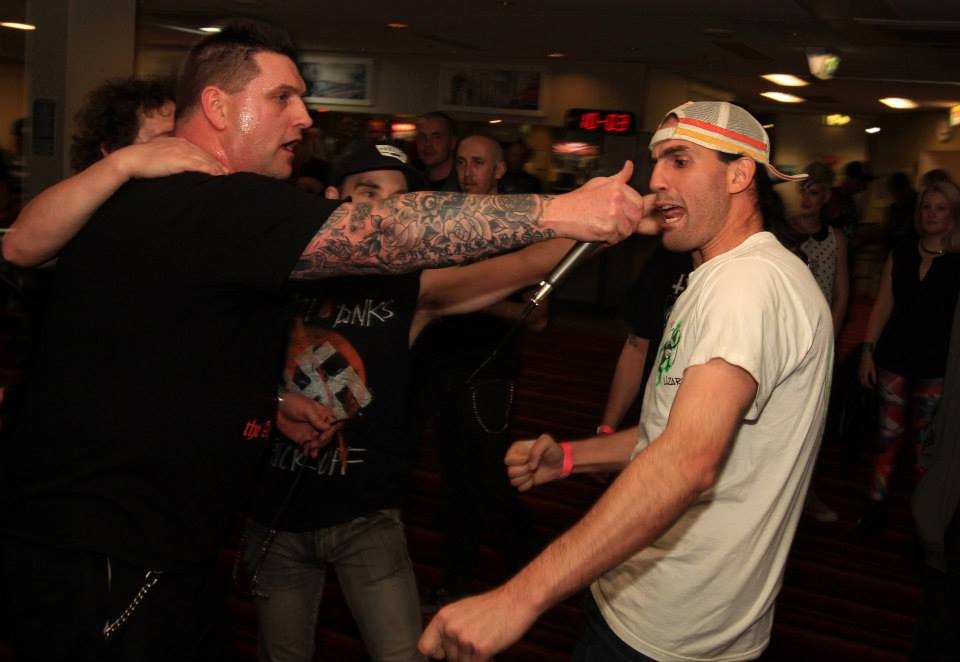 What does punk mean to you, is it only a word or is it a lifestyle?
-What does punk hardcore mean to me itís a word ,more important are the people who make it what it is in all its shapes and forms . I have friendships that span a lifetime and people I have just become friends with its diverse in music ,art, ideals I try not to judge people I got to say I love a lot of 70ís punk Eater ,The Saints, U.K SUBS ,Thought Criminals, The Ruts, The Damned, Dead Boys,The Lurkers,The Drones,Slaughter and the dogs,The Clash,Radio birdman,Wire,Buzzcocks,Rocks,The Avengers, the VICTIMS,Generation x,Stranglers, Killing Joke,London,Ramones,THE JAM ,CHELSEA,X RAY SPEX,SHAM 69,ADVERTS,EDDIE AND THE HOT RODS,HEARTBREAKERS I could go on and on also a lot of 80ís HARDCORE.FROM ALL AROUND THE WORLD, I Like a lot of stuff from different genres deathmetal thrash, grind,blues ,reggae, hip hop ,country,soul,from many different eraís if its sounds right to me thatís all I needÖ
How is it to live in Australia today? Politically?
-At this present time in Australia we have a conservative government who are more concerned with supporting the corporate and business sector then they are in social justice and equity for people who live in poverty or are working class .It is a liberal government which is fundamental to the right side of politics and is led by Tony Abbott .In many areas such as education ,environment ,health,workers rights,refugees, they are trying and succeeding in eroding hard fought for rights and laws that have taken decades to buildÖ Madness in my eyes, I am pro human rights and belive in future of our younger generation that is not be dictated to by class distinction.. eg the right to higher education and health care under this new government these could / will become something of the past.KNOWLEDGE IS POWER..
Is there any good bands there now?
-Many great AUSSIE bands this list is in no particular order but these bands are punk,hardcore.STREET PUNK Crossover,grind , and just good stuffÖSOUTHPAW,CROWNED KINGS,RUSTPROOF,TOE TO TOE , COLD GROUND,RUST, LION FIGHT,BASTARD SQUAD,RETRACE,PERDITION,WORKING HORSE IRONS,FIREBALLS,SLICK 46,THE FUCK OUTS,THROWDOWN,DEADLY VISIONS,MOUTHGUARD,SHANDY,HOSTILE OBJECTS,STANLEYKNIFE,UNKNOWN TO GOD,STREET WAR,PLAYGROUND OF HATE ,WORLD WAR24,THE CORPS ,TWO FACED,CELIBATE RIFLES,HARD ONS,CULT KILLERS,BLADDER SPASMS,12FU,DIXON CIDER,THE WORST, BLOODY HAMMER, DEPRESSION,MINDSNARE,SAUSAGE CHOPPER,RAZORCUT,STRANGLEHOLD,KING PARROT,JOIN THE ARMISH,THE MEAT BEATERS,SUBURBAN STANDOFF,BULLETPROOF,BLOOD DUSTER,FAT,COSMIC PSYCOS,SEMINAL RATS,THE MEANIES,DREADNAUGHT,KROMOSON,CRIM REALITY,OUTSIDERS CODE,OUTRIGHT,
Have you been much abroad and played?
-We have toured AUSTRALIA,SOUTH EAST ASIA, UNITED STATES OF AMERICA,EUROPE AND NEW ZEALAND So we have seen a bit of the world and are looking forward to touring our next LP in 2015 I must say VC has met and made a lot of friends all over the world ,to me thatís what itís all about a fine way to see the planet and experience new culture and peopleÖ.
Many bands which have been playing for so long have got a tribute LP/CD done with other bands doing their songs, have this happened to you?
-No tribute LP ITS NOT A FACTOR IN WHAT WE DOÖ
Have you been on anything like that yourself?
-VC has never submitted a song to a tribute lp..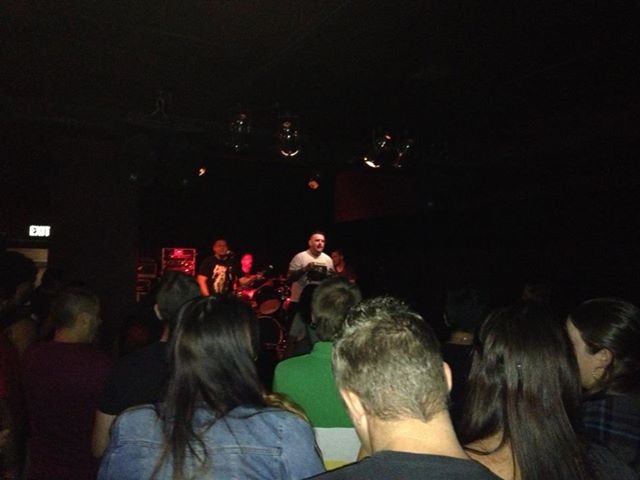 Do you do many covers live?
-We have done some covers over the years I will list a fewÖ BAD BRAINS[ BIG TAKEOVER] CRO;[ MAGS [HARD TIMES] NECROS [REJECT] RAW POWER [STATE OPPRESSION]WHIPERS[OVER THE EDGE]THE RAMONES[ENDLESS VACATION] CHAIN REACTION[NO WAY OUT] UPRIGHT CITIZENS[BOMBS OF PEACE]NEGATIVE APPROACH [NOTHING] TERVEET KADET[ OUTA MAA]CRUMBSUCKERS [SIT THERE] THE TROGS[WILD THING] Some of these songs are a lot of fun playing them liveÖ
What do you know about Sweden?
-I donít know a lot about Sweden however some things I do know are that your population is over 9 million itís also part of the European Union also people have access to health care no matter your financial situation and from what I can gather you have progressive political and environmental policiesÖAlso some damn fine punk rock hardcore and metal comes from your landÖ plus IkeaÖ.
Have you heard any good swedish bands?
-Bands from Sweden I know of ANTI CIMEX ,REFUSED, MOB 47, ASTA KASK WOLFBRIGADE,DISFEAR,PUKE,KRUNCH,RAISED FIST,AT THE GATES ..I think from what I have heard the bands are pretty good a lot of the early hardcore from the 80ís was classicÖ
When you do lyrics, what influences you?
-My lyrics are influenced by the world I live in and the reality of my environment a lot of the time I donít consciously search out certain subjects I just have the need to write and express myself and what comes out is just natural expression .Itís strange because the construct and narrative of the words is an afterthought . I find it interesting a lot of people may think punk or hardcore lyrics are negative[ from an outsiders perspective] when in fact they are the opposite, positive and in many ways life affirming.
Can you write about everything or is there any subject you never will touch with your lyrics?
-I guess I donít do fantasy lyrics you know demons, rubber gloves , fairy dust, just not my thing if thatís your bag all the best to you but I also at times have written songs that are tongue in cheek [humorous]you have to be able to laugh at yourself ,as life is far too short to be serious 24/7. What is taboo you know when you write something and it pisses people off for one reason or another.
Is it important to get out political views with your music?
-I think itís more pro common sense then political, people do the strangest and weirdest things In the name of politics or religion to push an agenda or platform as humans we are political animals nothing wrong with discussion and arguing a point of view when itís taken to the extreme of fundamentalism it becomes dangerous if you are willing to harm another person simply for the fact that they do not comply with your social,political or religious ideals I think you have crossed the line. I am pro human rights and believe in equity and freedom of expression for all peoples the hardest chains to break are the ones that shackle our minds.
How would you describe your own music in three words?
-HARD,HONEST,TIGHTÖ
Which is the most peculiar review you ever have got on any of your records?
-Once a person reviewed us and said we had funk undertones I wonder what kind of drugs the fella was on he also compared us to a band we have nothing in common with I think he listened to the wrong recordÖAs they should do something creative themselves instead of just judging people .When you write a song and record it its interesting how people see it, often it can be interesting to hear others ideas or thoughts.
Do you care about what reviewers says in their reviews about your records, have you ever change anything because of something that was written?
-Itís one personís opinion thatís all if you will change what you do based on what someone outside the creative process thinks then you should question why you are doing what you do. .Not even a consideration.
Futureplans for the band ?
-We are in the process of writing our new lp which will be called NEVER GIVE IN. And will be recorded in a few monthís ,after that is done we will do a tour of AUSSIE then book shows/tour for overseas, do a clip for the album choose a song and put something together in a visual sense .We have an artist working on the cover and a new logo for t Ėshirts etc. so its record then hit the road and make some noise in 2015..
Futureplans for yourself?
-For me just keep healthy and strong and enjoy life a simple but effective philosophy and willing all my family and friends have the sameÖ
Wisdomword?
-My wisdomword isÖÖ.PERSAVERANCE Nature is the true lawÖ
Something more to add?
-Many thanx for the interview Peter and Skrutt magazine I hope one day we play in Sweden that would be a lot of fun, been to Europe a few times but never to your part of it..