Vibrators have been one of my favourites since I started to like punk back in 1976 and that Knox would answer questions from me is a dream which is coming true. This happened in December-2009. And they come together with UK subs to Sweden in the end of january 2010.
You have been going on with the band for about 35 years?
Does it feels like a long time or have it was a time which have been going fast?
-Itís definitely gone by, and you wonder where the time went, it just somehow creeps by, the same as it does for everyone else.
In the beginning you had a cooperation with Chris Spedding, how come?
-We were asked to back him at the 100 Club Festival as for some reason he had no band, theyíd just put his name on a poster for the gig. As he liked us he got Mickey Most (a big producer) to come and see us and we then made a single with him and one on our own, did a radio session with him, and a gig but we were busy doing Vibratorsí gigs and he was busy with his band he must have put together so we went our separate ways.
What does that guy do today?`
-I donít know, I know a few years ago he was out touring with Roxy Music, and he used to work with Robert Gordon.
Before Vibrators , where you in any bands then?
-I was in lots of bands. I might have been in my first band at school in 1959, but definitely in 1960, called The Renegades, black shirts and sunglasses so not a lotís changed. I have an album by a band I was in called Despair (around 1972-5) coming out on Cleopatra Records (West Coast USA label) early next year. This will have songs like Whips And Furs, Sweet Sweet Heart on it, songs that were later on The Vibratorsí first album Pure Mania.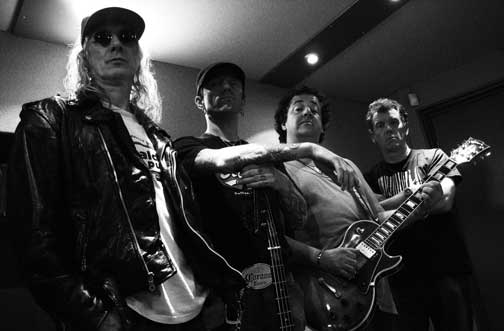 You had a band on the side for a while fallen Angels, what
happened to them?
-My manager at the time was also co-managing Hanoi Rocks. I had a load of songs and was just sitting around and so were Hanoi Rocks and my manager had the great idea to put me in the studio with most of Hanoi Rocks as my backing band and make an album. So thatís what we did and the album came out very well. That line-up couldnít play live so I got some other people in to play gigs and did gigs for a year and a half or more but then The Vibrators reformed and that was the end of the Fallen Angelsí livework. But the Fallen Angels did make another two studio albums.
Have Fallen Angels LP been released on CD?
-Yes, the first albumís been out a few times and is currently out on Jungle Records, it generally gets a four or five star review.And I think the second album has been out on CD as well.
What drives you to go on and on all the time?
-I just love doing it. Itís a shame we donít make a bit more money but itís still exciting to do.
Did you have a break in the beginning of the 80?s and what
made you come back?
-I kind of sacked a few people from The Vibrators at the end of 1978 and then accidentally sacked myself. I think it was because we were constantly touring and I thought the line-ups werenít right. Sometimes too safe sounding or too mad with people you thought werenít able to play consistently alright. So then I didnít have a band but started a solo band and did a lot of other stuff, including The Fallen Angels. It was a bad time and a good time, I had a couple of singles which got radio play and nearly went somewhere. Plus I was probably doing a lot of painting. Then The Vibrators reformed as a result of Pat Collier (original bass player) saying there was renewed interest in punk and we should reform and make an album. So thatís what we did.
You and Eddie have been in the group all the time, which are the members today, please tell me a little about every member, family, age, interests and something bad about every one? Previous bands for the "new" members?
-Eddie started the band and I was also an original member. Currently weíve got Pete from Finland on bass, he had a band called No Direction and we got him on bass as we needed a new bass player. Heíd started playing occasionally helping out the UK Subs. Nigel Bennett on guitar used to play in The Members and was in The Vibrators for a while years ago. He was got back in temporarily as I hurt my shoulder (an accident) so I couldnít play for a while but then other stuff happened to me (my heart) so I was out of the band for fifteen months, but Iím pretty OK now and hope to be back playing on a few songs when we go round Europe with the UK Subs in Jan/Feb 2010.
You will be go out on a long tour now, where do you go?
Many different countries?
-Belgium, Germany, Sweden, Finland, Latvia, Poland, Czech Republic, etc., etc. Many more, itís all on the gigsí pageof our website:
www.thevibrators.com/gigs.html
You will play together with UK Subs many of these gigs, you like them I understand?
-Yes, theyíre old friends of ours and itís always been a successful package playing together. Itís been going on so long itís like a tradition. I didnít do the one last yaer as I was ill but Iím OK for this one.
What does punk mean to you, is it only a word or is it a
lifestyle?
-I think itís having a relaxed attitude to doing stuff but the musicís got to be full-on. It doesnít have to be fantastically well played or recorded (of course that helps) but itís got to have spirit.
You have never looked like a punkband with mohawks and
those stuff but always sounded like one, your audience is punks mostly or?
-When we started there were no weird haircuts (only hippies!) or clothes, that all sort of came after the music except for the Pistols who had Malcolm McLarenís shop behind them. There might have been a few leather jackets, but then there were more and torn clothes and black stuff...
I have seen you once before, and that was in 1984 in a club called Octagon and you played two sets that time 1.00 and 3.00 a clock in the night? Do you remmeber that gig?
-I have an idea we were on with Chelsea? It seemed too late to play at 3.00am and I donít think a lot of people wanted to stay out that late!
How many gigs do you do on a year?
-Somewhere around a hundred, this coming year it looks like it might be a lot more.
Where is it best to play, which country?
-Everywhereís good but I like the USA as they speak English, though I still canít understand all they say in some places. Anywhereís good where they have alcohol and electricity!
Which is the biggest band you have had a s a support act?
-Weíve had The Jam, The Damned, Sham 69. I think Marc Almond was a go-go dancer at some place we played.
Which is the most funny thing which have happened during
all these years you have played? Or most peculiar?
-Too many small things too remember.
Where are you living nowadays, is it in England or what?
-I live in London. I like it here plus itís a big upheaval to move but maybe if something came up I would.
Is there any good bands there now?
-I think there are. I think though you donít get enough originality, thereís too many bands which sound the same. Maybe a lot are not career driven, they just like doing a few gigs in their home town? But I like to think thereís a lonely guy in his bedroom right now writing a few tunes whoís going to turn the music business on its head, or another someone like Lady Gaga, who even if you donít like her you have to say sheís kind of come from nowhere to be this huge star doing crazy stuff, and that means itís still possible.
How do you think that punk is doing, is it still alive or?
-I think itís a great form of music. Sometimes I think itís in a cul-de-sac, going nowhere, but I think I get confused, I means the Ramones produced their kind of punk rock, but they were never going to change from that to something else. Dee Dee had a go at rap, probably unsuccessfully, but at least he tried. Also if you have something good do you need to change it? Maybe thatís the job of the new kids to make some new music.
22.All these new things like My Space, Facebook and so on, is it anything that you have been doing or will do?
-I check this stuff out and do a little. We have a myspace site: www.myspac.com/thevibrators. I think you sort of have to be in touch with this stuff, itís the way the world is now and the way things are done.
The new CD is amazing I think, the best in many years, how
come it became so good?
-Probably because we hadnít made a studio album of our own songs for a while, so we had the songs and also at the record company the guy there said he only wanted my punk songs, not my ĎLou Reedí type songs (which are more rock songs). Iíve got lots of those saved up now so Iíll probably make a rock album on my own, lots of the songs are pretty good.
You did a CD some years ago with old punksongs ,why did you do that?
-The record companies often ask you if youíll do it as they think that would be interesting for the fans and also from their point of view they think itíll sell. After all theyíre in the front line as it were, theyíre the ones risking capital. Itís interesting doing other eppoleís songs but you have to do your own stuff otherwise I think the road will eventually run out for you.
Captain Oi is the label now, what is it only this time or
will it be more on that label?
-Weíll carry on with them, they do a great job and we know them which is also important.
Is there many songs that you havenīt released that you can
put out in a box or something like that?
-All the old Vibratorsí stuff is out. We might find some more but I donít think thereís anything left. You hear rumours but nothing appears so.... Iíve got lots of my home demoís of tons of songs which were later done by The Vibrators which could come out one day but weíll see if anyoneís interested. Iíve an album of a band I was in called despair which will come out soon on Cleopatra which I mentioned earlier.
You have done some covers, which is the most fun to play
and is it any cover you play on this tour?
-The only cover weíre playing at the moment is Brand New Cadillac which weíve been doing for a while. We were doing some Ramones songs but we have so may of our own songs that people want to hear that we generally just do those, but every now and again we could do one I suppose.
Please rank your five favorite records, five favorite
concerts and the five most important things in life?
-Itís difficult to do this about songs as itís always shifting, particularly using a iPod can make you fed up with your favorite songs if you hear them too often.
You have to remember that due to my age when I was a child THERE WAS NO ROCKíNíROLL!! imagine that if you can. Over the years Iíve liked (and been influenced by):
Apache The Shadows, Please Donít Touch Johnny Kidd and the Pirates, Stone Free Jimi Hendrix, Heroin Velvet Underground, Search and Destroy Iggy Pop.
My favourite concerts:
The Marquee, the Roundhouse, CBGBís, ....
In life I think itís important to try to be yourself, and also somehow every now and again remember that you have a moral responsibility to help other people who are less fortunate than yourself.
First, last and most expensive record you ever bought?
-I donít really buy records, Iím not a collector, so Iím not that kind of person.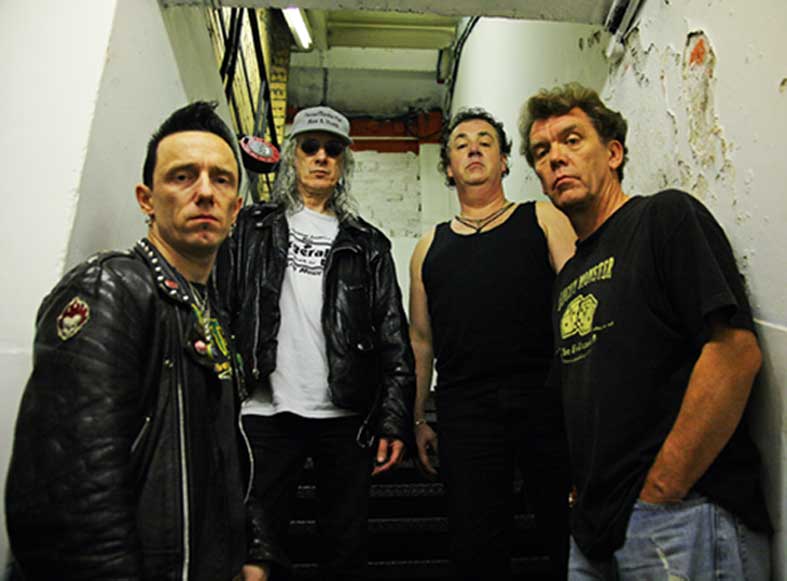 The most embarrassing record in your collection?
-Well I donít really have a collection, plus I like all music and can find a positive thing about all of it, maybe as I write songs this affects my perspective.
Where do you stand when we talk about mp3?s and downloading?
-Itís happened, itís like everythingís free. It has good points and bad points, but itíll be difficult to go back to charging for it, so we have to go with it. We get some money from downloads and maybe more people hear our stuff, difficult to know. I have a couple of iPods and use them to listen to music when Iím out, often my own songs Iím working on.
Is it good or bad for a band like yours?
-Good as it might help spread the word about us, but also bad as itís damaged our CD sales.
Futureplans for the band?
-Well Iíd like us t to be a lot bigger but in the meantime we carry on gigging and making records.
For yourself?
-Still trying to be a success, either in music, painting (see my paintings at: www.knox76.com) or writing books, still finishing off a nasty science fiction novel.
Something to say to your readers in Sweden?
-Hopefully see you at our gigs up there!
Something to add?
-Think Iíve said enough thanks.