Vet Hut comes from Malmö and surprises with a really good record Men munnen full av hat. Had to interview them and did so in February 2020.
A little history of the group?
-Jenka o Tobbe attended the same musicclass in Östersund at the high school. Tobbe moved to Malmö in the early 2000s and in 2002 Jenka also came down to Skåneland. All parties were filled with "we should start a baaaaand!" (something Tobbe's sister-in-law is signing in on, since she has heard this since she entered the picture in 2003). In 2004, Jenka met Kalle for the first time, when he became together with a friend to her ( is still going strong). They discovered that they had many musical touch points and the parties began to be filled with "we should start baaaand!" When Jenka then, after spending a little too many years in Lund, moved to Malmö in 2012, suddenly there was a lot of time to fill life with. In the summer of 2013, she realized that there was both a drummer and a bass player (yes, Tobbe is really a brilliant pianist, so she didn't really know if he could shoulder that role, but since he is also a bit of a musical prodigy she really had no doubt about that thing). Kalle, Jenny and Egget (Huh? We haven't heard of him? No, exactly.) Started talking about how good the band name Vet Hut had been, and decided that the first song would be called "Visa dem vart skåpet ska stå"(Show them where the cabinet should stand). One wet evening, Jenka trembled at Matte (a person who has been on her periphery for about 10 years in about) at a night out, realized that he probably plays guitar, and thus asked if he was not keen on joining a newly started punkband. Yes, Matte said, and adding that he had just finished two bands and that was why there was only one rehearsal room to move into. Before the first rehearsal, Tobbe flicked in that his mate David was eager to join and he came into the band . Egget was angry at the excess of guitarists, was angry at someone at a party, and then he was no longer in the band (or he never was, but still). So we brought a bunch of hits to the rehersal, including KSMB's ABAB, and realized that we were a little too good on our instruments to sound punk-punk as well, and it turned out that Matte had some guitar influences fromNicke Andersson. Great, thought Jenka, who has always wanted to be part of a Hellacopters band. Then the hits began to be born (through lengthy processes since none of us are really any songwriter) and the rest is, as one says, history.
Tell us a little about each member, age, job, family, band before and band on the side?
-Everyone in the band is just under or over 40, has pets or children, no one has both. Everyone has jobs, some want to change. One is his own boss, one is boss over others. David has played in the synth band Hype before and we bully him for it every time we cant, most of the jealousy because they were really big and toured in South America. Then he threatens to replace us with machines. Jenka and Matte have an acoustic duo playing covers on Vet Hut songs. Everyone has played in different constellations that never became anything Tobbe played organ with bare torso in a band that won a competition in Musik Direkt sometime in the 90's.
I can hear a lot of punk like LK14, Charta 77 but not as much trace of hard rock as it says in the release sheet, I hear right? Was it better in the past?
-Yes you are right. Our press secretary has now been fired.
Vet Hut, are you happy with the name ?! If not the best band name had been taken, whichbandname would you have chosen? I mean which is the best band name?
-The name was long before the band, so nothing else could have been relevant. Of course, the best band name is ...
What's the best thing about playing live?
-If we got out o play more we would have had a better answer, but the audience is often something which fresh up us!
Where is best to play, where is worst?
-Norrehus in Klippan is a very nice place to play! Outdoors when it rains is probably the worst.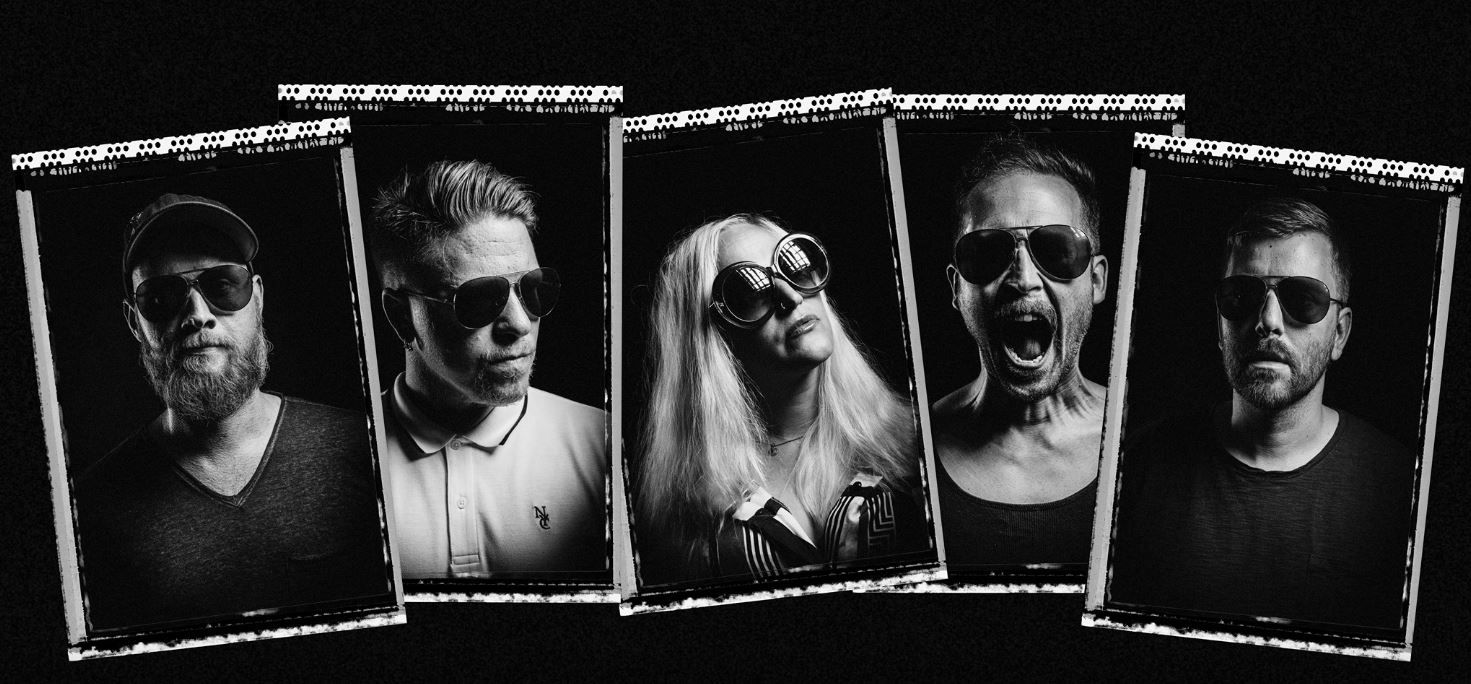 What is it like to play this kind of punk in Sweden today?
-Really fun that we get to play with a lot of trallpunks even though we have never sat a tight choir live ever!
How would you describe your music in three words?
- Little too fast (live) (fucking Kalle).
What does punk mean to you, is it just a word or is it a lifestyle? You have a little "discussion" in Hbg Punx about Attitude and Attributes? What are the bands that got you into the wonderful world of punk?
-Oh ... If we go around the band we must mention Ebba Grön, Asta Kask, DLK, Strebers/Dia Psalma, Millencollin, all Definitivt 50-spänn, Bad Religion, Misfits, Kriminella gitarrer, Hellacopters… Discharge, Brutal Truth, Pouppée Fabrikk, Siouxsie and the Banshees (here the punk is interpreted freely), Charta77, Philemon Arthur and The Dung, Big Fish
For us, punk is probably a little shit in what others think about whether we are punk or not. One reviewer once wrote that he hadn't really thought of listening to us because we looked like a hipster band. Punk!
How do you see on downloads, mp3s and the like?
-All ways music is spread and listened to is good? The risk is, of course, that one will be a little measured by the fact that everything is available.
How do you think it is to live in Sweden today, politically? SD? KD?
- No matter what idiots who rules the government or pronounces politically, we have it pretty damn good compared to large parts of the world. Idiots will always be there and sometimes they will even decide things.
Are there any bands in Sweden today? You are hometown?
-Hmm ... there are a lot of good bands! The big ones we may not need to mention (except Lastkaj 14, because they are so nice) But… Knifven, Gamla Pengar, Björnarna, Anaugh Conda, Borgerlig Begravning, Sardo Numspa, Jönzzonligan (Matte likes Johan Airijoki och Malmfältens Rockklubb, and it´s he who writes here so it could be here), Svart Katt.
Malmö: Ragata, Härvan, The Oh No´s, Bäddat för Trubbel, Larma, The Guilt, Völva, Arre! Arre!, SMiSK.
Do you play anything outside Sweden?
-Jenka and Matte have played two Vet Hut songs at a cafe in Rostock, otherwise not.
Other good bands from abroad?
-Ok again ... Jenka likes a bunch of Finnish bands, for example Kohti Tuhoa. Birdcloud.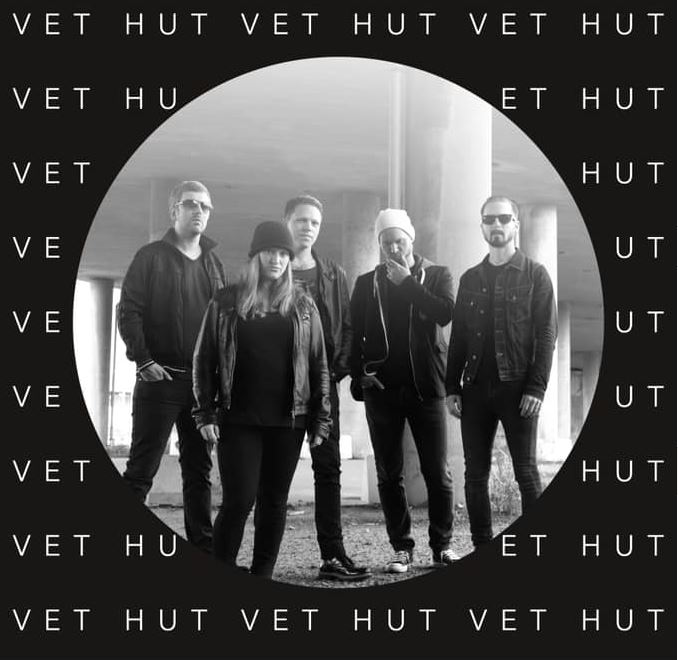 Your lyrics, what influences you? Never in a language other than Swedish?
-Jenka is pissed at something, someone in the band says "write a text about it!" - kind of like that. Otherwise, Kalle has thought of something he has been pissed off about and has written a text about it. Of course, there is always some kind of political thought or thought about things that are different in the world or in society or with idiots in general. No party politics (almost). We have never written in any other language and today there are plans for it.
Is there anything you will never write about?
-It is a question that is impossible to answer. A good day you can be angry at anything.
Politics and music, does it always belong together?
-You can make politics off pretty much anything, so it's probably hard to come from.
Best political band / artist?
-Oh, once again...Dolly Parton.
Do you think music can change someone's life, then I mean lyrics etc?
-Yes, and it probably does quite often.
Your cover is really cool on your new album, who did it. How did you think when you made the cover of Hela munnen full av hat? Is it important to have a cover that you understand what kind of music you are playing? Which is your favorite albumcover of all time?
-The cover is designed and photographed by our guitarist, David. The idea is in some way that a nice surface can hide an awful inner, kind of privileged people with dumb opinions. Don't know if it's so important that the cover reflects the music, maybe even funnier if it doesn't! Favorite cover is VERY hard. Den falkse kakaoinspektören with Rövsvett is a strong candidate anyway.
Is it important to release physical records? Vinyl or CD or both and? Is there any good record store in your area left?
-Yes important it is probably, but above everything fun! I mean who hasn't dreamed of o being able to listen to themselves on blue vinyl? Many listen rather to a stream the music as well. In Malmö there are several good record stores: Rundgång, Repeat, Skivesset and Folk & Rock that kind of win because you can have a beer there as well.
Please tell me something really fun that happened during your career on stage or behind the scenes etc?
-When we played on Rocknrollkocken in Lund he came up with a shot tray in the middle of a song, can't remember how we solved it but we never stopped playing, so I think he fed us with the booze. When Knifven then played after us, he came onstage playing on a fire extinguisher with probably the world's largest chef knife. Nice bloke there! It was at the same gig as our friend Mårten desperate and now classic erupted: "it goes for faaaaast !!!", from the audience. But we didn´t listen to him. Then Jenka has a good labia story from a punk cruise, but she has to tell that herself sometime.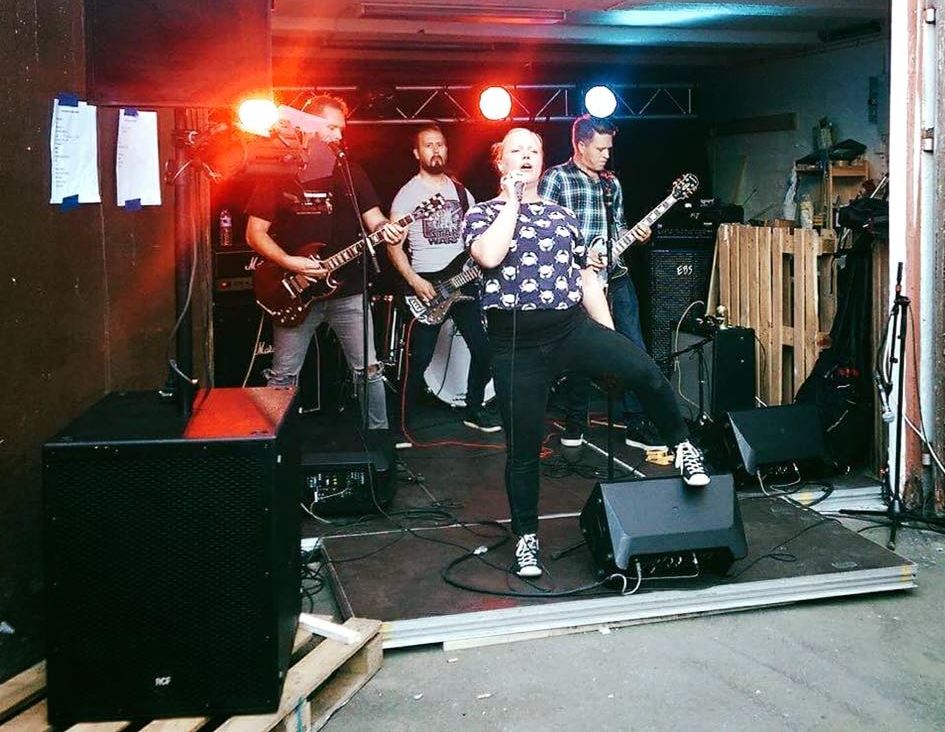 How does your audience look like? Which type of people comes? Do you miss any types of people?
-The audience is quite mixed, we are a band for everyone! Except for the kids, apparently. Helsingborg's crusts likes us and it warms!
Please rank five favorite records, five favorite concerts?
-Five favorite concerts: Matte - RATM at Hultsfred -99. Jenka - an awful lot of good gigs, but the latest really good was Agnostic Front on Plan B. Tobbe - Never goes to a concert but otherwise all with Manowar, just a cringe of manchauvinism! Kalle - The Roots at Roskilde -99. David - I am very happy that I booked Entombed to Debaser when it was in Malmö. Five favorite albums Matte and Jenka - DLK, Le som en fotomodell. Tobbe - Monster Magnet, Dopes to Infinity. Kalle - Metallica - Master of Puppets. David- Too dark park with Skinny Puppy.
Is it boring with interviews?
- Interviews are fun, but sometimes it takes a damn time because of a thousand questions!
If you could choose five bands from history, dead and alive to have a concert together with your band, what are the dream bands then?
-Have a gig with BAND (living or dead) A band with living dead maybe?
Is music a good way to get out frustraion and become a kinder person? Are you angrier today than you were as a young punk?
-Music is a fantastic way to amplify/dampen/channel emotions at all. What music that does what is probably very individual but all of us in the band are very nice so something of what we do works for us. Except for Matte. He can be a little silly. In youth, one is probably a little more surprised angry: "VHAT?!? IS THAT SO!!??!! NOW THE FUCK !!! ", type. But now we may be a little more aware of all the crap. Bitter maybe? It probably takes a little more effort to get the blood pressure up, but it is also individual. Jenka is for example really pisssed off now, for no real reason. Typically Jenka.
What is the strangest question you have been asked in an interview?
-All questions have an inherent weirdness that is just waiting to be elicited.
What is the question you never get, ask it and answer it?
-The question we never get ... we never got.
Framtidsplaner för bandet?
-Spela så mycket som möjligt, t e x på Close Up-båten i slutet av maj. Skriva nytt. Trivas.
For yourself?
- Go and meet Simon at lunch now and give him three bottles of chili sauce as a gift to celebrate that his becoming a dad. He would get a record too, but he has to pay for it.
Words of wisdom?
- "Chili sauce is free, record costs" unknown
Something to add?
-Talk to your local venues that you want to see Vet Hut! Oh come on and say hello when we're there!
Vet Hut kommer från Malmö och överraskar med en riktigt bra skiva Med Munnen full av hat. Var ju "tvungen" att intervjua dem och gjorde det i februari 2020.
Lite historia om gruppen?
-Jenka o Tobbe gick i samma musikestetklass i Östersund på gymnasiet. Tobbe flyttade till Malmö tidigt 2000-tal och 2002 kom även Jenka ner till Skåneland. Alla fester fylldes av "vi borde starta baaaand!" (något Tobbes svägerska skriver under på, eftersom hon hört detta sedan hon kom in i bilden 2003). 2004 träffade Jenka Kalle för första gången, då han blev tillsammans med en polare till henne (o är still going strong). De upptäckte att de hade många musikaliska beröringspunkter och festerna började fyllas med "vi borde starta baaaand!" När Jenka sedan, efter att ha spenderat lite för många år i Lund, flyttade till Malmö 2012 fanns plötsligt en massa tid att fylla livet med. Under sommaren 2013 insåg hon att det fanns både en trummis och en basist (ja, Tobbe är egentligen en briljant pianist, så egentligen visste hon inte om han skulle kunna axla den där rollen, men eftersom han också är lite av ett musikaliskt underbarn hyste hon egentligen inga tvivel om den saken). Kalle, Jenny och Egget (Va? Han har vi inte hört talas om? Nä, precis.) började prata om hur bra bandnamn Vet Hut hade varit, och bestämde att den första låten skulle heta "Visa dom vart skåpet ska stå". En blöt kväll trillade Jenka på Matte (en person som funnits i hennes periferi under i runda slängar 10 års tid) på ett uteställe, kom på att han nog spelar gitarr, o frågade därmed om han inte var sugen på att gå med i ett nystartat punkband. Jovisst, sa Matte, o tillade att han precis hade avslutat två band och att det därför fanns en replokal som det bara var att flytta in i. Innan första repet flikade Tobbe in att hans polare David var sugen på att vara med och det fick han. Egget blev förbannad över överskottet av gitarrister, skällde ut någon på en fest, och sedan var han inte med längre (eller det var han iofs aldrig, men ändå). Så tog vi med ett gäng hits till repan, bland annat KSMBs ABAB, o insåg att vi var lite för bra på våra instrument för att det skulle låta punk-punk liksom, och det visade sig att Matte hade en del gitarrinfluenser i Nicke Andersson. Jättebra tyckte Jenka, som egentligen alltid velat vara med i ett typ Hellacoptersband. Sen började hitsen att födas fram (genom långdragna processer eftersom ingen av oss egentligen är någon låtskrivare) och resten är, som en säger, historia.
Berätta lite om varje medlem, ålder, jobb, familj, band före och band bredvid?
-Alla i bandet är strax under eller över 40, har husdjur eller barn, ingen har båda. Alla har jobb, några vill byta. En är sin egen chef, en är chef över andra. David har spelat i syntbandet Hype innan och vi mobbar honom för det vid varje tillfälle vi får, mest av avundsjuka eftersom de var asstora och turnerade i Sydamerika. Då hotar han med att byta ut oss mot maskiner. Jenka och Matte har en akustisk duo som spelar covers på Vet Hut-låtar. Alla har spelat i olika konstellationer som det väl egentligen aldrig blev nåt av. Tobbe spelade iofs orgel med bar överkropp i ett band som vann en deltävling i Musik Direkt nån gång på 90-talet.
Jag kan höra mycket mycket punk som LK14, Charta 77 men inte så mycket spår av hårdrock som det står i releasebladet, hör jag rätt? Var det bättre förr?
-Ja, du har rätt. Vår pressekreterare har nu fått sparken.
Vet hut, är ni nöjda med namnet?! Om inte det bästa bandnamnet hade varit upptaget, viket namn hade ni valt då? Jag menar vilket är det bästa bandnamnet?
-Namnet fanns långt före bandet, så inget annat hade kunnat vara aktuellt. Bästa bandnamnet är ju såklart…
Vad är det bästa med att spela live?
-Om vi fick komma ut o spela mer hade vi haft ett bättre svar, men publiken är ju ofta uppiggande!
Var är bäst att spela, var är sämst?
-Norrehus i Klippan är väldigt trevligt ställe o spela på! Utomhus när det regnar e nog sämst.
Hur är det att spela denna sortens punk i Sverige idag?
-Rätt kul att vi får spela med en massa trallpunkare trots att vi aldrig har satt en tajt kör live nånsin!
Hur skulle du beskriva er musik med tre ord?
-Lite för snabb (live) (jävla Kalle).
Vad betyder punk för er, är det bara ett ord eller är det en livsstil? Ni har en liten "diskussion" i Hbg Punx om Attityd och attribut? Vilket är banden/banden som fick in er i punkens underbara värld?
-Oj… Om vi går bandet runt får vi väl nämna Ebba Grön, Asta Kask, DLK, Strebers/Dia Psalma, Millencollin, alla Definitivt 50-spänn, Bad Religion, Misfits, Kriminella gitarrer, Hellacopters… Discharge, Brutal Truth, Pouppée Fabrikk, Siouxsie and the Banshees (här tolkas punken fritt), Charta 77, Philemon Arthur and The Dung, Big Fish
Punk för oss är väl att skita lite i vad andra tycker om huruvida vi är punk eller inte. En recensent skrev en gång att han egentligen inte hade tänkt lyssna på oss för att vi såg ut som ett hipsterband. Punk!
Hur ser ni på nedladdning, mp3 och liknande?
-Alla sätt som musik sprids och lyssnas på är väl bra? Risken finns ju iofs att en blir lite mätt av att allt finns tillgängligt… Svår fråga.
Hur tycker ni det är att bo i Sverige idag, politiskt? SD? KD?
-Oavsett vilka idioter det är som styr eller uttalar sig politiskt så har vi det oförskämt bra i jämförelse med stora delar av världen. Idioter kommer alltid finnas och ibland kommer de även få bestämma saker.
Finns det några band I Sverige idag? I er hemstad?
-Hmm… det finns ju jättemånga bra band! De stora behöver vi kanske inte nämna (förutom Lastkaj 14, för att de är så snälla) Men… Knifven, Gamla Pengar, Björnarna, Anaugh Conda, Borgerlig Begravning, Sardo Numspa, Jönzzonligan (Matte gillar Johan Airijoki och Malmfältens Rockklubb, o de e han som skriver så de får vara med här), Svart Katt.
Malmö: Ragata, Härvan, The Oh No´s, Bäddat för Trubbel, Larma, The Guilt, Völva, Arre! Arre!, SMiSK.
Spelar ni något utanför Sverige?
-Jenka och Matte har spelat två Vet Hut-låtar på ett café i Rostock, annars nä.
Andra bra band från utlandet?
-Oj igen… Jenka gillar ett gäng finska band, till exempel Kohti Tuhoa. Birdcloud.
Era texter, vad influeras ni av? Aldrig på annat språk än svenska?
-Jenka är förbannad på nåt, nån i bandet säger "skriv en text om det!" – typ så. Annars har Kalle tänkt på något som han blivit förbannad över och skrivit en text om det. Självklart finns det alltid någon form av politiska tankar eller tankar om saker som är snett i världen eller i samhället eller hos idioter i allmänhet. Ingen partipolitik (nästan). Vi har aldrig skrivit på något annat språk och det finns idag planer på det.
Finns det något ni aldrig kommer att skriva om?
-Det är en fråga som är omöjlig att svara på. En bra dag kan man vara sur på vadsomhelst.
Politik och musik, hör det alltid ihop?
-Det går att göra politik av i stort sett vadsomhelst, så det är nog svårt att komma ifrån.
Bästa politiska band/artist?
-Oj, än en gång...Dolly Parton.
Tror du musik kan ändra någons liv, då menar jag texter etc?
-Ja, och det gör det antagligen rätt ofta.
Ert omslag är riktigt fräckt på er nya skiva, vem har gjort det. Hur tänkte ni när ni gjorde omslaget till Hela munnen full av hat? Är det viktigt att ha ett omslag som man förstår vilken typ av musik man spelar? Vilken är ert favoritomslag alla tider?
-Omslaget är utformat och plåtat av vår gitarrist, David. Tanken är väl på nåt sätt att en fin yta kan dölja ett fult inre, typ privilegierade människor med jävliga åsikter. Vet inte om det är så viktigt att omslaget speglar musiken, kanske t o m roligare om det inte gör det! Favoritomslag är JÄTTEsvårt. Den Falske Kakaoinspektören med Rövsvett är en stark kandidat iofs.
Är det viktigt att få ut fysiska skivor? Vinyl eller CD eller både och? Finns det någon bra skivaffär i er närhet kvar?
-Jo viktigt är det nog, men framför allt kul! Jag menar vem har inte drömt om o kunna lyssna på sig själv på blå vinyl? Många lyssnar ju hellre så än o strömma musiken också. I Malmö finns flera bra skivbutiker: Rundgång, Repeat, Skivesset och Folk&Rock som typ vinner för att man kan ta en öl där också.
Snälla berätta något riktigt roligt som hänt under er karriär på scen eller bakom scen etc?
-När vi spelade hos Rock'n'rollkocken i Lund kom han upp med en shotsbricka mitt under en låt, minns inte hur vi löste det men vi slutade aldrig spela, så jag tror han matade oss med spriten. När Knifven sen spelade efter oss kom han upp på scen spelandes på en brandsläckare med antagligen världens största kockkniv. Trevlig prick det där! Det var på samma spelning som vår vän Mårten utbrast ett desperat och numera klassiskt: "det går för foooort!!!", från publiken. Men honom lyssnar vi inte på. Sen har Jenka en bra blygdläppshistoria från en punkkryssning, men den får hon berätta själv någon gång.
Hur ser er publik ut? Vad drar ni för folk? Saknar ni några typer av folk?
-Publiken är rätt blandad, vi är ju ett band för alla! Utom kidsen, tydligen. Helsingborgs crustare gillar oss och det värmer ju!
Snälla ranka fem favoritskivor, fem favoritkonserter?
-Fem favoritkonserter: Matte - RATM på Hultsfred -99. Jenka - fruktansvärt många bra spelningar, men den senaste skitbra var Agnostic Front på Plan B. Tobbe - Går aldrig på konsert men i övrigt samtliga med Manowar, lagom cringe av manschauvinism! Kalle - The Roots på Roskilde -99. David - jag är sjukt glad över att jag bokade Entombed till Debaser när det fanns i Malmö. Fem favoritskivor Matte och Jenka - DLK, Le som en fotomodell. Tobbe - Monster Magnet, Dopes to Infinity. Kalle - Metallica - Master of Puppets. David- Too dark park med Skinny Puppy.
Är det tråkigt med intervjuer?
-Intervjuer är rätt kul men ibland tar det en jävla tid pga tusen frågor!
Ifall ni kunde välja fem band från historien, döda och levande att ha en konsert ihop med ert band, vilka är drömbanden då?
-Ha en spelning tillsammans med BAND (levande eller döda) Ett band med levande döda kanske?
Är musik ett bra sätt att få ut frustration och bli en snällare person? Är ni argare idag än ni var unga punkare?
-Musik är ett fantastiskt bra sätt att förstärka/dämpa/kanalisera känslor överhuvudtaget. Vilken musik som gör vad är nog väldigt individuellt men alla vi i bandet är ju jättesnälla så nåt av det vi gör funkar ju för oss. Utom för Matte. Han kan vara lite dumdryg. I ungdomen är en nog lite mer överraskat arg: "VA?!? ÄR DET SÅ!!??!! NÄ NU JÄVLAR!!!", typ. Men nu är vi kanske lite mer medvetna om all skit. Bittrare kanske? Det kräver nog lite mer ansträngning för att få upp blodtrycket, men det är ju också individuellt. Jenka är t e x skitsur nu, utan nån egentlig anledning. Typiskt Jenka.
Vilken är den konstigaste frågan ni fått i en intervju?
-Alla frågor har en inneboende konstighet som bara väntar på att lockas fram.
Vilken är frågan ni aldrig får, ställ den och besvara den?
-Frågan vi aldrig får...har vi aldrig fått.
Framtidsplaner för bandet?
-Spela så mycket som möjligt, t e x på Close Up-båten i slutet av maj. Skriva nytt. Trivas.
För dig själv?
-Ska iväg o träffa Simon på lunch nu och ge honom tre flaskor chilisås i present för att fira att han blivit pappa. Han ska få en platta också, men den får han betala för.
Visdomsord?
-"Chilisåsen är gratis, plattan kostar" -okänd
Nåt att tillägga?
-Tjata på era lokala spelställen att ni vill se Vet Hut! Å kom fram och säg hej när vi är där!