Francke in the group Vervain he really wanted to be interviewed ;-) I did as he wanted and this was done in october 2009.
Please tell me a little about Vervain and the history?
-Me(Francke) Pär and Chrille had been longing to be playing together in some way and Vervain became the result. And then wasn´t this any coincidence and we have talked about this in a year at least before we started to play but it was depending on that Pär lived in Stockholm before he moved down to Malmoe. Jonte our drummer have also talked with Chrille about having a band and it came naturally. Little Otto on bass which is free right now depending on his studys and there we have Peter from "When We Fall" and he came into the band after 6 months of rehearsing with me on the bass.

Is Rigshospitalet your first record?
-Yes, it is, but around 07 so did we do a demo which is called "Junos tears" .
The name come from the TV-programme Riget or? What was best with that programme? Was it Åge?
-Yes, it come from Riget but we also choosed the name on the record because of the theme on the record suits the name. The whole TV-serie was perfect with Ernst-Hugo as Helmer is absolutely best I would say.

Your name Vervain? Howcome a name like that?
-If you know me, Chrille and Pär so do you know what we´re joking about and we can laugh to the dumbest, most peculiar and sickest things. We choosed a name which people would be irritated on and which could be hard to remember. att vi skämtar om och skrattar gott åt de absolut dummaste, sjukaste och konstigaste grejorna.
And in the end we had a list on 20 names which we have gathered and which have the most stupid explanations. We choosed at last Vervain which means or is the same things as Ironfoot which was used back in times to keep vampires away and from physical madness.
No thought of only singing in swedish??
-I sing best in swedish it seems like people thinks so it would be more in swedish in the future.
How would you describe your music in three words?
-Heavy, unpleasant and difficult.

Are you being compared with any other bands?
-Yeah, a lot of band which I never have heard of or been listening to. I listens very little to new music and have been noticing that it´s a whole lot of reviewers who does the opposite way.
Do you understand that bands being compared to other bands etc or is it only irritating when you think that you have done something own?
-I hate to be compared with bands that I never heard. We don´t try to sound like any of these new bands but we probably the same inspirationbands which can do that they hear some similarities. As I have noticed is that many reviewers have really small referenceframes.

Please tell me a little about every member, age, family, work, interests and something terrible and secret about every member?
-Pär 30+ graphics, Francke 30+ works on Heptown Records together with Chrille 30+, Johannes 20++ works on a storage as a paus between studys and Peter 30+ works in a company with some form of ehh I don´t know. And then it is Little Otto is 20++ and he´s student.
Jonte and I is the only in the band which is married and I am the only one who have kids. And we have no secrets så you can ask us anything.
Nobleway is your own company or? Any other bands there?
-Yes, it´s our own label and it´s white both in good and bad, There´s some plans on releasing a fullength with a new Malmö-band and maybe a split 7 in the future but it´s in the planningstadum so I can´t say so much more.
Is it many interviews?Is it boring?
-We have had too little interviews so when it happens it´s always fun.
The question you never get but you want to have? Please ask it and answer it?.
-Difficult question, Chrille takes this one:
Do you believe in ghosts?
Yes!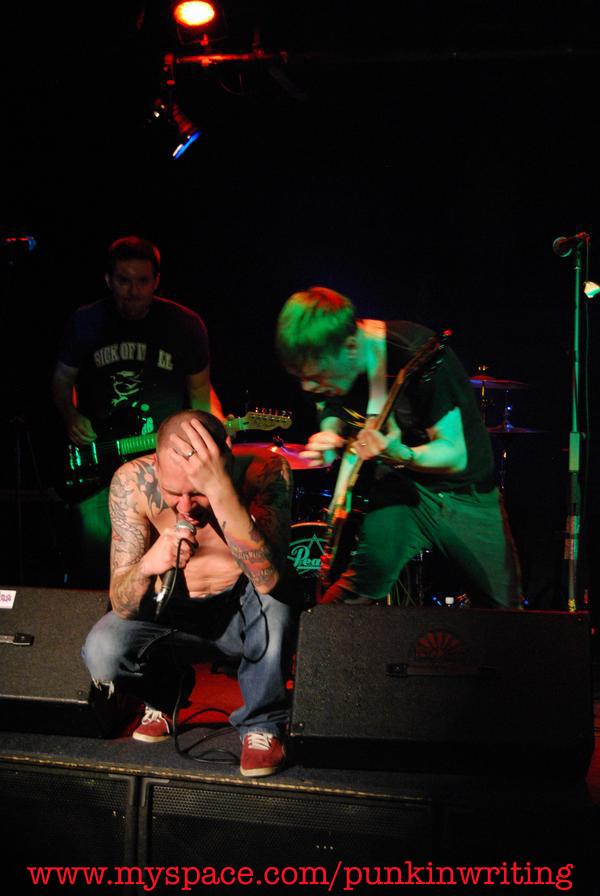 How do you think that the punk/hardcore scene is today in Sweden?
Any good bands and any good places to play?
-Chrille: I think that Swedens punk and hardcorescene is fucking good today! There´s a whole lot of bands but to name a few: When We Fall (which have quit but Peter plays with us now), Nobelkommittén and Dåligt Samvete.
Francke: There´s a sic klot of HC bands now again and it´s fucking fun especially because of the fcat that they have high class. But as usual the scene seems to be something for snobs again and that´s not so fun.
I like to play around Stockholm aand people there around is really good to have to do work with and for me it´s coming home to Sölvesborg and play so is best. Shall I mention some bands except the ones that Chrille said so do I like Sista sekunden (of course and I have been beaten if I have had said anything else)), CDCP, Antipati and old Kaosteori but there´s a lot of good orchestras and I listened a lot to my mates band so I can go and on.
What does punk mean to you, is it only a word or is it a lifestyle?
-My world, a word and a lifestyle. Punk and hardcore have saved my life and all in the band have a close relationship with punk. Hehe except Jonte who likes Black metal.
Where do you stand when we talk about mp3 and downloading?
-I say that information want to be free and I say also that music should be spread with happiness.
Is this good for a band like yours?
-Yes, I think so. Are you a part of the scene so will you support the bands anyway and if someone download our record which not like the music otherwise and then actually like it so have we done something good.
When you play out, which type of audience do you have?Age?
-We´re still a band under construction so we have mostly small punx and old foxes.
Is it many gigs? Outside Sweden?
-You must work a lot to get gigs because there´s so many band. I think that this is positive because you have to speak more toe ach other in the scene again and that´s important. For me with children and family so is it hard to come out so much right now and we take it easy for a while now. But we have also waited until the record came out before we will give it so much and now when it´s out we will do Sweden too and outside Sweden too in the future.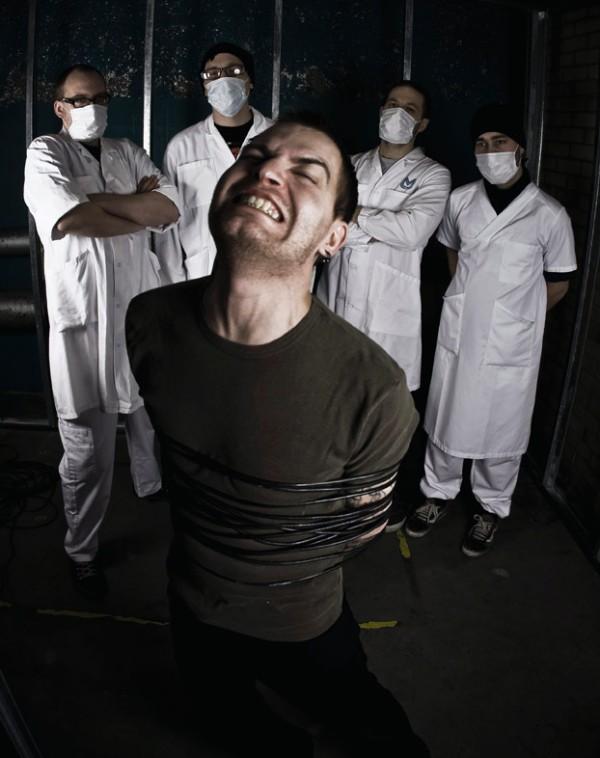 Otherwise to live in Sweden? Political? Is the alliance left after the election? Is it important to vote?
-I´m angry against everything and all because I´m a punk so it´s doesn´t matteer which government we have I will stand up and shout anyway. But politically so is we all on the same line but I talk more about the animals rights and anti-fascism which Chrille also do but Pär does more for our environment. Knowledge, engagement and to work together is really important today. Today we look more at our differences than we look at our similarities and then we can´t change anything. But in our music so it only anger and disappointment, no political colour.
Please rank your five favourite records, five favourite concerts and five most important things in life?
-Family, music, wellness, soberness and knowledge
GB - Start Today, Ramones - It's alive, Clash - London calling + Give 'em Enough Rope, Misfits - Walk among us/ allt de gjort, Ebba Grön - We're only in it for the drugs. It´s my rank today anyway.
Rancid -96 Fagersta and CIV in the same place, Final Exit "Huset" SBG don´t remember the year, Sick of It All on Loppen don´t remember the year but the first time I saw them there which was really wonderful and in about 97-98 and in the same time I saw Shelter on Mejeriet in Lund. And then it´s all local band which I saw home in SBG really important and good bands for me. Then there was bands like Tex
The first, last and most expensive record ever bought?
-All my first records was records I taped from other peoples records and the first I bought on CD was actually Sators "Stok Rocker Nuts". But hmm, there was some heavy metal vinyls before that. Cannot say that I have bought anything which have been so expensive because I am more a listener than a collector.
Mos embarrassing record in your collection?
-I´m too old to think that anything is embarrassing but I have Friends in Needs MCD "Alla Vi" in my collection.
Your lyrcis, how do they come foreward,are you inspired by anything?
-I write them on a paper what I think . On Rigshospitalet there´s a lyric about Neil Gaimans first volume in the Sandman strip(Preludes and Nocturnes) and then it´s a song about werewolves, so it´s mixed.
Do you do the songs together or how do you do them?
-Chrille or Pär presents riff or ready songs which we together are doing. I put on lyrics, a song melody and often choirs-arrangements.
Fututre plans for the band?
-To give everything!
For yourself?
-To keep sober and learn to handle my psychich permission so I can start to work on real.
Wisdomword?
-"Change your life before they change you"
Something to add?
-Fuck, how long this interview became.