Världen Brinner is one of Sweden's most interesting punk bands right now I think. I love Swedish singed punk rock and then when a gril is singing then it can't be much better. May 2019
A little story about the group?
We started the Världen Brinner 2015 in Västerås. Everyone, Malin, Anders and Tobbe have been playing together for many years in different bands, but when we started writing music in Swedish, the puzzle pieces fell in place in some way. It was then that Världen Brinner came to and then it just rolled on. We have worked very hard and tried to play as much as possible around Sweden since the start. The debut EP "10:15" came out in 2017 and our first full-length "Slöseri Av Tid" came out in 2018. Drummer-Pelle joined the band in the fall of 2018 and after an intensive year with a lot of gigs we have also managed to record one new EP "Livet på recept" that will be released on May 8, 2019. Recently we released the first single "Dom Mörda Ida" from the upcoming Ep.
Tell us a little about every member, age, job, family, band before and band on the side?
Malin Sandberg sings. 36 years and raised in Västerås but now living in Stockholm. Working as a KBT / DBT therapist and living with Dadde and a dog.
Pelle Hartwig plays drums. 32 years and originally from Årsunda outside Sandviken but now live in Stockholm with Elin and two cats. Works as a music coach at Fryshuset. Also plays drums with Electric Misery.
Anders Tolvan Karlsson 42 years old and playing guitar. Lives in Ramnäs with Elin and two children. Originally from Västerås and working at ABB.
All Mazzoni, playing leadguitar and sings backing choir. He is 40 years old and lives in Västerås and works in trade.
Tobbe Berglund plays bass and do background vocals. 38 years and live in Västerås. Also plays bass in Wail Of Sirens and sells shoes at Intersport.
I can hear a lot of influences from both hardcore and punk, I hear right? Was it better back in time?
There are absolutely influences of both punk and hardcore. In short, we can say that we like good music and that we have played various forms of punk rock over the years but get enough influences from many other things as well. We like nice melodies and think it marries well with the energy in the punkmangel. Strangely enough, we get a pep-feeling in most of the songs, even though the messages are not always so peppable. Then it will gladly go a little faster than you actually can play, then it is perfect pace. Still 5 bpm too slow according to Malin.
If it was better in the past? Depends well on what you are aiming for.
Much is getting better over time, would be damn boring to feel that everything is getting worse. If you feel that everything was better in the past, you have probably suffered a bit of bitterness. Then it is fantastic to feel nostalgia, but that form of love-rubbish can probably be misleading at times.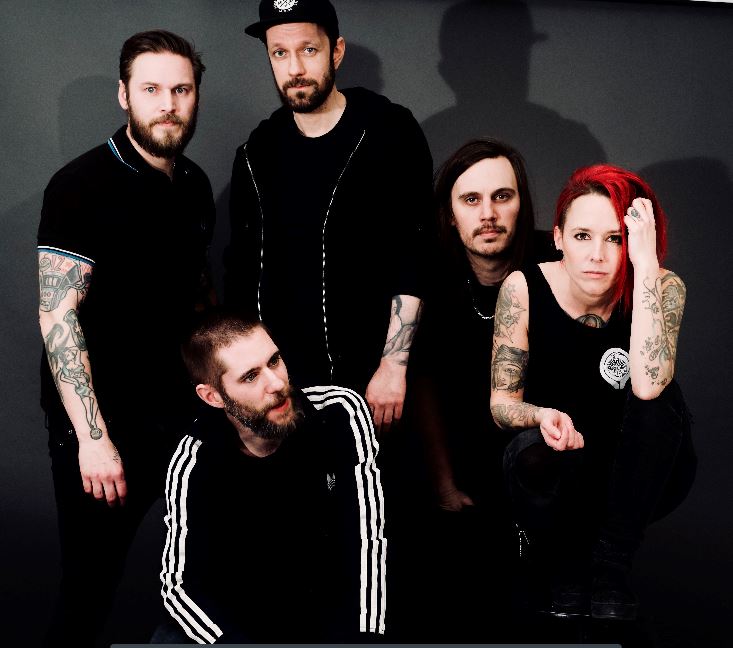 Världen Brinner, are you satisfied with the name ?! If not the best band name had been busy, which name had you chosen then? I mean which is the best band name?
We actually get to say that we are quite happy with our band name. It is taken from a text line from our song "Slöseri av tid" where the text is "... imorgon kanske världen brinner(tomorrow the world may be burning"). By the way, the song is about not wasting time on unnecessary things in life. Not to take everything for granted.
Most often it is the bands that make the band names good. Some band names can sometimes feel a little over-ambitious, so it becomes a bit trivial and in some cases the names are really bad, but if the band is good it doesn't matter. The Foo Fighters is a brilliant example of that.
What is the best thing about playing live? What kind of bands do you usually play with? The biggest band you played with?
The best part is to get out and meet all the people who have come to see us play and get to meet all the organizers who work so hard to keep the punk scene alive. Considering all the time we spend on the band, it is unbeatable to meet so many nice people who enjoy our music as much as we do. There is absolutely nothing we take for granted. We have played with, among others, Satanic Surfers, Trubbel, Asta Kask, Sista Sekunden, Strebers etc. We also played a couple of gigs together with The Casualties from the USA last winter. It is perhaps the biggest band we played with, although they may not be gigantic in Sweden.
Where is best to play, where is the worst?
We notice that we got a good audience in the big cities actually, which is a blast! We try to play in as many cities as possible and think it is fun wherever we go. It is clear that it can feel a little tough when we give ourselves away 50 miles to a new city we have not played in before and there may not be a lot of paying people in the audience. But it usually generates in very faithful fans when we play for a small audience and that is gold worth. The second time in the city usually looks a little different and we have to thank the fans for that. :) But the favorite city we must say Stockholm anyway.
How is it to play this kind of punk in Sweden today?
The kind of punk we play feels funny because it is liked in many different camps. From harder punx to the pop people seems to be able to appreciate our music, especially live. It is fun. Something happens to punk now it feels like. It feels like the 90's wave is on its way back in a new style. There are often a lot of people at gigs, and all ages! And many new bands are starting to pop up!
How would you describe your music in three words?
Energetic, thoughtful and loving.
What does punk mean to you, is it just a word or is it a lifestyle?
Punk is heart and love, to belong somewhere. Everyone is welcome and no one should be left outside.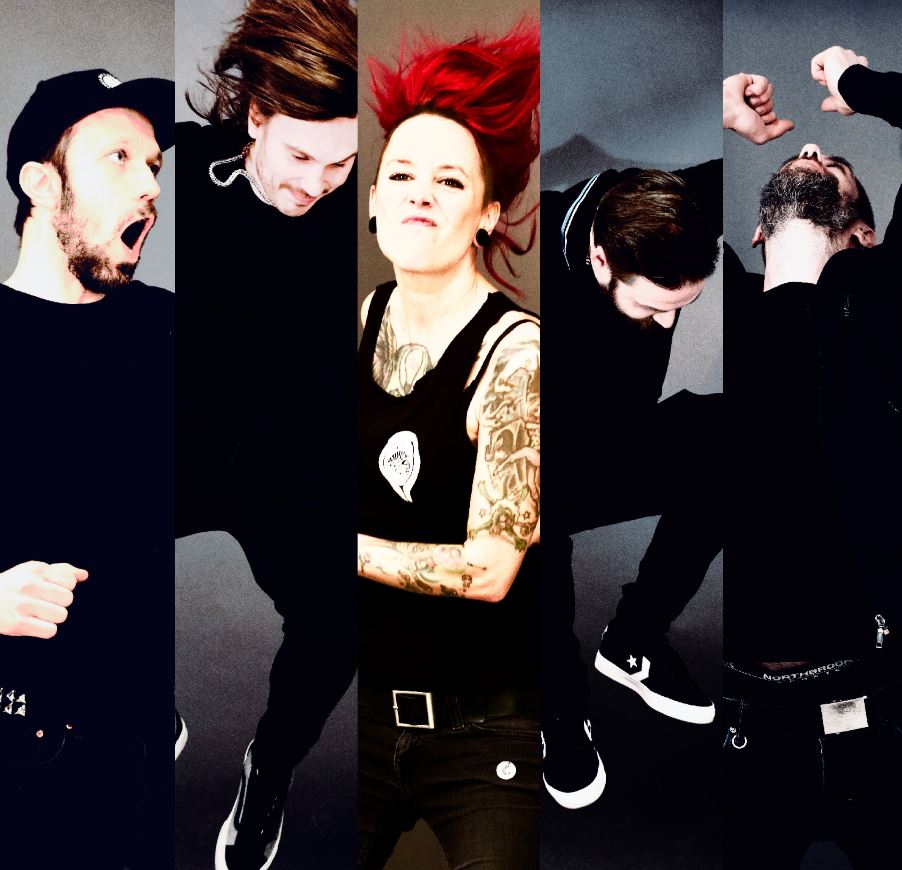 How do you see on downloading, mp3 and the like? Why do you only release Livet på recept digitally?
All spread of music is good. Then that company like Spotify makes such a big profit on the artists' music is entirely to hell. It feels strange that downloading music should be illegal, but that it is ok for companies to publish artists' music for small amounts in return. And at the same time, these platforms are difficult to beat regarding the spread of music .. That the vinyl has come back so strongly feels great!
We release "Livet på recept" on digital platforms to start with at least. We were going to go into the recording stuido for a full-length fairly soon, but felt that we wanted to share music before that. We felt that we had some really good things that just needed to see the light of day. Nothing is written in stone, if enough people want a physical copy of the EP, then maybe we press up a few copies. :)
How do you think it is to live in Sweden today, politically?
It scares us that the gaps are so large in such a rich country as Sweden. And that it gets worse all the time. That families become homeless and that we even have homelessness, while some other insignificant CEO holds in millions and billions, some by profiting from our "welfare society".
Are there any bands in Sweden today? In your hometown?
A lot of good bands of course, of course. We could make an endless list of it. But some of them then:Trubbel, The Baboon Show, Lastkaj 14, Vånna Inget, Skymf, Like Torches, Millencolin, The Hives, No Fun At All, Refused, Bob Hund, Dia Psalma, DLK, Besserbitch, Asta Kask. .. .. m.fl m.fl m.fl.
Do you play anything outside Sweden?
It is the next goal for us and we, together with our bookingmanager, are checking it out.
Other good bands from abroad?
Against Me!, Samiam, Rancid, Bad Religion, The Distillers, Pennywise, Blink-182, Nirvana, Biffy Clyro, Jimmie Eat World, Rise Against, The Ataris, Red City Radio, The Interrupters, The Menzingers, Decendents … .. .. ….. …. … …
Your lyrics, what are you influenced by? Never in a language other than Swedish? Tell us a little about the new songs and what they are about?
The texts are probably mostly about injustice or shit that happens .. If you are a sensitive person such as Malin, then everything needs to come out in some way. Beating people in their face is like nothing you want to do. So then you have to use the weapons / tools you have. In our case the music and hope someone listens. Too bad that politicians usually do not listen to punk though ..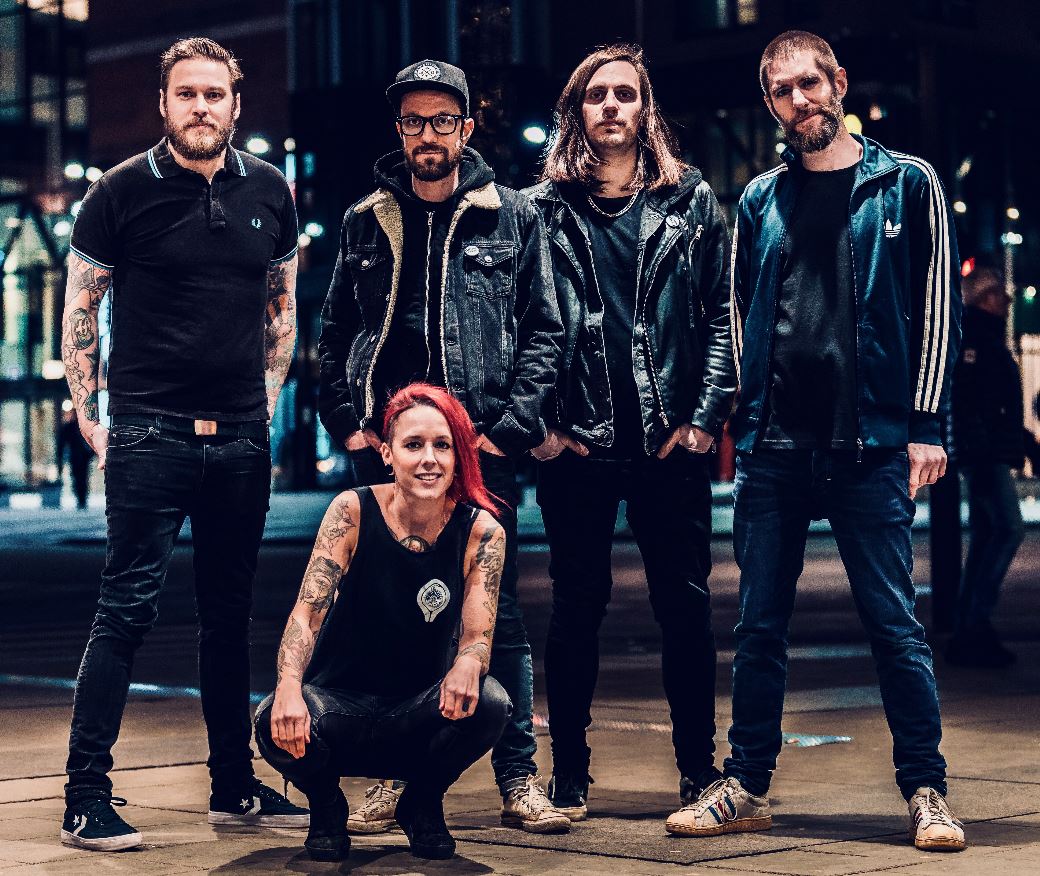 Is there anything you will never write about?
There are still a lot of topics that we will never touch.
Politics and music, does it always belong together? Or is it that life is politics?
Yes everything is unfortunately politics. The environment, psychiatry, homelessness, increased gaps, sell-out / privatization of state-owned companies, the lack of places to live, the breakdown of LSS ... sigh you become almost tearful when you start thinking about everything ..
Do you think music can change someone's life, then I mean texts etc?
Yes absolutely. There are lots of people who have been able to get through tough periods in their lives and coped with it thanks to the music. After all, it is therapy to both listen and write music.
Your cover is really nice on your records, who made them. Is it important to have a recordcover so that you understand what type of music you play? Which is your favorite cover?
It depends on what you are aiming for. We have been assisted by Johanna Thor on the LP and Dadde Stark on the EP, both are tattooists, and cool people!
Is it important to get physical records? Vinyl or CD or both? Is there any good record store in your hometown left?
Yes, we think it is really fun with physical records. The music obviously gets a different value in our opinion when there is something physical to hold on. It is also good that there is "the best of both worlds" today though.
Please tell me something really fun that happened during your career on stage or behind stage etc?
It's so much fun going on all the time. We have a lot of fun together. Much of it is perhaps a bit internal and may not sound so funny in writing like this. But our bassist Tobbe has the ability to get a "today's Tobbe" when he sets himself in fun situations. Tobbe is also half blind and has managed to lose his lenses a few times, which has led to very funny incidents. Like standing with your head pressed in a muffin jar at the hotel breakfast to see what it is, and then eating the muffin with the paper on ..
How does your audience look? Which type of people comes? Are you missing some types of people?
All types of people, older and younger. We may miss some of the kids in their teens, but on the other hand we rarely play in places that are not 18 years old to come in. We are no longer so young anymore, so maybe it is harder for them to relate to us. I do not know..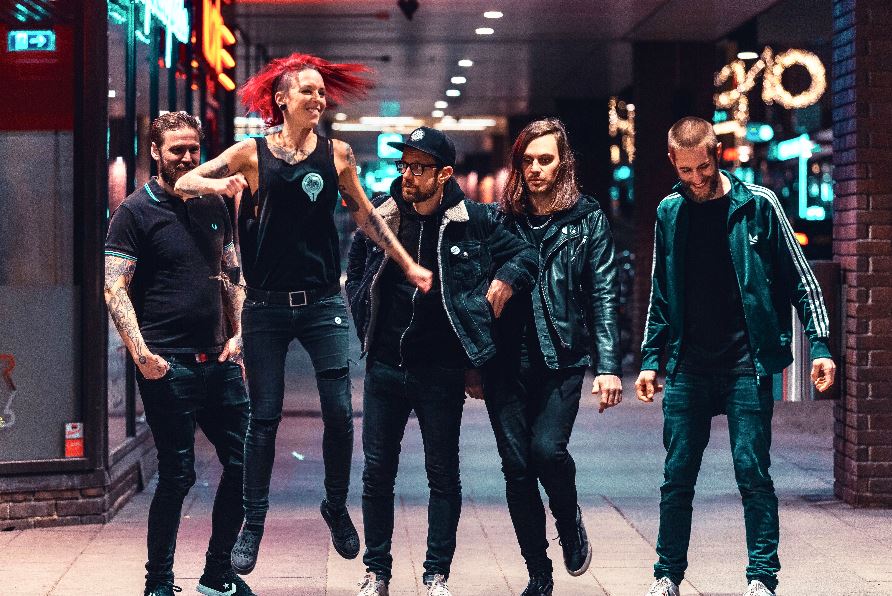 Please rank five favorite records, five favorite concerts?
Hard to rank but some favorite records for us are: Against Me! - White crosses, Nirvana - In Utero, Biffy Clyro - Only Revolutions, The Gaslight Anthem - American Slang, Rancid - And Out Comes The Wolves.
Is it boring with interviews? What do you prefer, phone, mail or live? What are the respective disadvantages of the different ways?
I first thought that it would be nice to write the answers to these questions myself, but now I am completely empty in my head just by formulating myself. haha! An interview face to face will usually be the easiest otherwise.
If you could choose five bands from thepast, dead and alive to have a concert together with your band, which are the dream bands then?
Nirvana, The Ramones, Queen, Janis Joplin and The Beatles. Applies well to the opportunity to meet the dead if the chance is given. It would probably have been a musical suicide for our part, but what a fucking after party it would be!
Is music a great way to get out frustration and become a nicer person? Are you angrier today than you were as young punks?
After all, it is perfect to get an outlet for all the feelings via the music. I really do not know?! We are probably a little more relaxed today at least.
What is the weirdest question you have got in an interview?
"Have you been raped?"
What is the question you never get, ask it and answer it?
Favorite Jam? Answer: Don't know
Future plans for the band?
We are about to release our EP on May 8 and then play at Close Up Båten on May 23-24. In the summer and autumn we will try to write and record the next full-length and then we play as much as we can.
For yourself?
Yes, it's pretty much the same for all of us in the band. Work, play music and wait for the lovely summer.
Words of wisdom?
Not be stupid!
Anything to add?
Thanks for the word and fun if you read all the way down here. Hope we see you on some gig in the future! Love for all of you from Världen Brinner! <3