Vandon Arms is a really good folkpunkband which sent me two mini CD´s ….which both is really good ones.. They answered my questions in june 2009
History?
-The Vandon Arms started back in 2005. We were all friends and just wanted to play music we had fun playing. We only started playing shows to get free beer. We slowly started to gain fans and were asked to play bigger shows.

Please tell me about every member, age, work, interests , family and something bad about every one?
- Buz goes to university. He is really into football(soccer) and hockey. He is 25. Plays mandolin and vocals.
- Hutch is engaged to be married next October. He works for an insurance company and has one sister and one bother. He is really into all different kinds of music. He is 24. Plays drums.
- Elliot is in the United States Marine Corp. He is 26 and has two brothers. Plays bass.
- Clint is 27. He works for an insurance company. He is married. He loves soccer a lot. Plays guitar and does vocals.

Folkpunkmusic with a mandolin, how come?
-We decided to use a mandolin because we wanted to add more "folk" to our punk music. When we first started we had two guitars and it did not sound "folk" at all so we added a mandolin.

Are punks who plays folkpunk different if you compared with other punks??
-I think folk punks drink a lot more. They tend to be a lot more energetic as well.

Where did the name came up from?
-That is a really long story... In short, the name came up because it has something to do with not being too serious and just enjoying your good friends.

Have you done anything more that I can listen to?A live-cd soon?
-We have nothing else done as The Vandon Arms. Buz has done The Angelmakers and Buz and Clint are doing a soccer punk band called The Sent Offs, which will be done soon. TVA will have a live CD and maybe another EP out soon.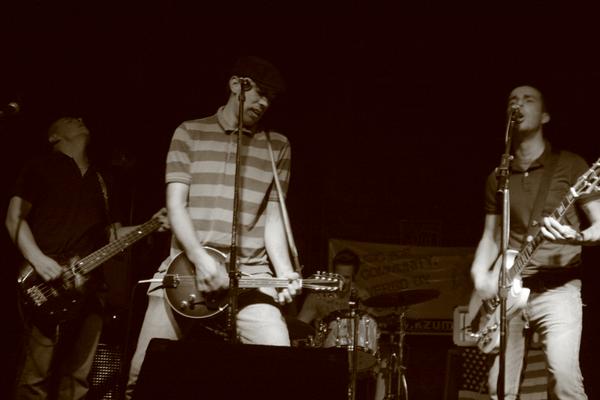 How would you describe your music in three word?
-Fun, Energetic, Folk-Punk

What does punk mean to you, is it only a word or is it a lifestyle?
-Punk doesn't mean what it used to mean. It is much bigger now then one type of lifestyle. Now you have skins, hardcore, folk, etc. -type of punks and they all seem to be a little different. Overall though, all punks tend to go against what is "normal".

Idols when you were small?
-The Clash, Social Distortion, Elvis, Johnny Cash, Dropkick Murphys, The Pogues, and our families...

First, last and most expensive record ever bought?
-First: Green Day's "Kerplunk"
Last: Rancid's "Let the Dominoes Fall"
Most Expensive: I have no idea! It might have been a Cock Sparrer vinyl I got in Chicago... I think it was $60 maybe?

Most embarrassing record in your collection?
-Good Charlotte... It is fucking terrible!!

Is it many gigs? How does your audience look like?
-We don't play a lot of shows but the ones we play draw unique crowds. We have old people, young people, punks, skins, preps, etc. Just about every type of person you can think of shows up.

Which is the biggest band you have played together with?
-Probably The Mighty Mighty Bosstones. Our favorite might have been The Tossers though.
Which other big artists have you played with?
-The Quakes, The Casualties, The Roots, The Toasters, Flatfoot 56, Horrorpops, Westbound Train, Flaming Lips, The Unseen, ALL, etc. etc. etc.

How have the reviews been to the CD´s?
-We haven't had a lot but the ones we have seen have been good.

Do you care about reviews?
-No. We don't care at all about reviews.

What do you know about my homecountry Sweden?
-I know its cold, you have a Bikini team, and Freddie Ljungberg and Henrik Larsson are from Sweden!

Have you heard any swedish bands?
-No, I don't think I have.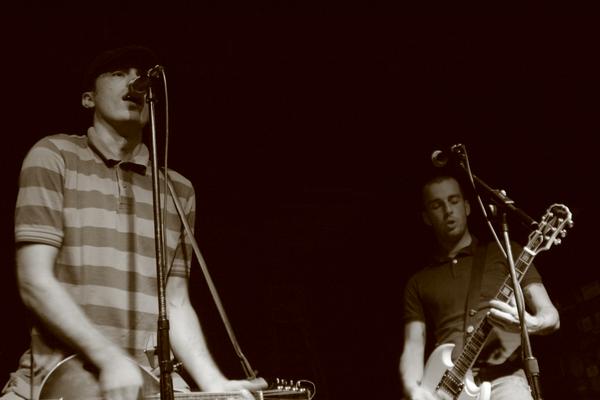 Your lyrics, what are they about, which is the most political song you have written?
-They are about a lot of different things. Some of them are popular views and other views are not very popular. All the lyrics are things we feel or experience... We don't make things up. When we wrote "The Boys Back Home" a lot of people didnt like it. They thought it was a pro-war song but it was a song about supporting the American troops and hoping they come home safely.

Politics and music, doesn´t that goes hand in hand?
-Yes, they do. Music is an excellent way to voice concerns and opinions.

When we talk about politics, how do you see on downloading and mp3 and that stuff?
-I think it depends on the band.

Is it good or bad for a band like yours?
-It is very good for a band like ours. We don't tour a lot and stuff so any way we can get our music out there is great.

Is it many interviews? Is it boring?
-We don't do a lot of interviews so they aren't boring. They are pretty fun actually.

Do you have any favourite website to recommend?
- www.thevandonarms.com !!!!

All those new things with MySpace and those stuff, have it helped you a lot?
-Yes, very much! It make it possible to reach fans all over the world.

Futureplans for the band?
-We are unsure of the future. We are going to record some more music and see where that goes.

Futureplans for yourself?
-I don't really make plans.





Thanks, Peter!! Please let us know if there is anything else at all!!!

Clint
The Vandon Arms
.