I got the new record from Våldsamt Motstånd. It may be the last disc from this hardcore group, but it may have the future expel. May 2017
A little story about the group?
- Våldsamt MOtstånd was started in 2010 by Martin Abraham, Micke Larsson, Emil Edman and Nils Rådström. Nils left the band after a couple of months due to move. As a new bassist, David was "Devan" Jansson recruited, and since then it was the same until Emil left the band in the beginning of 2016. The last disc is therefore Micke Jörstad, who plays drums. Våldsamt Motstånd has released three albums, the first of which was the first three demos collected and released as a cassette, then we released a first real album on CD 2013, and the latest album The Great Equalizer was released this year as a CD digipack. Besides that, the band has also released two EPs, one of which is on vinyl 2014. Våldsamt Motstånd also contributes to Turisti Tillvaron vol. 4. All released are also on iTunes and Spotify and most other download and streaming services.
Tell us a little about each member, age, job, family, band before and band next to ??
-Martin Abraham is the band's singer. He works as a social worker and also plays in the ties Socialstyrelsen and Slødder.
Micke Larsson who plays the guitar is unemployed, lives with his partner and has grown children. He has previously sung in E.A.T.E.R.
David "Devan" Jansson basist, 34, runs a travel service bus and also plays guitar at the Socialstyrelsen and in his spare time he drinks folk beer.
I can hear a lot of old crust, can I hear that? Was it betterbetter?
-Martin: It was not better before, but it's worse now.
Micke: Some of the songs contain parties influenced by old crrust today, but because we thought it fit in just there when we wrote the songs. Our music contains influences and impressions from a wide variety of styles without actually trying to play in a particular genre.
Devan: I like both old and new crust. Overall, it was not better before, but it is worse now.
Våldsamt Motstånd, are you satisfied with the name.? If the best band name had not been taken, what would you have chosen? I mean which is the best band name?
-Martin: It worked well when we played crust. Then we could not easily change. Best band name ... Martyrdöd?
Micke: For me, it's a band name, like a family name, you get used to it and it loses its sense of origin and becomes just a name.
Devan: Våldsamt Motstånd is a very good band name. The best band name would be The D-Beatles.
What's the best thing about playing live?
-Mike: It's hard to answer, but I like the feeling of having created something that we then present to others whose total attention is directed at us at that moment. Some sort of direct expression of an expression of art could be called it, or it is an expression of my own narcissism.
Devan: It's fine to play live and meet like-minded, play punk and get a real discharge.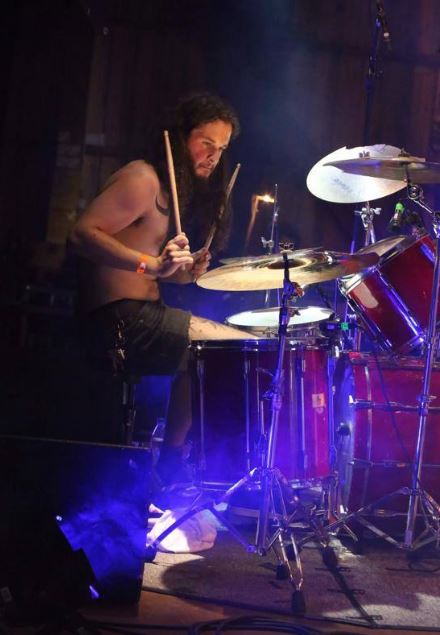 Where is the best place to play, where is the worst?
-Mike: The best gig with Våldsamt Motstånd I think we have had in Karlstad. Helsinki and Berlin were also good. I have had the privilege of having a tour in Japan with another band and it was really damn good in all respects. Bad plays may well be everywhere, so it's not bound to any particular place. If a gig is going to be good or bad will depend on so many factors such as Organizer, audience, local, sound and not least the band itself.
Devan: That can vary from time to time, but playing at home is always good. In a small, crowded and sweaty place. Public contact and everything like that, we are not a band for big scenes.
How would you describe your music in three words ??
-Mike: Angry, heavy and hard. (Freud would probably have opinions about that description.)
What does punk mean to you, is it just a word or is it a lifestyle?
-Mike: For me, it's mainly associated with DIY. That you create what you want based on your own circumstances. There is hardly anything unique to punk, but to me it's like the essence of what is called punk. Then it has to be said that I never really intended that Våldsamt Motstånd should fit into any kind of genre-style that punk is usually. I'm interested in making music that I like no matter what it might be called.
Devan: Punk for me is definitely more than the music, but then the word is damn watered down too. Then things can be good without being "punk".
How do you look at download, mp3 and the like?
-Martin: That's good. Ordinary people do not have enough money to consume the culture they need to cope with more everyday life.
Micke: The technology development has made it easier and cheaper to record and publish music, as well as making all music more accessible. It's a development that I think is good.
Devan: I could not really care less. I rarely download music myself, but I'm fine with others doing it.
How do you think it's to live in Sweden today, politically?
-Martin: Everything is going on. Liberalism won in the 80s, it has been performing properly since then.
Micke: In Sweden we have what we need. We do not have to starve. We do not need to be accommodated because of our opinions. We do not escape from war. That's not to say I think everything is perfect in Sweden. I have opinions about most things and objections to much, but both material and political, the Swedes are comparatively privileged.
Are there any bands in Sweden today? In your hometown?
-Mike: I guess you mean if there are any bands I would like to name, or? Sweden is one of the world's countries which have most bands. Here are a lot of great bands and musicians. Karlstad I live in is hardly any exception, because there are also lots of good bands in all possible styles and genres.
Do you play anything outside Sweden?
-We have also played in Norway, Finland and Germany.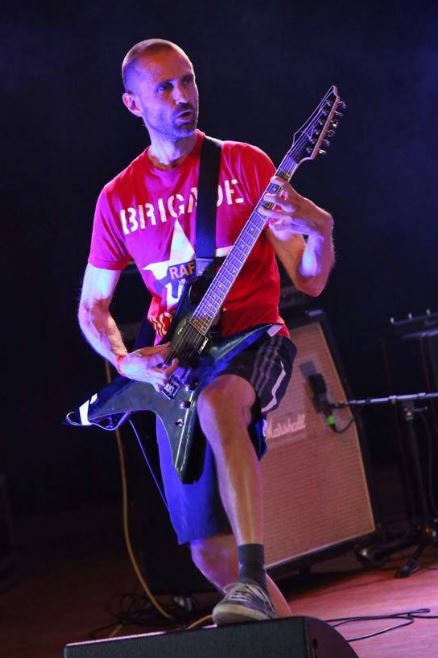 Other good bands from abroad?
-Mikke: I listen to all sorts of music, so it's hardly meaningful to write down a list of everything I think is good. It simply is not interesting to read. I like to discover new music so I usually surf around YouTube and look for something new to me.
Your texts, what are you influenced of? Never in a language other than English? Why Swedish name and English texts?
-Martin: I only wrote in Swedish when it was crust, then did not Swedish fit when became more metal. Swedish is more personal because it is my native language, English is more passable abroad, I suppose ... However, I would like to remember that we actually had a text in Hebrew and one in some old version of Gaelic, so we have done some experiments ..
Is there anything you will never write about?
-Martin: Now we have laid down, but if there was something I would never have written about? No I do not think so. I had never written anything racist, for example, but about racism I have written.
Politics and music, does it goes well together?
-Martin: Yes, most things can be political. Sometimes it may not be, but it can.
Micke: Everything is politically meaningful, so in a sense, politics and music belong together. It is not possible to make music (or something else, for that matter) alongside the rest of the world and present, saying that it is unpolitical. Music is art and thus an expression, and when something is expressed, it is by definition always political.
Devan: Music and politics must not belong together, but I automatically drag my ears if someone claims to play something "unpolitically".
Best political band / artist?
-Mike: I do not know if they're the best, but Crass is definitely the most political and politically credible band I've heard. Rage Against the Machine is probably the best-stated political band I heard. Refused can be damn convincing too.
Do you think music can change someone's life, then I mean lyrics etc?
-Martin: Yes, the question is just how much. Culture can of course change someone's life, give new angles to life, death or give hope, etc.
Micke: Music / texts may make someone want to change their lives or change society, and that's the first step to a change.
Your cover is really cheeky on your CD, who has done it. Is it important to have a cover so you understand what kind of music you play? What is your favorite cover all the time? ...
-Mike: Thank you, you like the cover. It should be said here that Emil has done all the artwork to this cover and to all previous releases. It is true that I've clipped the cover to the last album, but I have used pictures that Emil has done. Favorite Cover: Nazareth - Expect No Mercy, I think it may be if I have to mention one.
Is it important to get out physical discs? Vinyl or CD or both? Is there any good record store in your hometown?
-Mike: When guessing, it's important to have physical discs, as well as t-shirts and other merch. In Karlstad, we have the privilege of having the disc shop, Knappen, who actually buys and sells used records, but free of charge for local bands sell their discs in the store.
Devan: I like physical discs, both vinyl and cd. That's how I listen to music, usually vinyl at home and cd in the car.
Please tell me something really fun that happened during your career on stage or behind stage etc?
-Martin: When we played in Jönköping there was a whole box of dog puppies. It was the best ever. And once, Devan become crazye and broke a tea-thermos, it was beautiful.
Micke: The first time we played at Tjurruset, which is a terrainrace, was fun in the sense of bizarre. Playing with big damn PA and smokers and dirt for muddy people coming and running is one of the strangest things I've done in gigway. Much as you experience as hard while on a tour or playing a gig is as you laugh afterwards. When I once hit Martin in the face of the guitar because it was so crowded on the stage, that's a typical thing.
How is your audience looking like? Which type of people comes? Do you miss any kind of people?
-Mike: I have the firm belief that our audience is essentially younger adults. Of course, I want everyone who likes our music to go and see us play and buy what we release, no matter who they are.
Please rank five favorite discs, five favorite concerts?
-Mike: Because you're kind, I'll do something that I really think is impossible, but ok, here comes my five favorite records: Slipknot - Iowa, Flux of Pink Indians - Strive to Survive ..., Pink Floyd - Wish You Were Lord, The Stooges - Funhouse, Coltrane - A Love Supreme. I can not list concerts, but Billy Bragg at Roskilde 1986 was damn maximum.
Devan: otalitär - Sin egen motståndare. Totalt jävla mörker - S/T. Trap Them - Darker handcraft. Strebers - I fädrens spår Pink Floyd - all fucking discs with Pink Floyd. Have been to many gigs but can not possibly list a top 5, sorry.
Is it boring with interviews ??
-Martin: Yes.
Micke: Not boring, but hard sometimes. It is really a privilege to be given the opportunity to talk about his music.
Devan: It depends on how the interview questions look. This was quite nice, actually. Honestly, I am not often interviewed.
If you could choose five bands from the story, dead and alive to have a concert with your band, what are the dreambands then?
-Mike: I would like to play a festival together with all the artists I name-dropped during this interview.
Devan: Jimi Hendrix, The Doors, Nirvana, Black Sabbath and Pink Floyd could well be connected to us then.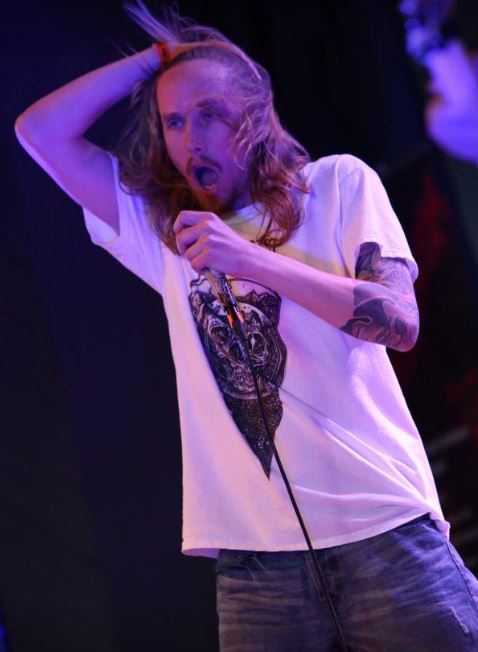 Is music a great way to get frustration and become a nicer person? Are you angrier today than you were young punks?
-Martin: Yes, there is some kind of katarsis in playing angry music.
Micke: Music is a great way to convey feelings at all.
Devan: Music may be damn good to get rid of frustration and aggression, a kind of safety valve. That way, I do not think I've changed so much since I was 14 to now, twenty years later.
What is the strangest question you received in an interview?
-Mike: The one you just asked.
Future plans for the band?
-Martin: Sell the last discs.
Micke: At the moment we have no plans as Våldsamt Motstånd and it is uncertain if anything goes on. You never know.
Devan: This is really some kind of farewell disc. A bunch of songs we had as we thought was a bit too good not to be recorded.
For yourself?
-Martin: Go on.
Micke: I am currently playing a guitar in a constellation with Devan and a one more guy . We have recorded a 10-track demo that we will mix and try to get some interest in. I also play bass in a little poppier band.
Words of wisdom?
-Martin: Read Marx, be good, drink Tingsryd 2.8.
Micke: Beware of the oral hygiene, stretch regularly, just drink water.
Something to add?
-Thanks for the interview Peter.