UV Rays is a really good rock n roll punkband which is blistering. Just before Christmas 2006 they answered a lot of questions from me. Hope you enjoy the long interview as much as me doing it:
History?
-We started sometime in 2003 with me (What?), Shark and some friends. Party Pat was at our first show (a basement party) wearing a leather jacket but no shirt, so we decided he should join on 2nd guitar. We've gone thru a few bass dudes & drummers to get to our current lineup. Everyone in the band has been playing in underground punk & hardcore bands for like 10 years or more (except for Baby Lasagna). We used to be in bands like Warsquad, A Death Between Seasons, The End, Clit 45, From Hell, The Dents & many more. For UV Rays we decided to play more original styled punk than the predominantly thrash & hardcore of our older bands. In June 2005 we released our first 7" "Rad Reputation" on Razorblade Music (a label my friend made). It was recorded on 4-track at our practice space by Dan Lilker (Anthrax, SOD…). July 2006 we released "Night Of The Living Dudes" CD on Garage-Pop Records (a different friend's label!). We are hoping to release this on LP in spring on Feral Kid Records (Buffalo, NY). Also, we are wild party animals!!!
Please tell me a little about every member, age, family, work, interests and
something bad about every one?
Ultra-What?: vocals, 26, student; interests include altered mindstates/records;

Shark: guitar, 29, record store dude; interests include biting surfboards/eating humans

Party Pat: guitar, 26, hustler; has sweet afro; can perhaps fly?

Paultergeist: drums, 29, screenprinter (www.htbkicksass.com); likes to make fun of people

Hasta Lasagna: bass, 19, student; is better looking than many girls in the scene…
Everything about us is bad – but it's the dumb world's fault…
My review of your record is like this UV RAYS-NIGHT OF THE LIVING DUDES(CD-GARAGE-POP RECORDS GP-26) They do a cover of Gang Greens Alcohol which is a classical song. I thought it would be a little bit more hardcorestyle over their music but this is more garagepunk which is the thing for UV Rays. Fucking distorted punkrock and they have a fucking feeling for the things they do. I can imagine that they have listened a whole lot to Hellacopters and other Scandinavian garageband together with Social Distortion ,Dead Boys, Heartbreakers and that type of bands. UV Rays is among one of the better bands in this style which I have heard for a long time…it feels vital and fresh even if this is a concept which have been here for a while.(EIGHT) 18/10-06 What about it?
-We appreciate the kind words! I don't really like Hellacopters or the current garage-scene too much, but Shark does. 70's punk is what made us…I always thought we were like an 80's crossover band trying to play 70's punk – and hopefully making something a little different along the way. I'm glad the feeling comes across thru the recording --- it is most important.
Is there any other bands you´re being compared with?
-No straight-up comparisons really – we get weird mutation references like Dead Boys mixed with The Accused, Turbonegro mixed with Gang Green, Germs mixed with The Dictators, etc…
Do you care about reviews?
-Well – it's certainly nice if everyone says nice things about us, but a bad review isn't gonna make us cry or nothing…we play because we must – if somebody doesn't like it then they can go make some crappy band that plays the stupid style of music they like!!! Good reviews…are good – encouragement helps folks carry on!
Which is the most peculiar review you ever have got?
-Maximum Rocknroll called us ugly!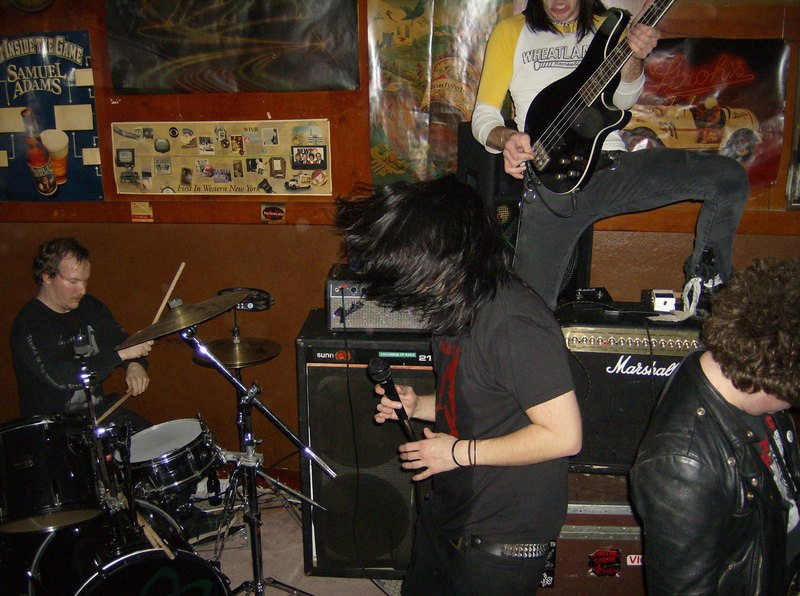 How would you describe your music in three words?
-Untamed Fucking Intoxipunk
How is it to live in your homecountry?
-Discouraging. Day to day life is fine, I suppose. We are all relatively poor, but can live OK. There are many things going on that we hate though and can not really affect. I hate humans in general and many Americans seem like apathetic robots. Is it like this elsewhere? To live is a struggle like anywhere else, but what other options are there? Our city is shitty – full of pollution and death; crime and doom. Our scene is kind of small – but killer – good bands & wild maniacs!!!
What about the government?
-I do not think very good things about the government. The rest of the world needs to know that most Americans HATE president Bush. He and his administration are a disgusting and evil embarrassment. It is just hard to get everyone to stand up together to rid the world of him (or to even go vote!). More than anything I resent and fear the government. The governments of the world and their corporate links are destroying our very earth and look to further enslave us. The environment & human rights need to be put in front of greed. I could go on about this for a while…
Do you think that music and politics goes hand in hand?
-Not necessarily. I think that music must include politics at times, but music is meant to cover all ranges of human (and non-human?) emotion – not just a few. There needs to be political songs just as much as there needs to be silly songs, sad songs, etc…there is need for all of this.
Best political band?
-MC5!!! Conflict comes in 2nd
Is there any good bands in your homecountry now?
-Of course! Easy Action is great – they have the singer from Negative Approach! Municipal Waste & Annihilation Time are both awesome. Destrux is wild. There's a bunch of good bands around…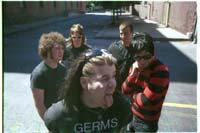 What do you know about Sweden?
-Well, some stuff. I know you enjoy bountiful Nordic forests. I know you are a welfare state, which seems cool. How is that? We are an unwell-unfair state. I know Sweden is always neutral during wars. I also know of great Swedish punk rock & hardcore!!!
Have you heard any good swedish bands?
-Tons!!! We like: Bitch Boys, Anti Cimax, Rude Kids, Mob 47, Puke, Avskum, Headcleaners, Shitlickers, Totalitar, Black Uniforms….more recently we like Bruce Banner, DS-13…a little while back we got to play a show with Avskum in someone's living room in our hometown!!! They were fucking awesome. Great show…
What does punk mean to you, is it only a word or is it a lifestyle?
-It is both. It is who we are and all we got…
Please rank your five favourite records, five favourite concerts and five
most important things in life?
-RECORDS:
Iggy & Stooges – Raw Power
Black Flag – Nervous Breakdown (1st 4 years)
Ramones – everything
The Kids – S/T
Roky Erickson & the Aliens: The Evil One
CONCERTS:
Here's what comes to mind now, I barely remember the 90's…
2004: Stooges, New York Dolls, Dictators, Bo Diddley – NY, NY
2004: Weirdos & UV Rays – Rochester, NY
2005: Dead Boys, Flipper, Adrenalin OD, Peter & Test Tube Babies – CBGB, NY
2006: Radio Birdman & The Avengers – NY, NY
2000: Bad Brains – Buffalo, NY
LIFE:
Wow – I don't know…fun, friends, family, fucking, food
First, last and most expensive record ever bought?
-1st: Beach Boys – endless summer
Last: Black Market Baby reissue on Dr. Strange
Expensive: Social Distortion: Another State of Mind 7" (~$50)
Most embarrassing record in your collection?
-WASP: Animal (Fuck like a beast!)
Is My space a good place to get your music?
-Myspace is OK with me. A lot of people can hear us on there that normally wouldn't hear us… go to www.myspace.com/uvrays and download our songs for free. Then since they are so great you'll naturally want to order our 7" & CD!!!
You do Alcohol as a cover, any more covers you do?
-Lots!!! Nervous Breakdown (Black Flag), Stay With Me (Dictators), Sick On You (The Boys), You stupid asshole (Angry Samoans), Chatterbox (New York Dolls), Don't Talk To Me (GG Allin), Fox On The Run (Sweet)…
Is it many interviews? Is it boring?
-No…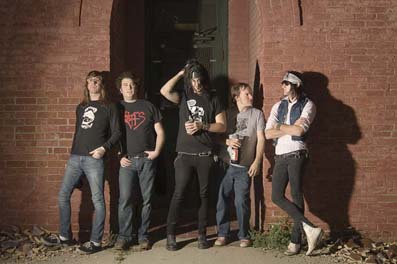 Which is the question you never get, please ask it and answer it?
- Q: Could I offer you some free pizza & weed & beer?
A: Why, yes, thank you. That would be lovely!
Is it any chance to see you in Sweden soon?
-Well, we don't have anything planned for over there, but we'd most certainly love to come play! If anyone can help us get over to Sweden and play we would be super-psyched to get it on! That would rule…
Where is the best place to play?
-Parties! Everybody gets wasted and is having fun!!! People at clubs are not as excited because they have to pay for their beer. If the crowd is as drunk as us, we know it will be a good show!
How is a good gig with you?
-Everybody gets wasted and is having fun!!! If the crowd is as drunk as us, we know it will be a good show! Sometimes it's more the quality of the audience than the quantity. There should be stuff breaking and uncertainty in the air. Energy and aggression from the crowd & the band collide - maybe some hot ladies dancing…
The name where does it comes from?(yeah it´s a boring question but it´s
interesting)?
-UV Rays are beamed in from space – humans need them to live (warmth, etc…) on this planet, but due to global warming issues, they could be the death of the species. We are ultra-violent rays shooting out the music you need to live, but too much may give you ear cancer!!! Also, we are wild party animals!!!
What shall we do about all racists?
-THEY MUST BE DESTROYED!!! The world has a population crisis on its hands and racists are an easy group of people to not feel bad about eliminating…because they are assholes…and stupid…dummies…
The best band in punkhistory? And in finnish punkhistory(this question become wrong but we ask anyway)?
-UV Rays! If not us, maybe Ramones, Eskorbuto or GISM!!!
In terms of Finnish punk I like Rattus best!
The most important punksong?
-TIE: I always felt you couldn't get much punker than: I don't care about you (fear) or So what (Anti Nowhere League)
Futureplans for the band?
-Record more & tour everywhere – US tour this summer & hopefully we can come to Europe sometime soon!!!
For yourself?
-Same as band! Also I will get an environmental science degree soon which I probably won't use because the band will be in the way!!!
Wisdomword?
-Don't fucking trust nobody.
Something to add?
-Thanks dude!!! We got shirts, stickers, pins, patches, hats, cds, 7"s & hopefully soon LP's…
UV Rays
640 South Avenue #2
Rochester, NY 14620
USA