Unit 21 is a band which really makes hard music, they´re fucking wild and their hardcore is stucked in my head for a long time.
Check this short interview out but mostly you should look and listen to their music….October-2006-10-10
History?
-We started in Oct of 2000 just to have some fun! The name unit 21 comes from The 21'st amendment to the constitution which was the Repeal of the prohibition! And Unit comes from the army so we are the Army of kids who like to get fucked up and have a good time!
Please tell me a little about every member, age, family, work, interests and
something bad about every one?
-Chris -guitar/vox 22 years old, Used care sales man and loves to play Online role playing games!
Kevin-guitar/vox, 23 years old,Bank teller
Davo-Drums,22 years old, Construction worker
Corey-Vox, 23 years old, Fast food manager

Is there any other bands you´re being compared with?
-I hear Poison Idea sometimes and Victims

Do you care about reviews?
-Yes I love to hear what people think!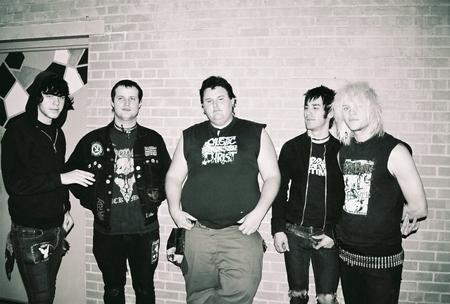 This aggressive style, is it a way to get out all your anger?
-Of course! That and beer bong stage dives!

How would you describe your music in three words?
-RIP IT UP!

How is it to live in your homecountry?
-Texas is amazing! The HC punk scene is really good out here we have bands like Spazm 151,World burns to death,Krum bums, Complete control, Tolar, Damage case and many more! Sure there's a few dumb ass rednecks but if think there dumbass's everywhere! But the scene is really good

What about the government?
-Hah not really sure what all to say here....

Do you think that music and politics goes hand in hand?
-Pretty much anything on your mind and music go hand in hand!

Best political band?
-Aus rotten

Is there any good bands in your homecountry now?
-Billions to many to list!

What do you know about Sweden?
-I have always wanted to go there !

Have you heard any good swedish bands?
-YES!!! Victims, Disfear, At the gates, Nasum, Martydöd,Wolfpack/Wolfbrigade, ANTI CIMEX, Driller Killer,Imperal Leather, DS -13,To what end?,God I could go on and on!

What does punk mean to you, is it only a word or is it a lifestyle?
-Its definitely a lifestyle and outlook on life!

Please rank your five favourite records, five favourite concerts and five
most important things in life?
-Five favourite records right now are... hmm no order too hard
Severd Head of state -Anthema device
Anti Cimex-Scandanavian Jawbreaker
DarkThrone-The cult is alive
Selfish - Cause pain
Forward -fucked up
Favorite concerts
1.Spazm151,Municiple wast,Caustic Christ, Unit 21
2. Gorrila Buiscuts
3. Forward
4. Gouka
5. World burns to death (anytime i see them)
5 important things
Friends, Love, music, Weed, beer

First, last and most expensive record ever bought?
-Darkthrone- cult is alive 20 dollars!!

Most embarrasing record in your collection?
-I´m not embarrassed of music I love!

You have only did vinyl or?
-No we have a full length cd "false dreams False hope"we released in 2004 also and we are recording a new full length right now!

When do we see your first CD??
-As soon as you want me to send it to ya!

Is it many interviews? Is it boring?
-No reviews! And its ripping!

Which is the question you never get, please ask it and answer it?
-What do you think of Dinosaurs? Answer
Raptors kick all other dinosaurs asses
<![if !supportLineBreakNewLine]>
<![endif]>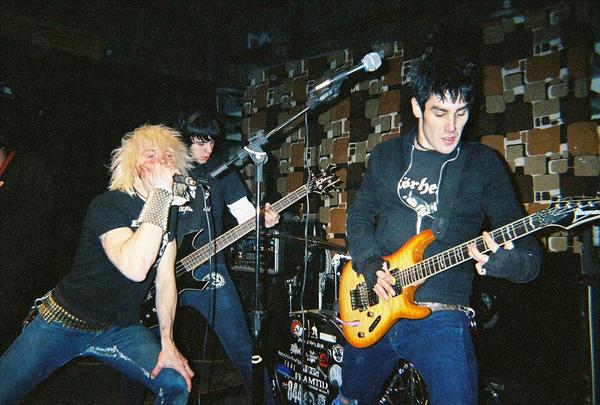 <![if !supportLineBreakNewLine]><![endif]>
Is it any chance to see you in Sweden soon?
-God I wish!

Where is the best place to play?
-Best place in texas is THE RED BLOOD CLUB IN DALLAS!

How is a good gig with you?
-Amazing! Tons of people ! Circle pits stage dives beer bongs and high fives!

What shall we do about all rascists?
-Sit them down individually and educate them on the word love!

The best band in punkhistory?
-Fuck thats just too hard!

The most important punksong?
-Another insanely hard question!

Futureplans for the band?
-Rock out and tour as much as we can and see the world!

For yourself?
-Same as above!
<![if !supportLineBreakNewLine]>
<![endif]>
Wisdomword?
-Duder! Use it at least once today!
<![if !supportLineBreakNewLine]>
<![endif]>
Something to add?
-CHECK OUT UNIT 21!!