Union 13 was on Epitaph before but is now on Disaster Records, they know Duane Peters on the label so it feels better to be there. Jose from the group answer my questions in the beginning of december 2003.
History?
- We have been a band for almost 12 years now. We started by playing at peoples backyard parties when we were teenagers. Then we got lucky and were signed by Epitaph. To this day we have four records out.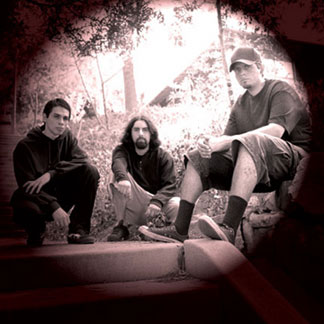 Please tell me a little about every member in the band, age, work,
families, interests and something b ad about everyone?
- Louie is the drummer he is 26 years old he likes putting together shows for the local bands in our town (East La.). Rudy plays the bass he is 27 and enjoys taking mushrooms and listening to old bands. I am Jose' I play guitar and sing and am 26 years old. I don't really like doing anything.
You´re only three in the group, how can you sound so much?
- When we record we are three but when we play live we like to have four. We usually invite one
of our friends to play guitar.
You sing both in spanish and in english , howcome and which is the best
language to sing in?
- Spanish is part of our culture. We are Mexican Americans. Both languages are good because they cover a big part of the world.
You sound angry sometimes, is it a way to get out all your frustration,
to play punkrock instead of going out in the streets and fight?
- Our music helps us deal with our anger at the world. I can't believe the way things are so it probably sounds that way
Are punk/hardcorepeople more angry than other people?
-Sometimes. Punk rock is not for everyone usually the disenfranchised are the most interested.
You were on Epitaph before, why are you on Disaster Records now?
- We did three records with them and we are happy about that but now it is time to move on. They
called me 3 years ago about doing another record and I did not call back. They put a lot of money
into recording but when it is time to promote they take a big shit. We would much rather do our own
thing than to be a puppet band. Although we still love them just for getting us a good start.
What´s the difference between the labels?
- Disaster is owned by Duane Peters who is actually our friend. We met him when we went on our
first tour. He would always be by the stage when we played. He knows the kind of band we are and respects us for that. No conversations about Union 13 cleaning up it's act.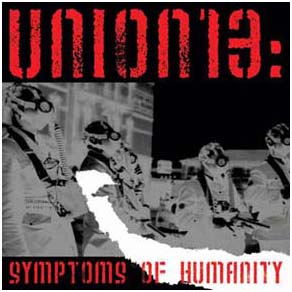 I compare you with old HC-groups like Gorilla Bisquits, Minor Threat and
that type of bands, comment on that and which other bands are you being
compared with?
- Over here we are compared to early Suicidal Tendencies and Los Crudos. And a lot of other shit.
We just hope to leave our own mark in the world.
Do you care about reviews?
-No. We do not take them personally. We appreciate them a lot. It's another form of promotion.
Which reviews are you trust most, the good or the bad ones?
-. We feel good about our records we don't care if someone says something bad everyone is entitled to their own opinion.
Which is the most peculiar review you ever have got?
-. Some how they are all peculiar. Because who knows who the person behind the pen is. I guess
we have been pretty lucky so far when it comes to reviews.
What is the most peculiar which have happened during a gig with you, on
stage or in the audience?
-One time we were about to play and the power went off just like Spinal Tap.
How is a good gig with Union 13? Is it much people up on stage?
- Our best shows happen when people are inspired enough to come up and sing with us. We feel that audience participation makes the show better for all of us. We get big pits. That's how it is.
How does the average fan look like?
-. We get all types of people at our shows. Punks, crusties, hippies, Masons, College students, parents. We get all types here.
Do you have good contact with your fans? In which way?
- We have good contact with our fans. We try and make sure that everyone leaves our shows happy. We always stick around to talk to anyone who has a question. We are just fans of music ourselves.
What have internet and mail done for bands in the punkstyle, what good
I mean?
- The internet is great for bands and also for the fans. Anyone in the world can contact us at any time. They can learn about the latest news with a band merch it is just great.
Where do you stand when were talking about mp´3 s? Do you download
yourself?
- I download a lot but I also have bought a lot in the past. It does hurt bands but what are we going to do? It is unstopable. The songs from our demo are on Kaaza if that could make it on there their is no hope. Maybe it would not be such a problem if the record companies were more fair with the bands
and the high CD. prices. WE encourage it. Fuck the record companies!
Do you have any favouritesite on the net?
-I like pcpitstop.com keeps my computer running smooth. Also coasttocoastam.com union13.com
What does punk mean to you, is it only a word or is it a lifestyle?
-The word punk means nothing to me now. That was more a kid thing.
Please describe your own music in three words?
-Honest actual music
What do you know about Sweden?
- I know I love ABBA!
Have you heard any good swedish bands?
- Is Millencollin swedish? I've heard some interesting Death Metal from there. Very Satanic.
Is there any good bands in USA right now?
-No.
How is it to live in USA otherwise, politically I mean after the
terrorattack, Iraqwar and so on?
- It is harder to buy good Marihuana now that the borders are more protected. Our politics are shit
They are just making way for the NEW WORLD ORDER mark my words. Skull and Bones are in.
Why must USA go on everywhere and "help" countries out?
- New World Order !!!
Does music and politic goes hand in hand?
- Yes Naturally. Music is a good and peaceful way to relay a message.
Which is the political band do you think?
- Us right now. No one really tells it like it is.
Can music change anyones life? Give me an example?
- Music has changed my life it is the only thing that I can do really well. Music has taken me all
over the world. It is also the way I make a living. Music has been good to me.
Please rank your five favourite records, five best concerts and five
most important things in life?
- My all time favourite record are Appetite for Destruction from Guns 'N Roses and Rust in peace from Megadeth. The best concert I was at was Motorhead Metallica and Guns N' Roses in one show.
Important things in life Philosophy art community self Nature.
First, last and most expensive record ever bought?
- The most expensive record I have bought was Christian Death Jesus proudly presents. It was
worth it.
Futureplans for the band?
- Our future plans are to keep going and do good by the music. We do not want to be on Mtv or any of that shit.
For yourself?
- I plan to continue my study of life.
Wisdomword?
- WE all must sacrifice for the greater good of this filthy corrupted planet.
Something to add?
- Thank you to everyone for your interest.
.