Jonathan in Canadian group Unfinished War plays guitar and sings. He was surprised when I was contacting them. Now we have done an interview. February-2018
Please tell me a little bit history of the group?
-We met through adds on the internet in April 2015. After a couple of practices, we dove right into the writing process and managed to record 2 songs. In between, we also made some new friends in the local scene and played some shows around Québec and even made one in the province of Ontario. So far, we released 2 EP : Our First Report To The World in September 2016 and The Last Generation in September 2017. A music video for Anthropocene is available on Youtube in support of the latest EP.
Please tell me a little about every member in the group right now, age, family, work, interests and something bad about everyone? Earlier bands? Other bands on the side?
-Gab, 22 years old, is from Pont-Rouge and sings. When he's not writing lyrics, he works at a grocery store.
Jay plays drums and he's from Rimouski. He's 30 and he's a foreman for a window company. Jay can tell you a whole lot about windows.
Jonathan plays guitar and sings some parts too. He's the most experienced one because he played bass in two bands previously : Each On Set and Wasted Sunday. He's 35 years old and he's a mailman.
I can hear much different influences but mostly hardcore and punk etc? Favorites from the past?
-Everyone in the band has different influences. Here's how eclectic we are in terms of musical tastes : In Flames, Silverstein, Godspeed You! Black Emperor, Brian Eno, Talk Talk, Zozobra, The Fixx to name a few.
Unfinished War are you satisfied with the name? How did it came up? You weren't afraid that some other band would be named like this? Which is the best bandname you know?
-The name comes from a chapter in the powerful book Slavery By Another Name by Douglas A. Blackmon. This book is a must read, a game changer, if you want to understand how african-americans were treated so much harsher (words cannot describe their treatments) after the Civil War then when they were slaves. People think its the opposite, but it's not. After reading it you can only make connections between the modern prison system (mostly in the US) and how african-americans are much more susceptible to be arrested/killed on spot (Michael Brown, Tamir Rice). We think it's a good band name because we all live personal unfinished wars with ourselves.
What´s the best thing with playing live?
-Discovering new bands, meet new people/musicians, talk with new fans at our merch table, sweating during our set.
And where is best to play? And the worst place?
-There's many cool venues in Québec city : L'Anti, Bar La Source, Le Méduse to name a few. In our short existence, I can safely say the best place is l'Anti. The sound is incredible and the venue is just the right size. For the worst place, we're gentlemen : We'll keep it quiet.
How is to play this sort of music in Canada right now? Which types of bands do you have concerts together with?
-The weird thing about our band is that we're kind of unlabeled. By that I mean we can be the softest or heaviest depending of the lineup. The music scene in Québec is so diversified : Punk Rock, Hardcore, Metal, Djent, Rock. We think it's a great time for playing music in Québec. As for the one time we played outside Québec, people liked us I think (5-6 men were slamming).
How would you describe your music in three words?
-Music that touches.
What does punk mean to you, is it only a word or is it a lifestyle?
-Definitely a lifestyle. We all cherish the punk ethic. We are very DIY and tend to support local bands in any way we can.
How do you see on downloading, mp3 and that stuff?
-For the downloading aspect, I think it's important to give at least a little bit of money to the artist. If we don't, it's gonna be hard for the artist, that makes you dream or what ever his/her music brings to you, to carry on and write some music. I tend to buy their vinyl or a shirt. I'm more of a vinyl guy, but Spotify and all the streaming services are fine for me. I just love the fact that vinyls come with a download card. It's the best of both world.
How is it to live in Canada right now? Politically? Fascists?
-There's city politics, province politics and Canada politics. Every aspect of politic and its topics are always changing. About Canada, we have a prime minister who looks like Barack Obama : image over substance (his Instagram, his socks, her wife…). I don't how he's perceived in the rest of the world, but you know. One major step the government took was to apologize to Natives. A good read about fascists is : American Fascists: The Christian Right and the War on America from Chris Hedges.
Is there any good bands from Canada now? Is the punkscene/hardcorescene big? How is it in your hometown?
-There's so many good bands in Québec : Death Note Silence, Caravane, Oversight, Hitch'N Go, Get The Shot, Boundaries, Mute… I could go on forever. Check out www.quebecpunkscene.net. From Canada, there's Throne To The Wolves and From Nothing To No One. Really cool guys!
What do you know about Sweden?
-Home of Spotify, Abba AND of so many other influential bands. We only hear good things about Sweden.
Have you heard any good bands from Sweden?
-Adhesive, Randy, Satanic Surfers, 59 Times The Pain, Millencolin, Raised Fist, Refused, Meshuggah, The Hives.
Your lyrics, who does them and what influences you? Is it easier to do lyrics now or was its easier to do it when you was younger? Never in French?
-When it comes to lyrics, every one in the band throws idea and we make a general agreement on its final version. I tend to say that reading books helps a lot in the creating process. Reading novels or non-fiction helps in making links with a topic for a song. I think the writing process is much easier as you grow old. We may write in french, but in the short term : not.
Is there any subject that you never will write anything about??
-We heard a guy in a show who was talking about his next topic for a song : Drinking, puking and cutting a woman's throat. Not gonna happen in our band.
Politic and music, does it goes hand in hand? Which is your most political song?
-When I see and hear Propagandhi or Refused, I think politic and music goes hand in hand. There's just something ballsy of seing a band with a message. Our most political song is Anthropocene. The title comes a talk I listened from Noam Chomsky.
Best political band/artist?
-Argh! I gotta go with three : Propagandhi, Refused, Vulgaires Machins (From Montréal).
Do you think that music(lyrics and so on) can change anyones life, and then I mean people who listens to music?
-Of course. So many bands helped me in so many periods of my life. Music was my gateway. There's nothing more beautiful and impactful than music.
Your cover on your CD looks really nice, is it important to have a record cover which shows people which type of music you play? Your favorite recordcover? Who does your covers? And do you have any good recordstores in your hometown?
-I do think it's important and it has to reflect the vibe of the band. My favorite record cover/ sleeve is Less Talk More Rock from Propagandhi. I spent so many time reading it while sitting on a toilet… If you're in Québec city, you have to stop at Le Knock-Out. It has so many diversified vinyls, CDs and cassettes too.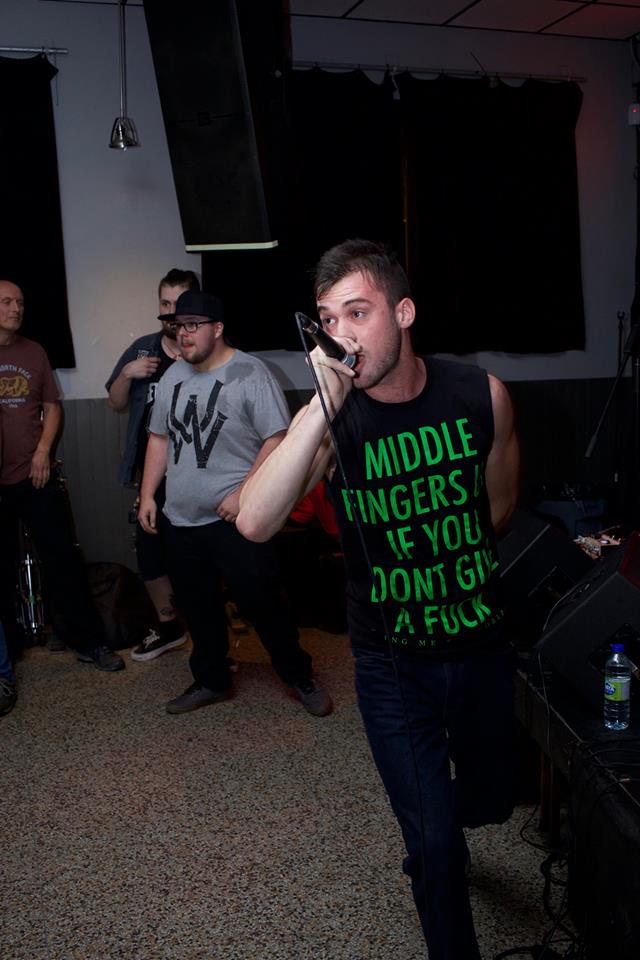 Is it important to get out physical records of your stuff? Why or why not? Vinyl, CD, cassette, what do you prefer if you could choose whatever ?
-With the digital and streaming era, I think it's important to have a physical copy. I think it forces you to create a unique piece of history when it comes to the physical content. We tend to make only a 100 CDs just to be sure they're unique. Maybe our next will be on vinyl.
Please tell me a funny thing which have happened during your career and under some gig?
-Our bass player was caught smoking a cigarette in our room in a hotel in Oshawa. When it was time to pay the room, the clerk told our guitar player he caught someone smoking and we had to pay a fine. We all knew who he meant because our bass player is the only one smoking. You should have seen his face when we translated the situation in french…
How does your audience look like? Which people do you miss on your concerts? Which is the biggest band you ever have played together with?
-The audience is pretty much composed of guy and girls in their mid twenty and up. The biggest act we played with in our really short carrer is Feed Her To The Sharks from Australia.
Please rank your five favoriterecords, five favoriteconcerts and five most important things in life?
-5 favorite records (a tough one, so many I left)
-Refused / Shape Of Punk To Come
-Godspeed You! Black Emperor / F# A#
-Talk Talk / Laughing Stock
-Propagandhi / Today's Empire Tomorrow's Ashes
-Jimmy Eat World / Bleed American
5 favorite concerts :
-Refused in New York city at their reunion tour on April 22 2012
-Green Day Québec city in 2008
-Bryan Adams Festival d'été de Québec in 2014
-Adhesive in Québec city 2000 (the whole show is on Youtube)
-Warped Tour 2000 in Montreal
5 most important things:
-Fun
-Honesty
-Desire to acquire knowledge
-A good sound system with a good record on vinyl
-Coffee
First, last and most expensive record ever bought?
-First : Dance Mix 95
Last: Dustin Kensrue / Carry The Fire
Most Expensive: Cave In / Perfect Pitch Black European Vinyl Edition (40 euros I think it was)
Is it boring with interviews? Is it much interviews??
-Absolutely not. I think it's with interviews you discover who the person/band really is.
If you could choose five bands from the past and the history and nowadays and both dead and living bands to have a concert together with your band. Which five have you been chosen?
-I would love to see Miles Davis, Talk Talk, Fine Young Cannibals, Tangerine Dreams, The Outfield.
Is music a good way to get out frustration and become a nicer person outside the music?
-We are all good persons inside and outside the band. Music is just an excuse to create loud and heavy music.
Which is the most odd question you ever have got in an interview?
-We don't have a lot of interviews in our lifetime. No weird question encountered yet.
Which is the question you want to have but you never get. Please ask it and answer it?
-You already asked : Where does your name come from? Nobody asked us before.
Futureplans for the band?
-More writing and trying to play shows in Europe, South America or in Japan. If there's any booking agent reading please contact us.
For yourself?
-My girlfriend and I are waiting for a child.
Wisdomword?
-It's only when we stand upon the shoulders of giants that we see the farthest. A professor at my university told me this quote. I never forgot.
Something to add?
-Thank you so much for doing this. Never in a million miles I thought I would respond to a swedish interviewer.