I interviewed TV Smith once upon a time in 2001 and now he have completed two more albums and done a lot of gigs. The first one was acoustic and the latest was electric and it´s a marvellous record. Check out this interview with one of this world nicest punkpioneers. It was done in the middle of march 2006.
What have happened since the last time I interviewed you since april 2001?
-I've made two records and played around 600 gigs...
You have got yourself a band and play electric now on the new record, why?
-I still don't have a permanent band, and don't really want one, but
I've made a lot of friends who are musicians over the last few years
so I like to have them play on my records. In fact, I've always
played with bands on record, I've never yet made a totally solo
acoustic record. The difference between "Misinformation Overload" and
some of my previous records is that it's much harder in style, more
of punk-sounding record, very guitar heavy. These are hard times and
I wanted to make a record that had a hard sound.
Which is best to do, play electric or acoustic?
-I like both. I'm currently touring Spain with my Spanish band "The
Bored Teenagers" and it's a lot of fun. You just can't resist the
power of rock'n'roll, when all the instruments are blasting out
behind you on stage at full volume - that excitement always works.
But I also really love to play solo gigs, it's a completely different
kind of feel, more intimate, spontaneous - I never make a setlist for
the solo gigs or decide how long I'm going to play for, I just get on
stage and see how the audience is and what happens. If it's a really
good gig I'll end up playing for a few hours.
You´re 50 this year, how will you celebrate this and can you be a punk when you´re 50? Or doesn´t age matter?
-Well, I hope to slip through the birthday celebrations with the
minimum of fuss. A lot of my friends are also going to be 50 this
year and it seems to be such a big deal, like you have to do
something special for it. It's only a number, I don't really care
about it. I'm just happy that I'm able to go out and play gigs and
make records - in theory I suppose I'm too old to be doing this, but
I feel like my career has just started, I'm having the time of my
life and I can't wait to do more. I never had this much energy when I
was 15.
What do you think about all the old bands which is around like Buzzcocks, Slaughter and the Dogs , UK Subs and other bands you played along with Adverts back in the 70´s, that they´re still around.....do you have any contact with some of the bands?
-I still know a lot of people from those bands and we meet up every
now and again at punk festivals. I have a lot of respect for people
like Charlie Harper and the Buzzcocks for keeping at it, and at least
The Buzzcocks are still making new records. I feel a bit disappointed
that some of those old punk bands are reforming with hardly any of
the original members and then going out and just playing a few
festivals for the money, without bringing anything new to the scene.
I'm not interested in punk if it's only going to be retro. If I want
to hear authentic punk I'll put on one of the old records, but if I
go and see a band I want to see them bring in some new ideas and some
new energy - it's not enough to just copy what you did thirty years ago.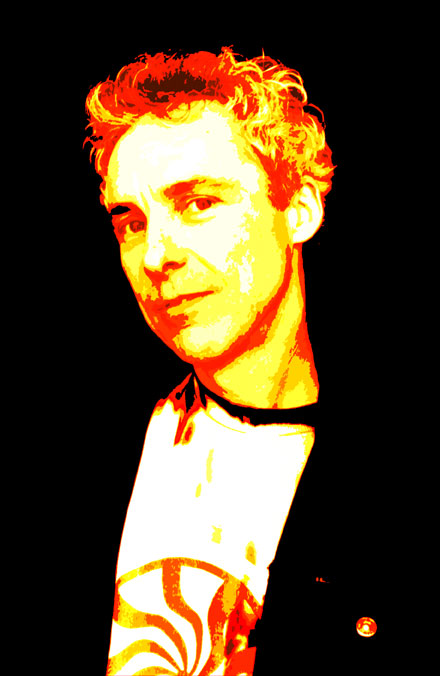 I interviewed Zero Point from Denmark some months ago and that said that you liked them? And that you thought that they wasn´t an usual punkbands, how did you mean?
-I met them at festival in the Czech Republic a couple of years ago
and they gave me one of their records. I thought it was interesting -
I liked the way it wasn't just a copy of the English and American
punk rock model, it was more inventive, I felt they believed in what
they were doing.
TV Smith and the Explorers , can I get that somehow on CD?
-One of my big problems is that all my old records are owned by
different labels and a lot of them are deleted or almost impossible
to get hold of, and I don't have time to get the rights sorted out
and get them all re-released because I'm out on tour so much. There
was a re-release of the Explorers album a few years ago on a small UK
label called Ozit. They may still have some copies.
Which of all your songs is the best one you have written? One of my favourites is Looking don on London?
-It's difficult for me to say because I only put songs on record that
I really feel are good. Also, I tend to be more excited about the
newer songs. At the moment, for me, the best song I've written is
"Not In My Name" on the new album because I think the lyrics have
nailed down what's going on in the world, the way we're being
manipulated by the political and media elite.
Which is the most important punksong ever done?
-Heh..."Not In My Name."
What does punk mean to you today if you compare with how it meant for you back in the 70´s?
-To me it means pushing against what you see is wrong in the world,
engaging with it in the song lyrics and putting across what you feel
with energy, commitment and power. I don't really care if it's
called "punk" or not, to be honest. It was good to have a name like
"punk" in 1977, when we were trying to tell the world that this music
was different from the music that was happening up until then. For a
while, we almost managed to wipe out the corporate music business.
Now, terrible music is everywhere - on MTV, pushed by the multi-
million dollar music business, spreading like a virus through the
internet...you'll never get rid of it. So punk is different now: it's
not about getting rid of the old music - you can't fight that kind of
power and win - it's about recognising that you can survive and
continue doing what you believe in in the middle of all the bad stuff.
Is there any good bands around nowadays?
-There's always good music, but it's hard to find because most of it
is underground. I don't really get the chance to hear much music,
apart from the bands I play with at gigs, because I'm out on tour the
whole time. The little that I hear on the radio now and again doesn't
interest me at all.
Howcome that you do those songs which goes to my heart at once, what is it with the songs do you think that makes me so warm when I hear them?
-Well, I think if it comes from the heart, it goes to the heart.
When you do songs, which is most important, is it to have a good lyrics,good melody or is to have a refrain that people remembers?
-I need all those things in a song. If it doesn't work in all those ways I reject it.
Your lyrics, where do you get the inspiration to do them?
-I can't say. The inspiration is a gift, all I can do is keep awake,
keep aware, and wait for it to come.
Are you interested in football? If you are, how do you think it ´s going for England in the World Championship, you meet Sweden there?
-I have no interest in football. I hate the World Cup because it means
I can't play gigs for two weeks because no one will come.
You will not do anything more with the finnish group Punk Lurex OK? Some other groups/artist you work together with now?
-Punk Lurex broke up a couple of years ago, and the two girls have
formed a new band called Tina, they have a really good 3-track single
out on Hiljaiset Levyt records in Finland. I'm not planning on any
more collaborations on record, but I'll still be playing with bands
live on stage from time to time: The Bored Teenagers in Spain, Garden
Gang in Germany, and the Midnight Creeps in the USA to name just a few!
Boss Tuneage, how come that it became that label?
-I was actually thinking of releasing the record on my own label, the
same as I did with my last album "Not A Bad Day," and when I was
looking into where to get it pressed, a friend of mine in another
band suggested I talk to Aston at Boss Tuneage because he knew a lot
about it. We met up to discuss it and got on really well, and ended
up with the idea of putting it out on his label instead.
How does it works?
-I already paid for and produced the album before I talked to Boss
Tuneage. Now I'm licensing it to them for the UK, and other small
labels for other countries. For me it's great - I'm working with
someone I consider a friend, not a faceless corporation, and I'm out
on tour so much these days that I couldn't really do a good job
promoting the record on my own.
How much does records from you sell?
-It's not going to make anyone rich! I'm happy if I can get all the
costs back and pay something to everyone who worked on it.
But you live on your music? have you ever worked with a "normal" work?
-I manage to live on music from the hundred or more concerts a year
and some record royalties. I'm working without management or agency,
so the hardest part is organising everything and still trying to find
time for the writing and creativity. I'm just very happy that I don't
have to have a "normal" job - I had plenty of those when I was
younger, I've worked in factories and on production lines, I know how
soul-destroying it is. In fact, I think it's criminal, it robs people
of their lives and all it gives them back is just enough money to
live on. Meanwhile, others are multi-millionaires...it's wrong.
Please rank your five favourite records, five favourite concerts and five most important things in life?
-I don't do lists.
First, last and most expensive record ever nought?
-I don't buy records.
Most embarrassing record in your collection?
-I don't have a record collection.
The record you bought just for the nice cover but you get really disappointed on?
-None.
Have you got many reviews on the new record? What about them?
-Had a lot of reviews for the release in Germany a month ago, pretty
much all very positive. I was happy to see so many people liked and
understood the record. The first reviews for the UK release have just
started coming in and they are all really good so far.
Futureplans with the music?
-I'll be happy if I get the chance to make another album sometime.
Until then, well - I'm already booked for gigs up until the end of
the year.
For yourself?
-To stay healthy enough to keep doing what I'm doing.
Something to add?
-For everyone who's reading this and doesn't know anything about what
I've been doing since the Adverts, please check it out! There's a
free download of a song from the new album on my website www.tvsmith.com
Even better, come to a gig!
When do you come to Sweden then?
-I'd love to come. Somebody please invite me and I'll be there...
Cheers,
TV