T-Virus plays a type of horrorpunk which is really good and they have got a contract with the record label Blood and Guts Records. It´s good to hear a swedish band which is so good in this style and here follows a short talk with the band and it's the beginning of may 2006.
History?
-Patrick: T-virus have the pair of brothers from Halsstahammar and one odd from Västerås which started as a gothmetalband under the name "My own kingdom" autumn 2002.
But we decided us for playing som punk n roll style with horrormoviebased lyrics and took the name from the "Resident Evil" games.
We recorded later a 5-track demo which got the name "Need to Feed" 2003
As we later got a record contract from American Blood and Guts Records. And we release our debutalbum in December 2005 there named "Horror Thir13teen"
Please tell me a little about every member, age, family, interests, work and something bad about every one?
-Patrick:
Patrick – Vocals & Guitar
Age: 25 years
Interests: Dig graves
Family: Wife and child
Work: Rockstar & welder
"Have one or another corpse in the closet"
Seppo – Drums & Vocals
Age: 25 years
Interests: Torture in all forms
Family: Not known amount of sisters and brothers
Work: Rockstar and industryworker
"Isn´t late to test peoples painboundaries"
Micke - Guitar
Age: 30 years
Interests: Voodoo
Family: Girlfriend and a black cat
Work: Rockstar & welder
"Plays with sharp needles and voodoo dolls"
Daniel - Bass
Age: 26 years
Interests:Spirits and lost souls
Familj: Girlfriend
Jobb: Rockstard & Seller
"Have more contact with the dead than the living"
Marcus – Synth & Vocals
Ålder: 22 years
Interests: Dissicate things
Family: Girlfriend and a not known amount of brothers and sisters
Work: Rockstar & abstainer
"Want to see things inner beauty"
Bands before or on the side?
-Patrick: For the moment haven´t anyone any sideprojects
But I, Seppo and Daniel played in a Actionrock band "Wasted" from 1996 -2002
Micke, I and Seppo played also in a metal band "The wreckin' crew" '99
2000 sometime there I think it was.
Marcus have had some other bands which I don´t remember the names on.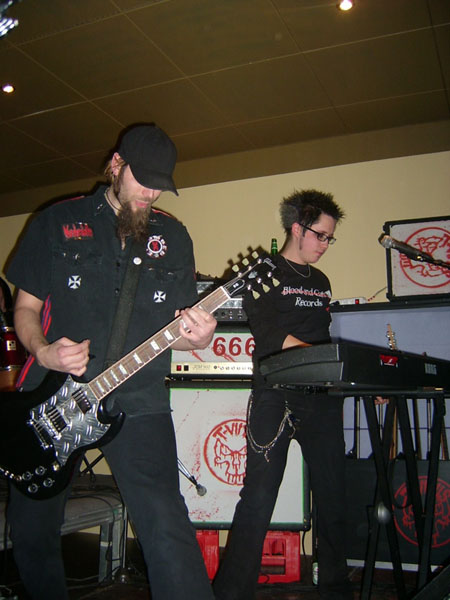 To call your horrorpunk is an easy way for me, but how would you describe your music in three words?
-Patrick: Dark energic rock
I think I can hear both psychobilly and harder things?
-Patrick: Yeah, I get the inspiration from all sorts of music so it can be everything from Elvis to Entombed. And then you mixes it together to something which swings and then a sick lyric to that and then you have a T-Virus song
Which bands are you being compared to? Is it tiring and boring to be compared with other bands or can you understand that?
-Patrick: WE never become compared to any other bands, sometimes Misfits and AFI inspired says people sometimes but that isn´t anything we hide away that we are.
How is it to play this sort of music in Sweden? Is it any interest?
-Patrick: Yeah, there's a interest but it's fucking underground, we have recently heard that we're not alone in Sweden with this style with the horror style but no one of the bands knew each other, so underground was it.
Is there any good bands in Sweden right now?
-Patrick: If you mean horrorbands so is it "Casket Casey" "The
spookshow" & "Devils whorehouse" which comes up right now.
Outside Sweden ?
-Patrick: "The Vladimirs"
"Calabrese"
"Bloodsucking zombies from outer space"
"Rival skulls"
&"Blitzkid" just to mention some
Your lyrics, where do they come from?
-Patrick: Horrormovies and my sick fantasy
Is it important with lyrics?
-Patrick: Personally I think that the music is more important than what's in the lyrics.
What does punk mean to you, is it only a word or is it a lifestyle
-Patrick: Punk is a lifestyle I must say but I maybe must say that it's a mood for us maybe
How do you think is it to live in Sweden otherwise?
-Patrick: Yeah, I have only lived here so I haven't so much to compare with. It´s good , too high taxes and shit but home sweet home.
Please rank your five favourite records, five favourite concerts and five most important things in life?
-Patrick: Five favourite records right now
1. Roky Erickson and the aliens "The evil one"
2. Bloodsucking zombies from outer space "A night at grand guignol"
3. Rancid "And out come the wolves"
4. Entombed "To ride, shoot straight and speak the truth"
5. Misfits "Walk among us"
Five favourite concerts
1. Misfits, Hultsfred '98 I think it was
2. Twisted Sister, Sweden rock ,04
3. Turbonegro, have I seen many times
4. Murderdolls, Roskilde '03
5. Mötley Crue , Sweden rock '05
Five most important things
1. Family
2. Music
3. To have fun
4. To be healthy
5. And then die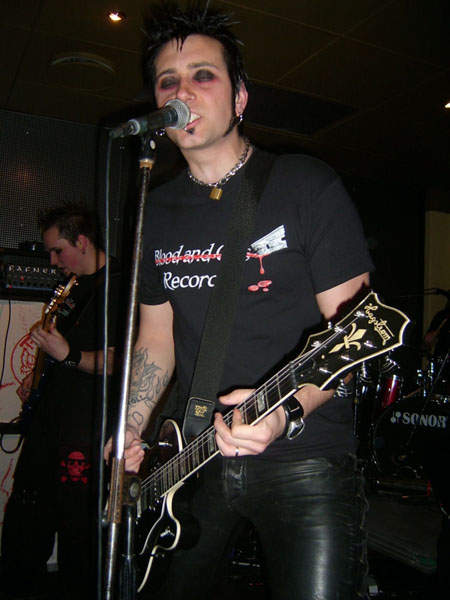 First, last and most expensive record ever bought?
-Patrick: The first one was Asta kask "Aldrig en CD"
The latest was Bloodsucking zombies from outer space "A night at grand guignol"
The most expensive I haven´t a clue which it is
The most embarrassing record in the collection ?
-Patrick: It´s really hard between Herrey's "Diggi loo diggi ley"
and The Pink's "det spelar ingen roll" both vinyl '7
But it´s really cool.
The best record to have sex to?
-Patrick: I don´t care what is being played but I want low volume , otherwise it's only disturbing
Is it many interviews? Is it boring?
-Patrick: No, not so much this far, no, boring isn´t it at all, more a little bit hard to say something worthful.
Which is the question you never get but you want to have?
-Patrick: Help, that was hard, but I cannot come up with something serious, so I let it be unanswered.
Now to something completely different. Favouritemovie and why that movie? . Patrick: SAW I think it was so fucking good and I only sat there with my mouth wide open and wished that Saw two already was done so you could see it at once. It's not so many movies which makes you feel that way.
Is it something you do often, look at movies?
-Patrick: Yeah, three- four times a week anyway. Must get some inspiration to new lyrics.
Downloading of music? How do you see on that? And who is losing on this??
-Patrick: I think it is good that way, you can hear new bands which you never have been discovered otherwise but I personally want to have the originalrecords so if I like something I like I buy the record and then noone loses anything. But if you don´t buy the originalrecords loose the one which have written the song and he record label money on that.
How did you came in contact with Blood and Guts Records?
-Patrick: Micke found them on the net when we trying to find a label which was doing Horror rock. So we wrote to them that they should listen to some mp3:s on our website and they asked us if we wanted to be on a compilation. "The Resurrection : Horror
punk comp #2" which we were on, we sent over a demo to them and they thought it was so fucking good so they gave our a recordcontract.
Is it a good company, any good bands there?
-Patrick: We´re really satisfied, they´re more than mates than the owner of the company. Now it's T-Virus, & Casket casey from Sweden
The Vladimirs from USA& Rival skulls from Italy
The first fullength, how was the feelings?
-Patrick: It was an incredible feeling about something you only have dreamt about. It was an indescribable feeling to hold it in your hand the first time
Futureplans for the band?
-Patrick: we shall conquer the world and then after that the other planets. It will go or not, we must take one day at a time.
For yourself?
-Patrick: It would be wonderful just to live on your music for a while. But as I said, one day at a time
Wisdomword?
-Patrick: Be polite until it's time not to be it anymore
Something to add?
-Buy our record "Horror Thir13teen" otherwise comes Zombies and eat your brains.