Tvärnitad is a really good hardcorepunkgroup I really like and I have interviewed them now but it took a while before the interview was completed, but here it is now ... .Juni 2016
A little history about the group? Full discography?
-Tvärnitad startedin the spring of 2010 by accident when my (Jonas) wife drove the car, slammed on the brakes and exclaimed something like -now I was Tvärnitad. And then I immediately said that I should start a band to be called that and it will be playing punk / hc. I recorded the first album "Krossa tänderna mot kaklet' self & released it on CD is at the end of 2010. When I realized that people seemed to like shit so I asked my colleague Morgan if he wants to be in the group, which in turn ruled together some more members like Niklas, Tom, & Frederick as he played with from before. Then it was just to start rehearsing. At the end of the year we did our first gig in Bankiren in Västerås.
Release 1: Krossa tänderna mot kaklet cd r.
Release 2: Fruktansvärt cd.
Release 3: En tragikomisk komedi i livets regi tape.
Release 4: Nödrim, alkohol & svordomar is a cd with all three previous releases plus some more stuff.
Tell me a little about every member, age, work, family, bands before and tapes
beside??
-Shouting Jonas, played bass in Fromtheashes.
Drums: Niklas, plays drums in Kill the kong & Heroes Die alone.
Bass: Fredrik, plays bass in Heroes die alone.
Guitar: Morgan, plays guitar in Heroes die alone.
Guitar: Tom plays the guitar in Heroes die alone and sings in LBSB.
Jonas is a man over 30, while the other boys is in their youth.
I can hear very much old like Total Fucking Darkness, Anti-Cimex, Black Parade, etc. Do I hear right? Was it better before?
-Some of us listen to these bands and similar bands, but when we write music we do not think about how to sound, but they just become the way they be. I (Jonas) who writes virtually all draw inspiration from everything I listen to all genres, from hc / punk to radio hits / pop. The texts is inspired a lot from the Swedish rapscene etc. But even from punk, hc and metal. But it's only afterwards you can point and say
that it sounds this or that.
Tvärnitad are you satisfied with the name. If not the best band name had been busy which name had you chosen then? I mean what is the band name you know?
-The best band is bust and it´s we who are the ones who have it. Joking aside. It's fun with words that have multiple meanings. For example our second release "Fruktansvärld" and our upcoming release that I now reveal the working title "Dyngsur". But of course, I think Återfall has found a name they must hold on tight to. Would have loved to have started a gender-rock band called Framfall if I had time.
What is the best thing about playing live?
.To get direct feedback on the things you have created. To give jaw knocks to the people who likes it.
Where is the best to play, it was the worst?
-South & Northern Sweden has clearly the best speed and enthusiasm below the stage. Central Sweden lacks a little of the glow, but then it's a bit from time to time too.

How is it to play this sort of music in Sweden today?
-It's great that more and more people seem to be engaged in the "small stage"
How would you describe your music in three words?
-A fucking punch in the face.
What does punk mean to you, is it only a word or is it a lifestyle?
-Not any of us have punk lifestyle, but all we listen to any kind of punk and have done it as long as we can remember.
How do you see on downloading, MP3 and the like?
-The best thing that happened. Otherwise, not many have heard us.
How do you think it is to live in Sweden today, politically?
-Not any of us are so damn politically informed, but right now it feels a bit messy.
Are there any good bands in Sweden today? In your hometown?
-There Is the absolute. And we hope for more.
Do you play anything outside Sweden?
-Tvärnitad has never played outside of Sweden. But it would be fun to overturn any of our neighboring countries.
Other great bands from abroad?
-It's impossible to answer. There's thousands.
Your lyrics, what influences you? Why no lyric sheet in the CD?
-If not the lyrics ridicule ourselves to ridicule those shortcomings in society or alcohol. That's usually that no lyric sheet in the envelope indicates poor budget so therefore we have a section called tvarnitadtexter.n.nu where you can read the lyrics.
Is there something you are never going to write about?
-Love. There are already so many others who have write about that.
Politics and music, does it always goes hand in hand?
-It's always fun to get out their message, whetherit´s politics or another, through the music. But they not always goes together.
Best political band / artist?
-As I said none of us is so politically informed. Certainly not at the level where politics is the most important thing in music. For us, music is absolutely the most important.
Do you think music can change someone's life, I mean texts etc.?
-Yes, I think so. But I hope that no one listens to our texts and try to live up to them.
Your cover is really cool on your CD, who has done it. Is it important to have a cover so you understand what kind of music you play? Which is your favoritecover all time?
-It's me (Jonas) that makes all the covers. It's always nice when the cover reflects the content. Svullos cover on Tide on must be one of the best.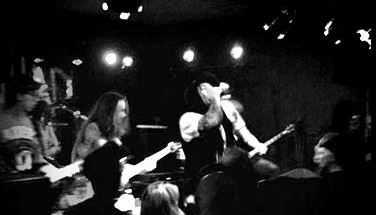 Is it important to get out physical discs? Is there any good record stores in your city?
-It's always fun to peddle physical discs but the main thing for us is that people will listen to us. There is a record store in Vasteras called Skivbörsen, which is great. There, we have sold a few records.
Please tell me something really funny that happened during your career on stage or behind the scene?
-Could not call Tvärnitad any career and during the few gigs we've been doing it has not actually happened something really funny, except that people have come there and looked at us.
How does your audience look like? Which type of people? If you miss a few types of people?
-That's the most pyspunks and the occasional diehard crustnecks.
Please rank your five favorite records, five favorite concerts?
-Pass. This will take longer to answer than all the other 32 questions together.
Is it boring with interviews ??
-No, It's really nice actually.
If you could choose five bands from history, dead and alive to have a concert together with your band, what are the bands you dream about?
-Five men will choose five bands? We could not even to agree on a set list. We skip it.
Is music is a great way to get out frustration and become a kinder person?
-It's damn adrenaline flowing when playng live, which is fantastic. If you become kinder I leave unsaid.
Which is the question you never get, please ask it and answer it?
-What Is the Pythagorean theorem(Pythagoras sats)? Answer: A cruel gaypornmovie.
Future plans for the band?
-Add finishing singing on the upcoming release and get it out to the millions of screaming fans.
For yourself?
-We'll just working on in good old style Tvärnitad doesn´t makes us rich.
Words of wisdom?
-Forward with the sausage because now comes the mashed potatooooes!
Something to add?
-No.