Turtlehead was on the Swedish label Bad Taste some years ago but now they´re on another label and they sent their new record to me and I really liked it.Robert is taking his time to answer my questions and that was in October 2003.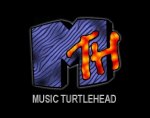 History?
-Robert, the band started in 1994 with Paul, Gary and myself, after going in to record our first demo 'High Flats' we realised that Pauls voice just wasn't right, so thats when we found Brian in early 1995. We went back in to record the demo and it sounded right this time. We did the usual thing of sending off tapes to every label we thought was good, and after a while Bjorn at Bad Taste got in touch and wanted to put out our stuff. From there we recorded a cdep 'Go' and 2 albums 'Back slapping praise from back stabbing men' and ' I preferred their earlier stuff'.
We also toured Europe 3 times and also we've toured Canada as well as the UK and Ireland many, many times.
Please tell me a little about every member in the group, work, interests, age, family and something bad about every one?
-Rob, I'm the first of 3 postal workers in the band!! As for my age well i've been in Turtlehead 9 years and I started playing with them when I was 22years old, I live with my wonderful girlfriend, Carole who puts up with all this and bands staying over when they play near-by. I don't have any bad things to say about any of the other guys, I love them all!!! hehehe as for my other interests, I like reading a lot, but can never find the time to read all the books I want to, I've just finished 'Casual' which is about Football hooligans, the music they listened to and the fashion which they wore. It was really good as it explains the beginnings of a youth culture which was very underground at the time.
Dave, I'm another postal worker, I joined the band in 2000. I had known the guys for years anyway, so when they asked me to join iIsaid yes without even thinking about it, maybe I should have!!! :-) I live with my girlfriend Emma and as she also plays guitar, we have 9 guitars in the house which take up way to much room!! but I suppose its better than 9 drum kits!! hehehe
Brian, I'm the last of the 3 postal workers!!, I've been here since almost the beginning (1995) I stay with my best mate Alan and basically waste my time on Pro-Evolution soccer on the PS2!!! That and watching Celtic. Football at its finest!!!
Rich, I work for the job centre, and live for the metal!!!
Previous and bands on the side of Turtlehead?
-Rob, I used to play with Paul in a Hanoi Rocks style band called Indian Angel. Thats how I met Paul. We (I.A) toured the UK a few times and made a couple of demo tapes. Thats how I cut my teeth in bands as i was only 18 at the time of my first tour.Turtlehead takes up all of my spare time and to be honest if I played in another band it would probably end up sounding like Turtlehead! So I wouldn't want to inflict another band like that on the world!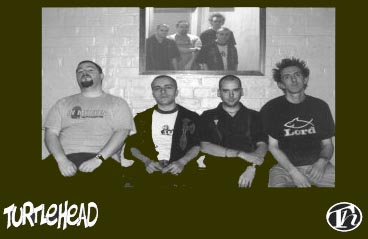 Dave, I play in guitar Shatterhand. Shatterhand have been going since 1998 (I think) and we actually played our first gig supporting Turtlehead!! Its a totally different style to Turtlehead, very much fuelled on the demon drink Carlsberg!! Before that I played in many other local bands which will stay unmentioned just incase anyone remembers how bad we were!
Brian, I don't play in any other band and I'm not going to mention previous bands on the simple fact that we sucked and all the bands had really bad names!!
Rich, I up until very recently was helping out Dead Or American on bass as they didn't have one. I played a few gigs and have recorded some stuff with them. The are friends so it was cool to do it, and its a totally different style to Turtlehead. More along the lines of Fugazi, at the drive in, etc kinda post hardcore stuff
You were on swedish label Bad Taste Records before, what happened?
-Rob. Bad Taste were signing a lot of new bands and obviously they wanted to get cds out by them, this meant that our release was getting pushed further and further down the list, so we decided that the time was right to leave, as we had not released a new cd for 5 years and the tracks we had were ready to go. so we left. No bad feelings and we're still mates with Bjorn and we keep in touch. It was probably the best thing we did as a band as it made us more determined to get the cd out and to make it the best we could.
What do you like the other bands on Bad taste?
-Rob. I really liked Astream, they were good guys and lassie!! Its a shame they split up, but they left us with some good tunes, I also liked Misconduct, who have now also left Bad Taste, but have a new album out on their own label as well. Trigger Happy were just awesome to watch live. I haven't really heard much of the newer bands, Logh, LastDays of April but from the reviews I've read, they seem pretty good.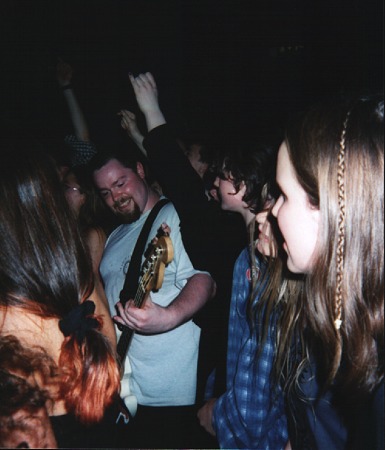 The label you have now, is it your own or? Any other bands there?
-Rob, Leatherback Records was set up to release Bleeding Hearts and Burnouts, and it is the bands own label. We haven't thought about other bands being on the label, although we would never rule it out, and if the right band came along we would centainly think about it.
Dave, My other band Shatterhand also have there own label. I think its just easier now, and you don't have to wait for a label to come knocking at your door, and you can put out stuff when you want to, not when you're told to. you also have total control!!
Rich, Dead or American also release their cds on their own label. As Dave says above it lets DOA do what they want, when they want, but they've had some label interest, so its paying off now
How is it to play punkrock in Scotland?
-Rob, Punk in Scotland just now is pretty good with loads of good bands around all playing different styles like Dead Or American (post hardcore Fugazi type stuff) Barefoot (poppy punk) Engage (hardcore) also Daves other band (see Q 3) The only slight problem, which is probably the same everywhere, is the lack of live venues to put on gigs, and trying to get people to come, which is definitely the same everywhere!!!
How would you describe your own music with three words?
-Rob, tough question!!! melodic punk rock!!
Is there any good bands in Scotland right now? In England?
-Rob, As I mentioned in Q7 there are a lot of good bands around in Scotland just now, down in England there are loads more, although one of my favourites, Consumed, have just announced that they are splitting up after their tour in Nov, which is a shame as in my eyes they are the best Punk band in the UK just now, others include One Car Pileup, Milloy, and the always awesome Leatherface. Its hard sometimes of keeping track of what's going on as so many bands are appearing, and they're all good!!
Rich, Dead Or American, In Decades Decline, Engage are all good bands, well worth checking out
Dave, Bovine are rocking out now after a line up change, again there are so many good bands it is hard to keep up, but the internet makes it slightly easier and kazar!!!
What do you know about Sweden? What is typically swedish?
R-ob, I have been lucky enough to have visited your fine country a few times and I really like Sweden. the people are cool and friendly and they like punk rock!! as for what we know, I guess its what we see in the media and the last big thing at the time of writing out this interview was the murder of one of your ministers (MP) and the euro vote, which you voted no to accept the euro currency.
I'm sure i could give you the typical answer about what's typically Swedish and say Volvo's Abba and Ikea!!! but i think the Swedish are very much like the Scottish people, very friendly.
Have you heard any good bands from Sweden except the ones on Bad taste?
-Rob. Yeah i've heard lots of good bands, Millencolin, who we toured with are ace, Randy, their new album is really good, Voice of a Generation, and I know Turbonegro are NOT from Sweden, but Norway, but they ROCK!!!
Rich, I like a lot of metal bands from Sweden and Scandinavia as a whole, its a good metal scene there!!
How is a good gig with Turtlehead?
-Rob, Personally every gig for me is good, I really enjoy playing live, and especially with this line up. this line up has been together for over 2 years and its probably the best yet. everyone in the band really feeds of each other, and alot of people have commented on the change in seeing us live. There is just so much more energy in the newer material and the whole band enjoys playing the new songs.
Which is the most peculiar thing which have happened on a concert with you, on stage or in the audience?
-Rob.We played in Edinburgh one time and Brian had a drink to many, so we're playing away and then we crack into another song and Brian just forgets all the words to the song and just starts singing the words to another song over the top of the music, Dave even tried to sing the right words, but Brian was totally oblivious to this and somehow sang all the wrong words but still finished at the right time, it was very confusing but the crowd didn't seem to notice, maybe they were as drunk as Brian!!
How does the average fan look like?
-Rob, They all come in all shapes and sizes. We attract a good range of people to the gigs, from 77 style punks, to Skater kids, to people who just look regular, they all seem to enjoy it and we really like the fact we can appeal to such a wide audience. I think its hard now to look at someone and say what they are into, as the saying goes 'Don't judge a book by its cover'
How much does a group like Turtlehead sell?
-Rob. We sell ok, not hundreds of thousands, but the cds go down as do the shirts and hoodies, we sell more at gigs than through mail order, as do most bands. I guess most bands are the same, and because we do all the posting out of the cds via the mail, it still feels good that someone has taken the time to get your cd, it makes it still very personal.
Do you have good contact with your fans? In which way?
-Rob, If anyone writes to the band asking a question or wanting to find out some stuff, do an interview, or requesting a cd for a review always get a reply. We always take the time to reply as the people writing to you are the ones who are going to come to the shows, buy the records etc. if you act like you are better than them, then they tell there friends and word of mouth gets round and everyone thinks that you are assholes.
Dave, its the same at gigs, if anyone comes up to speak to us after a gig or outside before, we always take the time to talk and hang out and have a beer, or 2 or 3.....
In which way do you think that internet can help out punkbands?
-Rob, The internet has been a massive help to the punk community! So many bands are now in touch with each other, guys like you can email bands on the other side of the world for an interview or review their cd. and then people in that country find out about a band who before would never normally have found out about. It also makes booking tours easier as well. we get a lot of mail from all over the world, from people who will probably never get to see us, just saying that they downloaded a track and they think its ace, and then buy the cd rom the website.
Where do you stand when we´re talking about mp´3 s, bad or good? Are you download things yourself?
-Rob, I think MP3's are great. for me I can download a track from a band I've never heard of, if its good then go on and buy the cd, most people I know do the same, get a couple of tracks, if they like them go on and get the original cd. I think it can only help bands. Most bands i know are of the same attitude.
Please rank your five favoruite records, five favourite concerts and five most important things in life?
-Rob. Sex Pistols 'Nevermind the Bollocks' The Clash 'The Clash' Face to Face 'Face to Face' Descendents 'Milo goes to college' Social Distortion 'White Light, White Heat, White Trash'
Concerts (in no order) Snuff, 1987 Edinburgh Venue, Rancid, Glasgow Garage 1994, NoFx Edinburgh Venue 1994, Pogues, Glasgow Barrowlands 1989, Face to Face Manchester 2002 ( i had waited 10 years to see this band!!!!)
Carole, Turtlehead, all my friends and family, punk in general for all the great bands that have helped me through life,
First, last and most expensive record ever bought?
-Rob, I can't really remember my first record I bought, although the first album I got was Sham 69 'Adventures of the Hersham Boys' sadly someone stole it and it was a doulble lp!! Last record I got as I write this was Rancid 'Indestructable' which absolutely rocks!!! Matt Freeman is the bass player from hell. and i have never really bought a really expensive record, probably it was Social Distortions 'White Light...' at £18 which was in 1996 so i guess that was a lot back then for a punk album, although well worth it as it rocks, probably their best ever album
Are record collectors pretentious assholes?
-Rob, no way!!! As I've always said a record collection is like looking into someones heart. You can tell straight away what kind of person they are just by what records they have. And for me the joy of buying a record/cd just cos the cover is nice taking it home, putting it on and the band knock you out is still one of the best feelings in the world
Rich No Way!!!!
The records I have with you are the ones at Bad taste and the latest one Bleeding Heart...have you done anything more and how can I get it if you have?
-Rob, we're on a load of samplers, but mostly it was tracks taken from the first 2 cds. we did do a couple of split 7" vinyl singles, but these were only prints of 250, and are long sold out, although maybe ebay might have some!! That's really all we've done, there could be others but sometimes you lose track of what's on what, and Bjorn at Bad Taste might have put some tracks on cds for various people.
If you should give an advice to a young band which has started right now, which advice will it be?
-Rob, keep at it and do your own thing. if the members of the band are happy playing what they play, then that's all that matters. Play what music you want, not what's in fashion at the moment, obviously we've all got influences, but as i said just take them and make up your own stuff.
Where did the name Turtlehead come from?
-Rob, The name has a few meanings, Its actually a flower which grows in the US, although we didn't know this when we started the band, its also something that was used in Viz, which is an adult comic, and more recently it appears in one of the lines in 'The spy who shagged me' the Mike Myers film
Do you do any covers when you play live? Why or why not?
-Rob, yeah we do a few covers, the ones we do most are 'Hey Suburbia' by Screeching Weasel and 'Kick out the Jams' By MC5. We also play 'Video killed the radio star' by Buggles, that song also appeared on Bad Taste vol 3 comp I think. we've been playing around with a few new covers, but nothing has grabbed us yet. there are also bands which we would never cover ie The Clash, Samiam, Hot Water Music, usually because they're to hard to learn!!! but most of the time the 2 guitars is hard for us to reproduce as we've only got 1 guitar and live it can lose it a bit. but covers are great, the crowd like them as well, especially if its the first time someone has seen you play and might not be familiar with your songs. Its a good ice breaker.
What does a cover good?
-Rob, Probably not us playing it!! hehehe. I'm not sure as i said in last question everyone like to hear a song that they know, Me First and the GimmieGimmies have got it right. I know loads of people who aren't into punk have bought these cds just because they like the way the songs have been speeded up. On the downside, Me First always steal the best covers!!! :-) hehehe
How is it to live in Great Britain right now, politically I mean?
-Rob, It kinda weird right now, Tony Blair (our Prime Minister) is getting a right kicking from the media/press for the Iraq war stuff and the WMD's or lack of them, but our main opposition party the Tories are worse than useless!! They can't even gain any ground on Labour, so T.Blair is getting away without having to answer any real tough questions. we also have what you guys have just been through , the case for the Euro currency, the country is still very divided on this. But apart from that I'm glad we're not following the American line. I would hate to have Bush leading us, the man is a nutter in my eyes!!
What influences you when you write lyrics, do you do the best lyrics when you´re mad or when youré angry?
-Rob, Lyrics come from many sources. we all contribute to the songs in some way, Brian usually has the melody and a few words, then from there it just expands with us all putting in a few lines. Not sure when the best lyrics come as when you're mad the song tends to be dark, but if you've had a good time recently the song will tend to be more happy. Its hard to write angry songs when you're quite happy with life in general.
Although the latest album is very much darker lyrically than the previous 2, I think we've all been through a lot of shit over the past 5 years!!! :-) hehehe
Futureplans for the band?
-Rob, Hopefully there is some stuff in the pipeline just now, but we can't say to much about that. we'll be out on tour in November in Scotland and then in Feb 2004 we start our UK tour, After that, we should finally get to the USA, we were meant to go before, but Digger 9the band we are touring with) had a few line up problems and that knocked everything out of plan. they have got a new line up now, so its just a matter of getting the dates sorted. We also should be back in Europe in 2004, not sure when, but we will be. And during all this, we'll be writing for our 4th album, which hopefully won't take 5 years to come out!!!
Rich, Hopefully we'll get to tour Japan, I've always wanted to go there, I may not come back though!!! hehehe
For your self?
-Rob, making sure all the above gets done!!!. Hopefully my own life and the band life will develop together, its what i've done for most of my adult life, play in bands, I live for it!! Also I hope to get the decorating in my new house finished sometime soon!!!! :-) hehehe
Wisdomword?
-Rob, Live your heart and never follow
Something more to add?
-Rob, thanks to you Peter for doing this and writing out all these questions. punk needs people like you as much as it needs bands. Hopefully we'll get back over to Sweden soon, and if anyone wants to get in touch please do here www.turtlehead.tk or send us an email here mail@turtlehead.freeserve.co.uk
Thanks again to Peter and see you all soon, Cheers