Please tell me a little bit history of the group?
-The band was formed December 26, 1996 at our hometown in Bulacan, a province just outside of Manila, Philippines. From then, we played on numerous underground gigs in and outside our province and in 2007 we played our first gigs outside the Philippines when we played in Singapore and Malaysia. In 2010 we we're invited to play in Denmark, it is the first time that a locally formed hardcore punk band from the Philippines ever played in Europe. We have released a total of three albums and are currently working on the fourth.
Please tell me a little about every member in the group right now, age, family, work, interests and something bad about everyone? Have you been in any other punk bands before?
-Pedrobandido on Bass and Vocals
Bimboi San Pedro on Guitars
This is the same line-up we had since we started. The three of us are Architects by profession, we have different interests but we share the same passion when it comes to arts and music. All of us came from three different hardcore punk bands in the early 90's, namely Pesteng Ahem, Compress and Oppressed Republic.
You have listened a lot to older 80´s punk and some hardcore? Am I right? Favorites from the past?
-Yes you are right and since most of these records are not commercially available and / or very hard to find at that time. We acquired these records through bootlegs stores, re-dubbed of a re-dubbed tapes and some from friends who have been overseas and they brought along these records from these great bands. Individually we have different favorites but as a band, aside from our local punk bands, these are our main influences when it comes to foreign hardcore punk bands, The Dead Kennedys, Minor Threat, Black Flag, Circle Jerks, DRI and The Descendents.
T.S.A., are you satisfied with the name? What does it mean How did it came up? Which is the best bandname you know
-It doesn't really have a specific meaning, we kind of put that up for people to see or for them to put their own meaning to those initials. And they came up with really interesting ones, one of our favorite would be The Singing Architects, obviously in reference to our day job. The best band name that we know of and like, and wish we could have come up with, would be Minor Threat, because of its simplicity yet still has that promise of danger to it.
What´s the best thing with playing live?
-Getting our song heard.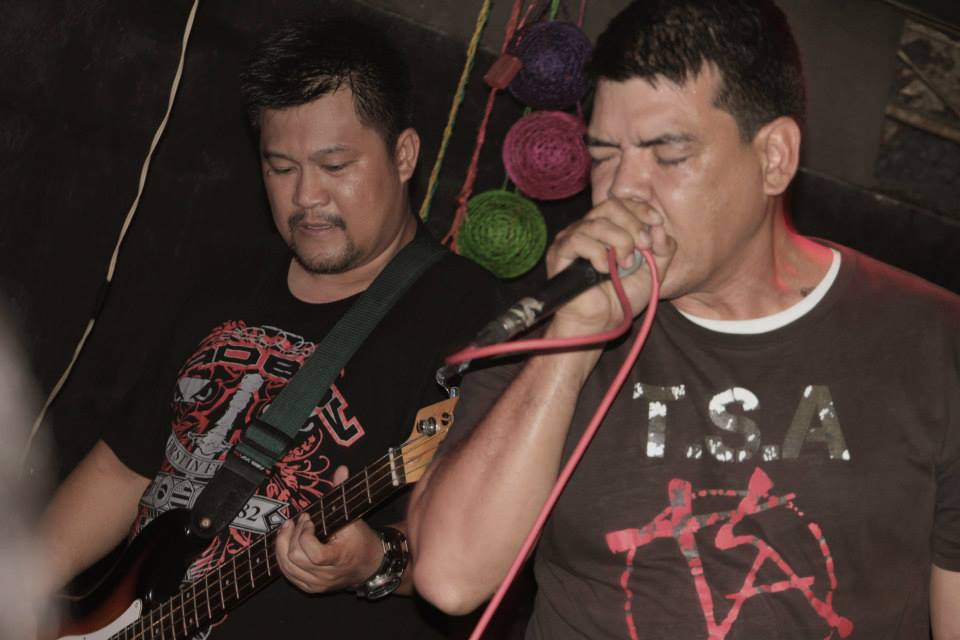 And where is best to play?
-We are not really particular with venues, as long as we get to play, get our message across and one or more people would get it, then, anywhere is fine with us.
How is it to play this sort of music in Philippines?
-Hardcore Punk is still not commercially acceptable which is how we, in the local underground scene, all like it to be.
How would you describe your music in three words?
What does punk mean to you, is it only a word or is it a lifestyle?
-We believe that punk should not be defined. We think that the beauty of punk is that it is mis-understood and that people don't get it. Kids turn into punk because they know and feel they are different from everybody else. So if we put a definition on punk then we are categorizing it and putting it in a box and we might as well include a checklist on how to become a punk so that kids can conform to that classification to avoid confusion and having "posers" around the scene.
How do you see on downloading, mp3 and that stuff?
-We don't have any problems with that, there is a convenience carrying thousands of your favorite songs in your pocket and readily available for you to listen with just a few swipes. Downside is that all these music is so accessible that it sort of loses its substance or appeal because unlike before, if you really want to get a hold of a song or an album, you either need go the record store to buy it physically as in CD's, tapes, LP's, or if it's not available commercially then you need to find someone who does have a record of it and copy it from him, or wait for it to be played on the radio and record it. That is why you love or get attached listening to those songs or albums because there is a process on how you acquire it unlike now, you click, you listen, if you don't want it, jump to next song, still don't like it, hit delete, so the music now feels like it is disposable.
How is it to live in the Philippines now? Politically?
Same shit, different day.
Is there any good bands from Philippines now? Is the punk scene big? How is it in your hometown?
-There are a lot of good bands from the Philippines, credit it that to the somewhat innate musicality or love for music we Filipinos have. The punk scene is big, alive and well, being arguably, the oldest punk scene in Asia. Even though it may be divided into regions but still it is one big tight community, punks from different regions support each other. In the last few years, a lot of foreign hardcore punk bands include the Philippines on their tour because they know how strong the scene is. And now more local punk bands also do their own tour as well.
What do you know about Sweden?
I-Ikea, Abba, high taxes, Vikings, Stockholm syndrome.
Have you heard any good bands from Sweden?
-We have heard of Abba, they are very popular here in the Philippines back in the 70's and 80's, but for your local punk hardcore bands we have not yet acquired any records yet to listen to, but we would like to. The only bands that we know of in that region are bands we played with when we were in Denmark; you may have heard or seen these guys also, they are Hjertestop, Uoplagt and Night Fever. We played with quite a number of foreign bands now but we can't remember if we have played with a touring band from Sweden before.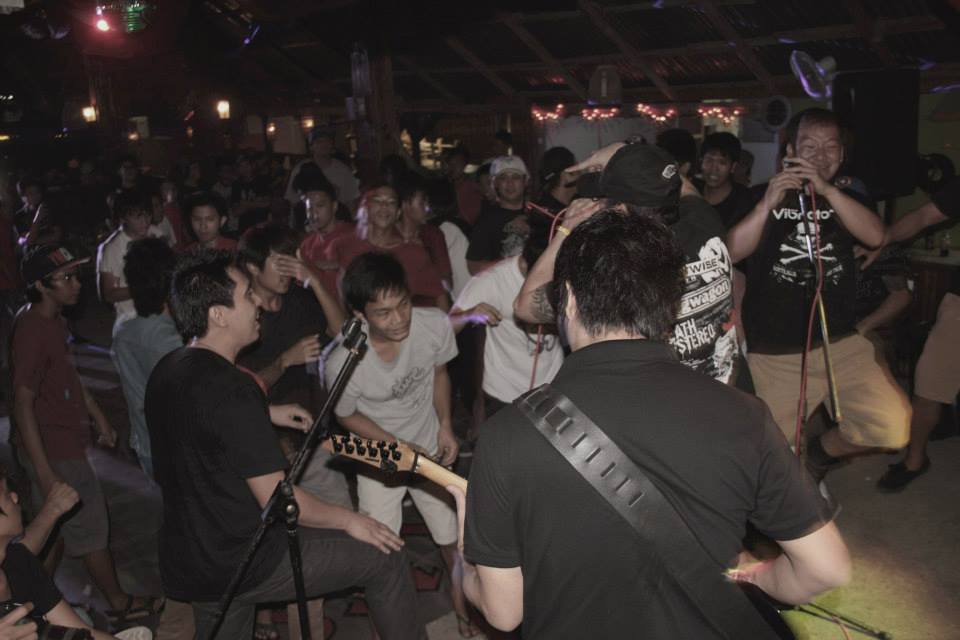 Your lyrics, who does them and what influences you?
-The three of us write our songs, we drew inspiration from things and events that affects us individually and as a whole.
Is there any subject that you never will write anything about?
-Probably about sex or a mushy love story, but who knows haha!
Politic and music, does it goes hand in hand?
-Punk has always been political in nature because it is anti-establishment and anti-authoritarian. So politics, good or bad, influences musicians and artists, and in return music, songs and art inspires political movements.
Best political band/artist?
-We'll probably go with Jello Biafra, though we don't agree on some of his views, but his work on the Dead Kennedys is a major influence to us, most of his lyrics are like our introduction to politics and how bad and exploitative governments are and he is probably the most politically active person we know that came from the scene, he once ran for mayor and placing second to his party's U.S presidential nomination, one can only just imagine, knowing his views on politics, how things could've been if he won.
Do you think that music (lyrics and so on) can change anyone's life, I mean people who listens to music?
-We can't speak for other people but for us it did happen. We discovered punk through punk records and after that everything changed. Essentially we became different from what society want to mold us to be and our views in life became broader because of that.
Please tell me a little about your thoughts with Back to Kindergarten? Is this old Philippine band which have done these songs Before. How can I get their records?
-That tribute album was planned even before we released our first record. It is our way of saying thanks and paying our respects to these great punk bands and its personalities or our older brothers as we fondly call them. All the songs are from pioneering punk bands in the Philippines circa 1979 to late 80's. All their records are released under the Twisted Red Cross label and in cassette tape format. Through the years most of these records are digitized and uploaded over the net, we can send you link's if you are interested.
Is it important for you to get out your records physical also?? Something new on its way
-Are you referring to physical record releases like CD's, if so then yes, for it is the most viable medium now to release records. We haven't tried that on-line releases though, where you upload your songs then people would buy and download it. We are not keen on doing it but there is always a possibility.
Please tell me a funny thing which have happened during your career and under some gig?
-Something that looks funny but in fact is painful, is when we are playing and the crowd is slam dancing or moshing, whichever you prefer to call it, then suddenly one will get thrown into my mic stand and the mic will hit me square in the mouth. Another amusing albeit embarrassing story we have is when we returned from a gig in Kula Lumpur Malaysia and we caught a midnight bus going back to Singapore which is about a six hour drive, we fell asleep and when we arrived in Singapore we woke up fully rested because we slept through the duration of the travel, then one of our companions says most of the passenger are a bit pissed at us because they failed to sleep due to the three of us snoring loudly.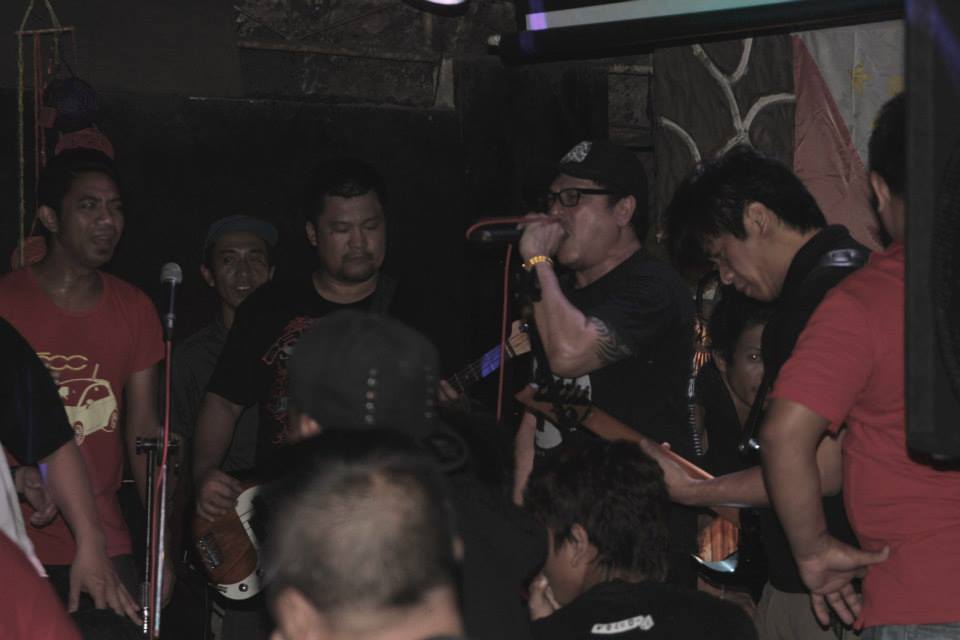 How does your audience look like? Which people do you miss on your concerts?
-Nowadays, people would get to punk shows dressed normally. Very few would go on their "Type A" gears with mohawk, spikes, leather jackets, studs and stuff, mainly because of the weather, it is impractical to wear a leather jacket on a hot humid day. A normal punk show would consist mainly of 5 to 10 bands, playing to 50 to 100 people, on a small venue with either a good to crappy sound systems. Another great thing to see are aged punks still going to gigs to support old and new bands.
Please rank your five favorite records, five favorite concerts and five most important things in life?
-Records : 1. Fascinating World Of Garbage (G.I + The Idiots)
2. Second Coming (Dead Ends)
3. Independence Day (Urban Bandits)
4. Fresh Fruits For Rotting Vegetables (Dead Kennedys)
5. Complete Discography (Minor Threat)
Concerts 1. Kalapagan Sa Baliwag Concerts
2. Opening for The Casualties
3. Sick Of It All Live in Singapore
5. First overseas gig in Singapore
Is it boring with interviews? IS it much interviews??
-Not sure what you mean, but is not every day that we do interview's or what so we don't mind.
If you could choose five bands from the past and the history and nowadays and both dead and living bands to have a concert together with your band. Which five have you been chosed?
Future plans for the band?
-More songs to record and more gigs to play. We intend do this as long as we are able to.
-Don't just do covers, write songs.