Truth in Needles sent me some cd´s and a t-shirt and they have been on the road for a while since 2005. This interview was done in june 2021.
Please tell me a little history of the group, members and have you been playing the whole time since Hardcore Liberation Front?
-We Started the Band in 2005 in NYC,Our line up is
Wellington on vocals
Will on Drums
Keith on guitar
Jonathan on bass.
We recorded HCLF (2005)with Legendary Hardcore Producer Don Fury. TURNING GRAY BLACK (2011)Produced by Joey Z of Life of Agony.INFAMOUS EP (2020)We had to take a few Breaks from 2005 to 2010 due to work obligations. During that time we had few Bass player changes the Band became completed when Jonathan joined the band in 2009
Me myself is old and how old are you now, do you fell old or is age beauty? It´s the same members as on the 2011 record or do I have wrong? Please tell me a little bout every member?
-We don't focus on age cause none of us act like our peers at a time when most people want to retire we go out and play shows. It's been same band members since 2009.Wellington and Will are brothers played together in Devotee. Keith played in Jato. Jonathan is NYHC OG played with Sealed With a Fist
Infamous, is it which is the feeling with your band?
-We choose to call it Infamous cause we had a lot of negative stories about us being told to fans/Promoters/Managers and touring bands from other local musicians trying get us kicked off bills or not have us added to the show. It's a Cut Throat/backstabbing scene there are a lot of people that promote unity but will do anything to fuck with another band that maybe getting some attention . Until they see us play live and talk with us does their opinion changes. The funny part is everyone been letting us know who these scumbags are.
What´s the biggest difference with playing 2006 contra 2020?
-It did sucked not in 2020 cause of the Pandemic but the fun of playing shows hasn't changed.
Is it important to give out the record as physical releases do you think?
-For us we love physical releases in a world of Streaming services and Downloads as Artists the music not complete without the art and for any music collector it´s great to add new music.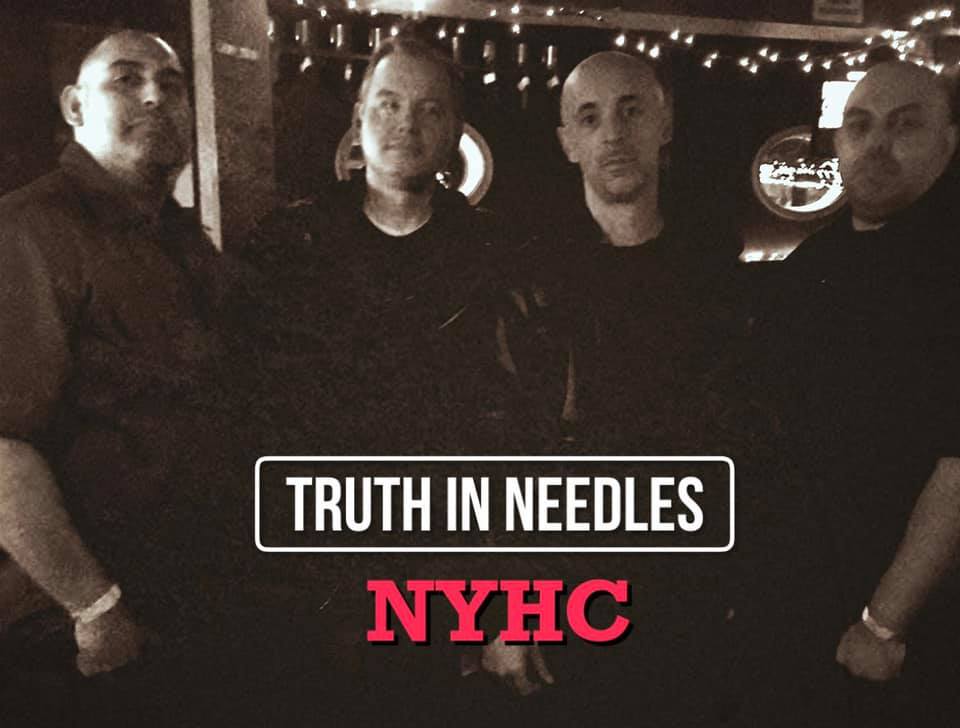 Do you play any covers when you play live? If you do, which then?
-No we don't play any covers, we have a lot of songs in our catalog and are constantly writing. We don't try to get the crowd into us with someone else song if you like our band it cause you like our songs.
Please tell me a little about following songs
Broadcast killing?
from INFAMOUS EP: it's about everyone these days profiting off someone else misery quick to film a murder selling it to the News Services but not help by at least call 911 first might save someone life
Mexican police?
From HCLF Release there a long history of Mexican Police being NO Nonsense and Brutal Police Force if you need to get some answers quickly they may be type to Help you,but don't ask how the job is Done.
Living with a bullet?
It's based on Real person that has a bullet still inside them also for anyone that has scars and no matter how hard they have changed their life that bullet/scar always remind them of all Evil things they done in a younger life. It never to late to change we may not be saints but we don't forget how we got here
Point of view?
From HCLF some people are real scumbags that prey upon society it's a message to them
By your rules?
From INFAMOUS EP in this world today where Everyone is offended by everything and if you don't follow them your wrong. We don't follow trends and won't live by their set of standards
Is it important to get out your opions in your music, and is it a good way to get out frustration too?
-Our opinion may be different than popular mindset but be honest in your music is important and fun to release that energy the audience can tell if your genuine in your message
Do you think that your lyrics can have effect on other people who listens to them…any example on it? Have you changed anyones mind?
-Lyrics did have an effect on me growing up so I try to maintain it in this band. There are so many cookie cutter bands with no real messages just stolen riffs and same topic over and over again. We had many people change their mind about the band once they read our lyrics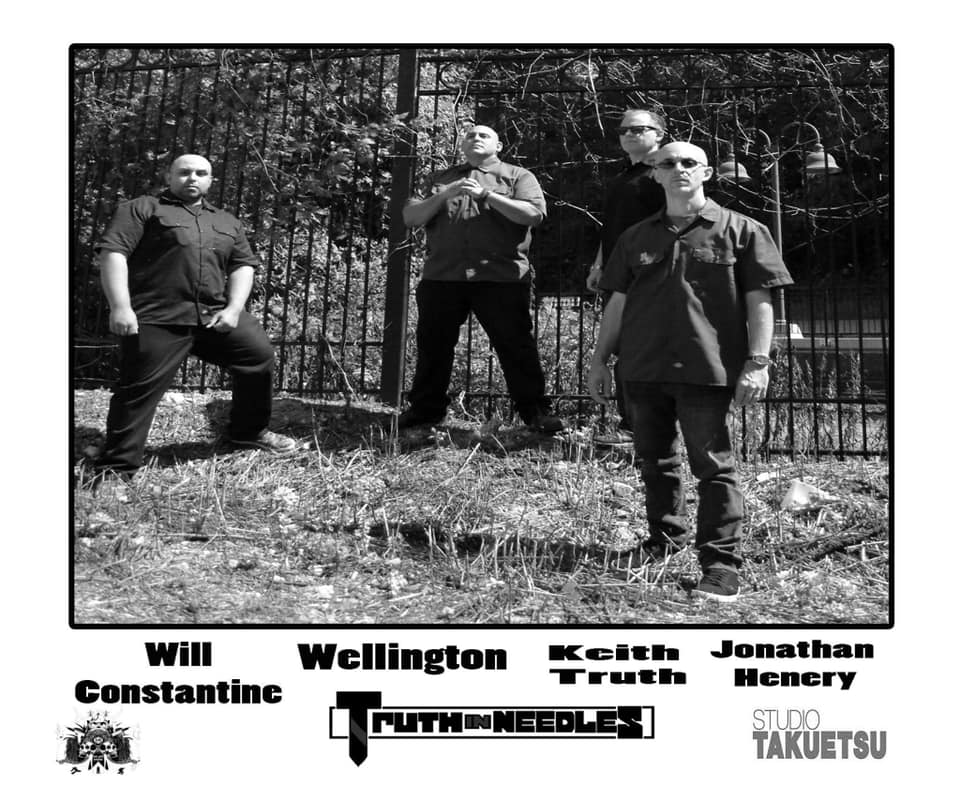 You have songs against racism, is it hard to do that when many people thinks that every one with no hair is a nazi? How is it in USA right now?
-It's been a big problem for us cause of our image that's always the first thing they think of when they see us. Even in the Hardcore scene here in the USA they will judge us the wrong way 1st which has lead to some unnecessary problems
Have you been one of all these bands which have made livestreams now during the covid-19 time or how is it?
-We didn't do any livestream we took the time to write new songs Hope to get them out in the beginning of 2022
I like beer and also make beer.. If Truth in needles would do a beer , what would it be named and which sort of beer would it be?
-Wow this is a trick question cause Half the band is Straight Edge SXE (Wellington & Will) Kieth and Jonathan are big beer drinkers they definitely will love to have a Beer some sort of Lager as for a name INFAMOUS NYC (yes a shameless EP promotion)
How would you describe your music in three words to anyone who never have heard you?
-Aggressive,Angry & Unapologetic
The name Truth in Needles, how it any deeper meaning?
-It's has a two fold meaning needles of a tattoomachine tell someones story on skin…Life and death inside a medical needle
What´s the biggest difference when you plays live nowadays if you compare when you first started to play in a band?
-It's easier to play with a bunch of guys that love playing to many old band members didn't have the heart for the long run
Old NYHC bands which you really like?
-Of Course have to give all Old NYHC bands respect for all the influences they've had on us that list is long here a few The Godfather's Agnostic Front, Madball, Sick of it All, MaximumPenalty, Neglect, 108, Breakdown, Warzone, Biohazard
What do you know about Sweden? What did people said about your corona-strategy?
-I know Sweden has some beautiful women and a very rich history home to some badass Vikings …living in NY during Corona was like prison
Have you ever been here and played? Any good bands from Sweden that you like?
-Unfortunately we haven't been to Sweden yet…59 times the Pain, Raised Fist, Entombed, The Haunted are a few that come to mind. We'll be posers if we say we listen to modern swedish hardcore bands so if any one likes to send us recommendations on new swedish bands or your band we love to hear new music. Hit us up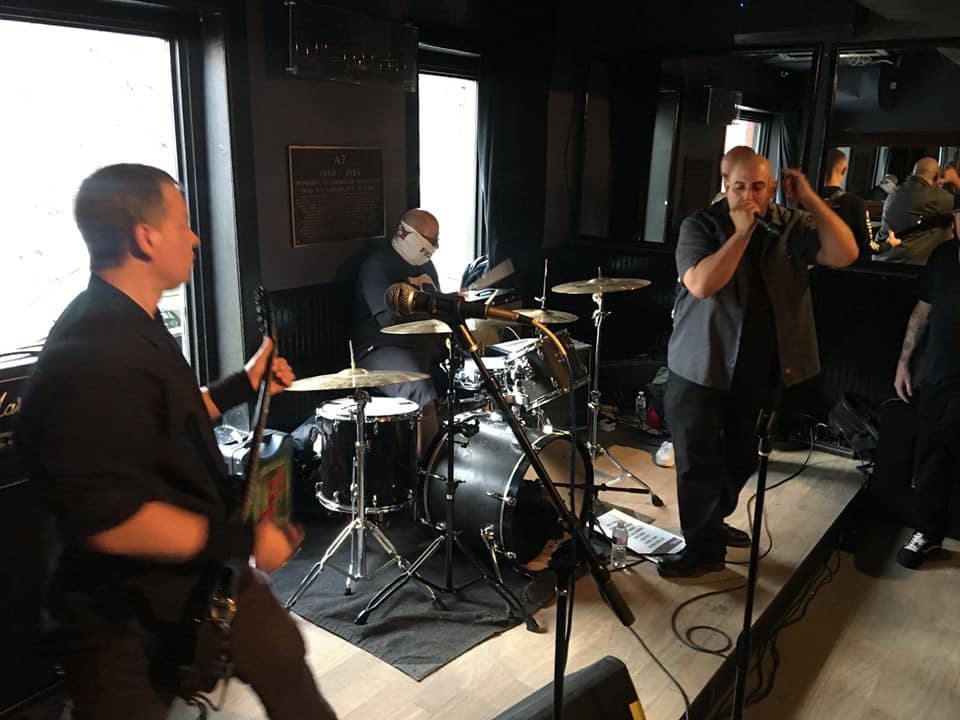 Your audience when you play live, which type of people comes, age?
-For us the audience is different every show we play with everyone from Punks, skins, metalheads, hardcore kids and all ages shows we don't restrict ourselves to just to hardcore shows our fans are not just one type
What´s the best of playing live?
-Playing live is great but going to new places and Talking to people after the show is more fun they will let us know if they loved or hated us it's never boring always come home with new friends
Please tell me a funny thing which have happened during a livegig with your band?
-The one thing that comes to mind was playing a biker club show when this older lady jumped up on stage when we finished grabbed me by my balls and before I can say anything she started to make out with me in front of everyone. The stage manager ran over had to pull her off yelling this is the promoters wife. Lucky he was to drunk to relies what was going on but he's biker friends weren't to happy to have us stay to hang out we got kicked out so we packed our van got out before anything crazy happened
Is there any good bands in USA today? New bands which is good? Old bands which is still good?
-There is a lot of great bands to check out here's just a few The Take, Brick by Brick, Moment of Truth ,Going Postal, Silence Equals Death, Scum City ,Car Bomb Parade, Examine, None Above All, Enziguri, United Blood, MODclassicTK, Dead Blow Hammer, Diamond Dogs, Point Blank….not a band but a great show The NYHC Chronicles live hosted by Drew Stone…Lethal Madness Music Video show on DVD&Blurays
Which is the record that you always must have in the tourbus?
-Always mandatory Metallica,Slayer and any NYHC band
Do you but much records, or is it only Spotify and those type of things to listen to music?
-Get most of my music from other bands we play with buying or we trade records. We do use Spotify if we don't have the songs on our playlist
Are you selling any records on your gigs, do people buy them?
-We sell CDs, 7", DVD's,tee shirts at our shows. Sometimes I forget to bring change with me so I got to get singles from the bar but things have gotten easier with streaming pay services I don't have to carry cash in my pocket
Do you care about reviews? Which is the most peculiar you ever had, with this band or any other band you have been to?
-Reviews are big part of the music business for promotion but you can't take every review personal. We've had negative ones but mostly they been positive. One reviewer didn't even review the songs his whole review was of the art work and how he hates NYC bands
If you could choose five bands from the past and the history and nowadays and both dead and living bands to have a concert together with your band. Which five have you been chosen?
-We been able to play with all the NYHC bands that we love we're going have to do a metal list
Black Sabbath with OZZY
Motörhead
Slayer
Suicidal Tendencies
Pantera
Are you living on your music or what do you work with on the side of the music?
-We don't live off our music only the money we make off it pays for records and tours. We do have day jobs pay for everyday bills
Wisdomword?
-TRUTH IN NEEDLES is now your Favorite Band
Anything more to add to the interview?
-We like to thank you Skrutt Magazine and you for taking time to read this interview