True Reason comes from Slovakia and they play a really fine sort of hardcore. I took the chance to interview them in the end of august 2019
Please tell me a little bit history of the group?
-The band was founded in early 2010, when Boris, a former bass guitarist, was looking for musicians to start a band and agreed with Emil, Maroš and Lukáš.
Please tell me a little about every member in the group right now, age, family, work, interests and something bad about everyone? Earlier bands? Other bands on the side?
-Emil (lead guitar) ill pedant who composes music, is a founding member of the band and works in the company producing car lights, has been in the HC scene since high school, which has been around for 20 years
Fuxo (second guitar + vocal) a flying dragon who composes music and second to main vocals, has been in the band since 2014 and has been on the music scene for about 17 years, working as a tradesman and also works in other three bands
Michal (bass) replaced Boris beginning of 2019, working in corporate security department, talented musician who has worked in several local bands
Paľo (drums) has been working in the band since 2018, working as a taxi driver and is a member of two other HC / metalcore bands
Lukáš (vocals) composes lyrics, is a founding member of the band and responsible for band booking. He has been on the HC scene for over 20 years and played in several music bands
I can hear much different influences but mostly hardcore? Favorites from the past?
-Hardcore is music that connected us from the very first attempts to play music and promote their own opinions .... Punk and metal are inherent in this and we have added a touch of rap.
The popular bands that inspired us are so many and I don't want to refer to any of them, but the basis of our music was the influence of 90s the NY scene.
True Reason are you satisfied with the name? How did it came up? You weren't afraid that some other band would be named like this? Which is the best bandname you know?
-The name of the band reflects exactly what we felt and feel to this day .... The true reason to play and spread our thoughts to people without any compulsion. We are not a political band, our lyrics deal more with everyday life, experienced experiences, friendship, family and what we like or not. We are not racists, we hate it.
What´s the best thing with playing live? Do you play any covers on stage?
-The best thing is that those people are putting energy back, having fun, and after the concert they want to discuss with you how he thought it was, what we had on the plan and so on.
Covers, we don't play ....
And where is best to play? And the worst place?
-If you have a good Sound Engineer, there is no place to play badly ... 😁
How is to play this sort of music in Slovakia right now? Which types of bands do you have concerts together with?
-The HC scene in Slovakia is weak, we play more gigs in the Czech Republic because there is a bigger scene and more HC bands ... At home we play mostly with Punk and Metal bands.
How would you describe your music in three words?
-I can say it in two words:
Topoľčany Hardcore
😁
TOHC
What does punk mean to you, is it only a word or is it a lifestyle?
-Punk has not been what it used to be for a long time ... Of course it's a lifestyle for me, like Hardcore .... A way of life that sets you apart from the surrounding consumerism ... But in every Style today you find mainstream and that's why we stay in underground and talk only to people who have a pure hearts and not just big speech ... I hope that punk will not die and especially can get back to the roots a bit .... Punks and Skins ....
We are old-school, not children with the vision of being a superstar 👊🍻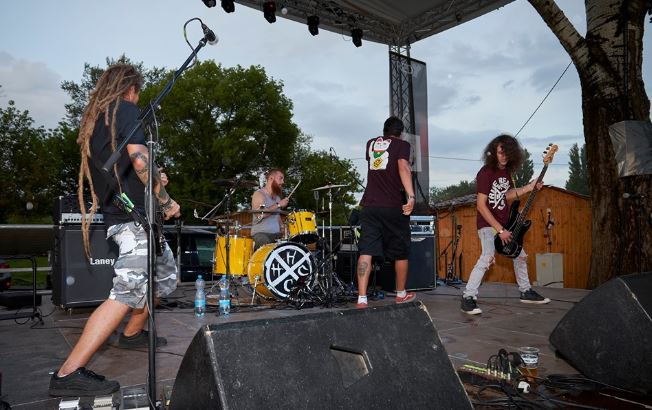 Which song/album or group was it who took you into punk?
-... I don't remember that anymore, but they were Slovak and Czech punk bands
What shall a young guy do today to shock their parents as the way we did when we were young? They have already seen everything <![if !vml]>

<![endif]>?
-I don't think it's always important to try something new. Sometimes it's just better to stick to old values ​​to remember that punks and skins were ever together, where they came from and why.... and actually, they wore cherokee 😁
How is it to live in Slovakia right now? Politically? Fascists?
-Slovakia is a corrupt police state, where people are more and more inclined to the right-wing government ... Well, it's a fucking shit 😠
Is there any good bands from Slovakia right now? Is the punkscene/metalscene/hardcorescene big? How is it in your hometown?
-Punk and metal scene is the biggest in Slovakia, HC scene is very weak, that's reason why we play more gigs in the Czech Republic .... There are good bands here and in terms of our hometown, we have four active bands, which are also supported by our concert organization under the brand TOHC Music Style
https://www.facebook.com/TOHC-Music-Style-246325608891712/
What do you know about Sweden? Have you been here sometime?
-No, I haven't been in Sweden yet and no one in the band has been.
I don't know too much about Sweden , just the classics, where it lies, the capital town, the strong music scene, as in the whole Scandinavia 😉😁
Have you heard any good bands from Sweden?
-Of course, ABBA, Roxette.... 😁😁😁
No, no 😀 I know Refused or AC 4. 👍
Your lyrics, who does them and what influences you? Never in english or any other language?
-I write the lyrics. They are in Slovak because they are so well to write and people understand it. Today almost every band sings in English ... Inspiration is simple, everything that has happened to me, happens and will be happen in my life.
Simply, your own life ....
Is there any subject that you never will write anything about?
-No, nothing. I can write about all 😁
Politic and music, does it goes hand in hand? Which is your most political song? Is it important to get out your opinions in music?
-Music is an excellent place and instrument to express your feelings, sympathy, or disgust. I do not think we are a political band and we are not even trying to be .... We have our views on the world, pollution, injustice and dictatorship, racism, or everyday events in the world ....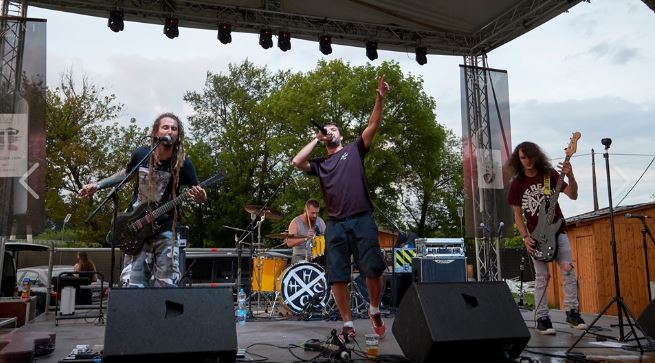 Best political band/artist?
-Once I listened to a lot of political music and was active in the anarchist scene .... And the best political achievement that has actually gotten at that time was the Czech band V.A.P. (voice of anarchopacifism)
Do you think that music(lyrics and so on) can change anyones life, I mean people who listens to music?
-Yes, I mean, why not?
Music and opinions into, have also changed myself.
Your favorite recordcover alltime? Who does your recordcovers? And do you have any good recordstores in your hometown?
-Our recordcover was made by me with a friend graphic designer.
I have no favorite recordcover.
And we don't have any underground recordstore in hometown... If you want something, you must go to concerts or buy it via internet...
Is it important to get out physical records of your stuff? Why or why not? Vinyl, CD, cassette, what do you prefer if you could choose whatever ?
-It still makes sense, although today is full of digitization.
The sound of the original does not replace anything ...
I love vinyl and for practicality CD ...
Please tell me a funny thing which have happened during your career and under some gig?
-Ooh, so it would be for a long time ...😂😂😂
How does your audience look like? Which people do you miss on your concerts? Which is the biggest band you ever have played together with?
-It's always different, once less, sometimes more, we like to play .... I miss young people - young blood ... And the biggest band? Probably Ratos de Porao and Pro-Pain ...
Please rank your five favoriterecords, five favoriteconcerts and five most important things in life?
-Five is not too much 😁, ok, so:
Five really best records for me ever:
Biohazard - Urban discipline
RATM
Beastie Boys - Check your head
Prago Union - Dezorient expres
Korn - Blind
... and many many more...
Five of best concerts:
TOHC fest music
Brujeria
Biohazard
Cypress Hill
H2O
... and five important things in my life:
The birth of our first baby
The birth of our second baby
My first concert
First arrest by the police
First contact with squats
... and many more...
First, last and most expensive record ever bought?
-30€, it was one LP from Switzerland
Is it boring with interviews? Is it much interviews?
-... 😀 No, it's OK.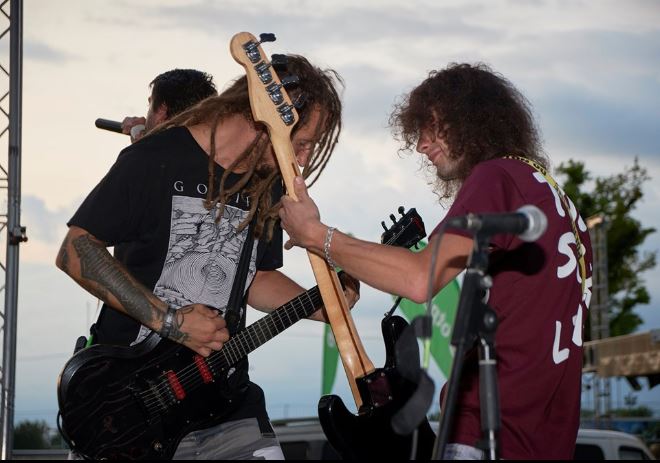 Do you care about reviews? Which is the most peculiar you ever had, with this band or any other band you have been to?
-Of course, I care.
But you know, as people say, 100 people, 100 appetites, if criticism is well founded, I don't have a problem with it, but I don't like crap where a review catches every single little thing in a negative sense ...
Which bands do people compare you to, is it boring that people compare you to other bands or is it understandable?
-I don't mind comparing, it's normal if people do resemble something they've heard and liked ... A few people said we were such a Slovak response to Madball 😁🤔😁
If you could choose five bands from the past and the history and nowadays and both dead and living bands to have a concert together with your band. Which five have you been chosen?
-Oh man, hard to say, I would play with every band of 90s what I have at home 😁😀...
Is music a good way to get out frustration and become a nicer person outside the music?
-Sure, this is the best option a person can ventilate. Everything what you feel right now, joy, disappointment, feeling of change, opinion ...
Which is the most odd question you ever have got in an interview?
-Oooh Peter, I don't remember...
Which is the question you want to have but you never get. Please ask it and answer it?
-Do you have any extra music activity?
Yes, We organize a smaller festival called TOHC FEST MUSIC
www.tohcfestmusic.sk
Futureplans for the band?
-The plans are simple, we hope the third CD + Vinyl will be released next year, we will continue to tour and people will come to our concerts
For yourself?
-I personally want to put together a little more private life right now, with my family...
Wisdomword?
Too bad that today people know everything, but they didn't understand anything ...
Something to add?
-Thank you for the interview and the opportunity to present our band. Maybe we will see you sometimes in Sweden 😀😁
Good luck!
A few links to True Reason :
FB:
https://www.facebook.com/truereasontohc/
Bandcamp:
https://www.truereason.bandcamp.com
Videos:
https://youtu.be/F8mc_4E8gFI
https://youtu.be/jx6SJA23i0E
https://youtu.be/nZSGoKyHDi0