Christer Blomgren in Troublemakers have been doing punkrock in all of his grownuptime and that have I also done. He thinks it´s fun and he will surely doing it for many years on. This septemberday he answered some questions from me.
You have been doing this for a while and it have been some different members? Does it feels like if this is definitive lineup?
-I don´t know. The contract goes out in December 2005. And then we will see what happens and if someone is going away.
Please tell me a little about every member, age, work, family, interest and something bad about every one
-Elvis –bass, Psychobilly – guitar, Charlie-drums, Blomma XL – vocals. 34-44 year and otherwise it´s nothing more to say. Fine guys in fine form.
You have going over the 40´s(and so have I), what´s the ebsta nd what´s the worst with that?
-The best thing is that you can vote and that you can buy booze. The worst?= All small girls seems to be crazy.
Have you felt that you´re really old sometime when you´re jumping around on stage?
-No, the opposite.
What´s the difference with playing in the beginning of the punk if you compare with nowadays?
-When everything is new it was more exciting. But it´s still fun to meet a new audience from 10 to 50 years…to play out is about meeting.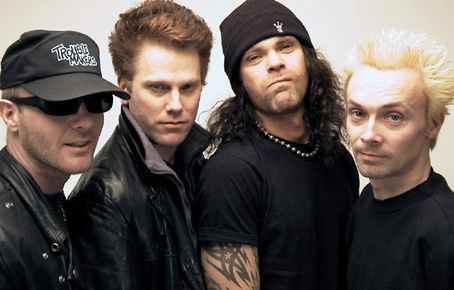 What´s the difference on the audience today, do they demand more?
-No difference att all. People wants to party and to have fun.
What does punk mean to you, is it only a word or is it a lifestyle?
-Punk is for me a way to express feelings.
You did a solorecord once, nothing more like that?
-When Troublemakers go into the grave maybe it can be something like that.
You have done a tributesong to a footballteam(IFK Göteborg), wrong team I´m sorry but can you imagine to do anything more like that to anything you believe in?
-Yeah, why not. As long as we think that is okey.
You were on the record against the refugeepolitics also? Is it important to show your opinion when you are a musician?
-It´s important to show your opinion when you´re a human being.
Do you think you cah change anything with music?
-Yeah, absolutely. The world can be better and I cannot live without music.
You have some mp3-files on your website, why??
-If someone wants to hear how we sound that´s a possibility through internet.
Where do you stand we talk about mp3? Is it OK to download or what do you think?
-As a taste of a band it´s OK to downlad..
It have been a lot of terrorattacks lately, is it anything you would write about or already have written about?
-On vild & Vacker(Varför lyser inga stjärnor)among others
Where do you get inspiration to new lyrics?
-From the music, from the daily life, from kicks in life.
Is there any good bands in Sweden today?
-Yeah, a lot like Blisterhead, Kneget, Frost , Hata Katten, Randy, Piska Hunden and so on
Please rank your five favourite records, five favourite concerts and five most important things in life?
-No Concerts. Records right now: Turbonegro-Apocalypse, Misfits-American Psycho, Johnny Cash-Allt, Blisterhead-Via casalina, and S.T.A.S.C.H.- with Fuckface.
Important: Travel, my love, the rest of the family, musik, myself.
The , first, last and most expensive record ever bought?
-The first I don´t remember, the latest is Turbonegro-Party Animals and the most expensive is Johnny Cash latest on Åhlens for fullprice.
The most embarrassing record in your collection?
-I don´t have any records which embarrass me.
You had a reunion with Perverts 2003, any taste on doing it again?
-No
No thoughts about a CD with Perverts?
-No.
Those singles is really expensive on Tradera, Ebay and so on, isn´t it a little against the punk´s thought?
-First it isn´t me who sells them, second, it´s maybe not a punk which sells it and third what is the punk´s thought?
What do you think about the political climat in Sweden?
-Good and bad.
How is a good concert with you?
-Much energy and happiness to play(no drunkenness in the band)
Which type of people comes to your concerts?
-People who wants to party and to have fun- fucking types eh?
Please tell me about the new record? Why a german label?
-It was recorded in Grand Glam studio(same as Kleptoman) by Svein Jensen here in Gothenburg.
We did five songs first in december 04 that we released on a vinylrecord on Svindel Records in Norway by Dr Lauritzen. And then we did the rest of the songs in a fucking tempo but we rehearse much the songs before we record them. When everything was finished we sent our tape to Birdnest but they had another things to do (the build a club and restaurant in the same building as their office in Köping) so there we could pick up some money. Hulk Records from Germany came in contact with us and their deal was fucking good so then we released it there.
When you play outside Sweden, do you sing in swedish only?
-Yes, and it´s really fun to hear the german try to sing along in the refrains.
Futureplans for the band?
-Elvis will have a baby(any minute) so we´re not doing so much in september-october.
For yourself?
-I write new songs, then I go to Italy in the end of september.
Wisdowmword?
-The punk is hard.
Something to add?
-Idiot is our best record, many of the songs will be classics, believe me. Have a good time-see you in the ditch