Trigger is a really cool punkband in the garagetysle which was so nice and answered my questions in the middle of august 2003
Hello Peter! Sorry, we are very late with the answers on your interview but here is the answers.
Greetings Trigger/Glenn K-G Halvarsson.
History?
-Trigger started to play 1987. before that played Olle and I in Zoobox(92-97). Robban was a bassist in Cry during the same time and both bands was on Velodrome Recs. It was in that time we learned to know each other. Around 96 we began to play together. We often was in the rehersalroom and jamming old favouritesongs with bands like Roky Ericson, Stooges, Sonics and Janis Joplin… and in the end we did a demo which was really good, got a contract wnd then we began as Trigger
Please tell me a little about every member, age, interests, family and something bad about every one?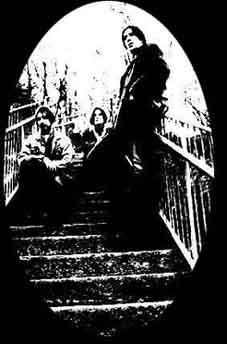 -Yeah, Olle Netzler, uitar and vocals, he likes to sail. Two years ago he was on his way to his boat with his motorcycle and then he was hit by a lorry. He lost his memory for half an year. He didn´t remember his own name or where he lived but he could still play our own songs on the gig after the accident. Fucking unbelievable but true. Me and Robban Holmqvist(bass) often went on vacation together back in time but we stopped. Why? Almost every journey ended with a catastroph for the country we visit. When we was in Japan somebody tried to gas the whole metrosystem. In Spain it was a flood and in Turkey a mainstrike.
Why the name Trigger, it´s bands like Trigger Happy and other bands with Trigger in their name,w asn´t you nervous that some other band would have the same name as you?
-It´s a very odd history. Before we have chosed any bandname we got a questions if we wanted to be on a portugese compilation. How the portuguese have heard about us I don´t understand. But it was a hurry and we recorded a song as fast as we could. The day after we would send down our demo with info(including the bands name). "Trigger" was a name in a filmtitle we recently have seen and that became our name. We had no other thoughts on any other bands or so. So today I think the name "Trighger" is really good and we haven´t got any mixed ups.
Discography?
Album: "Fortysevenhours" (Mimo Sound rec. och Zuma rec) – 2000.
"Distort and explode" (Nicotine rec.) – 2002.
Splitalbum: "Action go!" (Devil shitburner rec.) – 2002.
Except these we have been on a llot of compilations and singles. See out website www.rocktrigger.com for the whole discography.
Some different labels have it been, your label now it´s italian? How do is work and why so many different labels?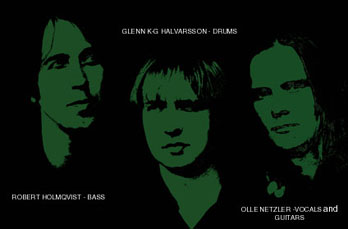 -It haven´t been so many different labels as it seems. Mimo rec contacted us because of the fact that they wanted to release the record who became"FortysevenhoursThe record was released. After that Zuma Rec wanted to release the same record in Europe on licens. Our label today Nicotine Rec was contacting us after that. They downloaded some soundclips from our website. After some days we got a mail from them there they explained that they really adored Trigger and wanted to release an album with us. Short thereafre we went into the studio to record "Distort and explode" our second album. And they did the same thing with Gaza Strippers. They seem to be some really good guys which loves rock and roll and think the world is going to be better with bands Trigger, Gaza strippers and Woogles. And that a good way to see it we think.
Is it difficulties to get a swedish label?
-I don´t know, we have never tried to get one.
How would you describe your own music with three words?
-Rock and roll!
Which is the most funny description you ever got on your?