Martin from Trench Dogs took the time to answer my questions about the group. A group that takes many things from the rock world and blends together to their sound. May-2023
Photos: 1 & 2 Linda Flortin 3 & 4 Max Ljungberg
Tell us a little about the story of Trench Dogs, how you met, when and why it became this kind of music?
- Trench Dogs started in 2013. It started with Andy moving to Sweden from Australia. When he got off the train in Stockholm, he met me (Martini) on the platform, his then girlfriend and my then girlfriend were friends so we were at the central station and met them when they arrived. We went out and party that night and Andy and I talked a lot. His whole reason for moving to Sweden was to start a band here so we naturally started talking about it. He didn't really have any members ready except for our first bassist who was also moving over from Australia a month or so after Andy. So when they needed a drummer, we decided that we would try playing together. The bass player then moved over and by then we had found a guitarist so we started rehearsing and writing songs right away. After a few different member changes, we finally ended up in the current set-up in 2017. When it comes to why it became this kind of music, it came naturally. When we founded the band, we more or less said that we want to play the music we love and that we felt was missing on stage in Sweden. When we started, there were a lot of bands that played very 80's inspired type Mötley Crue-esque music. We rather wanted to play more 70's glam and punk so it turned out as it was!
To play this music, which is of a slightly older kind, there was no doubt?
- No, it came quite naturally, as I said. That's the music that's the best!
Tell us a little about each member, what you do when you're not playing music, and if there are other bands before or next to Trench Dogs?
-We'll start with me then. I Martini (Drummer) currently have no other band on the side of Trench Dogs. When I'm not playing music, I like to travel and try different kinds of beer.
Andy (Lead Vocals) has a side project but is nothing that has been released yet, he has a whole album recorded but more than that I can not say at the moment. Andy is also a Saké sommelier so he is very familiar with that type of liquor and sometimes holds courses about it.
Mattias (lead guitarist) has a country project with some friends in his hometown Norrtälje. It's mostly for fun but they've written some songs and played some gigs locally.
Daniel is just like me without any other project, we put all our efforts into Trench Dogs. Daniel is very interested in food and makes, among other things, his own hot sauce.
"Spides" (second guitar) Nor does it have any other music project outside of Trench Dogs. He is also a photographer and has taken many of our pictures and made several of our music videos.
How would you describe the music in three words to someone who has never heard you?
- Rock n' Roll
I think there are so many different influences like Hanoi Rocks, Tears, Boys, 77-punk etc. Do you have very mixed influences?
- Yes, we have very mixed influences. All the bands you mention pretty much but then they vary quite a lot from member to member. But we all have a bunch of bonds that we all share and hold very high. I think we have an advantage in having quite a lot of different influences. That's what creates our sound.
Are there any new bands that you would really recommend?
-"The Royal Beggars", "The Sweet Things" from New York, "Panzer Princess" from Stockholm.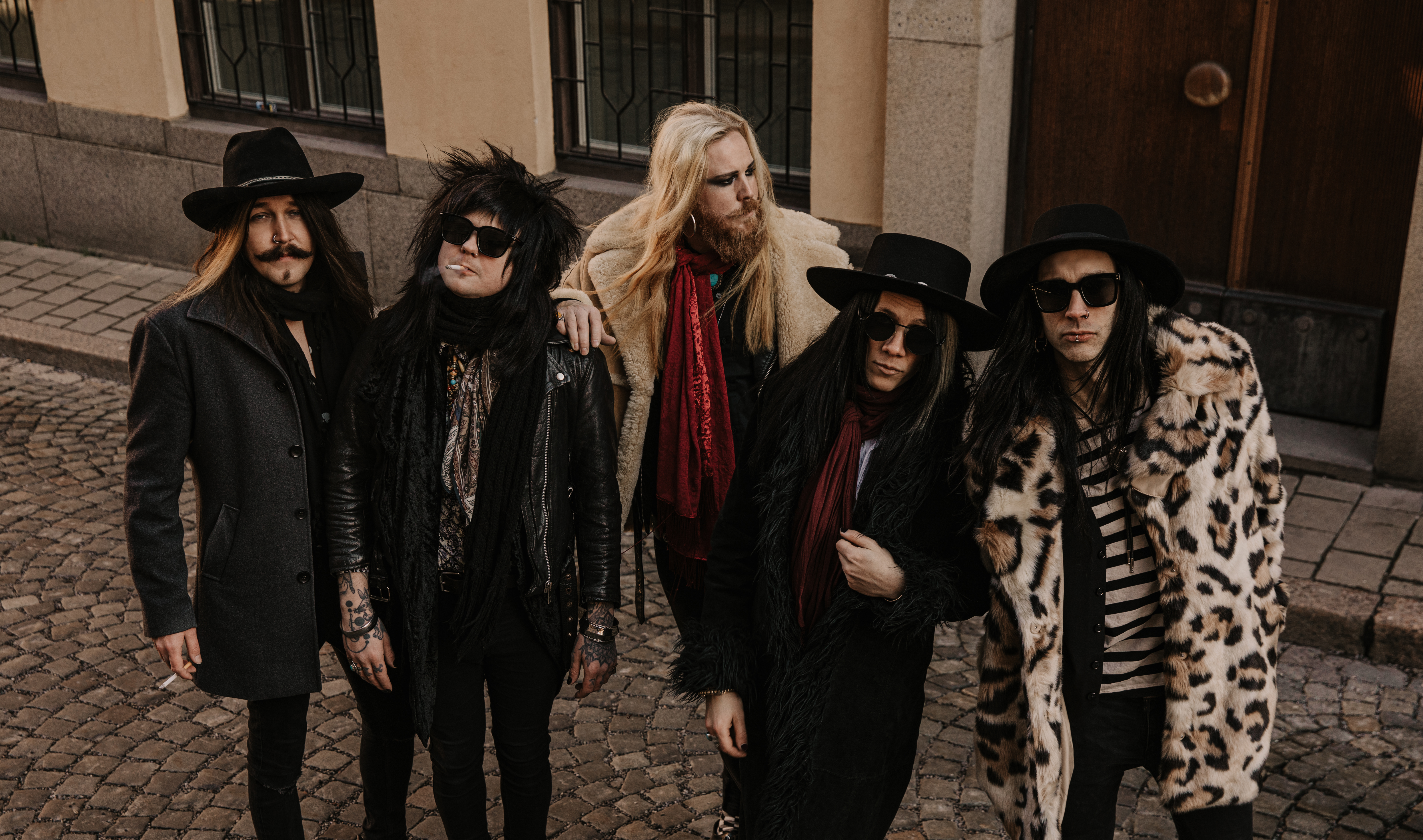 When you play outside, what kind of band do you play with, is it like-minded or what will it be? What's the weirdest type of band you've played with?
- Yes, usually it will be bands that are somewhat similar in style. But we have played a lot with bands that have a little more modern feel as well. The weirdest band was when we played in Spain at a festival and we played with a band called like "Toys Arrazas" or something like that, they were a Spanish metal band that was dressed in Drag, they were nice and played like hell but they are probably the weirdest we shared the stage with!
What is your strength live? What is the most fun thing about playing live?
- Our strength is our energy, we all play with incredible empathy, we all love to play live so there is an incredible drive to do well when we are on stage.
The most fun is to perform the songs in front of people, to get such a direct reaction to what you do from the audience and just see how people sing along, it's an incredible feeling.
Do you ever play any covers when you play live, if so, who gets that honor?
-We've played some covers live, but it's not something we do every time. We have played songs by Slaughter and the Dogs, Quireboys, Faster Pussycat, The Runaways and Boney M.
Tell us a little about the following songs..
a)Skulldug and Headsick
- It's a song about traveling, the lyrics are inspired by things that happened to Andy when he was traveling in different countries. The title is really just nonsense that is supposed to describe a state of mind of just being completely exhausted and gone in the skull.
b) Shapeshifter
- Shapeshifter is about Andy's upbringing in Australia. Andy has always been quite challenged in his dress and style and where he grew up in Australia, it was quite common for him to endure a lot of harassment because of it. So it's about the fact that he needed to develop some different techniques to avoid being caned by people.
c) Georgian Red?
- Georgian Red describes a day when me and Andy hung out in Stockholm, it was a winter day that was very unusually warm and sunny, so me and Andy were out on the town and go around at some different bars and just enjoyed the sun out.
You are not so much in favour of involving politics in your texts as far as I can deduce? Do you have a political song?
-No, our position is that we want to keep politics out of our music and our band. We are all individuals and of course have political views, but we see Trench Dogs as apolitical because it can sometimes be nice to have a safe haven from the political.
Do you have any political bands that you like?
- I can only answer for myself here and I grew up on some Progg so I like e.g. The Nationalteatern, but then there's a lot of punk that sometimes has some political lyrics. But it is rarely the political that is the attraction.
While we are on the subject of politics, what do you think it is like to live in Sweden and I mean politically?
-As I said, we don't want to confuse the band with politics, so I won't go into anything deeper politically here. There are a lot of good things in Sweden and there are things that we have problems with, just like all countries. The members we have who are from other countries have both things they think are better in Sweden than in their home countries and things they lack or think were better there.
How do you do it when you make songs, do you make them together or does someone come up with a draft or how do you work out a song?
- We write pretty much all the songs together, then sometimes it can be someone who comes up with an idea that is more or less developed, it can be a melody, a riff or a lyric line. But we always end up sitting in the rehearsal and brainstorming ideas that eventually become the finished song!
You released this record on Wild Kingdom, does it seem to be a good record label?
- We are very pleased! We released our first album ourselves and it involves a lot of work. The cooperation with Wild Kingdom has worked very well so we are satisfied!
You have made some more records well (how do I get it?)
- Yes, we have released an album before our latest. It is currently only available as a CD as the vinyl sold out a long time ago. The CD is available for purchase via our webshop: https://trenchdogsofficial.bigcartel.com/
Answer the following..
-the record that made you want to play music?
- Paranoid - Black Sabbath
-the record that made Trench Dogs sound like you do?
- Back To Mystery City -Hanoi Rocks
-the record you would like to have played on?
- A Bit Of What You Fancy – The Quireboys
-the record that you think is embarrassing but you still have in your possession and like?
-Wow... It's a bit difficult, I almost think I have to choose some type of gender rock album. Pung Floyd's Venereal World with the band Pung Floyd. It may not be the one you pull out first when you show the record collection, but it is gold, haha!
-the record that must be in the tour bus?
- In The Dynamite Jet Saloon – Dogs d' Amour
-the band that you would like to reunite?
-If I could revive people, it's definitely the New York Dolls, but if we're going to say those who are alive, I think it'll be Hanoi Rocks (the original set)
Will there be a lot of festival gigs this summer or how is it?
- Well, we don't have that many festivals booked for this year. But at the end of August we will play at the HRH Sleaze festival in England
The next gigs to come?
-As it looks now, it will not be until August when we go to England. But we are looking for gigs all the time so there will probably be something more before then.
Stockholmiana is it a tribute to the city or what do you mean by the name?
- Stockholmiana is the name of a genre of literature. It is authors such as Per Anders Fogelström and Hjalmar Söderberg who have written books about the historical life in Stockholm that belong to the genres. Since we are Stockholm-based and a lot of our songs in one way or another are about our lives in Stockholm, we thought it would fit as our contribution to a part of the history of the city.
Is it important to release the records on physical releases or would it feel like you released an album if it didn't come physically and only on Spotify?
-We think it's really important. I don't really think it would feel like a record release for real if there wasn't some kind of physical release. Then we have a fanbase that is absolutely interested in having physical copies of our records so it would be downright stupid not to release vinyls and CDs.
Do you buy a lot of records yourself?
- Some of us are bigger record collectors than others I would say but we all have a collection and buy a lot of vinyls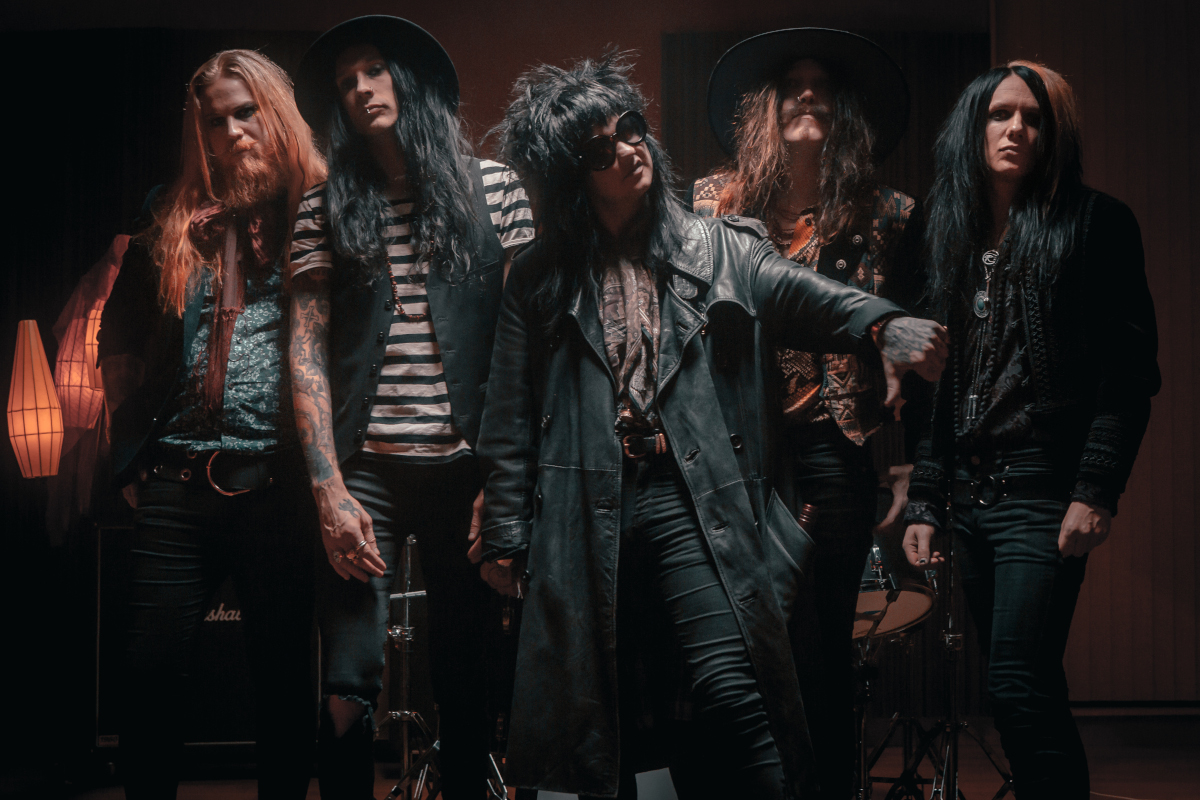 Good record stores in your hometown?
- Must mention Sound Pollution, which is our record company's own store! In addition to that, there is one called the Trash Palace that you can definitely find bargains at. There is one called Mickes who has a lot of good ones too.
Future plans for the band?
- Try to play as much live as we can! Then we always write new material continuously so the work for the third album has begun and we hope that it will not take too long before we can come out with it!
For yourself?
- I'm getting married this autumn so that's probably the big thing that happens besides the band!
Words of wisdom?
- "I have certain principles, but if you don't like them, I also have others" – Groucho Marx
You like beer I suppose, no thought of your own Trench Dogs beer and what would it be called and what kind would it be?
- When it comes to what type it would be, our opinions probably differ within the band! But I would think it would be some sort of lager or pilsner. Maybe could call it "One is not enough" or something!
Anything to add?
- Thanks for a fun interview! We hope that everyone who reads this checks out our music and especially our latest album "Stockholmiana" and if you like it, please feel free to consider buying it! If you have any venue that books bands, tell them that you want them to book us. And buy a sweater! Lots of love!