Total Misär has returned after many years of silence and here they give the longest interview done in Skrutt's almost 40-year history. March-2021
Little story about the group?
-The band was formed sometime 1989-1990 in Mariestad. We are not quite sure exactly when. The first lineup consisted of Ola Lindberg (guitar & vocals), Fredrik Gard (drums), Peter Andersson Lilja (guitar & vocals) and Andreas Bister (bass). After the second demo from the beginning of 1995, Gard left the band for film studies in Stockholm and was replaced by Ola Sundström. We were part of the punk wave during the first half of the 90s, mainly active in Västergötland. We had the rehearsal room at Skogsbrynet where, among other things, Cosa Nostra rehearsed and Wolfbrigade (then Wolfpack) was formed. Cosa Nostra became a great source of inspiration, even though we did not copy the style. But we learned a lot about how to work with music by studying how they rehearsed.
Ola was from the beginning the most driving in the band, and with a few exceptions, all the songs and lyrics came from him. This is still the case today, even though we work with the songs together in the rehearsal room.
We recorded several demo cassettes, but only two came out for sale. The first, "Jag måste spy" (text by Gard by the way), came out in 1993, and by that time the name Total Misär was established. The second, "Spring för ditt liv", came in 1995. It begins with the song "Panik", which Peter wrote, which became one of our main songs. We first sold that demo with the text "Not original cover due to time pressure. Call and we will send! " so that no one can draw a cover for it. In 1996 we participated in the compilation album "Words of wisdom" which was released by Markus and Martin Wiking under the name RapeCakeRecords. The song we chose for the record was "Polare", and it can well be considered our big "hit" from the 90's period.
The same year that record came out, we put the band to rest because Ola was full of schoolwork and other interests. Our last gig was at the ARA festival in Lidköping.
After many years of recurring conversations, we finally decided to start playing again, and in October 2018 we met in a rehearsal room at the Munich Brewery in Stockholm, where Gard rehearsed with his thrash band. All original members except Bister were present. The same weekend, Mattias "Arvid" Rasmussen, an old acquaintance from Mariestad who now plays guitar in Mähälium and drums in Deny, was contacted, and he agreed to take care of the bass.
After wthat we recorded the album "Bortom mörka hav" in January 2020 at Elvärket in Mariestad, it became clear that not everyone pulled in the same direction. Among other things, the distance between Mariestad, where Peter and Arvid live, and Gnesta, where the band has its base today, was a problem. Mattias left his place in the band available, and some time later Ola and Gard chose to move on without Peter, and found two new members more locally. The new members are Johnny Jonsson (guitar and vocals) and Gustav Häntak (bass and vocals). Thanks to these two new additions, the band has reached new heights and rehears regularly with good success. We are currently working on a single, which will be released digitally to present the band with the new set, and be a preview of a new upcoming album.
Tell us a little about each member, age, job, family, band before and on the side?
-Ola is 45 years old and today lives outside Gnesta with is partner, as well as a couple of cats and quite a few chickens. The band's rehearsal room / studio is also housed in their house. He earns a living (well) at his company, usually through participation in medieval and Viking markets during the summer. He is a craftsman with leather as his main focus, but he also does a lot of carpentry. In addition to the market segment, he works in the construction sector from time to time. He played in a punk band called "Kärnvapenkrig" before Total Misär. This was an extremely local Mariestad phenomenon and they never released anything, but there are a few songs recorded. There was also a band around 2000-2005 that first played distorted rock'n'roll / action rock and then some kind of mix between death and power metal, but it never lifted. Ola is recording the rock'n'roll material from that time and will release it later.
Gard is 47 years old, truck driver (garbage truck currently) with a background in the film industry, where he has worked with light on many major film and TV productions as well as commercials. He still takes small jobs in that industry sometimes, but is actually quite done with it. He lives in Farsta with his wife and son, and a cat.
After moving to Stockholm, he played thrash in the band Inflikted. He and one guitarist have continued after that in the band Minefield.
Johnny is 40 years old, working as a V / A technician at the time of writing, but is about to change jobs. He has done a bit of everything and has, among other things, a past as a truck mechanic. Likes to mech / ride vintage cars and bikes. Looking for peace of mind and a job without racial talk among colleagues, both seem to be a utopia. Wish he was smart enough to invent the ultimate source of power, completely clean and renewable, to be able to give it to the people and thus avoid the devastation of mother earth as it is today.
He previously played in the death metal band World Battering, and is working on a thrash project in his home studio. Lives in Mölnbo with his partner and a couple of cats.
Gustav is with his 31 years the youngest in the band. He has studied aesthetic music in high school, as well as music production and sound technology. He has played in a couple of bands before Total Misär, where Wormwood is most prominent. He has driven a truck all his working life, but is currently studying further. He is single with a daughter and lives in Gnesta. In addition to this, he also differs from the rest of the members by being the only one who does not have a cat. The daughter was not present at the meeting where this decision was made, and sometimes satisfies her cat abstinence with one of Ola's cats. The cat in question was not present at that meeting, and does her best to escape when she visits.
The former members are not our thing to speak for, but we will post personal stories from everyone who is or has been in the band on the website www.totalmisar.se. But we can make a brief account without saying too much:
Bister, our original bassist, did not continue with the music after the band paused -96. Peter, who was closest to him due to his upbringing and school, and lived next door to him while growing up, lost contact with him for a while before the band started again. He still lives in Mariestad.
Peter joined Cosa Nostra when Total Misär was put on ice in 1996. They lacked a guitarist / singer because Svein moved to England. Today he is a senior lecturer in Swedish (think it was a senior lecturer in any case) and works at the University of Gothenburg and the University of Skövde. He has two sons and a special resident in Gothenburg, which is why he can be said to live half his time in Mariestad and half in Gothenburg.
Arvid works in healthcare, has a daughter and a special resident. He plays guitar in Mähälium and drums in Deny. He lives in Mariestad.
During the 90's he played in his first punk band 3 meter älg, which got a rehearsal room opposite Total Misär at the clubhouse Skogsbrynet. That's how we got to know him. He also went to the same high school line as Ola's younger sister, who thought he was shitty at first. But she likes it so easily about all kinds.
Ola Sundström lives today in Malmö. He started playing in the metal band Eternal Autumn after Total Misär was put on ice. They are also active again. It is unclear whether Ola is with today or not.
I can hear a lot of both punk punk in a harder way and a lot of other Swedish-sung punk, I hear right? Was it better before?
-When we started playing, the concept of trallpunk did not really exist. And when it started to appear, it was bands that Asta Kask, Strebers and others were referring to. Then came bands like Räserbajs and changed people's definition of trallpunk with their poppy, happy tones, and then the trollpink label did not fit well with the old bands and also us. So if you did not like the musical development of the bands, you might think it was better before. But those who played the airier, happier punk were in many cases very good. It just was not a style development that suited us.
We do not play trall punk, raw punk, punk rock or crust punk. We play punk of the harder melodic kind. Rooted in the music of Asta Kask, Strebers, DLK (before "Tomat") and KSMB created, and inspired by bands such as Cosa Nostra, Wolfbrigade, Anticimex, and early Bad Religion. Today with some elements of rock'n'roll and metal, of which the latter is probably barely noticeable to most people.
Total Misär, are you happy with the name? Strange that no other punk band had taken the name before! If the best band name had not been taken, which name would you have chosen then? I mean which is the best band name?
-From the beginning we had no name at all, which is probably the case for most people. Ola came up with the brilliant name "Badskum" at a party at Bister, but we quickly changed to "Misär", which was Gard's idea. And shortly after that, Gard's mate porn-Jocke thought we should be called something tougher, and suggested "Total Misär". We thought we could have it until we came up with something better. But we never did, and then we grew into the name. When we released the first demo "Jag måste spy" the name was established.
Today, it is fortunately easier to avoid taking the same name as any other band, as it is easy to search online before making a decision. That was not really the case just a few decades ago, but as far as we know, there was no other Total Misär before us.
Any best band name is not easy to point out. When you were a teenage punk and a little stupid in your head, you thought it was fun with as absurd names as possible. "Snedsågad skethusgavel" was a band name that circulated and was considered by some to be very difficult to beat. But it may not have been the clearest name from a symbolic perspective. "Mobbade barn med automatvapen" or "Palme sköt först" can feel spotless if you like provocative names but do not care so much about deeper messages and such. Everyone will probably have to answer for themselves which is the best band name.
What is the best thing about playing live? Do you miss playing live now?
-The best thing about playing live is to get in direct contact with the audience. To reach out with your music and it´s message. And to help create a context of community where people really meet, becomes part of a movement. And of course to do well as a band, deliver their set in the best possible way and get the audience in the mood, and people may come forward afterwards and show appreciation.
None of us have been on a stage for a long time, so the word "missing" may not be entirely correct. But we are really looking forward to coming up on stage and playing. We're also talking about streaming gigs if the corona restrictions continue to impose restrictions on events.
Where is the best place to play, where is the worst? What makes a gig really bad?
-If the venue and stage are substandard, or if the equipment and techniques do not measure up, it is not easy to make a good gig. Or if for some reason not very many people came. Or if it's too weird mix of music styles at the gig. We can not answer where it is best or worst because we have not been out for many years. But based on experiences at other people's gigs, for example, Debaser Hornstull is quite good, while Kafé 44 still, after so many years in the same venue, is unable to deliver either good sound or a tolerable environment. After over 30 years, at least air conditioning should be in place. It's a shame, because they play an incredibly important role for anyone who does not enter the restaurant.
Then it is good to play in some places for other reasons as well. Klubb Altruism, for example, which donates its surplus to Suicide Zero and Kvinnohuset Tranan. Apart from that point, it should be a pretty good club locally as well, but we have no experience of that yet.
Finally, there is a big problem in many cities today, and that is the so-called gentrification. There is nothing that makes a gig so bad that there is no longer anywhere to play at all. If you move to a district because it is cool and trendy with all the nightlife there, maybe you should give a damn about exerting pressure on the municipality and property owners to make this nightlife to close down in favor of eg gluten-free bakeries and barbershops. Or you could have given a damn about moving to that part of the city at all. In Stockholm, for example, several small and medium-sized stages have disappeared in recent years due to gentrification, and it is devastating for bands that are at the beginning of their career, or that do not fit on large stages and arenas for other reasons. And where should everyone who wants to see live music go? Why should they be relocated to industrial areas outside the city centers? But we can all be involved and counteract this development. Punk has always been a D.I.Y. movement. It's time for people to get involved again, look for places to have gigs, talk to student unions and leaders of youthplaces, and get started and do gigs. We hope to be able to do a little of that ourselves in the future. We have a few different premises underway and have had initial talks with Studiefrämjandet about cooperation for that.
How is it like to play this kind of punk in Sweden today? Does it feel more important than ever in today's cold society to play punk?
-Because Total Misär is a fairly clear political band, the answer to the question is yes. The right wingturn, the polarization and the increased class divisions are worse today than in a long time. When we were active in the 90s, it was organizations like VAM, BSS and NNy demokrati that tried to distort people's heads. Today, they have gone to colleges, learned to tie tie knots and use rhetorical tricks, and in addition, the other right-wing parties run around like useful von Papen-like idiots and contribute to the shit. In modern times it has never been so important to defend the open, democratic society of diversity as it is now.
The historical aspect of this may not be something Gustav and Johnny can say much about because they are new to the band and the genre. But when Ola was looking for a replacement for Peter and Arvid, he was clear about the band's political appearance, and of course they stand up for it.
How would you describe your music in three words?
-Real red punk? Or maybe "ask all listeners"? But then that is not our description. I don´t know, honestly. That with short definitions is quite difficult.
What does punk mean to you, is it just a word or is it a lifestyle? What is the difference in your view of punk if you compare with when you were younger?
-This is a question that invites long thoughts and explanations. When you were younger, it was partly fun with the spirit of rebellion and revolt, partly with the feeling of belonging to a community that did something without being controlled by the representatives of society. In many ways it was an illusion, but we still had the right free rein to shape our community in the favorable environment the student unions offered at the time.
As you get older, you probably become both more politically aware, and more refined and cynical. You recognize the political meandering. One recognizes the patterns in the right's strategies to destroy the welfare state. You recognize the tones from all the idiots that swallowed the simple solutions the far right feeds them with and you recognize the comfortable attitude of the one who decided and then leans back comfortably and stops taking in facts and arguments. And one never ceases to question injustices and unreasonableness. But today with a slightly different approach than when you were a teenager. Organization and collaboration with others to achieve something better, instead of screaming, pointing the finger and being uncomfortable straight up in the face.
You get a slightly different outlook on life when you leave your youth behind, and Gard refers to Stefan Sundström in the SVT documentary "Eran", where he talks about things that could be said during the early punk, with an example from Ebba Grön's song "What are you going to be(Va ska du ? ". That text contains things that are directly hurtful and disapprove of the adults' whole endeavor, and Sundström thinks it was not so mature or kind.
This is what you can understand when you have grown up yourself and perhaps have your own family to support, or just have rent and bills to pay. If you are going to attack someone, it should preferably be the one who is responsible for things that make society worse, which preserved class divisions and people's different value, not ordinary honest poeple who are just trying to make their everyday life work. So today it is probably more interesting to try to contribute to change and be positive to other, less stereotypical ways of living without directly peeing on those who can not or do not want to make such choices.
And there are many who grew up in punk who have learned to do things more on their own, or rather together with others in the punk network. Today, there are clubs, record companies, distribution companies and merchandise workshops, all of which are run on a small scale by enthusiasts within the movement.
Ola has one thing he comes back to all the time: Ulf Dageby's lyrics from the song "Sen en lördagkväll" is still as relevant today as then, and puts his finger quite well on what punk is for him: "Build something together that no bastard destroys".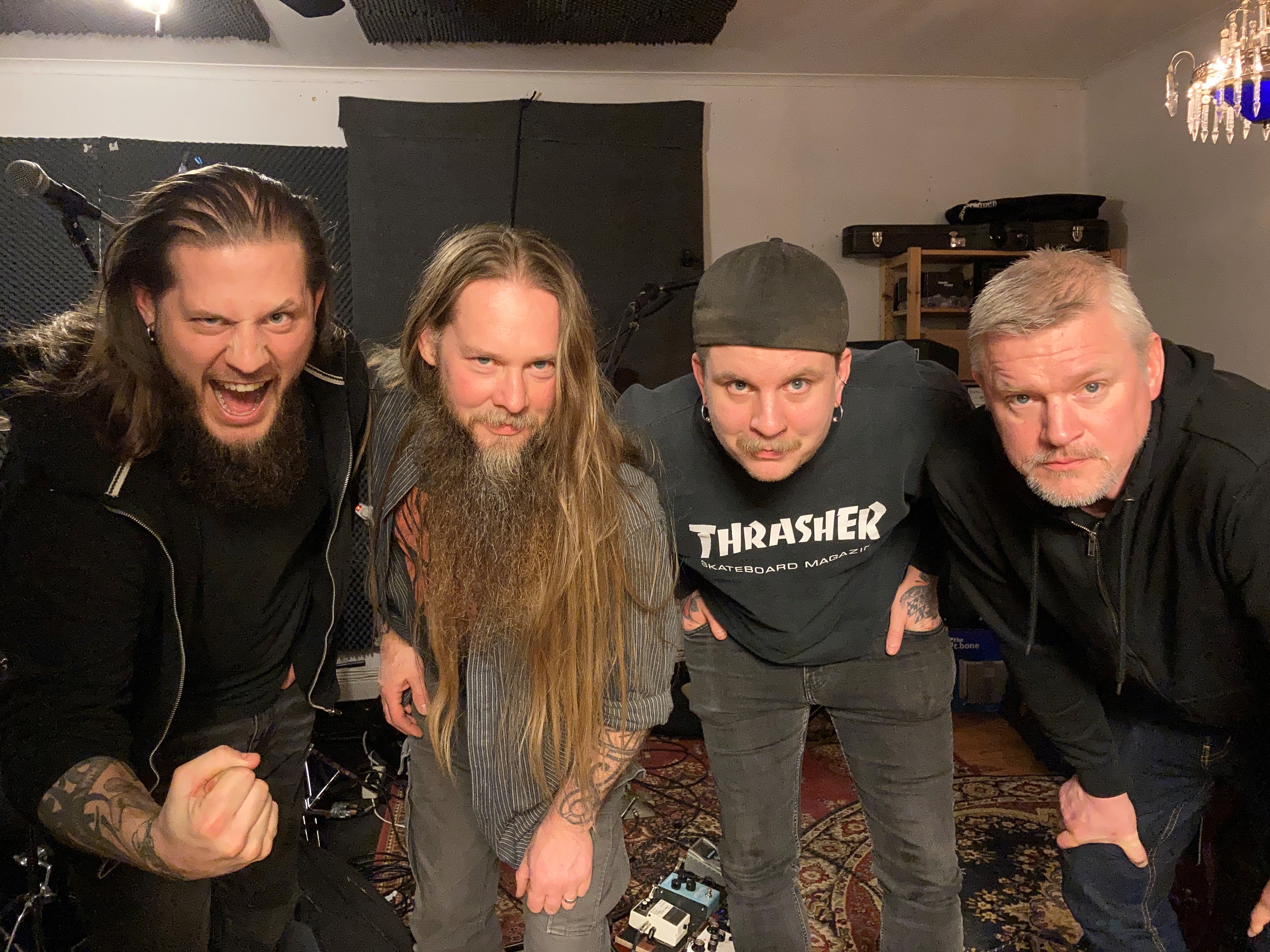 How do you see on downloads, mp3s and the like? You are not on Spotify?
-We are on Spotify when this is published, and some other places as well ... but when we got the questions, the digital release had not been made yet.
Downloading and streaming are good for distribution. It is positive that music and other content have become easily accessible. What is less good is that the companies that provide these services are usually dependent on investors who should have their share of the pie, or simply want to keep most of it themselves. And there will be very little for the artists. For example, 1.31 öre per listen on Spotify.
If you want to support artists you like, it is better to buy records and merch, and of course to go to gigs when it is possible to arrange such things again. You can do this no matter how much you use streaming services in daily life.
What do you think it is like to live in Sweden today, politically? SD + M? Covidpandemi?
-We were a bit involved in politics in an earlier issue. But in order to develop, it is of course a problem that right-wing extremism has normalized to the extent that it has. On the one hand, the judiciary has betrayed its responsibility by not slowing down SD in time, which there are legal opportunities to do through the law on restriction of freedom of association. It means that the state can ban organizations that violate democratic principles and human rights. But that did not happen with SD, they were allowed to spread their shit and now they are sitting in the politic with 20% voter support.
In the wake of SD's success, the media has toned down the threat from other organizations, and used descriptions as "immigration critical" of groups that have physical violence as a tool and are considered terrorists by SÄPO. And virtually all other parliamentary parties have adapted to this lubrication, mainly in the ranks of course the Moderates and their lap dog the Christian Democrats. All this brown grease is basically the same thing, where SD is the breakthrough into the political establishment, where there is the opportunity for major societal changes. It is unfortunate that neither the media nor political parties realize the extent of that danger.
But the general right-wing turn in society does not end with pure right-wing extremism. The burgeoning neoliberalism and capitalism are making great strides today, but more and more deregulation for large corporations and more and more sale and privatization of the public good. And this is because too many do not care to get into politics before going to the polls, but are fooled by populist half-truths and lies. Can be fooled with tax cuts and favorable mortgage rates, as if it were more important than preserving and developing an equal welfare society that benefits everyone. Selfish perspectives are used as blinders to the striving for solidarity that is good for everyone, not just the privileged. And there is a vicious circle of unequal resources behind it all. The right-wing propaganda machines have many times more resources than their opponents, because the capitalists who sit on all assets through their industrial capital can pump money into this machine of opinion. Either it is done through think tanks or media companies, or through direct party contributions. And it is a constant struggle uphill for the left-wing opposition as those affected by right-wing politics do not have the same resources to contribute. The only thing to do is to call for solidarity and resistance. Never in Sweden's modern history has it been more important to vote left in future elections, and gladly contribute in other ways to the opposition to the right, through, for example, donations or membership in organizations that want to defend the tolerant and equal society. No one can do everything in this, but together we are stronger.
Business support during the pandemic also shows signs of total capitalist dominance. How else can it be reasonable for large listed industrial companies to receive so much help, even though they have venture capital in the form of shareholders' money? At the same time, individual traders are expected to have their own saved assets to live on in the event of a crisis, and if they do not, they will have to collapse. And there we find pretty much the entire cultural industry. All musicians, variety artists and artists are in that sector. Furthermore, all clubs and festivals, which may not be run as individual companies, but are not large enough to be able to influence political decisions to their advantage. How many of them will survive the pandemic if they do not get help? The state must be all of us together. But in the reality of right-wing politics, this is not the case. And then we have not even touched all hourly employees and part-time workers yet. In any case, the left got through an expansion of the unemployment insurance fund during the crisis. But in a different political climate, there would be much more comprehensive measures to keep everyone afloat, not just those who can afford to swim themselves.
Are there any bands in Sweden today? In your hometown?
-There are a lot of good bands today, and thanks to the digital revolution in the 90s, it has become much easier to find each other and keep in touch. Hard to push for some specific, because then you miss lots of others who are also worth mentioning. But in the Gnesta area, we only know of Politiskt Inkomplett, as we do not know exactly how active they are.
The local perspective is probably not very important in this case, however, it is more important if you get to start arranging gigs. Then of course you want to lift those who are locally, even if it may not stop there. Bands we have had some contact with are for example Puffra from Järfälla, Vet Hut from Malmö, Drömsemestern from Dalarna (a little unclear exactly which city), The Sensitives, where Gustav knows the drummer, Los Bastards from Umeå (because Ola bought a guitar from Viktor in that band) and Råttorna (Martin helped Ola with concert tickets to a KSMB gig). Then we exchanged some writing with Lastkaj 14 and Ett Dödens Maskineri from Falun, and also with Mart in DLK, even though it was a pretty cool response from him. He certainly did not remember us from the 90s. And of course Slaveriet because Bjurre is still an old acquaintance and role model from the Mariestad era, and some others in the band are connected to Arvid, so because of him we can of course mention Deny and Mähälium. Asta Kask can well also be mentioned due to a little talk Ola had with Bonni. Of course Wolfbrigade also because it is Jocke Rydbjer who mixed and mastered the record in his Wolfden Studio. Which of these we will share the stage with remains to be seen, and not all of us have talked about that. And there are lots of other bands that are worth mentioning, but not everything fits here.
Either way, we can make a small list for each member, with bands we like and that we come up with now, with the proviso that we might miss some that we should have thought of. Both punk and other things, big and small:
Olas list:
Gamla Pengar
Kardinal Synd
Headons
7 svåra år
Burning Kitchen
Bombfors
Välta Stället
Trubbel
Bäddat För Trubbel(Both name they maybe took the same name from the beginning?)
Marulk
Dundertåget
Raised Fist
Gluecifer
Kvelertak
Ossler
Orkan
Finntroll
Vintersorg
Hoven Droven
Den Flygande Bokrullen
Seasick Steve
Gards list:
Tragedy
Anticimex
Cosa Nostra
Wolfbrigade
Overkill
Sodom
Destruction
Exodus(gamla grejerna)
Kreator
Slayer
Motorhead(gamla trion)
Gustavs list:
The Sensitives
Tysta Mari
The Drippers
Lastkaj 14
Björnarna
Kiss
The Hellacopters
Gluecifer
Turbonegro
The Hives
Johnnys list:
Allt med Dio.
Slayer
Rage (Avenger)
Destruction
The Exploited
Kreator
The Crown
Motörhead
Opeth
Nazareth
Kvelertak
Hypocrisy
Bach (+ and the most classical stuff)
I
Body Count
Do you play anything outside Sweden?
-For obvious reasons, the answer to date is "no". We will see how it will be in the future. In any case, we have sold records to Russia and Japan and have been played in a podcast in Argentina.
Other good bands from abroad?
-Punk in Sweden easily becomes a domestic affair as most people sing in Swedish, and the lyrics are often written from a Swedish perspective. But it is clear that there are foreign bands that can be mentioned, in addition to the classics like Pistols, Clash, Stiff Little Fingers, Sham 69, GBH, Black Flag and more and more. Because no matter who started it, you have probably listened to what appealed to you. Early Bad Religion perhaps. Mainly the record "Suffer" then. The Business and Youth Of Today, when you're in that mood. Or Exploited. Gluecifer is almost punk. JMKE were quite sensational in the 90's when they did some gigs in Sweden.
Your texts, what are you influenced by? Never in a language other than Swedish?
- Text writing is driven by opposition to right-wing extremism and capitalism, and the injustice, hatred and violence they bring with them in the form of sexism,HBTQ hate, opposition to the environmental movement and general factual resistance. In addition, the lyrics show better alternatives, even if in punk it is easy to get caught up in a one-sided attack on what you dislike. The texts are almost exclusively democratically socialist.
We only write in Swedish. It is easiest to get a message out in one's own language, and our focus is mainly to reach out with things that concern Swedish conditions and politics, although certain topics will of course be worldwide and require international commitment and solidarity.
Is there anything you will never write about?
-Too personal texts about your own emotional and relationship life perhaps. It is absolutely possible to approach it without being pathetic, and there are bands that do. The concern for each other is an important part of the community in punk, and to the highest degree something that should permeate society more than it does today. But if that perspective becomes too personal, you easily end up in a position where you personally become the focus, when for us it is more interesting to raise issues from a broader perspective. Also things that are about mental and emotional balance. If you bring in an element of societal structures and common issues that many can relate to, it may well work. But not to send out an overly personal cry for help in an emotional crisis. Then it will probably end up in a different project than this band. Not because it's wrong to write like that, but it feels a little too self-centered for Total Misär's concept today.
"Funny nonsense lyrics" that were fun to drink in the 90's also have no place in the band's current form. Like the title track of the first demon "Jag måste spy(I have to vomit)", to name some. It was great fun in my teens. If people like that style, feel free to keep listening to it. No harm in that and it's pretty harmless. But we will not come up with anything like that in our current lineup. If we record any of our old songs with such lyrics, we will write them different.
Then there are obvious things like racist and sexist performances that would never be mentioned in this band's lyrics. As sunkissed joke jargon from youth, when it was more or less the norm for people to joke about racists, women, sexually non-normative and disabled. But it is so obvious in the context that it hardly needs to be mentioned.
Politics and music, do they always belong together? Have you written any non-political song?
-No, of course politics and music do not always have to belong together. There are bands that completely shit in politics. And sometimes it's maybe lucky. In hard rock, for example, it has turned out that when political opinions emerge there, it is often of the right-wing kind. Like the Iced Earth member who appeared as a Trump supporter, for example.
But in punk, it is quite difficult to see that politics has no role. And more things in life and everyday life than people might think have political dimensions. Even such a thing as choosing what to buy in the grocery store has political consequences, and also the fact that there is more talk about that type of individual choice today. Actually, it's quite false, because people can not influence the structures very much on an individual level. It is of course a good thing that people are becoming more aware of their consumption. But neoliberalism is trying to free business from its much greater responsibility by passing it on to the end consumer instead. So just such a simple thing as choosing milk packages or toilet paper has political dimensions. And it can lead to conclusions about political systems and help people take the right choice when the election comes.
Total Misär will probably never write an apolitical song, although the messages may be more subtle in some lyrics. Most of the time, however, they are not.
Best political band / artist?
-It depends on how you see it. Some bands may deliver well-written songs that give the listener increased insight into the topics they are about. Other bands may succeed mainly by playing music that is noticed by many. Then there are bands that can handle both of these things with bravura. Mart has always been a brilliant lyricist, and some of DLK's previous songs are clearly political and still actual today. There is good stuff in the latter material as well, although many in punk have probably lost interest in DLK today. The same can be said about Bonni, who wrote good stuff for both Asta Kask and Cosa Nostra. As for the latter stuff, you can above all lift the EP "Historien dömer oss alla" which Asta Kask released before the last election. The Nationalteatern has also been important for punk and the development of society, and they are also such a band that managed to get new generations of fans, as Asta Kask did. But among the punk bands that are more active today, one can well mention Lastkaj 14, even though they are not clearly political in all songs, Sju Svåra År, Kardinal Synd and Vänsternäven. And of course Ett Dödens Maskineri
Do you think music can change someone's life, then I mean lyrics etc?
-Yes, there are countless stories about how people experienced a kind of awakening through the music, and not infrequently a specific song. Some even tell how a special song or band helped them through a difficult period in life. Everyone probably has such songs and bands. Or at least many of us. If we succeed in achieving such a thing, it is of course difficult to guess, but it would be great to succeed in that. Music is a special art form that can carry a lot of emotions, give people support when life is difficult, and also encourage struggle when necessary, and contribute to community and a sense of meaningful context, which all people need.
Your cover is really cool on your CD, who did it? Is it important to have a cover that you understand the type of music you play? What is your all-time favorite cover?…
-The cover artist is a guy Ola found in Gnesta. His name is Martin Ander, manderoid on Instagram, for those who want to see more of his work. In addition to being a good thing to support small-scale local activities, he, as an anti-racist and feminist, took the thing with the band as well. He has some connection to the punk scene before and wanted to do more in that way.
Ola had sketched for a long time on several concepts for covers, and the last one Martin had to start from, together with some inspirational pictures, but with a clear desire that he would make the picture in his own way. This was a new way of working for him. Both he and the band were very happy.
Ola had designed the logo and the bomb symbol in advance, but Martin also had to draw them in his own way so that the style would be coherent.
We will probably continue to collaborate with him on future productions as well.
Is it important to get out physical records? Vinyl or CD or both? Is there a good record store near you? Does it feel like you're releasing a record if you're just releasing it digitally?
-We think physical records are important for several reasons. First of all, it feels good for oneself. Working to produce a great product, with visual art, graphic design and everything else, and see the finished result, is satisfying in a completely different way than just releasing digital albums. It's more "for real". And who knows if all the streaming sites will be up forever? You have a physical album yourself, in your own collection. And in that way, it will be interesting for the listeners as well.
Vinyl is of course more fun than CD, the sound is better (although it may be less important today when you usually record digitally) and since the format is larger, the aesthetic values ​​take up more space, it is much more fun to set up a nice vinyl record on a picture shelf than a small CD. But it is enormously much more expensive to press vinyl, so the CD format comes in as a more easily accessible alternative for many bands. Many blogs and fanzines also want a physical disc to write a review, and for other promotional purposes it is also needed.
Then you can not ignore that the bands need to sell records and merch to get back some of their expenses for music production. It's not free to make music. And if you really want to support a band and help them keep going, it's great to buy their stuff. You don't get much from streaming sites, 1.31 öre per listen on Spotify, for example. However, not all music platforms have the same conditions. It can be good to check out who has the best conditions for the creators and use their services instead. But the greatest support for bands and artists is when you buy records and merch from them.
Please tell us something really fun that happened during your career on stage or behind the scenes etc?
-There are mostly small things because we had a long break from 1996-2018. So far there are no direct examples from the present. In the 90's it may be possible to find something, but nothing spectacular. It is possible that Gard ended his work in the band, before he moved to start his film studies, by falling off the drum stool and down behind the drum stage at the last gig he was on. We had all drunk too much that time.
How does the audience look like? Which type of people comes to your concerts? Do you miss any types of people?
-It remains to be seen, because we have not done any gigs since the ARA festival in Lidköping in 1996. But one hope is of course that we will draw some young people to our gigs, even if it is people around the 40s who seem to make up the core of the punk audience nowadays. It is with the younger future lies.
And then it would be fun to reach out more to people with a foreign background. Punk tends to be a cultural sphere with a fairly large majority of white Swedish-born. Of course, this has not always been the case, if you look at bands like KSMB for example. But today, punk is not so relevant for people in segregated areas, such as metropolitan suburbs, although the message in the music is largely about injustices that are certainly experienced more strongly there than in other areas. Like anti-racist songs, for example. Of course, it can be good to deliver music with anti-racist messages to young people from more privileged backgrounds who are fed a lot with racist right-wing ideas today when they have to form an idea of ​​how the world works, but it will not be quite a hundred with such material if not also reaches out to those who are victims of racism.
And with that said, there are problems that may be felt more in small towns in the countryside, where dissatisfaction increases because the infrastructure decays and the workplaces close. In such areas, SD finds much of its voter support, which they deceive with simple solutions in the form of increased power and privileges on unequal and racist grounds. It would like to arrive there with insights into the consequences of right-wing politics and neoliberalism in the form of unfair distribution of resources, metropolitan centralization and widening class gaps. Make them believe that society will be better if we care more about creating a welfare for all instead of just caring about ourselves and our loved ones.
Please rank your five favorite records, five favorite concerts.
It will be a list for every member.
Album:
Ola
Cosa Nostra - Under ytan
Ett dödens maskineri - Det svenska hatet
DLK - Le som en fotomodell
Dundertåget - Skaffa ny frisyr
Lastkaj 14 - Som en dålig film
Gards
Alla motorhead plattor med första trion.
Exodus - fabulous disaster.
Sodom - agent orange.
Metallica - dom första 3 plattorna.
G.B.H - city baby attacked by rats.
Gustav
KISS - Dressed to kill
Metallica - Ride the lightning
Dissection - Storm of the lights bane
Children of bodom - Hate crew Deathroll
Gluecifer - Tender is the savage
Johnny
The gray cassette with torn strip of text I found when I was 15 years old, which later (thanks to a classmate) turned out to contain a selection from Metallica's first 4 records.
Rage - Ten years
The Haunted - Made me do it
Arch Enemy - Wages of sin
Opeth - Blackwater park
Concerts:
Ola:(not so much big things,I like smaller things better)
Dubioza Kolektiv, Kägelbanan 2016
Entombed, Stockholms universitet, 2004(met my partner there)
Gard:
Nofx
Motorhead
Lillasyster
Death breath
Fu manchu
Gustav:
The Darkness, Sthlm 2013
Kvelertak, Sthlm 2014
The Cure, Roskilde 2012
Black Sabbath, Sthlm 2005
The Hellacopters, Sthlm 2019
Johnny:
Motörhead - Münchenbryggeriet -02
Entombed - Nyköping -01(?)
Rage - SRF -01
Children of bodom - Wacken -06
The Crown - Getaway Gävle -10(?)
Is it boring with interviews? Or haven´t it not be so many?
-So far, we have not had to go through so many. But it's fun if you have something to say. The difficulty lies mostly in coordinating the whole band for them.
If you could choose five bands from history, dead and alive to have a concert with your band, what are the dream bands then?
-Ola thinks it's going to be a bit too much idol cult over that kind of thing, and for him it does not feel like it really belongs in punk.
But it is clear that some bands were important, such as the Sex Pistols and Clash, to go far back, Bad Religion, Asta Kask and Strebers to name a few that became important a little later or more within the country's borders. The question is whether you would really like to be on the same stage as those famous big bands? It's more fun to draw an audience on their own merits than to act as a warmer for another major band.
But with all that said, we had some fun gigs in the 90s together with Cosa Nostra, Dia Psalma and DLK. And it is clear that you have to play supportband until you get started. But warming up for big elephants is not really something we dream about.
Gard thinks it would have been fun to play with Motörhead and meet Lemmy. And Johnny thinks it would have been cool to share the stage with Thin Lizzy.
Is music a good way to vent frustration and become a kinder person? Are you angrier today than you were as young punks?
-One of the members of Råttorna hatched the term "newangry(nyarg)" during their participation in Döda Katten Podcast. It was damn accurate. And now, when the political climate, with worse right-wing winds than ever and the normalization of the far right, calls for playing punk again, it is a fitting description of how one can feel. And of course, it's good to use music to vent frustration. It works fine, provided you play enough angry music. And we do. But you must not vent yourself empty either, but keep the focus on where the frustration comes from, so you can do what you can to achieve a positive change.
What is the strangest question you were asked in an interview?
-We may well scoop from the extremely limited interview archive we have so far to answer that question in the best way:
An entertainment reporter had split up 10 questions for us. The first question actually consisted of 4 questions. More than one of the subsequent questions were direct repetitions of previous questions. But really, none of the questions were strange in themselves, the strange thing was probably in how little that seems to be required to get a job as a reporter today.
Which is the question you never get, ask it and answer it?
-Because we have not done so many interviews yet, it is not possible to give a good answer to this. But in general it is more fun to get creative, interesting questions than banal ones, in the style of "Do you have a favorite song on the record?".
Future plans for the band?
-We will record a new album. It will probably be some kind of full-length, but we have not nailed the songs yet. However, we will release a digital single as soon as possible, as a preview of the album and to present the band with the current lineup.
We like to make a vinyl of the album. Maybe we can afford it with the help of advance purchase. And then we'll do gigs. If the pandemic gives way before the vaccinations, it is possible to arrange events again. But we also plan to stream, so if we can only get 10-20 people in front of the stage, we can at least do something. And when it releases more, we want to arrange gigs to which we can invite more bands to participate.
For yourself?
-This question is well directed to Ola, because he handles the correspondence. But everyone in the band has a part in it.
In any case, I hope to get better at recording, because we will try to take care of it in our own rehearsal room. And then it would be good to get the income in order, which has suffered as a result of the pandemic. Everything I had left over I put on music equipment and studio equipment, and it would be nice to have some margins.
By the way, the plans are to vote for the Left Party(Vänsterpartiet) in the upcoming election, and try to engage me as much as possible to help them move forward. There is no other reasonable parliamentary party in this country today, as I see it.
Anything to add?
-There is always something to add!
Take responsibility. Care. Do what you can.
Support the stuff you like and take nothing for granted. Are there bands you like, buy their records and merch, go to their concerts (when it's possible to arrange that again). Think about how you listen to music everyday. Do you only use a streaming service like Spotify, which takes all the money yourself and only gives crumbs to the creators, or do you also use services that have nicer conditions for smaller and independent bands and artists? Are there local businesses you like, such as small shops with organic produce, local food producers, small individual craftsmen or a small club organizer, support them. Buy from them, hire them and go to the events, perhaps not because it is the cheapest option, but to support your local small-scale business instead of large listed companies. Maybe not the gig in that place is really interesting to you, but you want the club to manage the finances and continue to arrange things, so there is a meeting place to meet people and see smaller artists and bands perform. Are there organizations that do good stuff, get involved in them. As charities, justice organizations, cultural associations, trade unions or political organizations. If you do not support active engagement in person, support them with grants or membership fees. And question people in everyday life who give air to racist and sexist opinions, or other prejudiced brown-right shit that has been normalized far beyond the bounds of reasonableness today. Let them know you do not agree. Obtain counter-arguments and point out the inaccuracies in their claims. Expo, ETC and Motargument and more are good sources for that. And take the opportunity to examine yourself as well. Do you have any habits from growing up that should change? Casual patterns you have not thought of that you do not really like? Most of us probably have, especially those of us who come from a more or less privileged environment. Can you become a better example yourself?
The world becomes what we make it common. Both large and small. Internationally as well as locally. And it must get better again. There are many things to think about, but if you do something instead of nothing, you contribute to a positive change.
Total Misär har kommit tillbaka efter många års tystnad och här ger de den längsta intervjun som gjort i Skrutts snart 40åriga historia. Mars-2021
Lite historia om gruppen?
-Bandet bildades nån gång 1989-1990 i Mariestad. Vi är inte helt på det klara med exakt när. Första lineupen bestod av Ola Lindberg(gitarr & sång), Fredrik Gard(trummor), Peter Andersson Lilja(gitarr & sång) samt Andreas Bister(bas). Efter andra demon från början av 1995 lämnade Gard bandet för filmstudier i Stockholm och ersattes av Ola Sundström. Vi var en del av punkvågen under 90-talets första hälft, främst aktiva i Västergötland. Replokalen hade vi på Skogsbrynet där bl a Cosa Nostra repade och Wolfbrigade(då Wolfpack) bildades. Cosa Nostra blev en stor inspirationskälla, även om vi inte kopierade stilen. Men vi lärde oss mycket om hur man kan arbeta med musik genom att studera hur de repade.
Ola blev från början den mest drivande i bandet, och förutom några enstaka undantag kom alla låtar och texter från honom. Så är det än idag, även om vi jobbar med låtarna tillsammans i replokalen.
Vi spelade in flera demokassetter, men endast två kom ut till försäljning. Den första, "Jag måste spy(text av Gard för övrigt), kom 1993, och vid det laget var namnet Total Misär etablerat. Den andra, "Spring för ditt liv", kom 1995. Den inleds av låten "Panik", som Peter skrev, vilken blev en av våra främsta låtar. Den demon sålde vi först med texten "Ej originalomslag pga tidspress. Ring så skickar vi!" för att ingen pallat teckna ett omslag till den. 1996 medverkade vi på samlingsskivan "Words of wisdom" som släpptes av Markus och Martin Wiking under namnet RapeCakeRecords. Låten vi valde till skivan var "Polare", och den får väl betraktas som vår stora "hit" från 90-talsperioden.
Samma år den skivan kom ut lade vi bandet till vila eftersom Ola hade fullt upp med plugg och andra intressen. Vår sista spelning blev på ARA-festivalen i Lidköping.
Efter många år av återkommande samtal bestämde vi oss äntligen för att börja spela igen, och i oktober 2018 träffades vi i en replokal vid Münchenbryggeriet i Stockholm, där Gard repade med sitt thrashband. Alla originalmedlemmar utom Bister var med. Samma helg kontaktades Mattias "Arvid" Rasmussen, en gammal bekant från Mariestad som numera spelar gitarr i Mähälium och trummor i Deny, och han gick med på att sköta basen.
Efter att vi spelat in albumet "Bortom mörka hav" i januari 2020 på Elvärket i Mariestad, blev det klart att alla inte drog åt samma håll. Bland annat var avståndet mellan Mariestad, där Peter och Arvid bor, och Gnesta, där bandet har sin bas idag, ett problem. Mattias lämnade sin plats i bandet till förfogande, och en tid därefter valde Ola och Gard att gå vidare utan Peter, och hittade två nya medlemmar mera lokalt. De nya medlemmarna är Johnny Jonsson(gitarr och sång) och Gustav Häntak(bas och sång). Tack vare dessa två nya tillskott har bandet nått nya höjder och repar regelbundet med god framgång. Vi håller just nu på med en singel, vilken kommer släppas digitalt för att presentera bandet med den nya sättningen, och vara en försmak för ett nytt kommande album.
Berätta lite om varje medlem, ålder, jobb, familj, band före och band bredvid??
-Ola är 45 år gammal och bor idag utanför Gnesta med sin sambo, samt ett par katter och rätt många höns. Bandets replokal/studio är även inhyst i deras hus. Han försörjer sig(nåja) på sin firma, vanligtvis genom medverkan på medeltids- och vikingamarknader under sommarhalvåret. Han är hantverkare med läder som främsta inriktning, men snickrar även en hel del. Utöver marknadsbiten jobbar han inom byggsektorn då och då. Han spelade i ett punkband vid namn "Kärnvapenkrig" innan Total Misär. Detta var ett ytterst lokalt Mariestadfenomen och de släppte aldrig något, men det finns några låtar inspelade. Det fanns även ett band c:a 2000-2005 som först spelade skramlig rock'n'roll/actionrock och sedan nån sorts mix mellan döds- och powermetal, men det lyfte aldrig. Ola håller på att spela in rock'n'rollmaterialet från den tiden och kommer släppa det vad det lider.
Gard är 47 år, lastbilschaufför(sopbil för närvarande) med en bakgrund inom filmbranschen, där han jobbat med ljus på många stora film-och TV-produktioner samt reklamfilm. Han tar fortfarande småjobb inom den branschen ibland, men är egentligen rätt färdig med den. Han bor i Farsta med fru och son, samt en katt.
Efter flytten till Stockholm spelade han thrash i bandet Inflikted. Han och ena gitarristen har fortsatt efter det i bandet Minefield.
Johnny är 40 år, jobbar som V/A-tekniker i skrivande stund, men är på väg att byta jobb. Han har gjort lite av varje och har bl a ett förflutet som lastbilsmekaniker. Gillar att meka/åka veteranbilar och hojar. Söker efter frid i sinnet och ett arbete utan rassesnack bland kollegor, båda verkar vara en utopi. Önskar han var smart nog att uppfinna den ultimata kraftkällan, helt ren och förnybar, för att kunna ge den till folket och på så sätt slippa skövlingen av moder jord så som det är idag.
Han spelade tidigare i deathmetalbandet World Battering, samt håller på med ett thrashprojekt i sin hemmastudio. Bor i Mölnbo med sin sambo och ett par katter.
Gustav är med sina 31 år ynglingen i bandet. Han har studerat estetisk musik på gymnasiet, samt musikproduktion och ljudteknik. Han har spelat i ett par band innan Total Misär, där Wormwood är mest framträdande. Han har kört lastbil hela sitt yrkesliv, men håller just på att studera vidare. Han är ensamstående med en dotter och bor i Gnesta. Utöver detta skiljer han sig även från resten av medlemmarna genom att vara den ende som inte har katt. Dottern var inte med på det mötet där detta beslut togs, och stillar ibland sin kattabstinens med en av katterna hos Ola. Katten i fråga var inte med på det mötet, och gör sitt bästa för att fly när hon hälsar på.
De tidigare medlemmarna är det väl inte vår sak att tala för, men vi kommer lägga upp personliga berättelser från var och en som är med eller har varit med i bandet på hemsidan www.totalmisar.se. Men en kortfattad redogörelse kan vi väl komma med utan att säga för mycket:
Bister, vår ursprungliga basist, fortsatte inte med musiken efter att bandet pausade -96. Peter, som var närmast honom pga uppväxt och skola, samt bodde granne med honom under uppväxten, tappade kontakten med honom en tid innan bandet drog igång igen. Han bor fortfarande i Mariestad.
Peter blev med i Cosa Nostra när Total Misär lades på is 1996. De saknade en gitarrist/sångare eftersom Svein flyttat till England. Idag är han lektor i svenska(tror det var lektor i alla fall) och jobbar på Göteborgs universitet och högskolan i Skövde. Han har två söner och en särbo i Göteborg, varför han väl kan sägas bo halva sin tid i Mariestad och halva i Göteborg.
Arvid jobbar inom vården, har en dotter och en särbo. Han spelar gitarr i Mähälium och trummor i Deny. Han bor i Mariestad.
Under 90-talet spelade han i sitt första punkband 3 meter älg, vilka fick replokal mitt emot Total Misär på föreningshuset Skogsbrynet. Det var så vi lärde känna honom. Han gick även på samma gymnasielinje som Olas yngre syster, som tyckte han var skitjobbig först. Men det tycker hon så lätt om alla möjliga typer.
Ola Sundström bor idag i Malmö. Han började spela i metalbandet Eternal Autumn efter att Total Misär lades på is. De är också aktiva igen. Oklart om Ola är med idag eller ej.
Jag kan höra mycket både trallpunk fast på ett hårdare sätt och en hel del annan svensksjungen punk, hör jag rätt? Var det bättre förr?
-När vi började spela fanns inte begreppet trallpunk riktigt. Och när det började dyka upp var det band som Asta Kask, Strebers m fl man syftade på. Sen kom band som Räserbajs och ändrade på folks definition av trallpunk med sina poppiga, glada tongångar, och då passade tralletiketten dåligt på de gamla banden och även oss. Så om man inte gillade den musikaliska utvecklingen de banden stod för kan man ju tycka att det var bättre förr. Men de som spelade den luftigare, gladare trallpunken var ju i många fall väldigt bra. Det var bara inte en stilutveckling som passade oss.
Vi spelar inte trallpunk, råpunk, punkrock, kängpunk eller crustpunk. Vi spelar punk av det hårdare melodiösa slaget. Rotade i den musik Asta Kask, Strebers, DLK(innan "Tomat") och KSMB skapade, samt inspirerade av band som Cosa Nostra, Wolfbrigade, Anticimex, och tidiga Bad Religion. Idag med vissa inslag av rock'n'roll och metal, varav det sistnämnda nog knappt märks för de flesta.
Total Misär, är ni nöjda med namnet? Konstigt att inget annat punkband hade tagit namnet innan! Om inte det bästa bandnamnet hade varit upptaget, viket namn hade ni valt då? Jag menar vilket är det bästa bandnamnet?
-Från början hade vi inget namn alls, som väl är fallet för de flesta. Ola kom på det briljanta namnet "Badskum" på en fest hos Bister, men vi bytte rätt snabbt till "Misär", som var Gards idé. Och strax efter det tyckte Gards polare porr-Jocke att vi måste heta nåt tuffare, och föreslog "Total Misär". Vi tänkte att vi ju kunde ha det tills vi kom på nåt bättre. Men det gjorde vi aldrig, och sen växte vi in i namnet. När vi släppte första demon "Jag måste spy" var namnet etablerat.
Idag är det lyckligtvis lättare att undvika att råka ta samma namn som nåt annat band, eftersom det är enkelt att söka på nätet innan man bestämmer sig. Så var det inte riktigt för bara några årtionden sedan, men vad vi vet fanns det i varje fall inget annat Total Misär innan oss.
Något bästa bandnamn är ju inte lätt att peka ut. När man var tonårspunkare och lite lagom dum i huvet tyckte man ju att det var kul med så absurda namn som möjligt. "Snedsågad skethusgavel" var ett bandnamn som cirkulerade och ansågs av vissa vara väldigt svårslaget. Men det kanske inte var det mest klockrena namnet ur ett symboliskt perspektiv. "Mobbade barn med automatvapen" eller "Palme sköt först" kan ju kännas klockrena om man gillar provokativa namn men inte bryr sig så mycket om djupare budskap och sånt. Var och en får nog svara själv på vilket som är det bästa bandnamnet.
Vad är det bästa med att spela live? Saknar ni att spela live nu?
-Det bästa med att spela live är att få direktkontakt med publiken. Att nå fram med sin musik och sitt budskap. Och att hjälpa till att skapa ett sammanhang av gemenskap där folk träffas på riktigt, blir del av en rörelse. Och såklart att göra bra ifrån sig som band, leverera sitt set på bästa möjliga sätt och få publiken att komma i stämning, och folk kanske kommer fram efteråt och visar uppskattning.
Ingen av oss har ju stått på en scen på länge, så ordet "saknar" är kanske inte helt rätt. Men vi ser verkligen fram emot att komma upp på en scen och spela. Vi snackar även om att streama gig om coronarestriktionerna fortsätter medföra begränsningar för evenemang.
Var är bäst att spela, var är sämst? Vad gör en spelning riktigt dåligt?
-Om lokalen och scenen är undermålig, eller om utrustningen och teknikerna inte håller måttet är det ju inte lätt att göra en bra spelning. Eller om det av nån anledning inte kommit särskilt mycket folk. Eller om det är för konstig blandning av musikstilar på giget. Var det är bäst eller sämst kan vi inte svara på eftersom vi inte varit ute på många år. Men utifrån upplevelser på andras spelningar är t ex Debaser Hornstull rätt bra, medan Café 44 fortfarande, efter så många år i samma lokal, inte klarar av att leverera vare sig bra ljud eller en dräglig miljö. Efter över 30 år borde åtminstone luftkonditionering vara på plats. Det är synd, eftersom de fyller en otroligt viktig roll för alla som inte kommer in på krogen.
Sen är det ju bra att spela på vissa ställen av andra skäl också. Klubb Altruism t ex, som skänker sitt överskott till Suicide Zero och Kvinnohuset Tranan. Förutom den poängen ska det väl vara en rätt bra klubb lokalmässigt också, men det har vi inga egna erfarenheter av än.
Avslutningsvis finns det ett stort problem i många städer idag, och det är den så kallade gentrifieringen. Det finns ju inget som gör en spelning så dålig som att det inte längre finns nånstans att spela överhuvudtaget. Om man flyttar till en stadsdel för att det är coolt och trendigt med allt uteliv där, kanske man ska ge fan i att utöva påtryckningar på kommunen och fastighetsägarna för att få detta uteliv att klappa igen, till förmån för t ex glutenfria bagerier och barbershops. Eller så kunde man gett fan i att alls flytta till den stadsdelen. I Stockholm t ex har flera små och mellanstora scener försvunnit de senaste åren på grund av gentrifiering, och det är förödande för band som är i början av sin bana, eller som inte passar på stora scener och arenor av andra skäl. Och vart ska alla som vill se livemusik gå? Varför ska de vara förpassade till industriområden utanför stadskärnorna? Men vi kan alla vara med och motverka den här utvecklingen. Punken har alltid varit en D.I.Y.-rörelse. Det är dags att folk börjar engagera sig igen, letar efter ställen att köra gig på, snackar med studieförbund och fritidschefer och sätter igång och fixar spelningar. Vi hoppas själva kunna få till lite sånt framöver. Vi har några olika lokaler på gång och har haft inledande samtal med Studiefrämjandet om samarbete för det.
Hur är det att spela denna sortens punk I Sverige idag? Känns det viktigare än någonsin i dagens kalla samhälle att spela punk ?
-Eftersom Total Misär är ett ganska tydligt politiskt band är svaret på frågan ja. Högervridningen, polariseringen och de ökade klassklyftorna är värre idag än på länge. När vi var aktiva på 90-talet var det organisationer som VAM, BSS och Ny Demokrati som försökte förvränga huvudet på folk. Idag har de gått på högskolor, lärt sig knyta slipsknutar och använda retoriska knep, och dessutom springer de andra högerpartierna runt som nyttiga von Papen-liknande idioter och bidrar till skiten. Det har aldrig i modern tid varit så viktigt att försvara det öppna, demokratiska mångfaldssamhället som nu.
Den historiska aspekten av detta kanske inte Gustav och Johnny kan säga så mycket om eftersom de är nya i bandet och genren. Men när Ola letade ersättare för Peter och Arvid var han tydlig med bandets politiska framtoning, och den ställer de givetvis upp på.
Hur skulle ni beskriva er musik med tre ord?
-Rejäl röd punk? Eller kanske "fråga alla lyssnare"? Fast då är det ju inte vår beskrivning. Vete fan, ärligt talat. Det där med korta definitioner är rätt svårt.
Vad betyder punk för er, är det bara ett ord eller är det en livsstil? Vad är skillnaden på er syn på punk om ni jämför med när ni var yngre?
-Det här är ju en fråga som inbjuder till långa funderingar och utläggningar. När man var yngre var det dels kul med upprorsandan och revolten, dels med känslan av att tillhöra en gemenskap som gjorde nåt utan att vara kontrollerad av samhällets representanter. I mångt och mycket var det ju en illusion, men vi hade ändå rätt fria tyglar att forma vår gemenskap i den gynnsamma miljö studieförbunden erbjöd på den tiden.
När man blir äldre blir man väl dels mera politiskt medveten, dels mera luttrad och cynisk. Man känner igen det politiska slingrandet. Man känner igen mönstren i högerns strategier att förstöra välfärdssamhället. Man känner igen tongångarna från alla pappskallar som svalt de enkla lösningarna extremhögern matar dem med och man känner igen den bekväma attityden hos den som bestämt sig och sedan lutar sig bekvämt tillbaks och slutar ta in fakta och argument. Och man slutar aldrig ifrågasätta orättvisor och orimligheter. Men idag med lite annorlunda tillvägagångssätt än när man var tonåring. Organisation och samverkan med andra för att uppnå nåt bättre, istället för att skrika, visa finger och vara obekväm rakt upp i ansiktet.
Man får ju en lite annan livssyn när man lämnar ungdomsåren bakom sig, och Gard hänvisar till Stefan Sundström i SVT-dokumentären "Eran", där han pratar om saker som kunde sägas under den tidiga punken, med ett exempel ur Ebba Gröns låt "Vad ska du bli?". Den texten innehåller saker som är direkt sårande och underkänner de vuxnas hela strävan, och Sundström tycker att det inte var så moget eller snällt.
Det är ju sådant man kan förstå när man blivit vuxen själv och kanske har en egen familj att försörja, eller bara har hyra och räkningar att betala. Ska man attackera nån så ska det väl helst vara den som står för sånt som gör samhället sämre, som bevarade klassklyftor och människors olika värde, inte vanligt hederligt folk som bara försöker få sin vardag att funka. Så idag är det väl mera intressant att försöka medverka till förändring och vara positiv till andra, mindre stereotypa sätt att leva utan att direkt pissa på dem som inte kan eller vill göra sådana val.
Och det är ju många som växt upp i punken som lärt sig göra saker mer på egen hand, eller snarare tillsammans med andra inom punknätverket. Idag finns ju klubbar, skivbolag, distributionsbolag och merchverkstäder som alla drivs småskaligt av entusiaster inom rörelsen.
Ola har en grej han återkommer till hela tiden: Ulf Dagebys textrad från låten "Sent en lördagkväll" är fortfarande lika aktuell idag som då, och sätter fingret rätt väl på vad punken är för honom: "Bygga nåt tillsammans som ingen jävel förstör".
Hur ser ni på nedladdning, mp3 och liknande? Ni finns inte på Spotify?
-Vi finns på Spotify när det här publiceras, och en del andra ställen också ... men när vi fick frågorna hade det digitala släppet inte gjorts än.
Nedladdning och streaming är bra för spridningen. Det är positivt att musik och annat innehåll blivit lättillgängligt. Det som är mindre bra är att de företag som levererar dessa tjänster oftast är beroende av investerare som ska ha sin del av kakan, eller helt enkelt vill behålla större delen av den själva. Och det blir väldigt lite till artisterna. T ex 1,31 öre per lyssning på Spotify.
Vill man stödja artister man gillar är det bättre att köpa skivor och merch, och såklart att gå på spelningar när det går att arrangera sånt igen. Det kan man ju göra oavsett hur mycket man använder streamingtjänster i dagliga livet.
Hur tycker ni att det är att bo i Sverige idag, politiskt? SD+M? Covidpandemin?
-Vi var ju inne lite på det politiska i en tidigare fråga. Men för att utveckla är det såklart ett problem att högerextremismen normaliserats till den grad som skett. Dels har rättsväsendet svikit sitt ansvar genom att inte bromsa SD i tid, vilket det finns lagliga möjligheter att göra genom lagen om inskränkning i föreningsfriheten. Den går ut på att staten kan förbjuda organisationer som kränker demokratiska principer och mänskliga rättigheter. Men det skedde inte med SD, de tilläts sprida sin skit och nu sitter de i Riksdagen med 20% väljarstöd.
I kölvattnet av SD:s framgångar har media tonat ned hotet från andra organisationer, och använt beskrivningar som "invandringskritiska" om grupper som har fysiskt våld som redskap och betraktas som terrorister av SÄPO. Och i stort sett alla andra riksdagspartier har anpassat sig till den här smörjan, främst i ledet såklart Moderaterna och deras knähund Kristdemokraterna. All den här bruna smörjan är ju i grunden samma sak, där SD är vågbrytaren in i det politiska etablissemanget, där möjlighet till stora samhällsförändringar finns. Det är olyckligt att varken media eller politiska partier inser vidden av den faran.
Men den allmänna högervridningen i samhället slutar ju inte med den rena högerextremismen. Den spirande nyliberalismen och kapitalismen gör stora landvinningar idag, men mer och mer avregleringar för storföretag och mer och mer utförsäljning och privatisering av allmännyttan. Och detta kommer till stånd pga att alltför många inte bryr sig om att sätta sig in i politiken innan de går och röstar, utan låter sig luras av populistiska halvsanningar och lögner. Låter sig lockas med skattesänkningar och fördelaktiga boräntor, som om det vore viktigare än att bevara och utveckla ett jämlikt välfärdssamhälle som gagnar alla. Egoistiska perspektiv används som skygglappar för den solidariska strävan som är bra för alla, inte enbart de priviligierade. Och det är en ond cirkel av snedfördelade resurser bakom alltihop. Högerns propagandamaskiner har mångdubbelt större resurser än deras motståndare, eftersom kapitalisterna som sitter på alla tillgångar genom sitt industrikapital kan pumpa in pengar i den här åsiktsmaskinen. Antingen sker det genom tankesmedjor eller mediabolag, eller genom direkta partibidrag. Och det är en ständig kamp i uppförsbacke för vänstermotståndet då de som drabbas av högerpolitiken inte har samma resurser att bidra med. Det enda att göra är att mana till solidaritet och motstånd. Aldrig någonsin i Sveriges moderna historia har det varit viktigare att rösta vänster i kommande val, och gärna bidra på annat sätt till motståndet mot högern, genom t ex donationer eller medlemskap i organisationer som vill försvara det toleranta och jämlika samhället. Ingen kan göra allt i detta, men tillsammans är vi starkare.
Företagsstödet under pandemin visar också tecken på den totala kapitalistiska dominansen. Hur kan det annars vara rimligt att stora börsnoterade industriaktiebolag får så mycket hjälp, trots att de har riskkapital i form av aktieägares pengar? Samtidigt förväntas enskilda näringsidkare ha egna sparade tillgångar att leva av i händelse av kris, och har de inte det får de vackert gå under. Och där hittar vi i stort sett hela kulturbranschen. Alla musiker, varietéartister och konstnärer finns inom den sektorn. Vidare alla klubbar och festivaler, som kanske inte drivs som enskilda firmor, men inte är tillräckligt stora för att kunna påverka politiska beslut till sin fördel. Hur många av dem kommer överleva pandemin om de inte får hjälp? Staten ska ju vara alla vi tillsammans. Men i högerpolitikens verklighet är det inte så. Och då har vi inte ens berört alla timanställda och deltidsjobbare än. Vänstern fick i alla fall igenom en utvidgning av a-kassan under krisen. Men i ett annat politiskt klimat skulle det blivit mycket mera omfattande åtgärder för att hålla alla flytande, inte bara de som gott har råd att simma själva.
Finns det några band I Sverige idag? I er hemstad?
-Det finns en hel del bra band idag, och tack vare den digitala revolutionen på 90-talet har det ju blivit mycket lättare att hitta varann och hålla kontakt. Svårt att pusha för några specifika, för då missar man massor av andra som också är värda att nämna. Men i Gnestatrakten känner vi bara till Politiskt Inkomplett, som vi inte vet exakt hur aktiva de är.
Det lokala perspektivet är väl inte så jätteviktigt i det här fallet dock, det har större betydelse om man får för sig att börja arrangera gig. Då vill man såklart lyfta dem som finns lokalt, även om det kanske inte stannar med det. Band vi haft lite kontakt med är t ex Puffra från Järfälla, Vet Hut från Malmö, Drömsemestern från Dalarna(lite oklart exakt vilken stad), The Sensitives, där Gustav känner trummisen, Los Bastards från Umeå(eftersom Ola köpte en gitarr av Viktor i det bandet) och Råttorna(Martin hjälpte Ola med konsertbiljetter till en KSMB-spelning). Sen har vi växlat lite skrift med Lastkaj 14 och Ett Dödens Maskineri från Falun, och även med Mart i DLK, även om det var rätt sval respons från honom. Han mindes oss säkert inte från 90-talet. Och såklart Slaveriet, eftersom Bjurre än en gammal bekant och förebild från Mariestadtiden, och vissa andra i bandet har koppling till Arvid, så på grund av honom kan vi såklart nämna Deny och Mähälium. Asta Kask kan väl nämnas också pga lite bollning Ola haft med Bonni. Givetvis Wolfbrigade också eftersom det är Jocke Rydbjer som mixat och mastrat plattan i sin Wolfden Studio. Vilka av de här vi kommer dela scen med återstår väl att se, och det är inte alla vi pratat om sånt med. Och det finns ju massor av andra band som är värda att nämna, men allt får inte plats här.
Hursomhelst kan vi väl göra en liten lista för varje medlem, med band vi gillar och som vi kommer på nu, med förbehåll att vi kanske missar några som vi borde tänkt på. Både punk och annat, stort som smått:
Olas lista:
Gamla Pengar
Kardinal Synd
Headons
7 svåra år
Burning Kitchen
Bombfors
Välta Stället
Trubbel
Bäddat För Trubbel(Båda namnen tog kanske samma namn från början?)
Marulk
Dundertåget
Raised Fist
Gluecifer
Kvelertak
Ossler
Orkan
Finntroll
Vintersorg
Hoven Droven
Den Flygande Bokrullen
Seasick Steve
Gards lista:
Tragedy
Anticimex
Cosa Nostra
Wolfbrigade
Overkill
Sodom
Destruction
Exodus(gamla grejerna)
Kreator
Slayer
Motorhead(gamla trion)
Gustavs lista:
The Sensitives
Tysta Mari
The Drippers
Lastkaj 14
Björnarna
Kiss
The Hellacopters
Gluecifer
Turbonegro
The Hives
Johnnys lista:
Allt med Dio.
Slayer
Rage (Avenger)
Destruction
The Exploited
Kreator
The Crown
Motörhead
Opeth
Nazareth
Kvelertak
Hypocrisy
Bach (+ det mesta inom klassiskt)
I
Body Count
Spelar ni något utanför Sverige?
-Av förklarliga skäl är svaret till dags dato "nej". Hur det blir i framtiden får vi väl se. Vi har i alla fall sålt skivor till Ryssland och Japan och blivit spelade i en podd i Argentina.
Andra bra band från utlandet?
-Punken i Sverige blir ju lätt en inhemsk angelägenhet då de flesta sjunger på svenska, och texterna är ofta skrivna ur ett svenskt perspektiv. Men det är klart att det finns utländska band som kan nämnas, förutom de klassiska som Pistols, Clash, Stiff Little Fingers, Sham 69, GBH, Black Flag med mera och yttermera. För oavsett vilka som började har man väl lyssnat på det som tilltalade en. Tidiga Bad Religion kanske. Främst plattan "Suffer" då. The Business och Youth Of Today, när man är på det humöret. Eller Exploited. Gluecifer är väl nästan punk. JMKE var rätt sensationella på 90-talet då de gjorde några spelningar i Sverige.
Era texter, vad influeras ni av? Aldrig på annan språk än svenska?
-Textförfattandet drivs av motstånd mot högerextremismen och kapitalismen, och den orättvisa, hat och våld de för med sig i form av sexism, hbtq-hat, motstånd mot miljörörelsen och allmän faktaresistens. Dessutom visar texterna på bättre alternativ, även om det i punken är lätt att fastna i ensidig attack på det man ogillar. Texterna är nästan uteslutande demokratiskt socialistiskt vinklade.
Vi skriver enbart på svenska. Det är lättast att få fram budskap på det egna språket, och vår inriktning är främst att nå fram med saker som rör svenska förhållanden och politik, även om vissa ämnen såklart blir världsomspännande och kräver internationellt engagemang och solidaritet.
Finns det något ni aldrig kommer skriva om?
-Alltför personliga texter om det egna känslo- och relationslivet kanske. Det går absolut att närma sig det utan att vara patetisk, och det finns ju band som gör det. Omtanken om varann är ju en viktig del av gemenskapen inom punken, och i högsta grad något som borde genomsyra samhället mera än det gör idag. Men blir det perspektivet för personligt hamnar man lätt i en position där man personligen blir i fokus, när det för vår del är mera intressant att lyfta frågor ur ett bredare perspektiv. Även sådant som handlar om psykisk och känslomässig balans. Får man in ett element av samhällsstrukturer och gemensamma angelägenheter som många kan relatera till kan det väl funka. Men inte att sända ut ett alltför personligt rop på hjälp i känslomässig kris. Då får det nog hamna i ett annat projekt än det här bandet. Inte för att det är fel att skriva sånt, men det känns lite för självcentrerat för Total Misärs koncept idag.
"Skojiga nonsenstexter" som var kul att supa till på 90-talet har heller ingen plats i bandets nuvarande form. Som titelspåret på första demon "Jag måste spy", för att nämna något konkret. Det var ju jättekul i tonåren. Om folk gillar den stilen, fortsätt gärna lyssna på den. Inget ont i det och det är ju rätt harmlöst. Men vi kommer inte komma med nåt sånt i vår nuvarande tappning. Tar vi upp nån av våra gamla låtar med sådant textmaterial kommer vi skriva om dem.
Sen finns det ju självklarheter som rasistiska och sexistiska föreställningar som aldrig skulle komma på tal i det här bandets textmaterial. Som sunkig skämtjargong från ungdomen, då det var mer eller mindre norm att folk skämtade om rasifierade, kvinnor, sexuellt ickenormativa och funktionshindrade. Men det är väl så uppenbart i sammanhanget att det knappt behöver nämnas.
Politik och musik, hör det alltid ihop? Har ni skrivit någon icke politisk låt?
-Nej, givetvis måste politik och musik inte alltid höra ihop. Det finns band som skiter helt i politik. Och ibland är det kanske tur. Inom hårdrocken, till exempel, har det ju visat sig att då politiska åsikter kommer fram där är det ofta av det högervridna slaget. Som Iced Earth-medlemmen som dök upp som Trumpsupporter till exempel.
Men inom punken är det rätt svårt att se att politiken inte har någon roll. Och fler grejer i livet och vardagen än folk kanske tänker på har politiska dimensioner. Till och med en sån sak som att välja vad man köper i mataffären har ju politiska konsekvenser, och även det faktum att det talas mer om den typen av individuella val idag. Egentligen är det rätt falskt, eftersom folk inte kan påverka strukturerna särskilt mycket på individuell nivå. Det är såklart en bra sak att folk blir mer medvetna i sin konsumtion. Men nyliberalismen försöker befria näringslivet från sitt mycket större ansvar genom att lägga över det på slutkonsumenten istället. Så bara en sån enkel sak som att välja mjölkpaket eller toalettpapper har politiska dimensioner. Och det kan leda till slutsatser om politiska system och hjälpa folk att ta rätt röstsedel när valet kommer.
Total Misär kommer nog aldrig skriva en opolitisk låt, även om budskapen kan vara mera subtila i vissa texter. Oftast är de dock inte det.
Bästa politiska band/artist?
-Det beror på hur man ser det. Vissa band levererar kanske välskrivna låtar som ger lyssnaren ökad insikt i ämnena de handlar om. Andra band kanske når framgångar främst genom att spela musik som uppmärksammas av många. Sen finns det ju band som klarar båda dessa ting med bravur. Mart har alltid varit en briljant textförfattare, och vissa av DLK:s tidigare låtar är tydligt politiska och håller dessutom än idag. Det finns bra grejer i det senare materialet också, även om många inom punken nog tappat intresset för DLK idag. Detsamma kan sägas om Bonni, som skrivit bra grejer både till Asta Kask och Cosa Nostra. Vad gäller de senare grejerna kan man framförallt lyfta EP:n "Historien dömer oss alla" som Asta Kask släppte inför förra valet. Nationalteatern har också varit betydelsefulla för punken och samhällsutvecklingen, och de är även ett sådant band som lyckades skaffa nya generationer av fans, som ju för övrigt Asta Kask också gjort. Men bland de punkband som är mera aktiva idag kan man väl nämna Lastkaj 14, även om de inte är tydligt politiska i alla låtar, 7 svåra år, Kardinal Synd och Vänsternäven. Och givetvis Ett Dödens Maskineri.
Tror ni musik kan ändra någons liv, då menar jag texter etc?
-Ja, det finns otaliga berättelser om hur folk upplevt en sorts uppvaknande genom musiken, och inte sällan en specifik låt. Vissa berättar även om hur en speciell låt eller ett speciellt band hjälpt dem genom en tung period i livet. Alla har nog sådana låtar och band. Eller åtminstone många av oss. Om vi lyckas åstadkomma något sådant är såklart svårt att gissa, men det vore ju jättefint att lyckas med det. Musiken är en speciell konstform som kan bära mycket känslor, ge folk stöd när livet är svårt, och även mana till kamp när det är nödvändigt, och bidra till gemenskap och en känsla av meningsfullt sammanhang, som alla människor behöver.
Ert omslag är riktigt fräckt på er CD, vem har gjort det. Är det viktigt att ha ett omslag som man förstår vilken typ av musik man spelar? Vilken är ert favoritomslag alla tider?…
-Omslagstecknaren är en kille Ola hittade i Gnesta. Han heter Martin Ander, manderoid på Instagram, för den som vill se mer av hans arbeten. Förutom att det är en bra grej att stödja småskalig lokal verksamhet fattade han som antirasist och feminist grejen med bandet också. Han har lite koppling till punkscenen sedan tidigare och ville gärna göra mer i den vägen.
Ola hade skissat länge på flera koncept till omslag, och den sista fick Martin utgå ifrån, tillsammans med en del inspirationsbilder, fast med tydlig önskan om att han skulle göra bilden på sitt sätt. Detta var ett nytt sätt att jobba för honom. Både han och bandet blev mycket nöjda.
Loggan och bombsymbolen hade Ola designat i förväg, men Martin fick teckna även dem på sitt sätt för att stilen skulle vara sammanhängande.
Vi lär nog fortsätta samarbeta med honom även på kommande produktioner.
Är det viktigt att få ut fysiska skivor? Vinyl eller CD eller både och? Finns det någon bra skivaffär i er närhet kvar? Känns det som om man släppt en skiva om man bara ger ut den digitalt?
-Fysiska skivor tycker vi är viktigt av flera skäl. För det första känns det ju bra för en själv. Att jobba med att ta fram en fin produkt, med bildkonst, grafisk design och allt annat, och se det färdiga resultatet, är ju tillfredsställande på ett helt annat sätt än att bara släppa digitala album. Det är mera "på riktigt". Och vem vet om alla streamingsidor kommer ligga uppe för evigt? Ett fysiskt album har du ju själv, i din egen samling. Och på det viset blir det ju intressant för lyssnarna också.
Vinyl är såklart roligare än CD, ljudet är bättre(även om det kanske har mindre betydelse idag när man oftast spelar in digitalt) och eftersom formatet är större får de estetiska värdena ta mera plats, det är ju mycket roligare att ställa upp en fin vinylskiva på en tavelhylla än en liten CD. Men det är ju enormt mycket dyrare att pressa vinyl, så där kommer CD-formatet in som ett mera lättillgängligt alternativ för många band. Många bloggar och fanzines vill dessutom ha en fysisk skiva för att skriva recension, och i övrigt promotionsyfte behövs det också.
Sen kan man inte bortse från att banden behöver sälja skivor och merch för att få igen lite av sina utlägg för musikproduktionen. Det är inte gratis att göra musik. Och om man verkligen vill stödja ett band och hjälpa dem fortsätta, är det jättebra att köpa deras grejer. Från streamingsidor får man inte mycket, 1,31 öre per lyssning på Spotify, till exempel. Alla musikplattformar har dock inte samma villkor. Det kan vara bra att kolla upp vilka som har bäst villkor för kreatörerna och använda deras tjänster istället. Men störst stöd för band och artister blir det när man köper plattor och merch av dem.
Var snäll och berätta något riktigt roligt som hänt under er karriär på scen eller bakom scen etc?
-Det finns mest smågrejer eftersom vi hade ett långt uppehåll från 1996-2018. Så än så länge finns inte några direkta exempel från nutid. På 90-talet kan det väl gå att hitta nåt, men inget spektakulärt. Möjligen att Gard avslutade sin gärning i bandet, innan han flyttade för att påbörja sina filmstudier, med att trilla av trumpallen och ned bakom trumscenen på sista spelningen han var med på. Vi hade alla druckit för mycket den gången.
Hur ser er publik ut? Vad drar ni för folk? Saknar ni några typer av folk?
-Det återstår väl att se, eftersom vi inte gjort några spelningar sedan ARA-festivalen i Lidköping 1996. Men en förhoppning är såklart att vi kommer dra en del ungt folk till våra gig, även om det är folk runt 40-strecket som verkar utgöra kärnan i punkpubliken numera. Det är ju hos de yngre framtiden ligger.
Och så vore det kul att nå ut mer till folk med utländsk bakgrund. Punken tenderar att vara en kultursfär med rätt stor majoritet av vita svenskfödda. Det har såklart inte alltid varit så, om man kollar på band som KSMB till exempel. Men idag är väl punken inte så aktuell för folk i segregerade områden, som storstadsförorter, fast budskapet i musiken i hög grad handlar om orättvisor som säkerligen upplevs starkare där än i andra områden. Som antirasistiska låtar, till exempel. Förvisso kan det ju vara bra att leverera musik med antirasistiska budskap till unga människor från mera priviligierade bakgrunder som matas mycket med rasistiska högeridéer idag när de ska bilda sig en uppfattning om hur världen funkar, men det blir inte helt hundra med sånt material om det inte når fram också till dem som är offer för rasismen.
Och med det sagt finns det ju problem som kanske känns mer i småstäder på landsbygden, där missnöjet ökar för att infrastrukturen förfaller och arbetsplatserna stänger. I sådana områden hittar SD mycket av sitt väljarstöd, som de lurar med enkla lösningar i form av ökad makt och privilegier på ojämlik och rasistisk grund. Där skulle man gärna nå fram med insikter om högerpolitikens och nyliberalismens konsekvenser i form av orättvis resursfördelning, storstadscentralisering och ökade klassklyftor. Få dem att fatta att samhället blir bättre om vi bryr oss mer om att skapa en välfärd för alla istället för att bara bry oss om oss själva och våra närmaste.
Var snäll och ranka fem favoritskivor, fem favoritkonserter.
Det får väl bli en lista per bandmedlem för skivorna då.
Album:
Ola
Cosa Nostra - Under ytan
Ett dödens maskineri - Det svenska hatet
DLK - Le som en fotomodell
Dundertåget - Skaffa ny frisyr
Lastkaj 14 - Som en dålig film
Gards
Alla motorhead plattor med första trion.
Exodus - fabulous disaster.
Sodom - agent orange.
Metallica - dom första 3 plattorna.
G.B.H - city baby attacked by rats.
Gustav
KISS - Dressed to kill
Metallica - Ride the lightning
Dissection - Storm of the lights bane
Children of bodom - Hate crew Deathroll
Gluecifer - Tender is the savage
Johnny
Den grå kassetten med avriven textremsa jag hittade som 15 åring, som senare (tack vare en klasskompis) visade sig innehålla ett axplock från Metallicas 4 första skivor.
Rage - Ten years
The Haunted - Made me do it
Arch Enemy - Wages of sin
Opeth - Blackwater park
Konserter:
Ola:(Inte så mycket stora grejer, föredrar mindre gig)
Dubioza Kolektiv, Kägelbanan 2016
Entombed, Stockholms universitet, 2004(träffade min sambo där)
Gard:
Nofx
Motorhead
Lillasyster
Death breath
Fu manchu
Gustav:
The Darkness, Sthlm 2013
Kvelertak, Sthlm 2014
The Cure, Roskilde 2012
Black Sabbath, Sthlm 2005
The Hellacopters, Sthlm 2019
Johnny:
Motörhead - münchenbryggeriet -02
Entombed - Nyköping -01(?)
Rage - SRF -01
Children of bodom - Wacken -06
The Crown - Getaway Gävle -10(?)
Är det tråkigt med intervjuer? Eller blir det inte så mycket?
-Än så länge har vi inte behövt genomlida så många. Men det är ju kul om man har nåt att säga. Svårigheten ligger mest i att samordna hela bandet för dem.
Ifall ni kunde välja fem band från historien, döda och levande att ha en konsert ihop med ert band, vilka är drömbanden då?
-Ola tycker att det blir lite väl mycket idolkult över sånt, och för honom känns det väl inte som att det hör hemma i punken egentligen.
Men det är klart att vissa band haft betydelse, som Sex Pistols och Clash, för att gå långt tillbaka, Bad Religion, Asta Kask och Strebers för att nämna några som fick betydelse lite senare eller mera inom landets gränser. Frågan är om man skulle vilja stå på samma scen som de där kända stora banden egentligen? Det är ju roligare att dra en publik på egna meriter än att agera uppvärmare åt ett annat större band.
Men med allt det sagt hade vi några kul gig på 90-talet tillsammans med Cosa Nostra, Dia Psalma och DLK. Och det är klart att man får spela förband tills man kommit igång. Men att värma upp för stora elefanter är egentligen inget vi drömmer om.
Gard tycker att det skulle varit kul att spela med Motörhead och träffat Lemmy. Och Johnny tycker det varit coolt att dela scen med Thin Lizzy.
Är musik ett bra sätt att få ut frustration och bli en snällare person? Är ni argare idag än ni var unga punkare?
-En av medlemmarna i Råttorna kläckte ur sig termen "nyarg" under deras medverkan i Döda Katten Podcast. Det var jävligt träffsäkert. Och nu, när det politiska klimatet, med värre högervindar än nånsin och normalisering av extremhögern manar till att spela punk igen, är det en passande beskrivning på hur man kan känna sig. Och visst är det bra att använda musiken för att ventilera frustration. Det funkar fint, förutsatt att man spelar tillräckligt arg musik. Och det gör vi. Men man får ju inte ventilera sig tom heller, utan behålla fokuset på varifrån frustrationen kommer, så man kan göra vad som går för att uppnå en positiv förändring.
Vilken är den konstigaste frågan ni fått i en intervju?
-Vi får väl ösa ur det ytterst begränsade intervjuarkiv vi har än så länge för att besvara den frågan på bästa sätt:
En nöjesreporter hade spaltat upp 10 frågor till oss. Den första frågan utgjordes egentligen av 4 frågor. Mer än en av de efterföljande frågorna var direkta upprepningar av tidigare frågor. Men egentligen var inga av frågorna konstiga i sig, det konstiga låg väl snarast i hur lite som verkar krävas för att få jobb som reporter idag.
Vilken är frågan ni aldrig får, ställ den och besvara den?
-Eftersom vi inte gjort så många intervjuer än går det inte att ge nåt bra svar på det här. Men generellt är det ju roligare att få kreativa, intressanta frågor än banala, i stil med "Har ni någon favoritlåt på skivan?".
Framtidsplaner för bandet?
-Vi ska spela in ett nytt album. Det blir väl nån sorts fullängdare, men vi har inte spikat låtarna än. Dock kommer vi släppa en digital singel snarast möjligt, som försmak på albumet och för att presentera bandet med den nuvarande sättningen.
Vi gör gärna en vinyl av albumet. Kanske kan vi ha råd med det med hjälp av förköp. Och så ska vi göra gig. Om pandemin ger vika inför vaccinationerna så det går att arrangera evenemang igen, vill säga. Men vi planerar även att streama, så om vi bara kan få 10-20 pers framför scenen kan vi i varje fall göra nånting. Och när det släpper mer vill vi ordna spelningar till vilka vi kan bjuda in fler band att medverka.
För dig själv?
-Den här frågan är väl riktad till Ola, eftersom han sköter korrespondensen. Men alla i bandet har del i den.
Hursomhelst hoppas jag bli bättre på att spela in, eftersom vi kommer försöka sköta det i vår egen replokal. Och så vore det bra att få ordning på inkomsterna, som blivit lidande till följd av pandemin. Allt jag haft över har jag lagt på musikutrustning och studioutrustning, och det vore skönt att ha lite marginaler.
För övrigt är planerna att rösta på Vänsterpartiet i det kommande valet, och försöka engagera mig så mycket som möjligt för att hjälpa dem framåt. Det finns inget annat rimligt riksdagsparti i det här landet idag, som jag ser det.
Visdomsord?
-Återigen Ulf Dageby: Bygg nånting tillsammans som ingen jävel förstör.
Nåt att tillägga?
-Det finns alltid nåt att tillägga!
Ta ansvar. Bry dig. Gör vad du kan.
Stöd de grejer du gillar och ta inget för givet. Finns det band du gillar, köp deras plattor och merch, gå på deras konserter(när det går att arrangera sånt igen). Fundera på hur du lyssnar på musik till vardags. Använder du bara en streamingtjänst som Spotify, som tar alla pengar själv och endast ger småsmulor till kreatörerna, eller använder du även tjänster som har schysstare villkor för mindre och oberoende band och artister? Finns det lokal verksamhet du gillar, som småbutiker med ekologiskt sortiment, lokala matproducenter, små enskilda hantverkare eller nån liten klubbarrangör, stöd dem. Handla av dem, anlita dem och gå på arrangemangen, kanske inte för att det är det billigaste alternativet, men för att stödja din lokala småskaliga näringsverksamhet istället för stora börsnoterade aktiebolag. Kanske inte giget på det där stället är asintressant för dig egentligen, men du vill att klubben ska klara ekonomin och fortsätta arrangera grejer, så det finns en mötesplats att träffa folk på och se mindre artister och band uppträda. Finns det organisationer som gör bra grejer, engagera dig i dem. Som välgörenhetsorganisationer, rättviseorganisationer, kulturföreningar, fackförbund eller politiska organisationer. Om du inte pallar aktivt engagemang personligen, stöd dem med bidrag eller medlemsavgift. Och ifrågasätt folk i vardagen som ger luft åt rasistiska och sexistiska åsikter, eller annat fördomsfullt brunhögerskit som normaliserats långt bortom rimlighetens gräns idag. Låt dem veta att du inte håller med. Skaffa motargument och påvisa det felaktiga i deras påståenden. Expo, ETC och Motargument med flera är bra källor till sånt. Och passa på att rannsaka dig själv också. Har du några vanor från uppväxten som borde förändras? Slentrianmässiga mönster du inte tänkt på som du egentligen inte gillar? Det har nog de flesta av oss, särskilt vi som kommer från en mer eller mindre priviligierad miljö. Kan du bli ett bättre exempel själv?
Världen blir vad vi gör den till gemensamt. Både i stort och smått. Internationellt såväl som lokalt. Och den måste bli bättre igen. Det är många grejer att tänka på, men gör man nånting istället för ingenting så bidrar man till en positiv förändring.