Total Bloody Chaos is a really good group which plays raw punk and I really like it. Here´s an interview with the group done in October 2014.
Please tell me a little bit history of the group?
-Basically it was 3 members from one of our old bands, MEXICAN OVERDRIVE, that decided to form another band , Andy ,Mick D and myself recruited the services of Graham and at our first practice in June 2007 asked Cardiff Jo, who was there to take some photos , to do some backing vocals. She decided to go and make her nest in the dark domain of Yorkshire with one of LOWLIFE UK's hunchbacks so in came Jodie on vocals with me. As it stands at the minute we are not doing anything as in April of 2014 Graham , our drummer , suffered a massive brain hemorrhage and is still recovering.
Please tell me a little about every member in the group right now, age, family, work, interests and something bad about everyone?
-Ok, Graham on drums , he has just turned 50 , he has kids ,and grandkids , obviously doesn't work as he's recovering from the brain hemorrhage , he likes to piss me off by going to car boot sales, stealing vinyl and sending me the photos ,he also likes to flick peoples dicks. Andy on guitar , he's 49 and 3 foot 7, he has kids and does work doing something , not sure what to be honest , he breeds miniature ponies and collects lego. He is quite intelligent for a short arse and is a proper grammar nazi , all punctuation , spelling etc must be correct or he'll nibble yer ankles. A very good musician and a perfectionist , but you wouldn't think that if you ever saw him play after drinking half a crate of cider before a gig. Nick on bass , a giant of a man standing at 7 foot 3 , he's 51 and does work as a chef or something which is apt as his face resembles a large garlic and coriander naan bread ,this is a constant source of grief when on a night out hungry piss heads try to rip parts of his face off to dip in their curries. Nick likes to frighten folk on dark nights by going out dressed in black and pretends to be the moon ,shouting very loudly at the elderly and crackheads. He also collects bricks. Jodie is on vocals , she is not quite a midget but still very short at 4 foot 1, she is only 15 but looks a lot older , she does work as a support worker for vulnerable adults which is very ironic as she's a fucking nutcase and is very surprising she has not been sectioned before now. She has no kids and her hobbies are collecting toe nails and homeless peoples shoes. I am on vocal duties as well ,I am 32 and I work in an engineering firm making office furniture for government bodies and the police force , I like to collect dirt on my neck as well as midget porn magazines.
Total bloody chaos…a good name who came up with that?(it sounds a little like the Swedish band Totalt Jävla Mörker(Total fucking darkness) Which is the best bandname you know?
-It was Sandie , Grahams missus who suggested TBC as it's on every poster you see , we discussed what it could mean and we all came up with TOTAL BLOODY CHAOS. There are a lot of good band names out there , SODS LAW , DECLARATION OF WAR , RAZORBLADE SMILE , SICK ON THE BUS etc , too many to mention to be fair.
Your influences goes way back in time, am I right? I can hear Crass, Conflict? Am I right -Yeah they do and yes you're right, bands like CRASS and CONFLICT played a big role in my teenage years.
What´s the best thing with playing live?
-Meeting new friends.
And where is best to play?
-Have not played a bad place yet but i think we all really love playing in Scotland.
How is it to play this sort of music in England? Is it hard to get gigs?
-Pretty easy to get gigs to be honest , there's quite a good network within the U.K.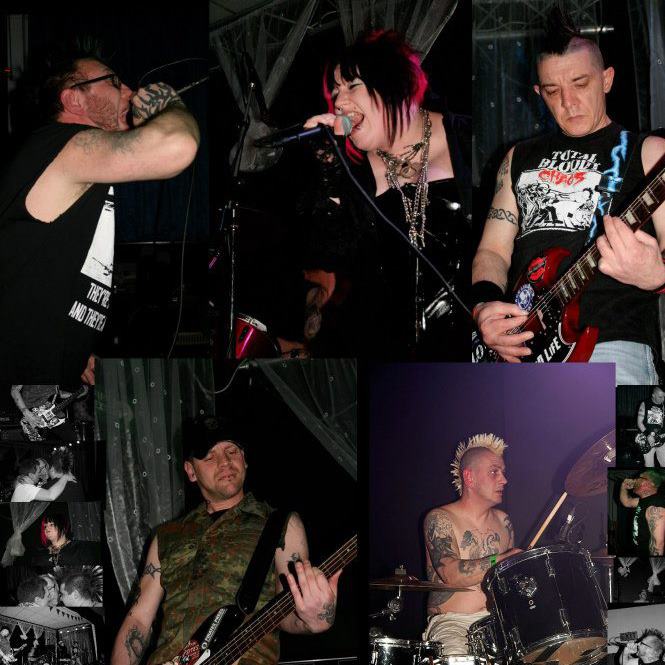 How would you describe your music in three words?
-IN YER FACE
What does punk mean to you, is it only a word or is it a lifestyle?
-It's a lifestyle and i have no choice , I can't see myself living like the rest of the sheep , we have a worldwide community that can't be beat!!!
How do you see on downloading, mp3 and that stuff?
-I download the odd album but I always look out to buy whenever possible.
How is it to live in England now? Politically? What about Scotland?
-As with everywhere we are always being shit on by those in power ,as it stands at the munity they are stopping and/or capping benefits , cutting yet more services saying the country is skint , yet they can afford to pay 3 billion to fund yet another war abroad. I really wanted Scotland to gain independence but as I don't live there its best not to comment.
Is there any good bands from England now?
-There are loads of good bands around at the minute , DECLARATION OF WAR , VITRIOLIC RESPONSE , MANIFEST , THE VILE , HUNG LIKE HANRATY , ...I could go on ...
What do you know about Sweden?
-Not too much I am afraid although I believe there's a right good scene over there.
Have you heard any good bands from Sweden?
-I love DISFEAR , SKITSYSTEM and IMPERIAL LEATHER, I also like AVSKUM DRILLER KILLER and REGULATIONS
Your lyrics, who does them and what influences you?
-Jodie writes some and I write some as for what influences us it is usually something that pisses us off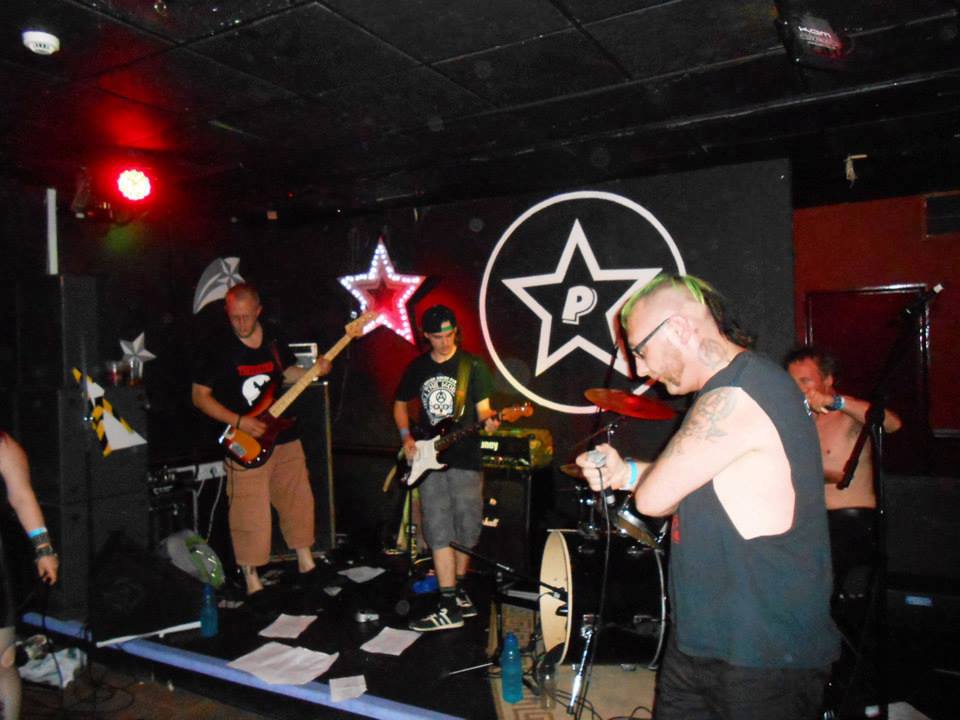 Is there any subject that you never will write anything about?
-I dont believe there is.
Politics and music, does it goes hand in hand?
-Of course it does, we have a medium where we can voice our anger/opinions on shite that goes on, without it would become just another music genre.
Best political band/artist?
-For me it has to be CONFLICT , but I think it's unfair to ask for one so ...DOOM / OI POLLOI / SUBHUMANS/ ICONS OF FILTH / EXTREME NOISE TERROR...
Do you think that music(lyrics and so on) can change anyone's life, I mean people who listens to music?
-They changed my life when I was a teenager so I believe they still can.
Are you doing any covers live?
-We did in the past NUCLEAR WASTE, OI POLLOI --- STATE VIOLENCE STATE CONTROL . DISCHARGE --- and WORK TOGETHER , THE OPPRESSED which we did record.
Can you imagine yourself doing a tribute song to a special football team, animal rights or any political party?
-No
Please tell me a funny thing which have happened during your career and under some gig?
-There are loads of stuff but we played a gig at Bilston protest camp in Scotland and I got quite drunk beforehand , during our set a dog got on stage and I was following it about , as you would if a dog got on stage. Whilst I was doing this 6 girls in front of the stage took their tops off and did a human pyramid!
How does your audience look like?
-Old and bored usually
Which people do you miss on your concerts?
-Nobody
Please rank your five favoriterecords, five favoriteconcerts and five most important things in life? Again too hard but as of this minute 1-- CONFLICT -- INCREASE THE PRESSURE 2-- DOOM -- CORRUPT FUCKING SYSTEM 3-- EXPLOITED -- FUCK THE SYSTEM 4 --SUBHUMANS - CRADLE TO THE GRAVE 5-- SPERMBIRDS -- SOMETHING TO PROVE SLEAFORD MODS-- MANCHESTER 2013 / THE METEORS - PRESTON 85/CONFLICT -- MANCHESTER 88? / DOOM -- WIGAN 89? /THE STIFFS -- ACCRINGTON 79 Happiness , health , friendships, music and alcohol
Is it boring with interviews? Which is the most stupid question you ever have got??
-It can be and Which is the most stupid question you ever have got??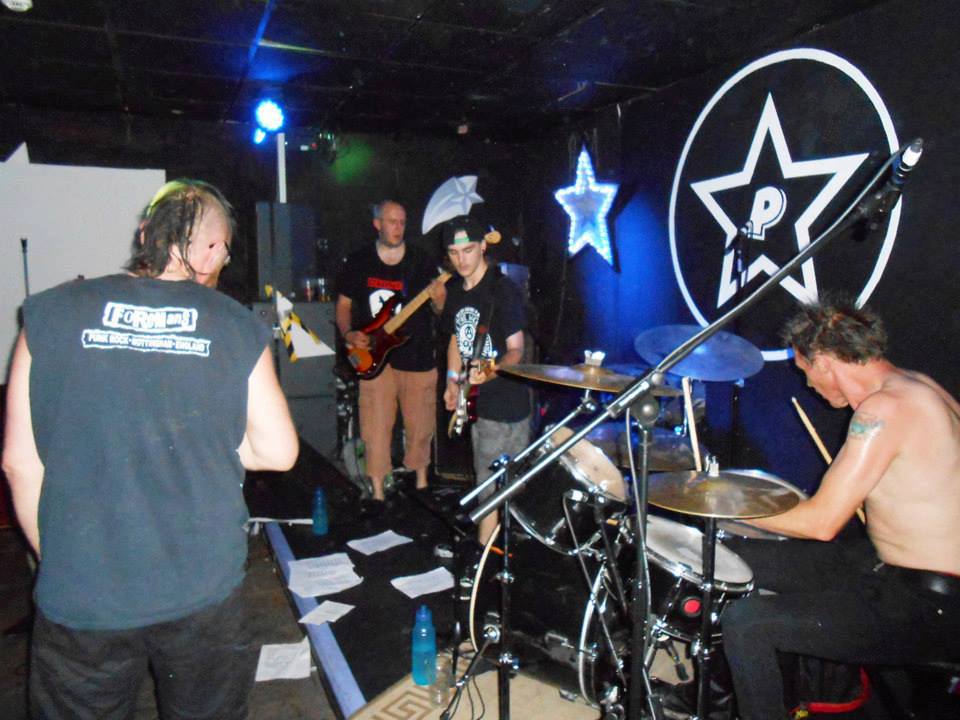 Do you understand that reviewers always compare bands to other bands? Is that disturbing when you try to do something own?
-To be honest if someone compares us to other bands it can be flattering especially if it's a band that you like.
Futureplans for the band?
-Get graham well and tour Europe
For yourself?
-To enjoy every minute
Wisdomword?
-Keep it DIY
Something to add?
-The information given about the band members at the beginning of this interview may be incorrect. haha