Tortured is a really good American punkgroup which was so kind and sent me their record and a t-shirt and I really love this group. April -2108
Please tell me a little bit history of the group?
-Johnny Lawrie first met Sam Gearing at an open mic at Berkeley, California in January 2012. He was playing drums with anybody that wanted to play with him because the bar had a House kit. Naturally, Johnny wanted to perform a couple of songs with him. So, he got up there with his acoustic guitar, and we played three songs together. After the open mic we both agreed that we should practice at his place, and get a band together. Unfortunately, it was very hard for us to find a bassist. So on May 9, 2012, we played our first gig together in Oakland, CA at Stork Club as the Johnny Lawrie Band. The show went well, and we continued to play shows together until March 9, 2013. That was our last show together for a long time because Sam was in three bands, and going to school. So, Johnny dropped off a bunch of his clothes, books, and records at his neighbor/friend's house in San Francisco in June, and began to hitchhike the west coast with just a backpack, and a guitar. He did the entire Pacific Coast. Long story short. that was a hard life, and he moved back to San Francisco in March 2014, reformed the band with different members in July 2014, and was fortunate enough to have friends that let him crash on their couch while he figured his life out. Sam rejoined the band in December 2016.
Please tell me a little about every member in the group right now, age, family, work, interests and something bad about everyone? Earlier bands? Other bands on the side?
-Johnny Lawrie: Guitar/Vocals/Songwriter27- His family lives in Massachusetts and Vermont, and I'm single. He has worked at The Battery in San Francisco in the Events field since September 2014. He loves going to the beach, going on hikes, reading comic books, hanging with his friends, and of course singing and playing guitar. Something bad about him is that he's a big ball of stress, and he can be volatile, and brutally honest at times. Johnny sometimes can be very stubborn. He was also in Elegant Trash while in the Johnny Lawrie Band in 2012. Sam Gearing 27-Drums/Audio Engineer He is a bartender in Berkeley. His family lives in Virginia. He loves skateboarding, going to city council meetings, and of course playing the drums. Sam also played in Elegant Trash in 2012-2014. He's sometimes messy, and throws empty water bottles at Johnny at practice. Jeremiah Johnson 29-Guitar/Vocals: His family lives in San Francisco where he also resides. He was in the Marines. He is currently at student at CCSF. He's interested in becoming a Fireman. He breaks a lot of strings, and plays a Fender Stratocasters. Johnny hates strats! Haha. Derek Zender 25:Bass/Vocals His family resides in Orange County in the town of Yorba Linda. He lives in San Francisco. He works at a non-profit facility. His interests include going on hikes, going to comedy shows and concerts, and hanging with his girlfriend. Derek needs to move around on stage! But, hey he does play bass, so what should we expect! haha! To be honest, he sounds the best live out of the three of us. He's a solid musician.
I can hear much different influences but mostly early punk? Favorites from the past?
-Some of our influences are; Black Flag, Devo, The Clash, Rancid, Oppresed Logic, Operation Ivy, Green Day, Blink 182, Anti Flag, GET DEAD, NOFX, Atomic Machines, Social Distortion, The Adolescents, The Descendents, Joy Division, Nirvana, Best Coast, Ty Segall, Wavves, Dead To Me, The Dead Kennedy's, The Ramones, Teenage Bottlerocket, Screeching Weasel, The Avengers, Bikini Kill, The Distillers, Off With Their Heads, Swingin' Utters, Gaslight Anthem, The Loved Ones, The Lawrence Arms, Alkaline Trio, Dick Dale, Elvis Presley, Ritchie Valens, The Beach Boys, Bob Dylan, Neil Young. The list goes on and on.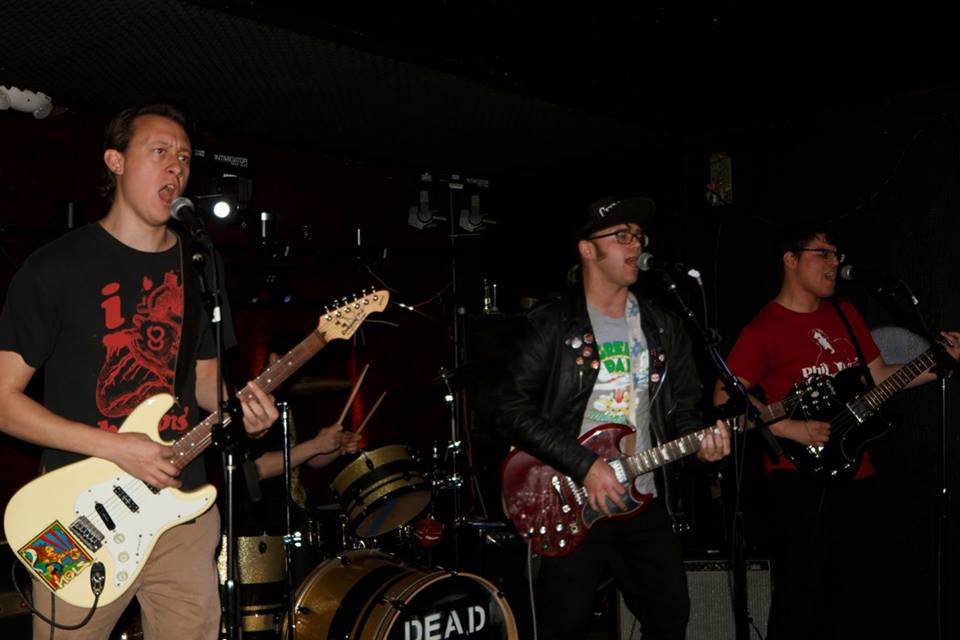 Tortured are you satisfied with the name? How did it came up? You weren't afraid that some other band would be named like this? Which is the best bandname you know?
-We feel that "The Tortured" is a great name for a band. We were never really worried that another band had the same name. That wouldn't very punk rock of us. The name first came from how Johnny was feeling, but then it grew as more of a societal feeling of everybody has a story to tell, and has a struggle to go through. Everybody is tortured on one level or another. Best band name in our opinion is Social Distortion because it can have many different meanings.
What´s the best thing with playing live?
-The best thing about playing live is the natural high when you're up there. It's like a bolt of lightning just surges though you. You feel like your heart is going to stop, but it just keeps on beating. Being able to release all of your frustrations about life in a creative format that is fun for everybody. The response we get from the crowd. We love seeing an energetic crowd. It's the best response you can give us. We love to put on a good show, and we leave our hearts on the stage every time.
And where is best to play? And the worst place?
-It's hard to say. We've been fortunate to play at so many great venues. In Oakland our favorite place to play is Stork Club. The sound engineers are great there. They have very professional staff, and they're fun to work with. They also record your live set for free, and give you a cd at the end of the night. One of the worst places to play is Ash Street Saloon in Portland, Oregon. Every time we've played there we've had a small crowd come out. The sound guy is good, but the bar is on it's last days.
How is to play this sort of music in USA right now? Which types of bands do you have concerts together with?
-Slowly, but surely punk is making a comeback. It's just taking time. Punk is very popular in California, Washington, New York, Texas, Illinois, Arizona, Idaho, and many other states. It's just a very underground scene. One of the labels that has gained a lot of success is FatWreckChords, which is based in San Francisco. A lot of people who are around our age come out to the shows, and can relate to what we have to sing and scream about. We play a lot of shows with Pop/Punk bands. We also play with Hardcore bands and Street/Punk bands. We've played with acoustic acts too. On occasion with played with Funk bands and Rap artists.
How would you describe your music in three words?
-Powerful, Electrifying, Passionate
What does punk mean to you, is it only a word or is it a lifestyle?
-Punk is not just a word, it's a lifestyle. Going against society's norms. Feeling like an outcast. Hopping trains, pissing on Scientology buildings, supporting immigrant rights, going to work with green spikey hair, living an alternative lifestyle, not blending in while the rest of the world around you conforms. You can't look like the rest of society if you are going to resist society's institutions and their way of life.
How do you see on downloading, mp3 and that stuff?
-Downloading is fine if you're downloading popular bands music because they already have the funds to support themselves. We would hope that our fans would support us by purchasing our merchandise, but honestly we give a lot of our merch and musical content away. We feel that music should be for everybody.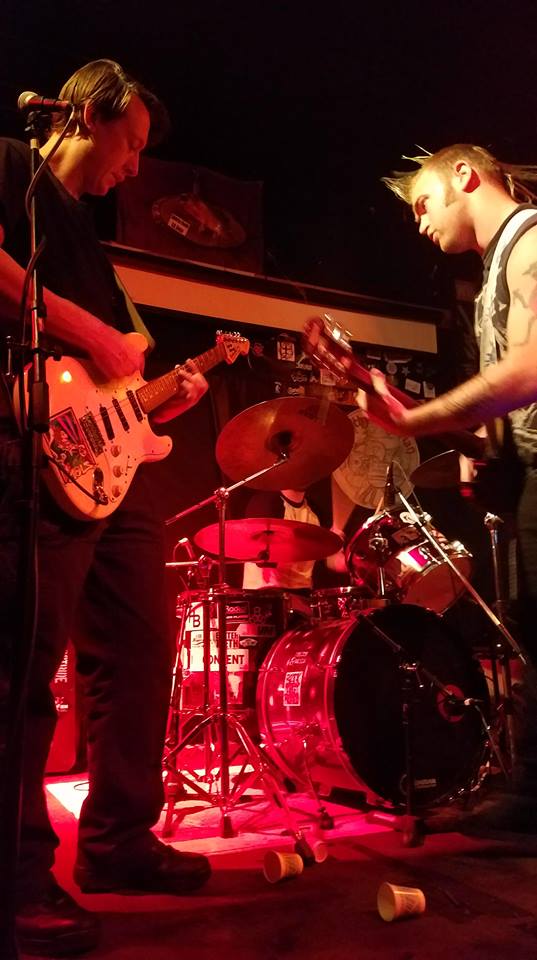 How is it to live in USA right now? Politically? Fascists? Trump?
-Fascists and racists have always been prevalent in the United State, but yes these last couple of years have brought them out of their holes, and into the public eye. They feel that they can be a lot more vocal now due to the fact that Donald Trump, our racist fascist of a president, is making them feel empowered to do so. Johnny has been to a couple of protests, and Sam has been to a lot more. The racists are coming to cities like Berkeley and San Francisco, and are throwing pro-Trump rallies. We and people like us counter protest. Also, before a lot of songs Johnny well get on the mic, and say something like, "Kill Mike Pence, and beat up I.C.E. Agents End Fascism!"
Is there any good bands from USA now? Is the punkscene/hardcorescene big? How is it in your hometown?
-The scene is good right now. It's getting bigger. In the SF Bay Area Pop/Punk and Cow/Punk bands like Nothington, The Lucky Eejits, GET Dead, Dead to Me, etc. are really popular. In SoCal there's a lot of popular Hardcore bands like Stand, DI, Headnoise, Terminally ILL, but there are some Pop/Punk bands down there too. California is a really great place to be for almost any genre of music in our opinion.
What do you know about Sweden?
-We know that you guys have an awesome Death Metal Scene. We also know that Sweden tends to be a neutral country, and has amazing social programs. Which we love! We wish that our country cared as much about Healthcare and Education as you do!
Have you heard any good bands from Sweden?
Is Turbonegro from Sweden? Where are they from?( They´re from Norway) We've heard of them.
Your lyrics, who does them and what influences you? Is it easier to do lyrics now or was its easier to do it when you was younger? Is there any subject that you never will write anything about??
-Johnny writes the lyrics. Edgar Allen Poe, Jim Morrison, The Lawrence Arms, Green Day, Bob Dylan, Walt Whitman, Dead To Me, Fat Mike, Tim Armstrong, Lars Frederiksen, Jorge Herrera, Howard Zinn, Allen Ginsberg, Jack Kerouac and many others are influences. It's easier to write lyrics now. No, all subject matter is worth writing about.
Is there any subject that you never will write anything about?
-No, I'm open to writing about a wide array of topics.

Politic and music, does it goes hand in hand? Which is your most political song?
-It doesn't, but it should go hand and hand. There are plenty of Pop bands that just sing about money, clubs, girls, sex, drugs, etc. Most political song is In This Country.
Best political band/artist?
-It's hard to pick one. The Casualties, The Dead Kennedy's, Anti Flag
Do you think that music(lyrics and so on) can change anyones life, I mean people who listens to music?
-We'd like to think so. Yeah, why not? It's changed our lives. The lyrics are relative material for people who are going through something in their life. It is an emotional response when listening to music.

Your cover on your CD looks really nice, is it important to have a record cover which shows people which type of music you play? Your cover doesn´t do that…. Your favorite recordcover? Who does your covers? And do you have any good recordstores in your hometown?
-Thank you. No, your album cover can have any type of artwork that you wish. We like the ambiguity of our artwork for our album. Favorite record cover is Rancid's. "Let's Go!" Emily Fromm does our covers. Sam is going to do our next one, though. Amoeba is a great record store!
Is it important to get out physical records of your stuff? Why or why not? Vinyl, CD, cassette, what do you prefer if you could choose whatever ?
-It's totally important dude! In this world of technology that we're absorbed by people love getting something real, something tangible. We love giving cds out to people who will listen, sometimes for free. People always react positively. They usually say, "i'll play it in my car on the way home!"
Please tell me a funny thing which have happened during your career and under some gig?
-Well, i don't know how funny it is, but back in May 2015, our bassist ran off. Keep in mind that i had completely different band mates at the time. Keenan, how was playing bass, lost his meds in San Diego. He's bi-polar. So, things took a turn for the worse. Him, and my drummer at the time, Brooks, got into a bunch of arguments. Brooks is a homophobic, and he would open the door for Keenan, and say ladies first. Keenan was obviously angry that he would say things like that because he's bi-sexual. I was angry with Brooks too because I have friends and loves who are gay, lesbian, and non-binary. Once we got to Yorba Linda, which is Orange County, Keenan told me he wanted to quit the band. He said he had bought plane tickets, and was flying back to Oakland. I told him that "we only have a few shows left, and that this is our biggest show of the tour. Can you please just finish the tour?" He said that he couldn't keep pretending anymore to have fun up on that stage when in fact he wasn't. I was livid! I climbed out of the RV, I found a bunch of furniture that was next door to the pizza place we were playing at, and I proceeded to vandalize the shit out of it. I climbed back in, and told him that I'd put tons of money into merchandise, gas, etc. And, that he had to play. He did end up playing. It ended up being the best show we played of the "Leeches on the Empire" tour because we were all so frustrated. I sold a bunch of merch too! After the show, the local band, "Terminally ILL" who put the show on invited us to their cabins. The 3 of us all went our separate ways. Keenan went to the RV, Brooks to a hotel, and Johnny went to the cabins with the bands, their fans, and their groupies. I proceeded to carry 2 30 packs to of beer with me to the campground that was right by where we performed. We drank until dawn! Ryan Rissetter and Chris Rock from Terminally ILL were crazy enough to climb these rock walls that had at the campgrounds that were over 30 feet high! We were so drunk. I decided that it was better for me to hang out in the cabins with the 30 other people that were there. The last 2 shows of the tour were nothing in comparison. That was quite the night, and a very fun show!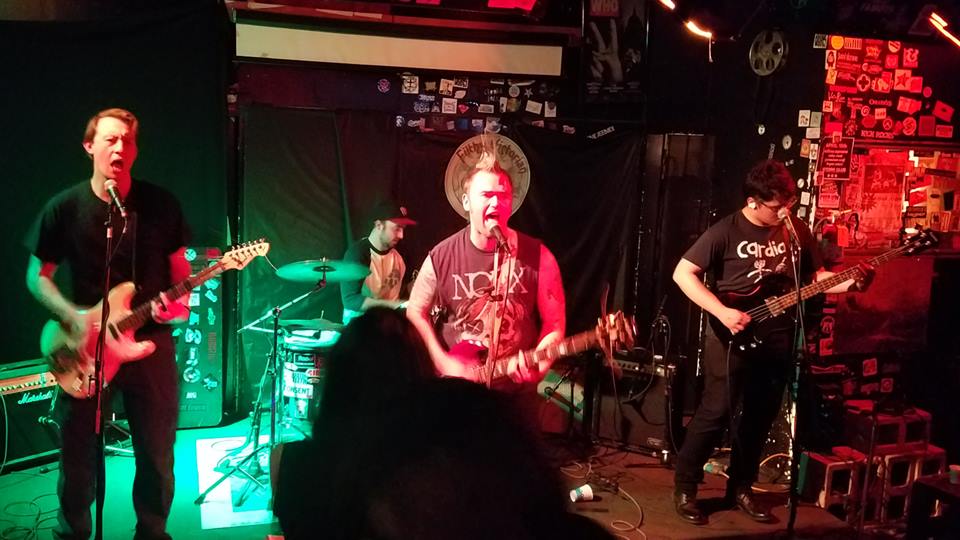 How does your audience look like? Which people do you miss on your concerts? Which is the biggest band you ever have played together with?
-We have all kinds of people come to our shows; white, African American, Latino, Asian. We have punks with studs, skater kids with flipped up hats, normal looking people that just look casual, so on and so forth. I don't know man. What I'm trying to get across is that all kinds of people come to our shows, and that's the way I like it because that is true unity in our community. DI is the biggest band we've played with. Civil War Rust and Hard Stride are other 2 bands that come to mind. I have certain friends and coworkers that have never been to our shows that I wish would come out to see what I do best.
Please rank your five favoriterecords, five favoriteconcerts and five most important things in life?
-Records-1. And, Out Comes the Wolves by Rancid 2. Bad News by GET DEAD 3. Kerplunk by Green Day 4. Nervous Break Down by Black Flag 5. The End of the Longest Line by NOFX Concerts- 1. GET DEAD at Hemlock Tavern 2016 2. Rancid at the Warfield 2016 3.Swingin' Utters at Thee Parkside 2015 4. Off With Their Heads at Thee Parkside 5. Semisonic. I forget the venue, but it was in Boston. When I was 9 years old my mother took me. It was a school night, but I loved that song, "Closing Time," and she thought that it would nice for her to take me to my first concert. From that moment on, I knew that I was born to be a musician. Life- 1. Family and Friends 2. Nature 3. Passion 4. Manifesting your Dreams 5. Music
First, last and most expensive record ever bought?
-First record was Enema of the State by Blink 182. Last record I bought was The Only Place by Best Coast Most expensive record was Eddie Cochran Live at Town Hall Party 1959 on Vinyl
Is it boring with interviews? Is it much interviews??
-No, not at all! Interviews are both important and fun! It's great exposure for the band, and I love talking to new people!
If you could choose five bands from the past and the history and nowadays and both dead and living bands to have a concert together with your band. Which five have you been chosen?
-1. Rancid 2. Best Coast 3. GET DEAD 4. Social Distortion 5. Nirvana with Kurt Cobain
Is music a good way to get out frustration and become a nicer person outside the music??
-Yes it totally is. It's important to have some kind of outlet in your life in order to vent out all the frustrations and difficulties of the world.
Which is the most odd question you ever have got in an interview?
-A girl once said that I have great hair, and asked if I've ever been a model.
Which is the question you want to have but you never get. Please ask it and answer it?
-Which woman lead singer do you wish to marry one day? Bethany Cosetino from Best Coast, obviously!
Futureplans for the band?
-Get signed to a well renowned label, and do a world tour!
For yourself?
-Just to keep on trying to find new opportunities and explore.
Wisdomword?
-Be kind to everyone you meet. In the shadows of darkness, cling onto the light. Search for clarity and hope in a world that may sometimes feel foggy, and filled with despair.
Something to add?
-Thanks for reading this interview. Now, please check out our music! We'd really appreciate it