My name is also spelled Torsson on my driving license and therefore it´s a little bit fun to interview a band like Torsson because I have always listened to their odd record. It´s Dan who have answered my questions on the 5/2-2008.

Why it is so long between your records
-We have all usual jobs on the side of the band and the music comes therefore second.

I saw a concert with you once in Gothenburg and there it came a lot of presents on, is it always so that the audience is that wild and give you firealarmcars and so on?
-It was more so before, but it´s still son and often in Gothenburg.

Which type of audience do you have?
-Very mixed, from 15 year old people to 60 year old people. A middle of Sweden. But it´s mostly men even if there´s more women nowadays.

One of my favouritesongs is Elmia-jordbruksutställning?.How come that you sing about Jönköopung there and not Skåne?
-ELMIA is a big space in Jönköping. Bo Åkerström who have written the song lived there during his teenage. Also songs like Det spelades bättre boll and Bröderna Holm is about Jönköping.

Otherwise how does the songs come up(the lyrics). Who is the one who does them is it only Bo?
-It´s so to 95 % that Bo writes them. Sometimes comes Thomas Holst with some song and on the latest album so have written the lyrics to one of the songs and written the music together with Bo on two of the songs.

You have surely been called everything, punkband, new wave, progg and so on? Where do you think that you´re home?
-I don´t actually know. Our music is some hybrid between pop, rock and before some country. Now we are more USR, usual Swedish rock.

How´s your relation to punk?
-Some of us(except Bo I think) have been listening to punk when it came and have been influenced by it a little. Sticky played in for example Kriminella Gitarrer, Swedens first punkband. For me it was more new wave asIan Dury, Costello, Graham Parker and those stuff.

How many gigs is it every year for you?
-Yeah, it´s maybe 15 gigs a year if it´s an active year and only a few if it´s a low active year. But we will play more all the time and always think the latest gig is the best we have done. .

When does the next record come?
-It isn´t decided yet. Some songs are already finished but it feels like if it´s some more years before it comes. We isn´t full time musicians so we have to have a break between the records.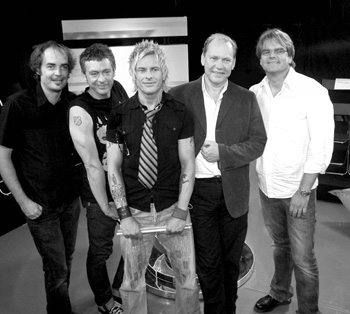 Which are the members right now? Please tell me a little about every member, age, family, interests, work and something bad about every one?
-Bo Åkerström, vocals and guitar. Have been in the band since the beginning 1976. He´s around 55 years, works as a professor at Lunds University. Have a wife and four children and lives in Lund. He´s interested of cigars, whiskey and criminal books. Something horrible about him is that he haven´t a car.
Thomas Holst, guitar, organ and vocals. He came into the band 1987. is around 45 years, works with a cultureproject in Malmoe. Have a wife and two children. He´s interested of culture and questions about life. Horrible is that he have only one guitar.
Michael Sellers, guitar and vocals. Came into the band 2006. Is 43 years, works as a webmaster in Lund. Wife and two children. Interested of digital technique and instrumentalmusik. It´s a littlle bit horrible that he´s so receptive about learning new guitarfills.
Sticky Bomb, drums. Was in the group already 1980-1981. Come into the band again summer 2007.
Is about 46 years. Works as a DJ and he study. Girlfriend and a grown up daughter. Interested in movies. Horrible nice.
Dan Persson, bass. Was in the group between 83-87. Jumped in now and then and and he´s in the band since 2000. Works with advertisement. Lives with a wife and two teenagers in Höganäs. Interested of technique and old musicinstruments. Have surely many sides which seems to be horrible if other people sees them. .

Where do you stand when we talk about downloading? Isn´t it a little bit depressing that the record stores disappear?
-We think a little bit different about these things. I´m a little bit of CD-nostalgic and want´s records. Bo is more the mp3-type. It´s a little bit boring that the record stores disappear.

Is it the record labels fault that is it like this?
-Yeah, in some way. The prices should be about 100: for a CD.

Do you download of any reason?
-I download some songs if I´m after some special song. And then I buy it on CD.

Isn´t the hunt on downloader's a really odd proportion if you think about what is happening in the world? I read some days ago about the people in Haiti who was forced to eat sand cakes to survive and here we put a lot of money to hunt downloader's?
-Yeah, but you cannot have that argument and put different problems against each other. But I don´t mean that we don´t have to help the poor.

Which is the most political song you have done?
-I cannot actually answer that question. No song haven't been done with any political motive. Torsson came in the late 70´s proggwave and it was in their way a protest to all those lyrics those bands had.

Politics and music, does it go hand in hand?
-It can be so. But for us it haven´t any connection. .

Best political artist/band?
-It´s easy that it goes over and be too much and become worldsaviours as U2 but they are a band which have a good political message and which have reach many people. Personally I like Billy Bragg.

What´s the difference of playing today if you compare with the beginning of your career?
-I haven´t been in the group since the beginning but when I came into the group 83 you always had your own old PA in the concerts and put everything in some old VW-bus. It have become better nowadays. But we have always been spoiled with a enthusiastic audience through the years and positive feelings everywhere we go. So have it always been.

Please rank your five favouriterecords, five favouriteconcerts and five most important things in life?
Records which means a lot:
Creedence Clearwater Revival; Willy and the Poor Boys
Ian Dury: New Boots and Panties
Talking Heads: Remain in Light
James Brown: In the Jungle Groove
Funkadelic: One Nation Under a Groove
Five good concerts:
Springsteen Scandinavium Gbg 79
Fleshtones in KB Malmö 84
James Brown in Skeppsholmen Sthlm 89 (maybe 88)
Kooks in KB Malmö 07
Timbuktu and Damn in Malmöfestivalen 07

First, latest and most expensive record ever bought?
-The first I bought was Creedence Clearwater Revival; Willy and the Poor Boys
The latest was The Hives Black and White Album
The most expensive some box Motownsingles

Most embarrassing record in your collection?
-Haven´t any embarrassing record in my collection. I can stand up for everything I have bought…. …

Is there any of your record which have been sold really expensive?
-The yellow vinylsingle with Hej Kontinet have been sold for many hundred Swedish krona. And also the first single Gå emot Strömmen can be expensive if it´s going to be sold. But it´s so unusual so it almost never have been sold anywhere.

How do you think it is to live in Sweden otherwise?
-I´m enjoying it. Politically? I wish we could have some softer climat in our community. A little less egoism. …

Is there any good bands in Sweden today?
-Damn! That´s the only band which holds in all weathers.

Futureplans with the music?
-We want to continue as long as we think it´s fun and as long as anyone wants to listen.

As you as a human being?
-Try to enjoy as much as possible of small things in life.

Wisdomword?
-Why do everything today as you can wait to do until tomorrow.

Something to add?
No.

<![if !supportLineBreakNewLine]>
<![endif]>