Dave from Tone Junkies was so nice so he answered a lot of questions from me. It took a time but it went out like this.February 2009
History?
-The Tone Junkies were formed in early 2006 by Dave "Lagger" DuPre along with Mike Colin, Barry Martin and Rene "Sickness" Hernandez. They first hit the local Orange County California scene in the Summer or 2006 then shortly after branched out into the L.A., Inland Empire, San Diego, & Las Vegas areas. A year and a half into the project they found themselves playing shows with legendary O.C. based band Social Distortion in venues such as the house of blues Hollywood and the Fillmore San Francisco. They put out their first release Load-a-vated completely independently in April 2008 and have gone on to sell copies via Itunes, Myspace, local record stores, etc worldwide. Currently the band is gearing up to hit the studio for the recording of their second album.

Please tell me a little about every member, age, interests, work, etc
-Dave DuPre 26 year old musician born in the small town of Whittier. He's a freelance sound engineer by day and the leader of The Tone Junkies by night. Interested in music/guitar, and movies. He likes to skate, shoot hoops, and go to as many concerts as possible.
Mike Colon 27 year old musician from the OC who worked in construction until recently the bad USA economy took his job. He now is a full time musician involved in The Tone Junkies as well as other projects. He also does tattoos on the side for extra cash.
Barry Martin 37 year old drummer from Fontana. He is a UPS truck driver during the day and is the only one of us to own his own house. During the summers he can be found at the river and in the winter Mammoth Mountain. In his twenties he played in a metal band called Comatose which is one of the reasons why you can hear a tad bit of the metal in the tone junkies.
Rene Hernandez 26 year old musician out of Roland hills. He's a part time server at Cocoas a restaurant chain in California. He like Mike is involved in other projects on the side of the tone junkies. Bands like NoFX and Lagwagon influence him. He's the total ladies man and gets all the tone junkies groupies. Girls be ready!!


Punk in USA, how is it to play it?
Or what do you mean with this "Punk rock is pumping through my veins, society they try to take it from me"?
-Punk rock in the USA is great! A lot of awesome bands out there to be seen. The market is very saturated now though. With guitar centers, Sam Ashes, and other music stores all over the place everyone and anyone are forming bands. "Punk rock is pumping thru my veins, society they try to take it from me" means no matter what you look like on the outside, no matter what changes you've gone threw since the onset of being a punk rocker its still pumping threw your veins. Mainstream society has always been somewhat anti punk rock, which is why we say "society they try to take it from me." But they can't stop what's in your blood!

Have it been any good bands back in time in USA, any favorites?
-There are so many good bands in the states. A lot of pioneers of punk/rock came from here bands still play around today including Agent Orange, Adolescents, and Social Distortion.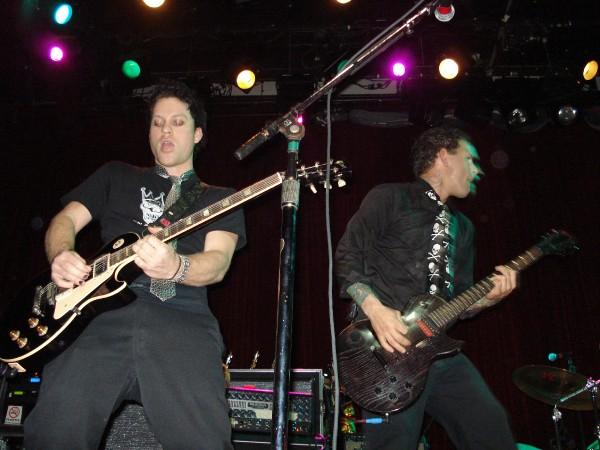 Any good bands right now?
-We really like the Lost Captains right now a relatively small new L.A. based band.

Load - a - vated, what do you mean
-Load-a-vated means your loaded i.e. drunk, high, etc but still motivated to go out and do things. It's basically a word Dave came up with that's a mix of being loaded and motivated.

Which type of people comes to your concerts?
-We attract a wide variety of people at our shows punk rockers, non punk rockers, any one looking for a good time and a good time what you'll get! You'll see mosh pitting at one show and girls dancing up front at the next.

How would you describe your music in three words?
-Powerful, Layered, Explosive
How are the reviews you have got for the new CD?
-We haven't had many official reviews for the new cd which is why we plan to re record a few songs, re mix a few, and include them with some of the new songs we have so the first album can get a little more recognition.

Do you care about reviews?
-Yes we do, we don't just want all praises in there unless that's really all you have. We like constructive criticism too. Reviews really help show support for good bands and a direction to turn to for other bands.

How is it to live in USA, I mean politically? Barrack Obama?
-The USA is great for the most part. You are free to live as you want in most ways. Politically it's a little screwing with whom we had in office the past 8 tears. Ban on gay marriage recently and a movie star (Arnold Schwarzenegger) not from this country governing our home state are a little extreme. Most of all an economy that's gone to shit! Barrack Obama is doing a great job already working on the issues we have. But we love it here for the most part. Could be a lot worse off.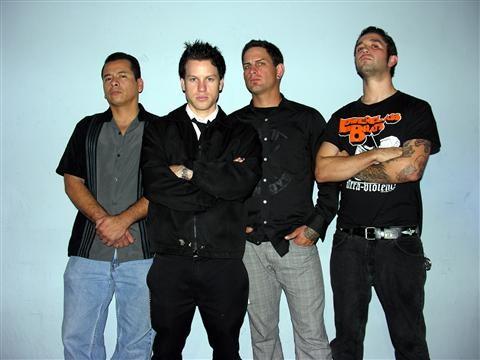 The best and the worst of living in USA/So Cal?
-Beautiful beaches, girls, freedom. Smog, over populated.

What is typical American? What is typical Swedish?
-Typical American should be himself/herself for example independent. Typically likes hot dogs, beers, and sex on the beach. I don't know about Swedish lol…

What do you know about Sweden?
-We know little about Sweden except that the girls are also beautiful like here in the us and have the sexiest accents.

Any good bands from Sweden you like?
-Honestly don't know of many but we get adds from Swedish bands on my space and we've defiantly heard some good sounds!

Any good website you want to recommend? A good book? Or a movie? - www.moviesfoundonline.com www.punkrockers.com Wall-e, Pineapple Express for new ones. Midnight Express, Escape from Alcatraz old ones

Much interviews? Is it boring?
-We have done interviews before. Please check our my space and you'll see a video of a live performance and then a live interview. They are fun and entertaining to do.

The question you want to have but you never get? Please ask it and answer it?
-Not sure sorry.

Please rank your five favourite records, five favouriteconcerts and five most important things in life? -Social Distortion Greenday Agent Orange The Beatles The Rolling Stones Acoustic Christmas w/ Offspring. Social D, Green Day all in the same night! Any Agent Orange show Un written Law Nofx Hootenanny Love Fresh air Weed Family Music

First and last and most expensive record ever bought?
-Greenday Dookie first. The Sex Pistols Last

Most embarrassing record in your collection?
–Melee "Devils and Angels" but they are great!!!

Your record label is it good?, is it a good label, what have they released more? Or is it your own?
-Our record label is merely a name we made. We hope to pick up with a label one day

New stuff like My space, Facebook and so on.... is it good or how do you see on these things?
-We think the internet is a great tool. The Tone Junkies use it everyday for promotion, keeping up with fans, etc

How do you see on Mp3 and downloading and so on? is it good or bad for smaller bands?
-I think its good for smaller bands. Even if its free, hey at least people are taking the time to download it and listen/support it.

Which is the biggest band you have played with on a concert?
-Social Distortion

And which band do you really like to support if it's possible?
-Greenday

Is it a dream you have to unite all the world punks, do you see that there is many different styles of punks which don't go so well together?
-We do realize there are a lot of different brands of punk now. We are more into the old school punk and the bands that were more rock and rock and got a little more aggressive and progressed to become punk/rock like the Ramones for instance. It is true that a lot of the styles don't go together. Like for instance hardcore doesn't go to well with pop punk and pop punk doesn't do well with old school punk

Futureplans for the band?
-To put out our second release, tour, and earn more worldwide fans