Tommy Gun & The Bullets have a wonderful name and they have a wonderful punkstyle. In the beginning of February-2007 they was so kind and answerda lot fo questions from me.
HISTORY?
-Tommy Gun & the Bullets was formed in 2003 when me and Ross started trading song ideas. Ross and I have been friends for years and have been an bunch of bands. After coming up with 4 or 5 songs we started looking for the rest of the band. Soon we found Bart. We didnít have any place to practice so things were going slow. We talked my brother Steve (Shakey) into playing bass and soon found a place to practice. In 2004 we were playing shows and had recorded a rough demo. We have recorded twice more since then and have played dozens more shows. In the Fall of 2006 Steve left the band. Fortunately Mike came along pretty quick so we didnít lose any momentum. So far we have put a 7 inch out on Radio Records and a Full Length out on Piss and Vinegar Records. We are expecting to record again in the summer of 2007. In the mean time we are playing shows all over the west coast of the USA.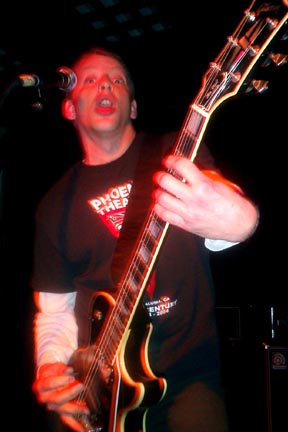 PLEASE TELL ME A LITTLE ABOUT EVERY MEMBER.?
-Ross - I do Construction for work, we are all too old. I am a regular guy. I like white t-shirts.
Mike - Work, Play, Work, Play, Bartend. We are all single
Bart - Work. Play like wild. I have pet chickens
Garrick - Play Heavy, Breaking strings, Drinking beer
WHAT ABOUT MY REVIEW OF YOUR RECORD?
-Thanks for the review. It is pretty accurate as far as we are concerned. It is always nice to know someone likes what your doing.
IS THERE ANY OTHER BANDS YOUíRE BEING COMPARED TO?
-Weíve heard Stiff Little Fingers, Clash, US Bombs, D.O.A. and others. We wish we sounded as good as these bands.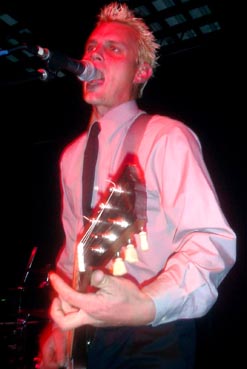 DO YOU CARE ABOUT REVIEWS?
-It is more interesting than something we care about. It is cool to be acknowledged but we would still be doing this if nobody reviewed us.
HOW WOULD YOU DESCRIBE YOUR MUSIC IN THREE WORDS?
-...-ROCK AND ROLL!
HOW IS IT TO LIVE IN YOUR HOME COUNTRY?
-It is cool to live here. It is embarrassing lately but we (Tommy Gun & the Bullets) have no control of that. San Francisco is the home of burritos. We like burritos.
WHAT ABOUT THE GOVERNMENT?
-It sucks. These guys are assholes I think you have to be an asshole to be in politics in the first place. Who likes their government anywhere?
DO YOU THINK MUSIC AND POLITICS GO HAND IN HAND?
-NO. Maybe they should but they donít. It is a good theme for some music but letís face it not everybody cares about saving the world.
IS THERE ANY GOOD BANDS IN YOUR HOME COUNTRY RIGHT NOW?
-The Bodies, The Radio Reelers, The Sore Thumbs, The Marked Men to name a few. We have played with so many rad bands that it is hard to keep that list small.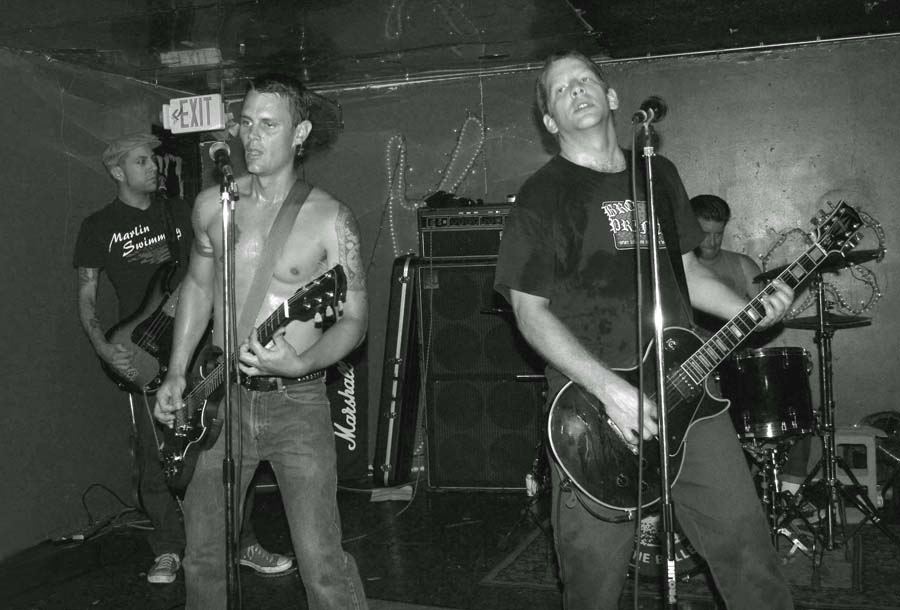 WHAT DO YOU KNOW ABOUT SWEDEN?
-Not enough. Itís cold and there seems to be a lot of really serious metal heads over there. Massages?
HAVE YOU HEARD OF ANY GOOD SWEDISH BANDS?
-Yeah, The Hellacopters ofcourse. Mensen. Weíve been listening to the Diamond Dogs lately. Theyíre pretty cool. Havenít heard to many of their songs but it is good stuff. Unfortunately we donít get to much stuff from you guys. We have been digging you mag. There are a lot of cool bands on it.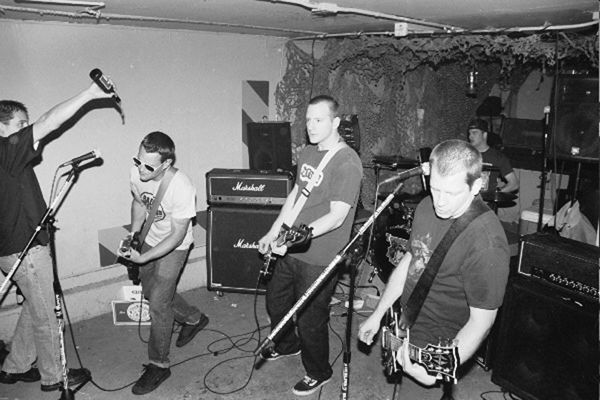 WHAT DOES PUNK MEAN TO YOU, IS IT ONLY A WORD OR IS IT A LIFESTYLE?
-It is about doing whatever you want to do Anybody can buy a studded belt. The punkIest thing anybody can do is live their life the way they want to. It is YOUR life.
IS MYSPACE A GOOD PLACE TO GET YOUR MUSIC?
-Absolutely. You found us there. Sure it is a little bit cheesy but it is invaluable as a networking tool.
DO YOU DO ANY COVERS ON STAGE? WHY OR WHY NOT?
-No we donít. Probably because we donít think we would do them justice. We figured people were coming to see and hear Tommy Gun & the Bullets.
IS THERE ANY CHANCE TO SEE YOU IN SWEDEN SOON?
-Set it up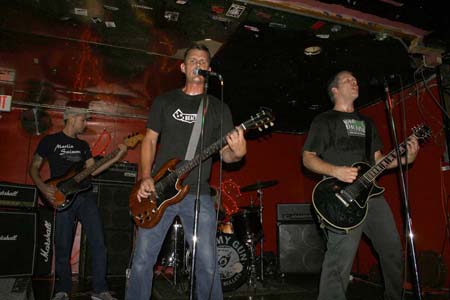 WHERE IS THE BEST PLACE TO PLAY?
-San Francisco and Sonoma, California. Oh, clubs. Thee Parkside in San Francisco is pretty cool. Little Switzerland in Sonoma. The Sattelite Bar in Reno, Nevada. Unfortunately big money in the San Francisco Bay Area has closed a lot of really good clubs. It seems rich people don't like Rock-n-Roll.
HOW IS A GOOD GIG WITH YOU?
-A good gig... A good gig with us results in a bunch of horny girls pawing at our crotches.
THE NAME, WHERE DOES IT COME FROM? WHY THIS CLASH INFLUENCE?
-Steve had been in a couple of bands that had gun themes for their names. We thought of the Bullets at first but it was too generic. We liked the play of words with Tommy Gun in front of the Bullets. And because there is no front person in the band we liked misleading people. There is no Clash influence in the name. We like guns. The Clash is great but we have no allegiance to them. We rip off every body equally .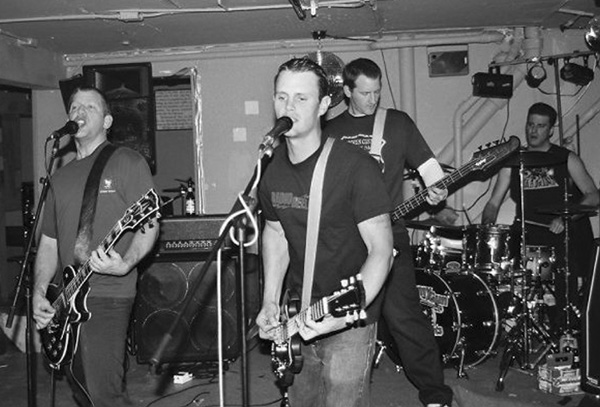 THE BEST BAND IN PUNK HISTORY?
-The Ramones.
FUTURE PLANS FOR THE BAND.
-We are planning on recording another Full Length this summer and to do some touring.
ANYTHING TO ADD.
-You canít live other peopleís lives, so live your own.
Thanks for the interview, Peter!
Tommy Gun & the Bullets