The Uprising from Germany is playing really good punk and they have a lot of influences from the past. Here they are answering a lot of questions from me in march 2015

Please tell me a little bit history of the group?
-The Uprising was found in November 2012, we played our first Show in April 2013, released a 4-song-selftitled tape in October and another 4 songs on 7" vinyl in march 2014. We went on a 6 week long European Tour
with the Scandals from New Jersey shortly after. Until now we played about 70 shows, in 8 different countries and got to play with some really cool bands. All in all I would say we had a pretty damn good time and hope to continue in 2015 with the momentum we've gained over the last two years.

Please tell me a little about every member in the group right now, age, family, work, interests and something bad about everyone? Have you been in any other punkbands before?
-Torri (guitar, backings) is 25 years old, works in a warehouse and I think sleeping is one of his biggest interests haha.
I met him long ago in my home town, where we had a band together called "Distressed". We were playing eerie melodic hardcore punk and always could write well together. He moved to Berlin 4 years later than I did. We started the band right away.
I am Nepo (lead guitar, vocals), 27 years of age, currently living life as a post-educational bum. Meaning I studied TV and Movie only to find out that I rather play in a punk band than to have a descent job in that sort of business. Well, when I'm not checking for a stupid job I like skateboarding and having an easy time with my girlfriend. Due to the lack of options for a kid that wants to play some serious punk rock, I left my hometown Mönchengladbach and moved to Berlin 6 years ago. Here I played guitar for Frontkick for about 3 and a half years, but it wasn't really mine and I missed expressing myself through a band like I did in my old bands, especially in "Distressed"(2006-2010). After breathing "fresh air" in a sideproject (The Kid In Us) with a couple of friends in 2012, I quit Frontkick to start The Uprising with Torri.
Pesky(bass, backings) is 33 years old and I met him on one of the europe tours he participated in. Pesky is from the U.S., where he was playing bass for various bands, including the Hudson Falcons and Far From Finished. He just immigrated to Germany and got married to his german girlfriend. He currently works for the Ramones Museum in Berlin. Pesky joined the band as the 4th bassist shortly before our european tour in spring 2014.
Quentin(drums) is 28 years old and has recently joined the band. I played with him in Frontkick for 2 years so I already know his skill set quite well. With other words I'm glad to have him in the band! Quentin is originally from Lille in France, where he used to work as an optician and play for a band called Fast Motion. Anyhow, he also fell in love with a german girl so he moved here a couple of years back. It's good to have him, he can put a smile on everyone's face.
You have listened a lot to older punk? Am I right? Favorites from the past?
-My favorites are the Clash, Swingin' Utters, Youth Brigade and many more.
Uprising., are you satisfied with the name? How did it came up? Which is the best bandname you know
-THE Uprising! I am totally satisfied with that name. I saw it first painted on a wall in the motion picture "Children of Men" and was amazed by the phonetical sound of it. I think it's a 100% us.
What´s the best thing with playing live?
-The moments of sheer energy being exchanged between us and the audience! It's so hard to explain but playing our set is always a rush of adrenalin and emotions.
And where is best to play?
-Anywhere with good sound and music hungry people.

How is it to play this sort of music in Germany?
-Most of the tourbookers for european and especially german grounds rather book american or other foreign bands, because they have less stress booking weekenders and other reasons. The sort of punk rock we play is not pulling the masses into our shows but there's always some smiling faces when we start playing.
How would you describe your music in three words?
-Energetic, fresh and liberating.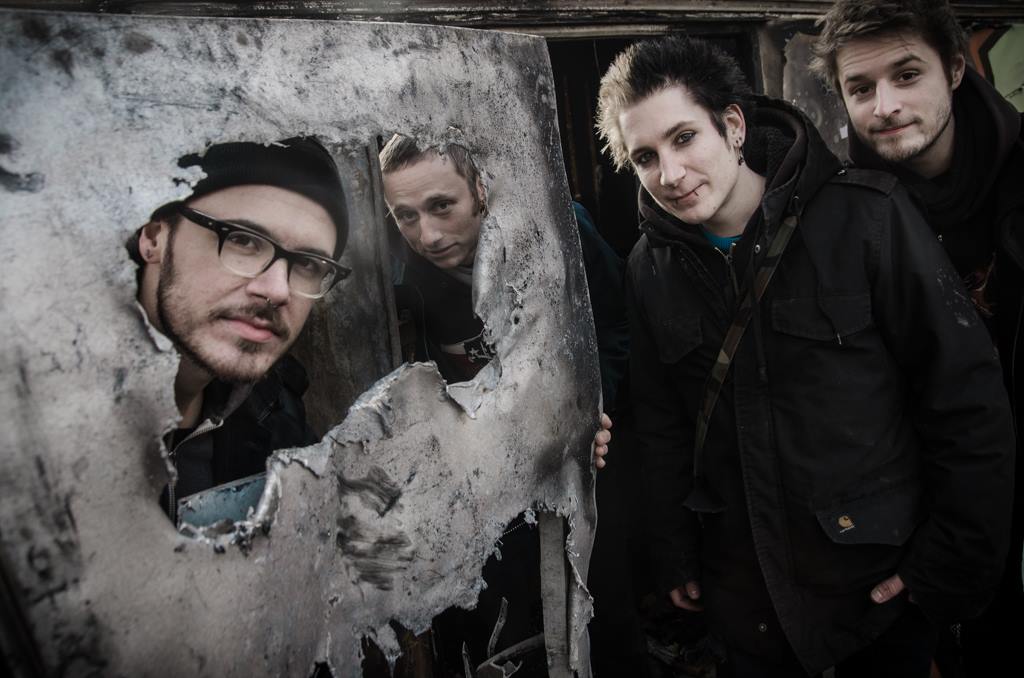 What does punk mean to you, is it only a word or is it a lifestyle?
-It's true. I label myself a punk rocker. Though I'm well aware of punk being a freely definable term. I personally associate this term with a certain set of values and virtues that I strongly agree with so yes, you might say it is a lifestyle for me. It's how I decide to live my life, what I consciously do and don't, what I believe or call out a lie. It never was and never will be a tool for me to justify me being stupid in any way. It's sort of a strategy or more of an attempt to deal with the reality at hand. The music I make with the Uprising is deeply linked to that kind of thinking. If you want to know which topics I tackle in the lyrics you will have to read and listen closely...
How do you see on downloading, mp3 and that stuff?
-As far as I'm concerned music was always copied, shared and transported to new listeners in some way.
So if the kids wanna listen to our songs they gonna get them, this way or the other. I'm totally supporting that.
Hopefully they will understand what it means to be a touring punk rock band and support us in the way they feel is appropriate.
How is it to live in the Germany now? Politically?
-I don't even know where to begin... weird right parties are on the rise and there's refugees getting treated like crap for example. Or trigger-happy policemen killing people in mental crisis. It's all sort of drifting into truly new dimensions of absurdness. But I guess that is not just Germany but the entire western civilisation. At the end of the day I cannot really see behind the curtains of media make-belief. You might also call me a conspiracy theorist, haha. But hey, as Joe Strummer used to state once: the future is unwritten...

Is there any good bands from Germany
-Totally! Check out the Irish Handcuffs for example.

What do you know about Sweden?
-Hm. Let me see. I heard Alcohol is expensive. Sweden's still a Monarchy or? Abba! Him!
Have you heard any good bands from Sweden?
-As a teenager I used to skateboard after school listening to Millencolin. How about Voice of a Generation? I do like Subwaste a lot. Last October we played support for the Bombshell Rocks in Berlin. Still a good band!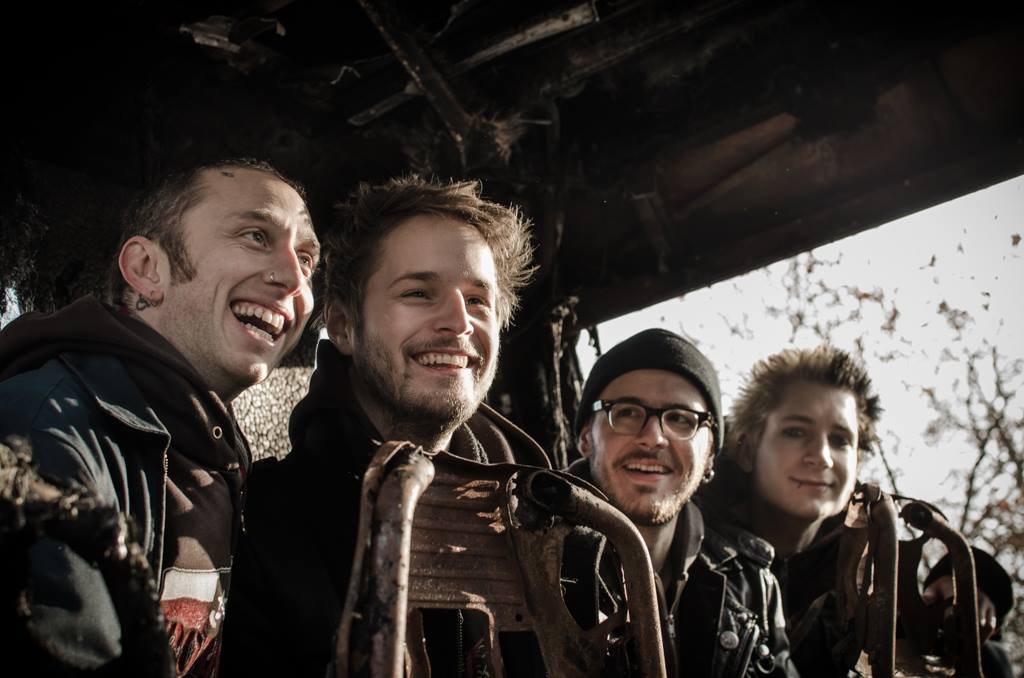 v
Your lyrics, who does them and what influences you? No thoughts about german language?
-I write most of the lyrics myself, at times Torri comes up with a couple of lines, too. We thought about writing in german but we decided against, because the phonetical sound of the language is really different and I always felt like I can express myself better in english. While german sometimes is a little clumsy, we feel english gives us more range to vary from soft and sensitive to pissed off and hard emphasizing.

Is there any subject that you never will write anything about?
-Well, I once met a dude, a friend of my friends who killed himself a couple of weeks later. So in the urge of finding a reasonable explanation for suicide, I tried to cope with by writing a song. I failed though, because there's explanations for that kinda tragedy but those are never reasonable. The whole experience was just too bizarre and crazy all together. I swore I'd never attempt to write about suicide again, because the whole topic just instantly depresses me.

Politic and music, does it goes hand in hand?
-Absolutely! I think every art directly or indirectly tackles issues of social or political nature and so do we. We are no oi band that thinks by claiming they'd be unpolitical they would not leave a statement of some kind.
We are a political band, different ideals and social criticism are contained in our music, though I try not to put things too obvious in my lyrics. Please read between the lines!

Best political band/artist?
-That's a tough one. I think growing up in the nineties I got to name Rage Against The Machine as one of the most influential political bands to me, but I also want to take the chance and remind people that Joe Strummer and the Clash came up with a very interesting way to tackle problems quite successfully in their songs. I like the more confrontational aggressive way as well as the more cryptic ways of political lyrics.
Do you think that music(lyrics and so on) can change anyones life, I mean people who listens to music?
-I do! Though it isn't really the music that changes the actual life, it's more the person itself that gains strength and confidence through a piece of music he can strongly identify with and therefore helps to change the life. Music changed my life for sure!

Bad Dog,is it a good label??
-Well, the thing about Bad Dog is, it is the Coretex house label. Usually there's just a couple of bands coming out on Bad Dog, mostly bands who are strongly related to the coretex-team and have been friends for decades.
With releasing us, they are also showing their support for new bands and we are super grateful for that.

Is it important for you to get out your records physical also?? Something new on it´s way?
-Yes, we do like to have physical copies of our records. When we were working on our first release, we didn't have the money for pressing 7inches and cheap CDs were no option so we got tapes for our first release. Obviously it had a download code inside, but it was important to us, that people actually have something to touch, read and look at.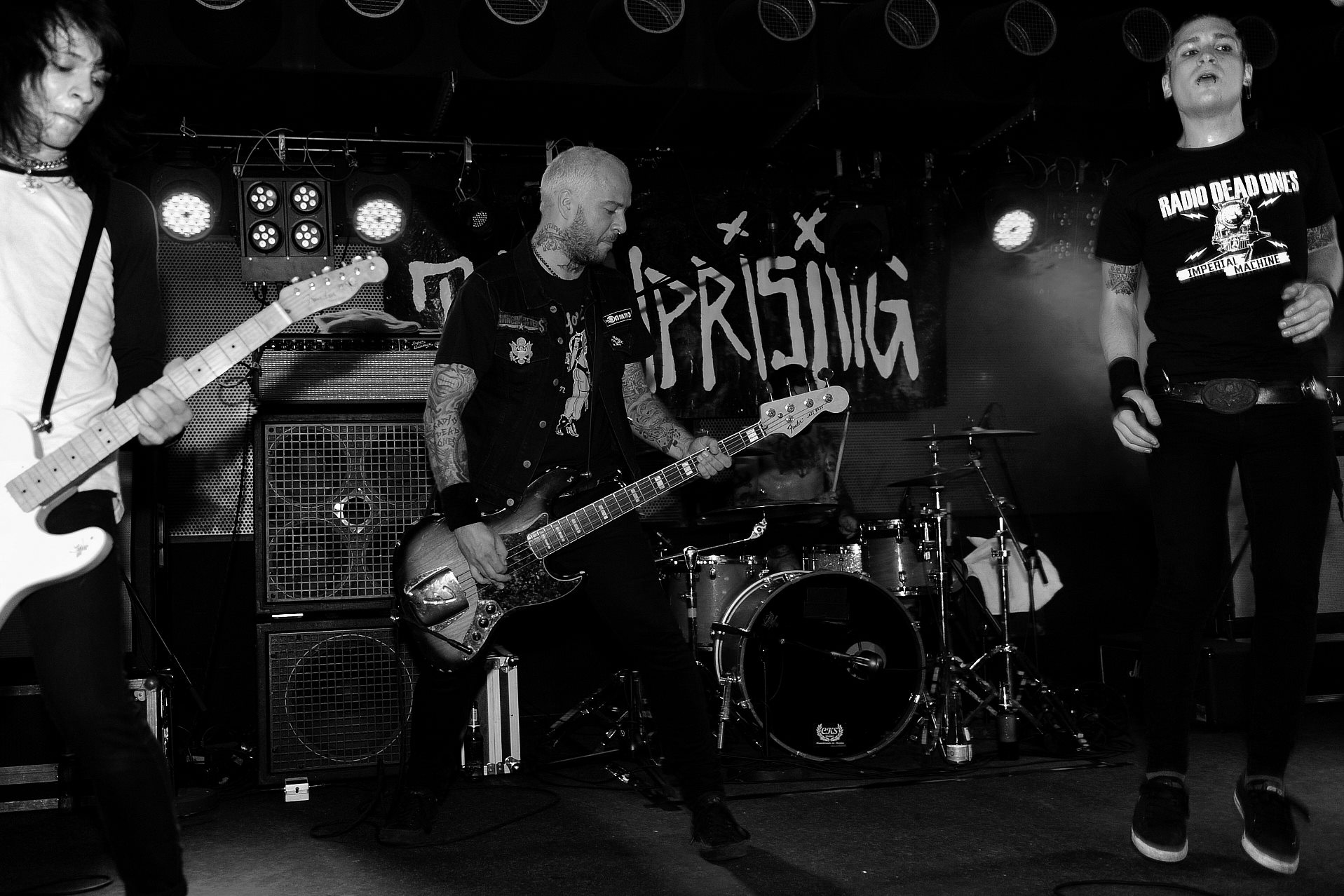 Please tell me a funny thing which have happened during your career and under some gig?
-Last year we played at a small pub in Prague and our old drummer farted in the first song. I guess he had a lot of eggs, because he really let a bad one slip. I could tell that the audience was temporarily a little confused over our "performance".

How does your audience look like? Which people do you miss on your concerts?
-Actually by now we played only three headlining shows, so I can't even tell, because not so many people come just for the support band. If we were to have some sort of a fanbase some day, I think it would be people that share our passion for bands like Dead To Me, the Swingin' Utters, or the Flatliners.
I hope our crowd would appeal colorful and diverse, because when I was growing up my scene wasn't just all punx, it was all kinds of people and I always enjoyed that.

Please rank your five favorite records, five favorite concerts and five most important things in life?
-Your questions are well chosen but so hard to answer, haha. I'm gonna try anyway, so here it goes
Favorite records.
#Five
The Flatliners - Calvacade
#Four
Sublime - selftitled
#Three
Rancid - Life won't wait
#Two
Dead to Me – Cuban Ballerina
#One
Swingin' Utters – Five Lessons Learned
Favorite shows:
Five
Rancid in Prague summer 2012
Four
Swingin' utters at Clash in Berlin 2013
Three
Good Riddance at SO36 in Berlin 2014
(I'm absolutely not sure about the year numbers, excuse me if I'm talking BS)
two
Nervöus. at Koma F(Koepi) in Berlin 2013 was rad.
One
1st place goes to Terrorgruppe and ZSK at Benrather Hof in Düsseldorf. It must have been 2002 or something, one of the very first punk shows I ever attended.
The most important things in my life
First of all, my girlfriend. She's the ying to my yang and I've grown very attached to our relationship.
Then the music and my band is definitely the next big topic in my life. I live and breath through the Uprising, it is the only thing I will always be able to motivate myself for.
Others things are precious to me, are the Friendship to the people close to me, my skateboard and some good weed.
Is it boring with interviews? Is it much interviews??
-It's been a couple by now, but I didn't get bored or fed up with it yet. It still feels kind of weird though because you don't want to talk shit accidentally, you know?
If you could choose five bands from the past and the history and nowadays and both dead and living bands to have a concert together with your band. Which five have you been chosed?
-The Clash
Jimmy Cliff (the dude's not dead though!! I just picked him because he's awesome. you should go and see him...)
The Damned
Sublime
The Ramones
Futureplans for the band?
-We are currently writing songs for our debut full length and also we are planning on touring America in 2016.
For yourself?
-I hope to find an editing job soon, so I can earn some rent before I head out for the next big tour!
Wisdomword?
-"Never be bullied into silence. Never allow yourself to be made a victim; accept no ones definition of your life; define yourself."- Harvey Fierstein
Something to add?
-Looks like we have got a split 7" with a couple of very interesting bands coming up so stay tuned for more uprising stuff to come! Cheers from Berlin
Nepo